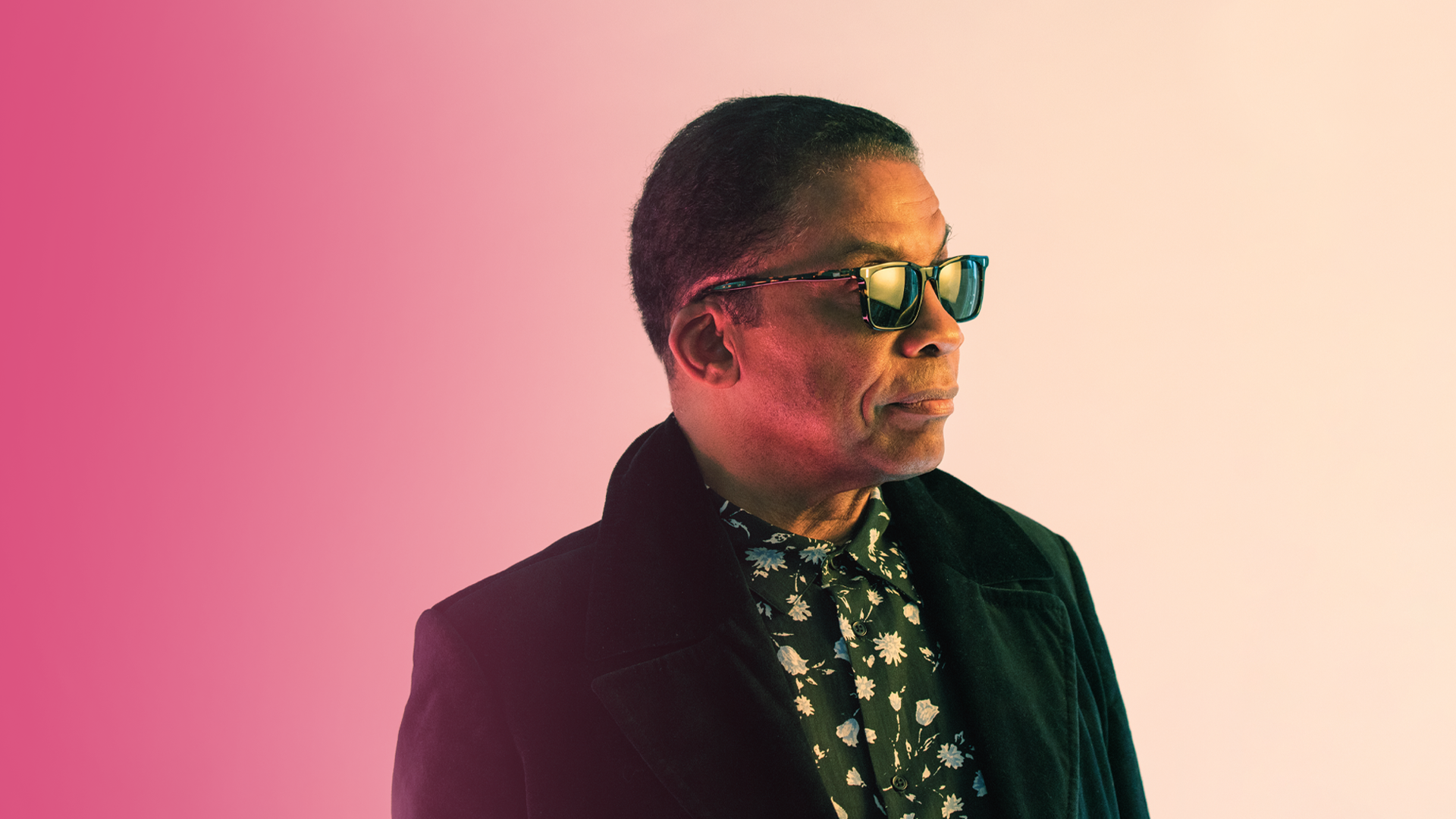 Over the course of his six-decade-plus career, Herbie Hancock has never stopped evolving. The young boy who made his stage debut performing Tchaikovsky with the Chicago Symphony Orchestra became a first-call sideman in the Windy City's jazz scene in the early '60s, formed the backbone of Miles Davis' Second Great Quintet, pioneered the use of synthesizers, set dancefloors on fire with funk, brought DJ scratching to the masses, and became a world-class collaborator who jumps at the chance to perform with just about anyone. Through it all, he's stayed creatively sharp, always challenging himself to master the latest sounds – or, when the situation calls for it, to invent them himself. It's no accident that one of his most famous songs is called "Chameleon."

With such a massive – and massively influential – body of work, it can be hard to know where to start with Herbie. So in honor of his 80th birthday, which lands on April 12, 2020, we present this audio guide to each of his major creative eras, each with its own Spotify playlist.
Herbie the Young Sideman
In 1960, Herbie left Grinnell College in rural Iowa to return to his hometown of Chicago, where he was determined to make it as a jazz musician. He worked with several well-known musicians, including Coleman Hawkins, but when a snowstorm stranded the great trumpeter Donald Byrd's pianist, Herbie got his first big break. He would play with Byrd from 1960 until 1963, giving him not only his first full-time gig, but also his first dates in a recording studio. "It's a Beautiful Evening," from Out of This World, shows him playing a supporting role, laying a beautiful harmonic bed for Byrd's stirring solo – though his own solo hints at the commanding bandleader he'd become. He'd also perform on a pair of legendary sessions, for Freddie Hubbard's Hub-Tones, where he takes a solo on the title track, and Roland Kirk's Domino; while Herbie's playing didn't make the final cut of Kirk's album, you can hear him lean into the blues on an outtake version of "Termini's Corner." He'd even hook up with Eric Dolphy for a time, his cubist chords giving the saxophonist and flautist stable ground from which to take flight. His time with Dolphy offered Herbie a glimpse of the harmonic complexity he'd soon become drawn to. "I played things that were almost blasphemous and sounded grotesque," he once said, "but they had a certain beauty that we could feel even if nobody in the audience could."
Herbie the Blue Note Recording Artist
In 1962, while he was still a member of Byrd's band, Herbie was signed by Blue Note Records. The label would provide a stable home for him as a solo artist and bandleader and allowed him to develop his style as a performer and composer. He based the rhythm of "Watermelon Man," from his Blue Note debut Takin' Off, on the sound of the produce delivery cart that rolled through his Chicago neighborhood; the melody mirrors the calls of the driver shouting out what he had for sale. The song's subtle shading in the spaces between bebop, soul jazz, and R&B made it an almost-instant classic, and Cuban musician Mongo Santamaria's version would become such a big hit, Herbie was able to live off of the royalties for years, giving him even more space for creative freedom. Santamaria would join Herbie's band for Inventions and Dimensions; the shuffling "Succotash" is practically a salsa. Herbie would go on to compose a number of songs with Blue Note that would either become standards in their own right ("Maiden Voyage"), staples of his live catalogue through his many evolutions ("Toys"), and foundations of hits for other artists (Us3's "Cantaloop (Flip Fantasia)" reached the Top Ten in 1992 with a sample of "Cantaloupe Island"). Herbie's ambition soared at Blue Note; the eleven-minute "I Have a Dream," which was written after the death of Martin Luther King, Jr., is a social statement on par with John Coltrane's "Alabama."
Herbie the Member of Miles Davis' Second Great Quintet
By 1963, Miles Davis had been a star for nearly two decades. In need of fresh talent, Davis assembled what would become one of the most influential ensembles in jazz history. The group of Davis on trumpet, Ron Carter on bass, Wayne Shorter on saxophone, Tony Williams on drums, and Herbie on piano would become known as the Second Great Quintet, and over five years, they'd innovate constantly. On "So Near, So Far," from Herbie's first album with Miles, you can already hear the chemistry between pianist and trumpeter; they seem to intuit one another's phrasing, sliding their own playing into the gaps in the other's. While the albums the Second Great Quintet produced are stunning in their own right, the playful nature of the band, and the creative challenges they'd set for themselves, are what reveals their true brilliance. On "Dolores," from Miles Smiles, Herbie eschews chord changes – and his left hand – entirely, playing the song's melodic lead, including the solo, with his right hand. When the group rolled into Chicago's Plugged Nickel in 1965, the band inverted their priorities: They played the loud parts quietly, the slow parts fast, and dared themselves to rework all of their material in real time on stage. As you can hear on their radical reimagining of Kind of Blue's "So What," they figured it out.
Herbie the Spaceman
By the time he left the Second Great Quintet in 1968, Herbie had established himself as one of jazz's greatest pianists. Naturally, he found himself pulling further and further away from jazz's most recognizable sounds. With the group that would come to be called Mwandishi (after the Swahili word for "composer"), Herbie would bring jazz's harmonic principles and improvisation out into the cosmos, with the rich sound of Patrick Gleeson's modular synthesizers dramatically changing the tone of the music. On "Ostinato (Suite for Angela)," synth lines orbit the subtle rotations of Buster Williams and Bennie Maupin's bass and bass clarinet, while on the twenty-five-minute suite "Sleeping Giant," African drumming keeps things grounded. While this is perhaps Herbie's most challenging music, it's also some of his most interesting experimentation, and his band's polyrhythmic approach to percussion – and Herbie's own electric piano-playing, which was becoming funkier by the minute – make it an easier listen than it might seem. Fans of electronic music have a lot to discover here.
Herbie the Funk Star
While the Mwandishi band brought him to the outer reaches of the galaxy, Herbie found himself longing for the earthiness of artists like Sly and the Family Stone and James Brown. His 1973 album Head Hunters would prove to be a landmark album in jazz and funk history, with the double-up bassline boogie of "Chameleon" turning him into a pop star once again. This is Herbie at his most easily accesible, but that doesn't mean Head Hunters is simple or straightforward; Pitchfork calls "Chameleon" "an indefatigable 15-minute track that staked a new epoch for jazz the minute Hancock plunked out its bassline." Over the next few years, Herbie would develop into a top-tier jazz-funk composer, and while the "jazz" part of that equation would become increasingly hard to distinguish in the eyes of some critics, his piano-playing, even when tucked into the deep grooves of his band, never truly departed from the style he'd set ten years prior on "Watermelon Man," as the gorgeous acoustic solo in the middle of "Hang Up Your Hang-Ups" shows. The freshness of this era – both in the sense of its sounding unlike anything that had happened before, and in the sense of how straightforwardly cool it is – ensured that it would become wildly influential for artists like Thundercat and Flying Lotus.
Herbie the Neo-Classicist
Even when he was at his funkiest, Herbie never tired of playing acoustic jazz. In 1977, he reunited with the Second Great Quintet – with Freddie Hubbard filling in for Miles Davis – for the Newport Jazz Festival, and the group got such a strong reaction, what was supposed to be a one-night stand turned into a several-years-long engagement. Even the Mwandishi band, who also reunited around the same time, kept things earthy on their reimagining of "Toys," which Herbie initially recorded in 1968. He also hooked up with Chick Corea for a tour of piano duets. Corea had replaced Herbie in the Miles Davis band, who had become increasingly funky and electric in their own right, but the Hancock–Corea concerts were showcases for the two pianists as traditional acoustic jazz masters; just listen to the way they trade the lead in Gershwin's "Liza (All the Clouds'll Roll Away)."
Herbie the Futurist
Before he was a musician, Herbie studied engineering, and he's remained fascinated by technology ever since. Inspired by the advances in computer technology, as well as the collagist work of early hip-hop, he became one of the first prominent musicians to heavily incorporate computers into his music in the early 1980s. On tracks like "Twilight Clone," he brings washes of computer-generated sound together with cowbell-led strutting, resulting in a form of techno-disco. It was a form he'd master with "Rockit." While Herbie's keyboard line is straightforward and relatively unaffected – it's not hard to hear the strains of "Watermelon Man" in it – the same can't be said for everything happening around him. Stipples of synthesizer tap out a rhythm, human voices are run through vocoders and obscured, and, most shocking of all for the massive audience the song's iconic video would draw on MTV, the lead is performed by a DJ scratching a record. While hip-hop was already an established form when Herbie recorded "Rockit" in 1983, the song's popularity helped to set the table for its eventual cultural dominance. Thirty-five years later, it still sounds like nothing else.
Herbie the Collaborator Emeritus
With his reputation and legacy as a solo artist solidified, Herbie has turned his attention to the work of other artists, whether as an interpreter (his 1996 album The New Standard found him covering Nirvana's "All Apologies") or a collaborator versatile enough to play with African kora player Foday Musa Suso, Joni Mitchell, and Flying Lotus. Guest stars from Norah Jones to Leonard Cohen make appearances on his 2007 tribute to Mitchell, River: The Joni Letters, but the power of the compositions and Herbie's delicate attention to the songs themselves make it feel like the product of a single mind; it would go on to win the Grammy for Album of the Year. Three years later, he'd team up with artists from around the world – Congolese electronic musicians Konono Nº1, Irish traditionalists The Chieftains, rapper K'Naan, pop stars P!nk and Seal, desert-blues band Tinariwen, the list goes on – for The Imagine Project, an album whose global scope, ambitious arrangements, and humanitarian heart is a perfect encapsulation of Herbie Hancock's sixty years of sound.
Get Watch & Listen Updates
Join the Watch & Listen newsletter list!