Artists
Joaquín Solano

co-director

Jose Simerilla-Romero

Jaquino

Ryan Speedo Green

Rocco
About this Performance
Beethoven's only opera, Fidelio, is close to LA Phil Music & Artistic Director Gustavo Dudamel's heart. Dudamel wrote, "The transcendent, transformative power of human expression is fundamental to my understanding of art, and Fidelio is the most vivid, compelling dramatization of that principle. Not only in its musical language but thematically and symbolically, the composer dramatizes aspects of his personal condition, connecting those struggles to universal themes." The condition Beethoven was contending with at the time he wrote Fidelio was hearing loss. The composer was clinically Deaf for more than half his life. In April, the LA Phil will present a new semi-staged production of Fidelio that illuminates the connection between the personal and the universal power of human expression. Co-directed by Alberto Arvelo and Joaquín Solano and produced in collaboration with Los Angeles' acclaimed Tony Award®-winning Deaf West Theatre (Artistic Director, David Kurs), Fidelio will draw on both the expressive power of American Sign Language (ASL) and Beethoven's music. Entirely performed by Deaf actors as well as sung by hearing performers, the production is intended for both Deaf and hearing audiences.
This performance is generously supported by the Frank Gehry Fund for Creativity.
See other concerts in this series
Programs, artists, dates, prices, and availability subject to change.
Enhance Your Experience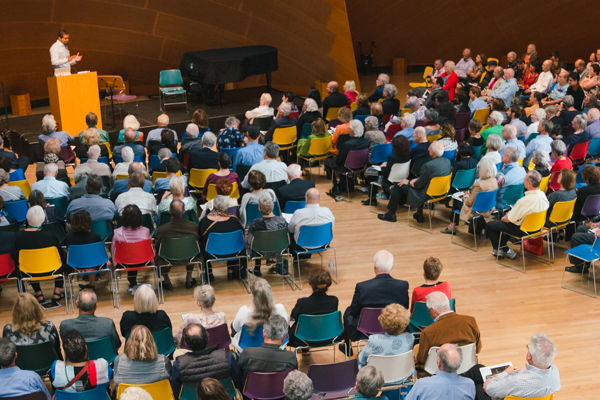 Upbeat Live with Kristi Brown-Montesano
Event starts at 7:00PM
Before the concert, some of the sharpest musical minds around – including members of the LA Phil – guide you through the evening's music, complete with a Q&A session for any lingering questions. This free event is held in BP Hall, accessible after your ticket is scanned.
Learn More
Part of Gustavo Dudamel Conducts "Fidelio" with Deaf West Theatre
See Festival