Program
Listen to this program's playlist on Spotify
About this Performance
Due to the continuing COVID-19 crisis, all LA Phil concerts at Walt Disney Concert Hall have been canceled through December 31, 2020.
Tickets to this event are not available at this time.
While this concert has not yet been canceled, we know that everything from seating configurations to which artists are able to travel will be impacted by the pandemic. If the LA Phil is permitted to stage live events in early 2021, tickets will go on sale at least four weeks before the first concert. Visit this page for the latest updates and to learn more.
---
Ravel described La valse in the preface to his score: "Through whirling clouds, waltzing couples may be faintly distinguished. The clouds gradually scatter: one sees an immense hall peopled with a whirling crowd. The scene is gradually illuminated. The light of the chandeliers bursts forth at the fortissimo. Set in an imperial court, about 1855." When most listeners hear the extraordinary calisthenics that he puts the traditional dance through, they imagine a metaphor for the end of civilization, which is not without reason. Ravel wrote this waltz after WWI, and there are both nostalgic sounds that filled the regal courts of yesteryear Europe and the destruction that would befall the continent in the "war to end all wars." Continuing with the dance theme is Valses nobles et sentimentales, inspired by works of Schubert of the same name, this set of waltzes showcases Ravel's orchestral clarity and vivid imagination to make the form his own.
Besides Ravel's stunning waltzes, Michael Tilson Thomas conducts his own song cycle on lyric poems by German writer Rainer Maria Rilke sung by Sasha Cooke and Dashon Burton. Musically, Thomas said he was influenced by Schubert, Mahler, and Berg in this cycle but blends that with a decidedly American point of view that the San Francisco Chronicle likened to "a Schubertian cowboy song" at its premiere in early 2020. German poetry, Austrian musical influencers, and decidedly American idioms (like a honky-tonk piano that starts the cycle) might be hard to conjure, but "with [Thomas'] distinctive spin," the Chronicle continued "the results are invigorating."
See other concerts in this series
Programs, artists, dates, prices, and availability subject to change.
Enhance Your Experience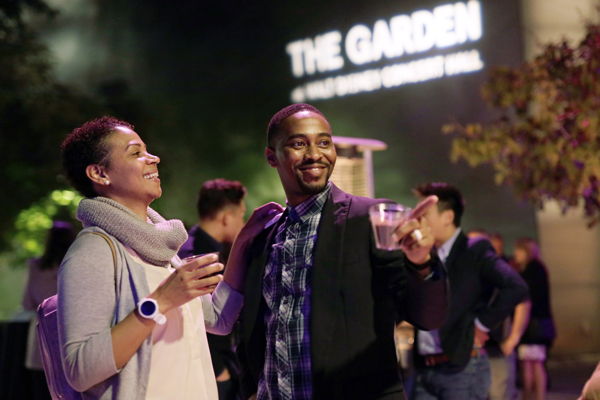 Drinks in The Garden
Event starts at 6:30PM
Set the tone for your night with Drinks in The Garden. Starting at 6:30pm, you can enjoy music and complimentary drinks, and soak up the lush and leafy ambience of Walt Disney Concert Hall's Blue Ribbon Garden.
Subject to cancellation due to weather conditions.
Learn More