Reich: Runner / Music for Ensemble and Orchestra
WINNER – Symphonic Recording of the Year,

OPUS KLASSIK (2023)

Album available on streaming services, CD, and vinyl.
Recorded live at Walt Disney Concert Hall in November 2018 and November 2021, in performances conducted by LA Phil Principal Guest Conductor Susanna Mälkki, Runner / Music for Ensemble and Orchestra is the first recording of these two works by minimalist master Steve Reich.
Reich says Runner is written "for a large ensemble of winds, percussion, pianos, and strings. While the tempo remains more or less constant, there are five movements, played without pause, that are based on different note durations. First even sixteenths, then irregularly accented eighths, then a very slowed down version of the standard bell pattern from Ghana in quarters, fourth a return to the irregularly accented eighths, and finally a return to the sixteenths but now played as pulses by the winds for as long as a breath will comfortably sustain them. The title was suggested by the rapid opening and my awareness that, like a runner, I would have to pace the piece to reach a successful conclusion."
"Music for Ensemble and Orchestra is an extension of the Baroque concerto grosso where there is more than one soloist," the composer continues. "Here there are 20 soloists — all regular members of the orchestra, including the first stand strings and winds, as well as two vibraphones and two pianos. The piece is in five movements, though the tempo never changes, only the note value of the constant pulse in the pianos. Thus, an arch form: sixteenths, eighths, quarters, eighths, sixteenths. Music for Ensemble and Orchestra is modeled on my Runner, which has the same five-movement form."
Featured Artists:
Los Angeles Philharmonic 
Susanna Mälkki, Principal Guest Conductor, Ann Ronus Chair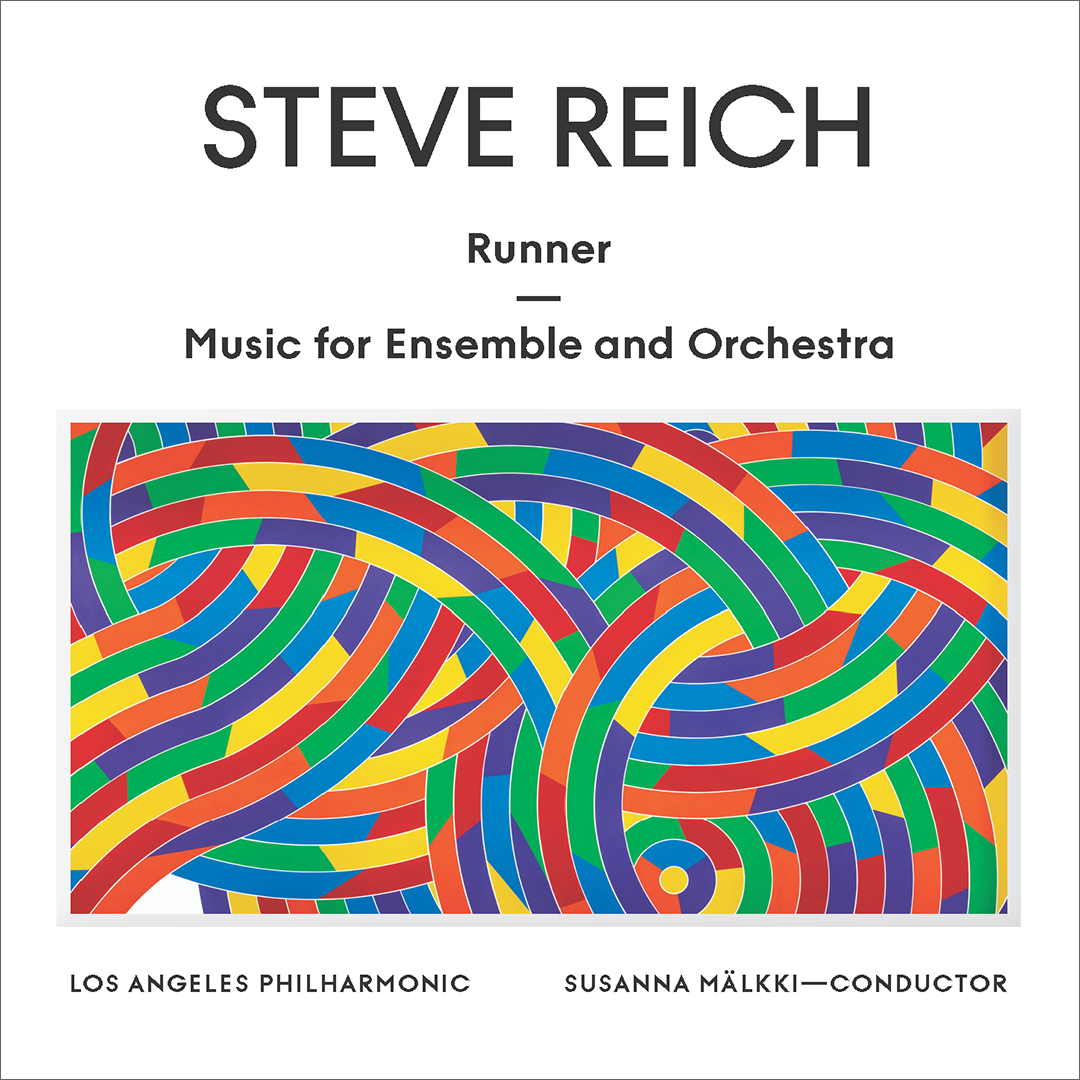 Reich: Runner / Music for Ensemble and Orchestra is available for purchase, streaming and download at these destinations:
Critical Acclaim
"Runner [is] a calmly luminous orchestral piece with the pulsating, propulsive rhythms that animate much of Mr. Reich's music."
– The New York Times
"Reich interweaves the two groups to create a dense textural tapestry that sounds like his most native orchestral thinking to date ... a beautiful and dramatically charged masterpiece."
– San Francisco Chronicle
"If you've ever been hesitant to dip your toe into the pulsating music of Steve Reich, now is the time to take a full plunge. … Hats off to conductor Susanna Mälkki, who leads the Los Angeles Philharmonic in a vigorous, transparent performance."
— NPR
About the Composer: 
Steve Reich has been called "America's greatest living composer" (Village Voice), "the most original musical thinker of our time" (The New Yorker), and "among the great composers of the century" (The New York Times). His music has influenced composers and mainstream musicians all over the world. Music for 18 Musicians and Different Trains have earned him two Grammy® Awards. In 2009, his Double Sextet won the Pulitzer Prize. Reich's documentary video opera works — The Cave and Three Tales, created in collaboration with video artist Beryl Korot — have been performed on four continents. His recent work Quartet, for percussionist Colin Currie, sold out two consecutive concerts at Queen Elizabeth Hall in London shortly after tens of thousands at the Glastonbury Festival heard Jonny Greenwood (of Radiohead) perform Electric Counterpoint followed by the London Sinfonietta performing his Music for 18 Musicians.
In 2012, Reich was awarded the Gold Medal in Music by the American Academy of Arts and Letters. He has additionally received the Praemium Imperiale in Tokyo, the Polar Music Prize in Stockholm, the BBVA Award in Madrid, and the Golden Lion at the Venice Biennale. He has been named Commandeur de l'Ordre des Arts et des Lettres and has been awarded honorary doctorates by the Royal College of Music in London, The Juilliard School, and the Liszt Academy in Budapest, among others. "There's just a handful of living composers who can legitimately claim to have altered the direction of musical history and Steve Reich is one of them," states The Guardian.