50 YEARS OF GEHRY'S COLLABORATION WITH THE LA PHIL

Focus on Frank

Frank Gehry has developed over 160 unique architectural projects in his illustrious career of more of than 60 years. To this day, he continues to create ambitiously with a seasoned team of innovative minds focused on the future. This exhibition pays homage to Gehry's 50-year-collaboration with the LA Phil.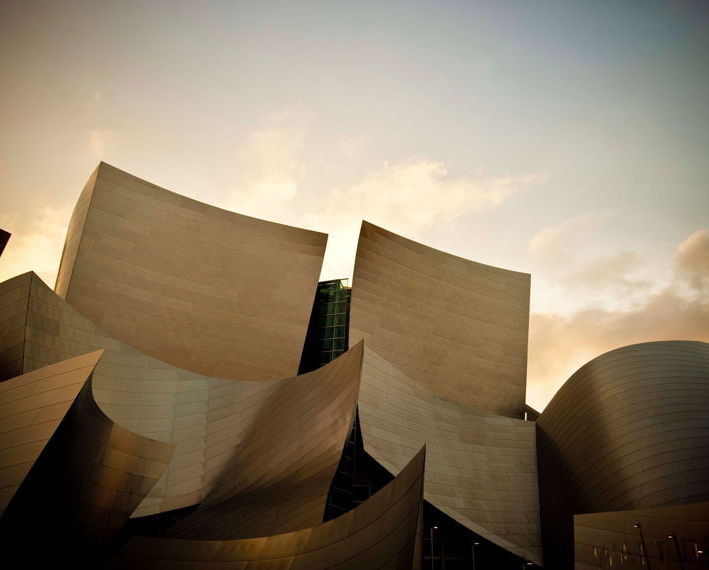 Tracing the arc of this storied partnership, we focus on five career moments: three architectural projects and two other creative endeavors in set design and sculpture. Juxtaposing projects from the early years with his contemporary buildings highlights the ever-evolving creative relationship between Gehry and the LA Phil, something that is unique in the history of cultural institutions in this country.
Judith and Thomas L. Beckmen YOLA Center

In 2018, Gehry volunteered his services to design the Beckmen YOLA Center in Inglewood, the first purpose-built facility for YOLA (Youth Orchestra Los Angeles), the signature learning program of Gustavo Dudamel and the LA Phil.
Education has always fascinated Frank Gehry. In 1968, he volunteered with his sister to teach fifth graders in an L.A. public school how to design an imaginary city using blocks and cardboard, facilitating discussion about urban planning issues. One of his philanthropic projects is Turnaround Arts: California, co-founded by Gehry and Malissa Feruzzi Shriver as a West Coast wing of the Kennedy Center's national arts education program.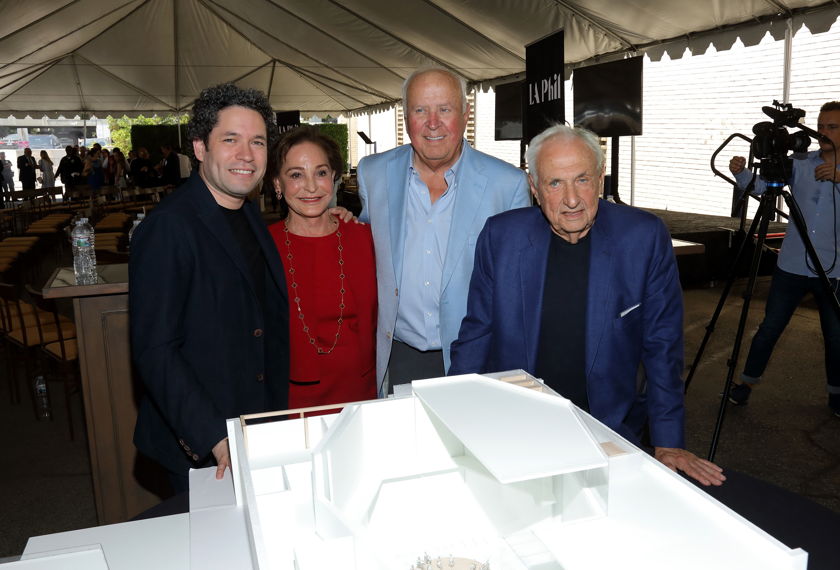 Designed as a glass-fronted box so that a passerby can see in, the Beckmen YOLA Center will feature a dropped floor and raised ceiling allowing the orchestra to have 45 feet of space above it for optimal acoustics. The pop-up transparent roof will let sunlight stream into the 260-seat concert hall below. Retractable walls will give the building additional flexibility allowing it to be quickly broken up into concert, rehearsal and teaching sections. The Center is named though a generous contribution from longtime LA Phil supporter and Board Chair Tom Beckmen and his wife Judy, a director of The Music Center's Blue Ribbon. The Beckmen YOLA Center opened its doors in the fall of 2021.
Set Design for Don Giovanni

In 2012, Gustavo Dudamel started a three-year project with the LA Phil that celebrated the famed collaboration between Mozart and his librettist Lorenzo Da Ponte. The project began with the production of Don Giovanni, featuring sets by Frank Gehry, costumes by Kate and Laura Mulleavy of Rodarte and stage direction by Christopher Alden.
In typical Gehry fashion, the sets included a beautifully layered and dreamy backdrop of organically crumbled white paper, designed as tiered and movable abstract platforms that he called "moving still life on stage." White platforms scattered amongst the scrunched-up mounds of paper could be moved to create a huge staircase at the center of the stage. Gehry's modifications creatively placed the orchestra upstage on raised platform above the action taking place below.
Walt Disney Concert Hall

It took 16 years from Lillian Disney's initial gift in 1987 to the time Walt Disney Concert Hall was ready for the public. When it opened in October 2003, it was recognized as an architectural masterpiece and acoustical marvel, forever changing the musical landscape of Los Angeles.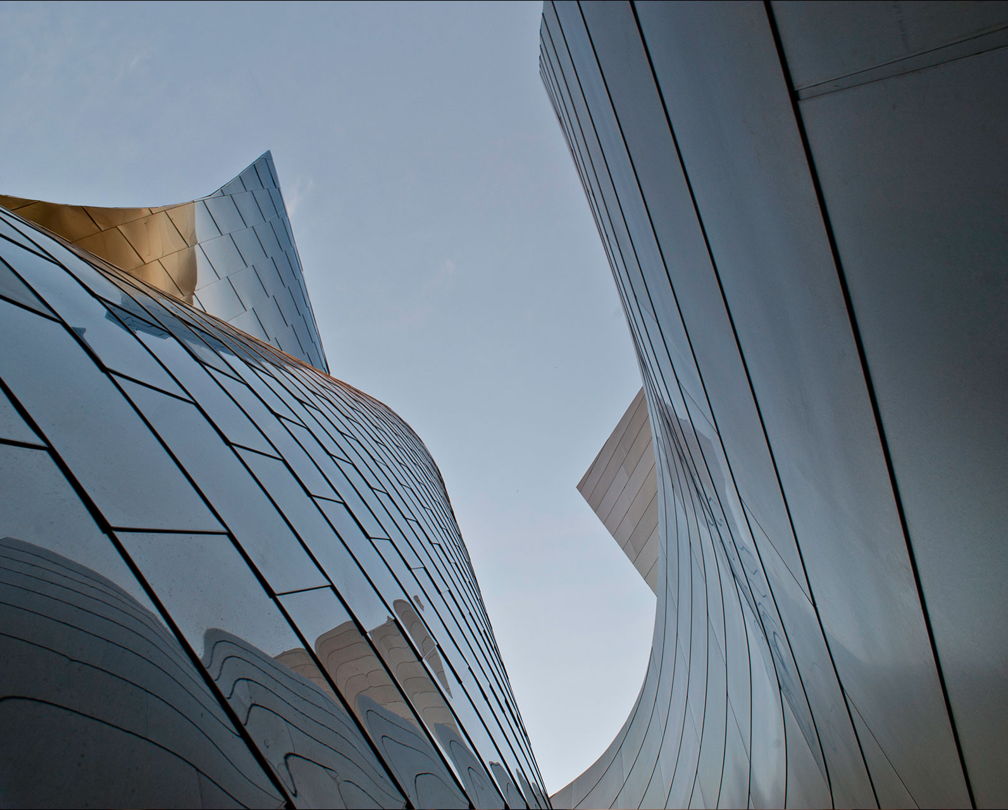 A remarkable work of public architecture, Walt Disney Concert Hall is also one of the most recognized buildings in America. "We essentially designed a structure from the inside to the outside," Gehry wrote. "In a quest for a synthesis of acoustics and architecture, the solution was a room shaped like a box, but with a sculptural seating arrangement. I likened it to the idea about a boat in a box; hence the evolution of the sailing metaphor. The ceiling started to be shaped like sails, and then, the outside started to be shaped like sails."
A Rose for Lilly

Designed in the shape of a giant rose, the fountain plays tribute to Lillian Disney and her love for Royal Delft porcelain, gardens and roses.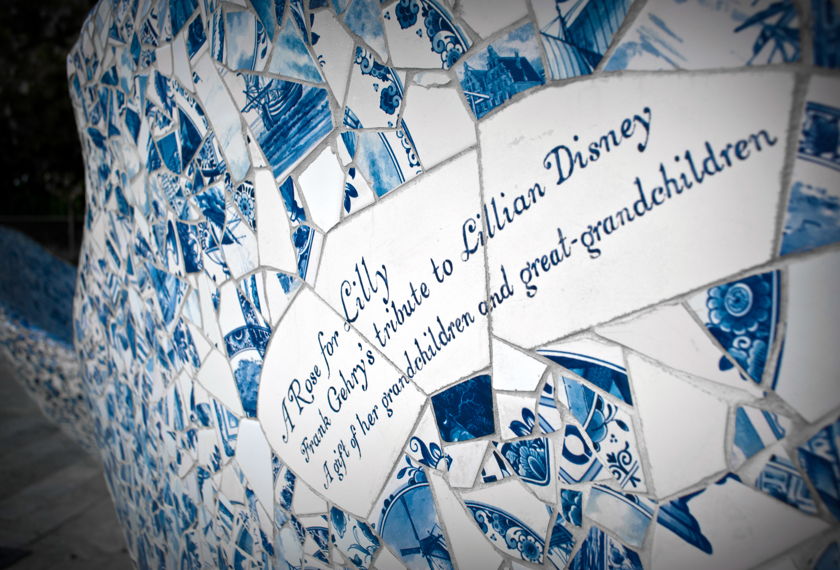 Frank Gehry is as much an artist as he is an architect. The sculptural style of his buildings is a distinctive feature of his work. Early in his career Gehry created sculptures and furniture using inventive forms made from unexpected materials, such as corrugated cardboard (the Easy Edges and Experimental Edges series of chairs and tables), pliable bentwood (Knoll furniture series), and translucent plastic laminate (ColorCore for a series of lamps).
A Rose for Lilly is one of Frank's more recent projects of this type. Designed in the shape of a giant rose, the fountain plays tribute to Lillian Disney and her love for Royal Delft porcelain, gardens and roses.
The project was overseen by the artist Tomas Osinski whose job was to translate Gehry's 14 inch model into an installation measuring 22 feet wide by 17 feet long and 7 feet high.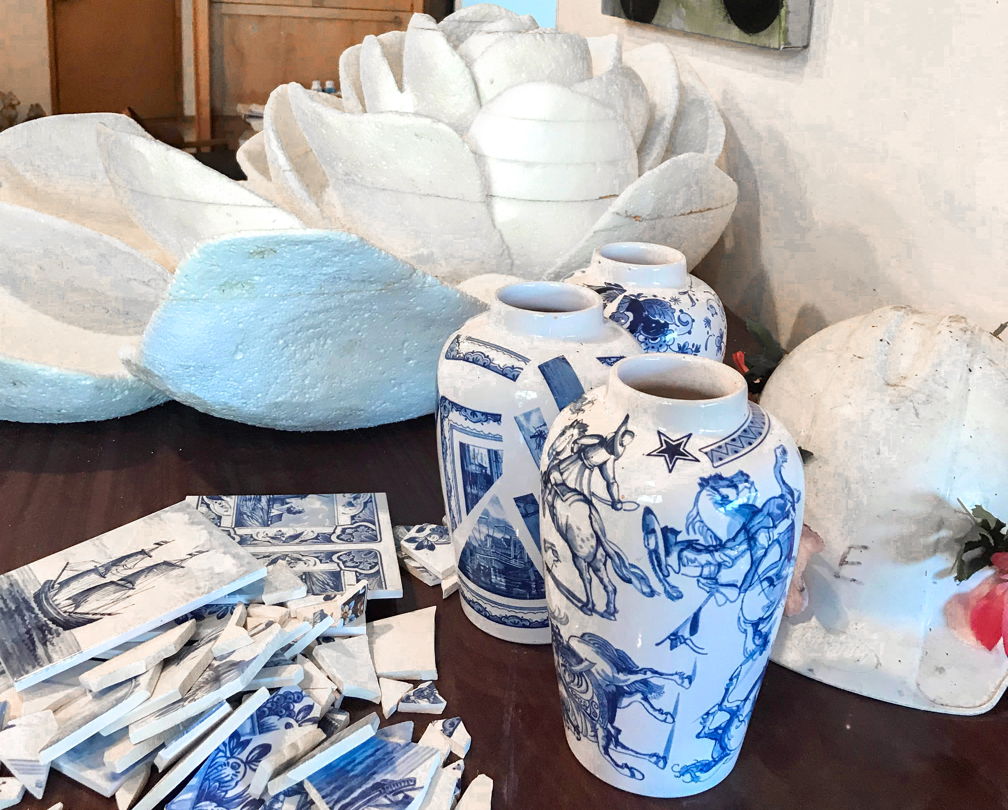 The team broke 200 Delft porcelain vases and more than 10,000 tiles to create a quarter-of-a-million fragments including about 60 hand-painted artistic stamps playfully placed through the fountain. A Rose for Lilly is now the highlight in the Blue Ribbon Garden behind Walt Disney Concert Hall.
Sonotubes and Spheres

A friend of the LA Phil's then-General Manager Ernest Fleischmann, Gehry was first hired by the orchestra in 1970 to solve problematic stage acoustics at the Hollywood Bowl.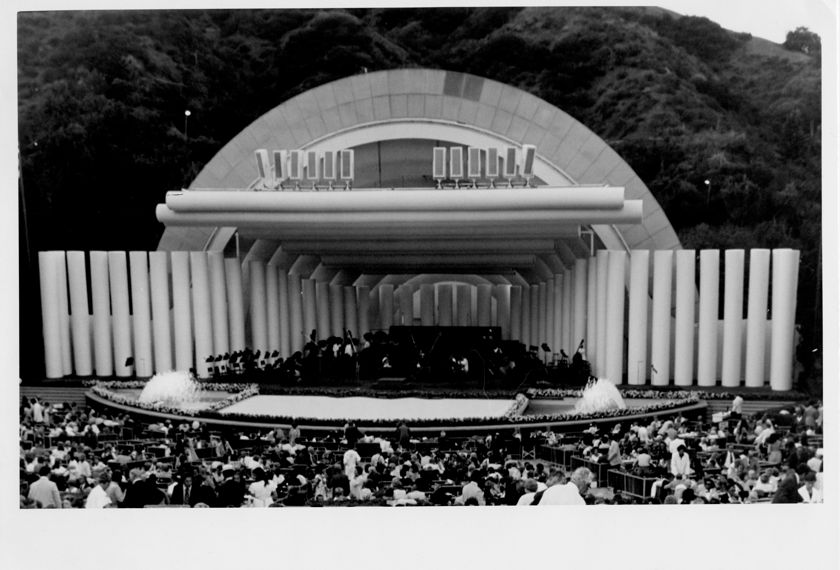 Gehry collaborated on this project with acoustician Christopher Jaffe to create a temporary solution in the form of "sonotubes." Forty-eight industrial grade cardboard tubes, up to 36 feet high and 3 feet wide, lined the Bowl shell, creating "an acoustical stage enclosure." Reinforced by steel and wood and coated with waterproof paint, the sonotubes converted direct sound energy into increased reverberant energy in lower frequencies. They allowed the musicians to hear each other better, while also projecting a more balanced orchestral sound to the audience.
Using these cardboard resonating tubes gave such impressive results that this "temporary" solution, inexpensive and fast to assemble, was in place until 1980 when the sonotubes were replaced by sound spheres, also designed by Frank Gehry.
In another approach to improve the acoustics, this later design of Gehry's called for 11 fiberglass spheres to be hung within the Bowl shell in a carefully calculated arrangement.