Traffic Advisory
Due to the construction of the new 2nd Street Metro station, please be aware of street closures in effect around the hall. Please allow extra time to arrive and park at Walt Disney Concert Hall, and make note of the following:
Flower Street will be closed between 3rd Street and 1st Street.
Kosciusko Way will be closed from 3rd Street/Flower to Hope Street.
2nd Place bridge will be closed from Hope Street to Kosciusko Way.
On the weekends from mid-January through mid-March, Hope Street between 3rd and 2nd Streets will be closed (no access to Lower Grand from Hope Street via Kosciusko Way).
Northbound Hope Street will remain open between 2nd and 1st Streets.
We encourage you to approach Walt Disney Concert Hall 2nd Street parking entrance from Grand Avenue or Northbound Hope Street, or approach the Lower Grand entrance from 4th Street or Olive Street, to avoid these street closures.
PARKING
Underground Lot
Location
Parking is available directly beneath Walt Disney Concert Hall. Enter on Second Street or Lower Grand Avenue.
Operating Hours
Monday-Friday: 6AM-12AM
Saturday-Sunday: 7AM-12AM
Parking costs
$10 beginning at 4:30pm for evening concerts and two hours before weekday matinees.
Accessible Parking
Accessible parking spaces for vehicles displaying valid, state-issued disability parking placards or license plates are reserved near the elevators on each level.
Valet Parking
Valet parking is available for $23 at the Hope Street entrance beginning at two hours before concert start time.
Founders parking entrance opens two and a half hours before concert start time.
More Information
For questions or issues regarding Music Center parking, please call 213 972 3476.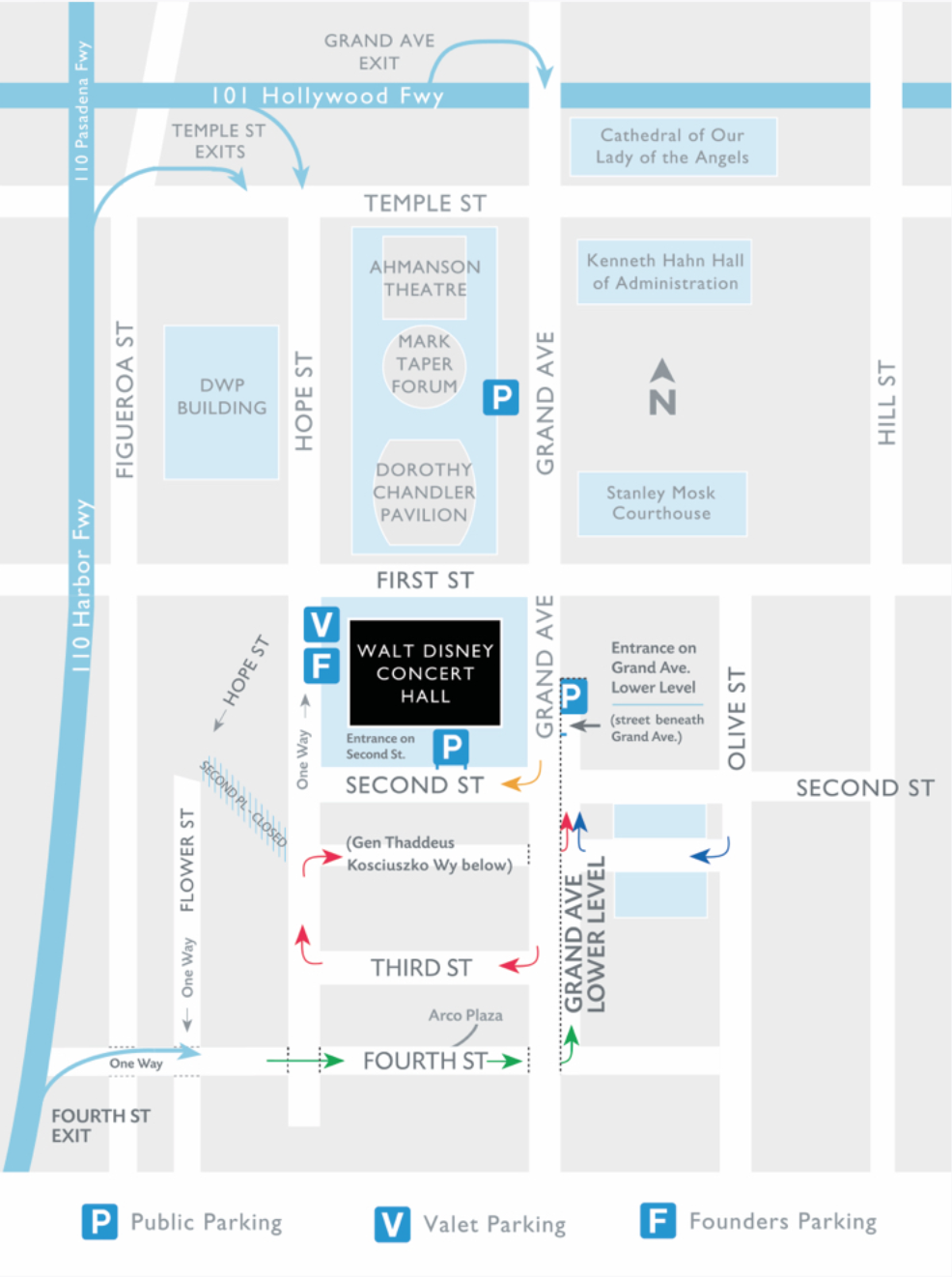 Rideshare and Drop-off
All rideshare, access, and drop-off vehicles are welcome to unload passengers on Grand Avenue in front of the concert hall. Loading zone signs indicate the preferred spot for passenger drop off.
PUBLIC TRANSPORTATION
Go Metro
Skip the traffic and take the Grand Avenue Arts/Bunker Hill station (Blue, Expo, and Silver Lines) across the street or the Civic Center/Grand Park Metro station (Red and Purple Lines), which is a short one-block walk to the Hall. The Metro offers direct service from as far away as Santa Monica, Long Beach, Azusa, or East LA.
Plan your trip on Transit app or call 323.GO.METRO (323.466.3876).