Walt Disney Concert Hall Tours
Self-guided audio tours and guided tours of Walt Disney Concert Hall are offered by the Music Center most days. All tours are an hour long and begin in the Grand Avenue Lobby of Walt Disney Concert Hall.
For your Insiders' Tour, please meet in the Grand Avenue lobby. Look for the sign which reads "LA Phil Insiders' Tour Begins Here." Start times vary, so please check the schedule below. Show your concert tickets for that day's performance for admission to the tour.
We hope you enjoy getting to know this amazing space.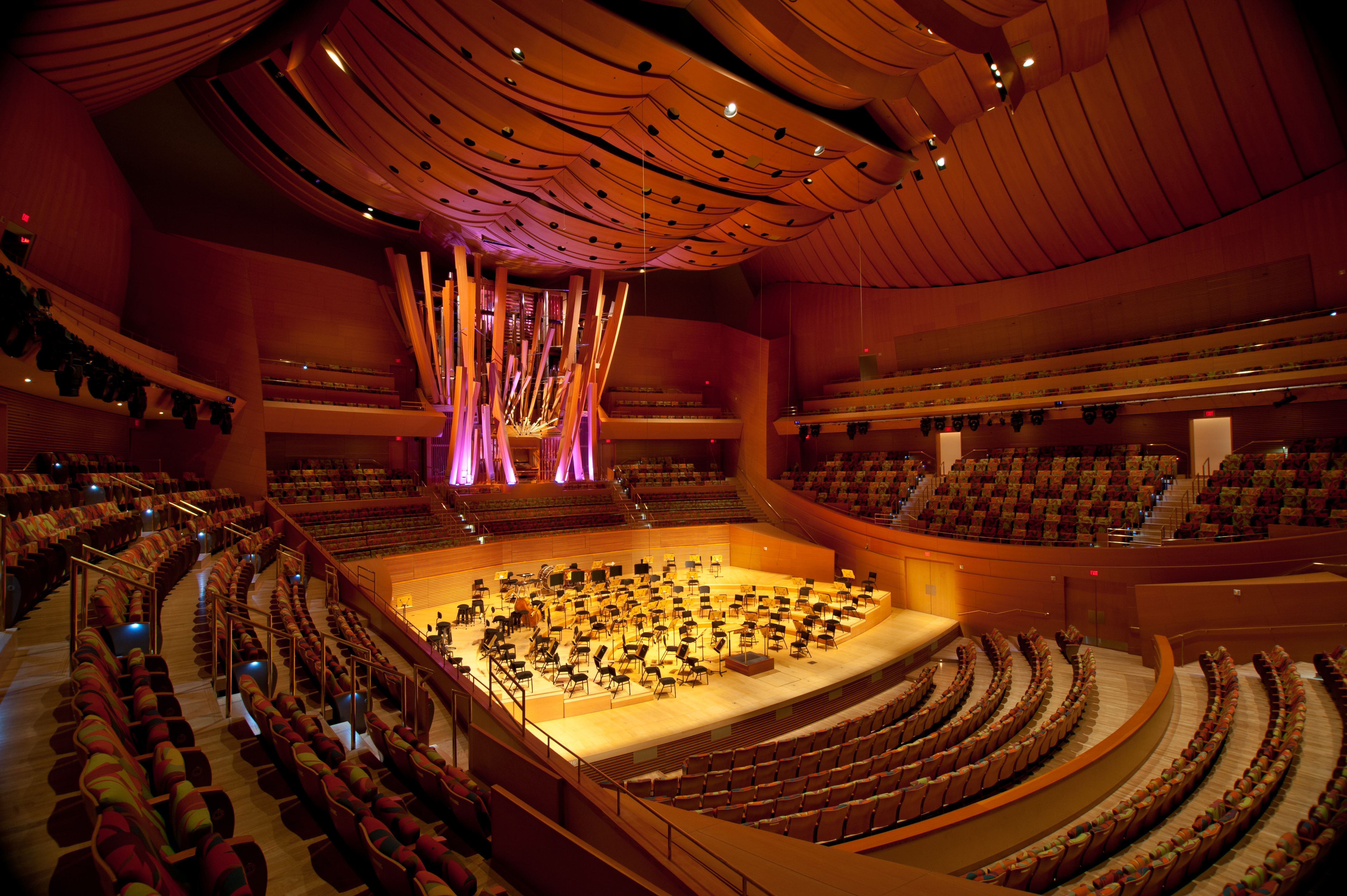 LA Phil Insiders' Tour Schedule
| | | |
| --- | --- | --- |
| CHAMBER MUSIC 1 (CH1)* | Tue OCT 2 |                              7:00 PM |
| THURSDAY 1 (TH1) | Fri OCT 4 | 6:30 PM |
| FRIDAY MIDDAY (FRM) | Fri OCT 5 | 9:30 AM |
| SATURDAY EVENING 2 (SA2) | Sat OCT 6 | 6:30 PM |
| SUNDAY 2 (SU2) | Sun OCT 7 | 12:30 PM |
| ORGAN RECITALS (OR1) | Sun OCT 7 | 6:00 PM |
| GREEN UMBRELLA (GU1) | Tue OCT 9 | 6:30 PM |
| SONGBOOK (SB1)* | Thu OCT 11 | 7:00 PM |
| JAZZ (JZI)* | Sat Oct 13 | 7:00 PM |
| WORLD MUSIC (WM1)* | Sun OCT 14 | 6:30 PM |
| THURSDAY 2 (TH2) | Thu OCT 18 | 6:30 PM |
| FRIDAY EVENING 1 (FR1) | Fri OCT 19 | 6:30 PM |
| SATURDAY EVENING 1 (SA1)                                         | Sat OCT 20 | 6:30 PM |
| SUNDAY 1 (SU1) | Sun OCT 21 | 12:30 PM |
| COLBURN CELEBRITY RECITALS 1 (CE1)* | Wed OCT 24 | 7:00 PM |
| SATURDAY EVENING 3 (SA3) | Sat OCT 27 | 6:30 PM |
| CHAMBER MUSIC 2 (CH2)* | Tue OCT 30 | 7:00 PM |
| FRIDAY EVENING 2 (FR2) | Fri NOV 2 | 6:30 PM |
| SUNDAY 3 (SU3) | Sun NOV 4 | 12:30 PM |
| BAROQUE VARIATIONS (BV1)* | Sun NOV 4 | 6:30 PM |
| FRIDAY EVENING 3 (FR3) | Fri NOV 9 | 6:30 PM |
| SATURDAY MATINEE (SAM) | Sat NOV 10 | 12:30 PM |
| CASUAL FRIDAYS 1 (FRC1) | Fri NOV 16 | 6:30 PM |
| INSIDE THE MUSIC (FRITM) | Fri NOV 30 | 6:30 PM |
| COLBURN CELEBRITY RECITALS 2 (CE2)* | Sun DEC 9 | 6:30 PM |

*no pre-concert Upbeat Live discussion