Upon its completion in 2003, Walt Disney Concert Hall became an instant Los Angeles icon. It draws crowds from around the world keen not only on experiencing the art and music within but also on marveling at its dazzling design. Echoing the compositions performed there, the structure is a symphony of architectural gestures, each piece building upon another.
"Liquid architecture. It's like jazz," the Hall's architect, Frank Gehry, has said. "You improvise, you work together, you play off each other, you make something, they make something."
Despite its international renown and well-documented history, Walt Disney Concert Hall holds many secrets and fun facts you may not know:
Liquid architecture. It's like jazz, you improvise, you work together, you play off each other, you make something, they make something.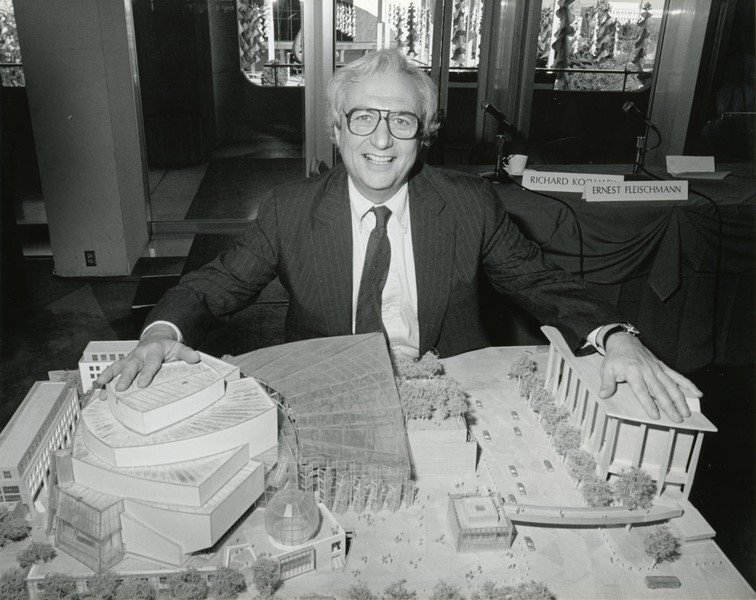 1. It preceded the Guggenheim in Bilbao
Many believe that Frank Gehry simply recycled the design of the Guggenheim Museum Bilbao in Spain, when in fact Walt Disney Concert Hall came first. Frank Gehry was commissioned for the hall back in 1988, and even as the hall went through numerous design iterations (50, in fact), it held true to form as early as 1991. An unfortunate convergence of political, planning, management, and bidding problems led to a shutdown of the project in 1994, delaying construction until 1999. Bilbao, meanwhile, was completed in 1997 after only four years of construction. Guggenheim leadership had only started seeking an architect for that project in June 1991.
2. Several architects were short-listed to design the Concert Hall
Out of the 80 applicants, 25 were picked, then six, and then the final four; besides Frank Gehry, the finalists were Hans Hollein, Gottfried Böhm, and James Stirling. Walt Disney's widow, Lillian, was enamored of Gehry's approach, which yielded an elegant structure with nods to the deconstructivist style for which he was known.
3. It was supposed to be clad in stone
"Disney Hall would look beautiful at night in stone," Gehry once told Los Angeles Times journalist Barbara Isenberg. "It would have just been great. It would have been friendly."
However, during the design process, his team quickly learned that stone panels would be incredibly heavy, and it would be far too expensive to build the metal structure required to support them. As an alternative, Gehry chose steel. Walt Disney Concert Hall officials were pleased with the change, particularly in light of the recent acclaim received for Gehry's titanium building in Bilbao.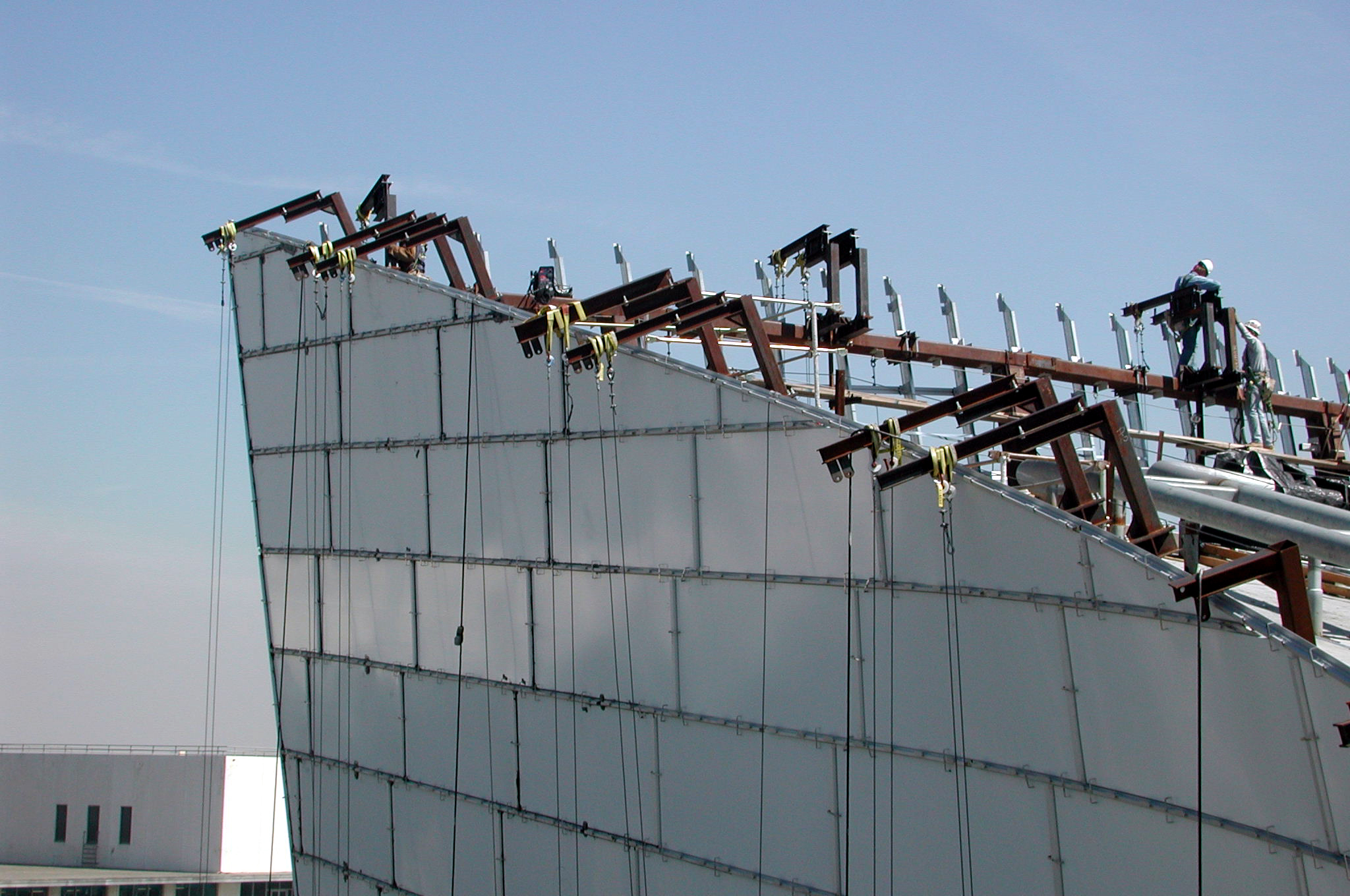 4. No two panels are alike
To achieve the complex curves and surfaces you see today, every single panel adorning the concert hall had to be customized. That is, each panel is a unique size. At the time, no architectural software existed that could help realize the design, so Gehry's team essentially had to invent their own. They used CATIA CAD/AM (a French 3D-modeling software initially used by the aerospace and automobile industries) as the basis. Walt Disney Concert Hall is believed by many to be the first architectural project in the United States in which 100 percent of the construction drawings and dimensional controls are defined fully in a three-dimensional computer model.
5. The building is held together with double-sided tape
To affix the thousands of stainless-steel panels, the construction team from Permasteelisa needed a way to invisibly secure each of the 145-pound pieces of steel. Rivets and welds were not an attractive option, so the team found another creative solution: 3M's VHB Tape. Initially designed for use on aircraft, the tape is marketed as a high-strength bonding alternative to visible fasteners and is used on a wide range of products, from electronics to signage.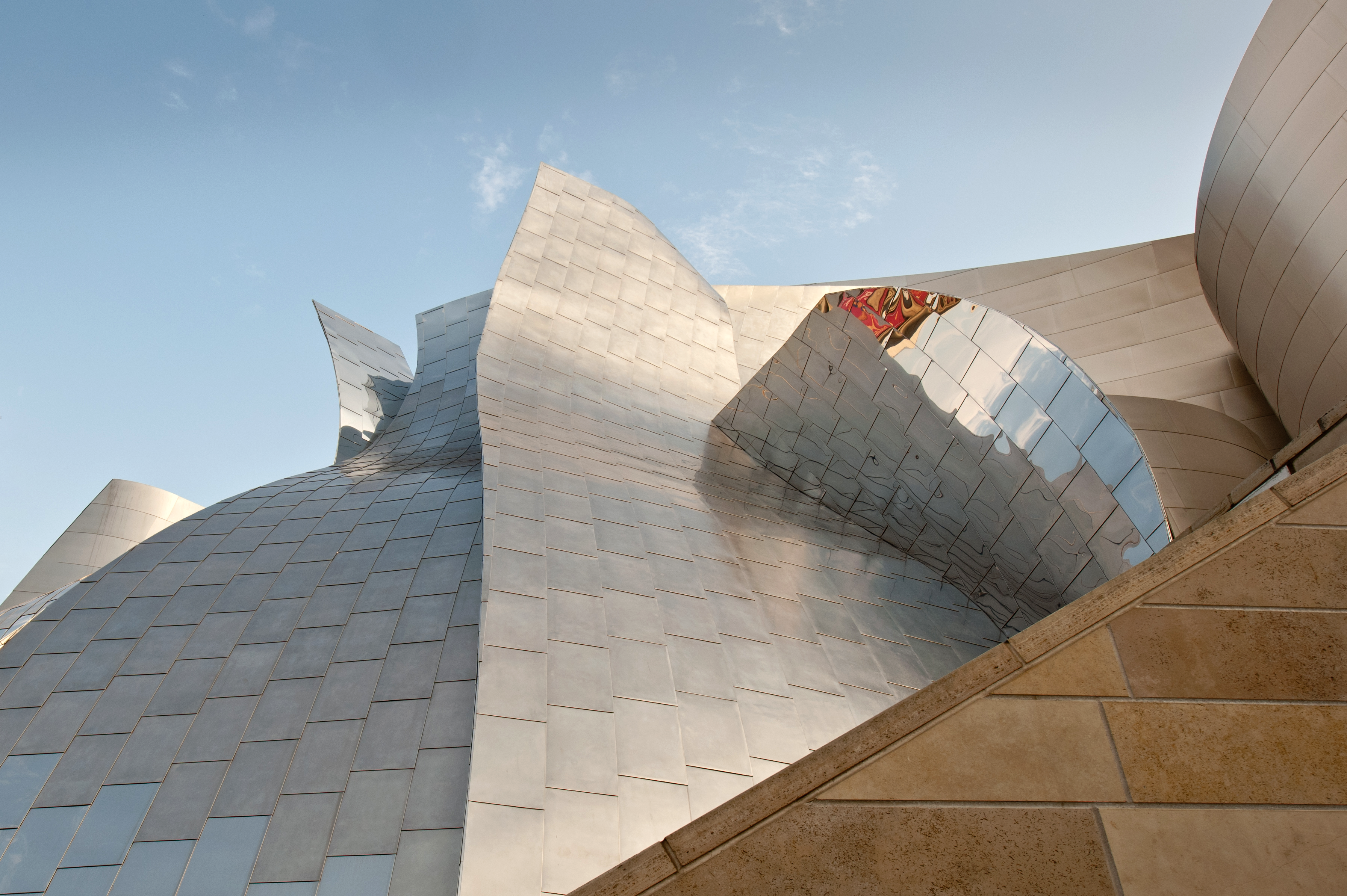 6. The Founders Room was once its brightest area
The use of stainless-steel instead of titanium panels allowed for a high-gloss finish on the building rather than the more muted effect of titanium. Unfortunately, the extraordinary sheen and concave surfaces essentially turned the building into a parabolic mirror. A 2005 study revealed that the building was creating a microclimate with temperatures reaching as high as 138 degrees on sidewalks nearby. Residents in adjacent buildings were also finding their apartments overheating by as much as 15 degrees. Employees, meanwhile, reported traffic cones melting, and the glare was so bright it was blinding drivers. Initially, a gray tarp was hung over the offending areas, and then modeling software was employed to locate the problem panels. Industrial sanders were then brought in to dull the glare.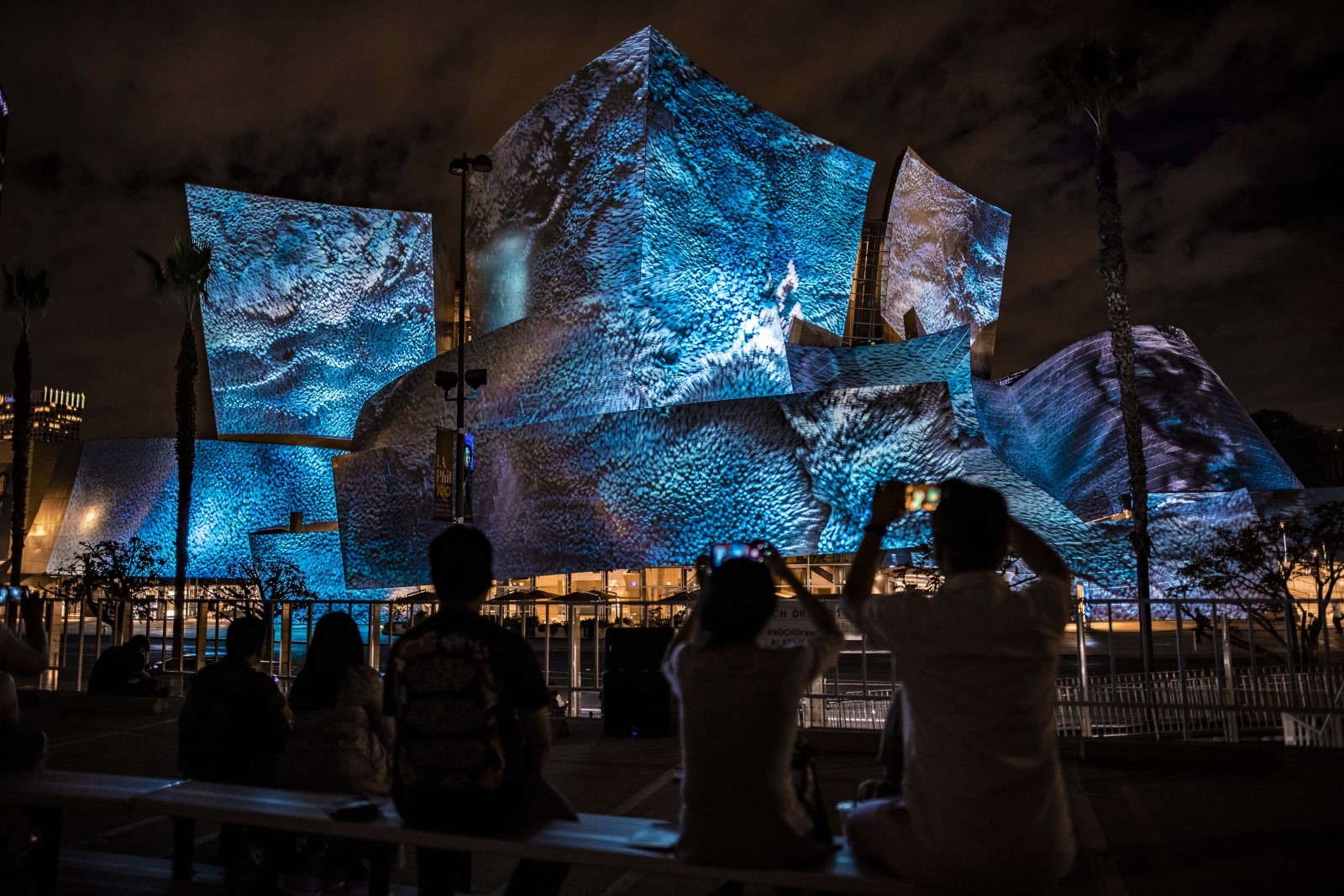 7. Gehry had wanted all concerts projected on the exterior
Gehry's choice of steel over titanium was tied to his desire to have scenes of every concert projected onto the skin of the building in real time. In fact, when designing the building, Gehry tested multiple types of steel to ensure the best projection. The architect envisioned projecting snippets of the musicians and conductor performing, with each disjointed image appearing on a different panel set to the music playing within. However, as Gehry shared with Los Angeles Times reporter Deborah Vankin, "It was thought that was offering people who couldn't afford it to see it secondhand, and that was a demeaning thing. That was brought up by important people in the county."
8. The Hall does not need any audio amplification
Speakers? No way. Walt Disney Concert Hall does not need any audio amplification. Instead, the walls are clad with 133,000 square feet of Douglas fir acoustic paneling, providing the space with optimal sound reflection. Gehry worked in collaboration with acoustician Yasuhisa Toyota to custom design every facet of the hall. There is no bad seat in the house.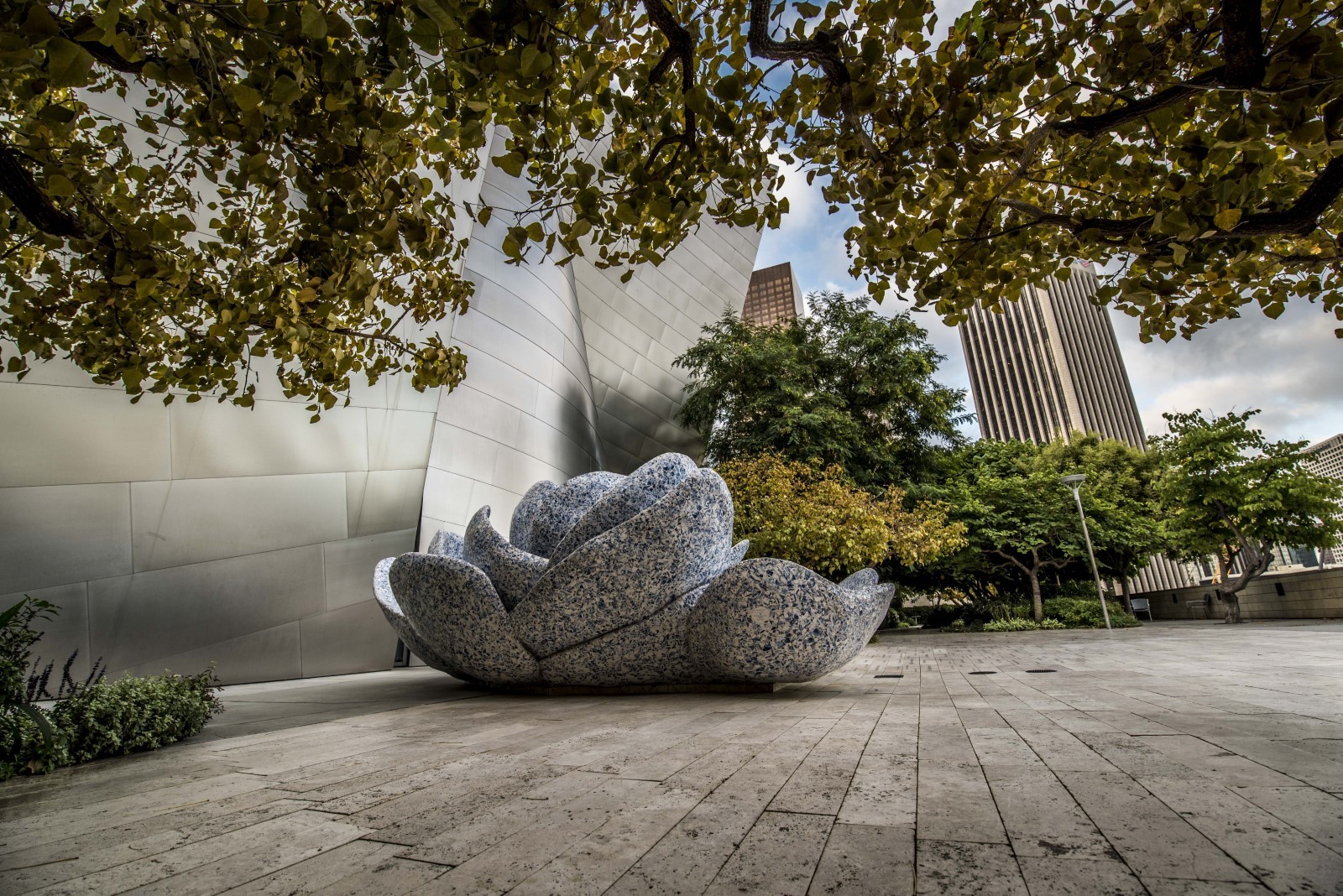 9. A Rose for Lilly has some secrets of its own
Some consider the Blue Ribbon Garden atop the concert hall a "secret garden," a verdant, nearly one-acre space positioned above the hustle and bustle of downtown Los Angeles. The garden's centerpiece fountain, named A Rose for Lilly, holds a few Easter eggs of its own. Gehry worked with artist Tomas Osinski to create the mosaic sculpture from more than 200 broken Royal Blue Delft porcelain vases as a tribute to Lillian Disney, who loved to collect both real and fake Delft Blue porcelain. The fountain hides 60 hand-drawn shards that bear artist initials and unique illustrations, as well as a tile featuring a depiction of Gehry.
10. Frank Gehry's favorite seat is not inside the Concert Hall
You don't have to spend a cent to enjoy Frank Gehry's favorite seat at Walt Disney Concert Hall. Along the exterior, there is a stairwell that climbs from one side of the building to the other and across the top of the structure. At the apex is a window through which you can see into the auditorium—this is the architect's favorite vantage point.
Get Watch & Listen Updates
Join the Watch & Listen newsletter list!