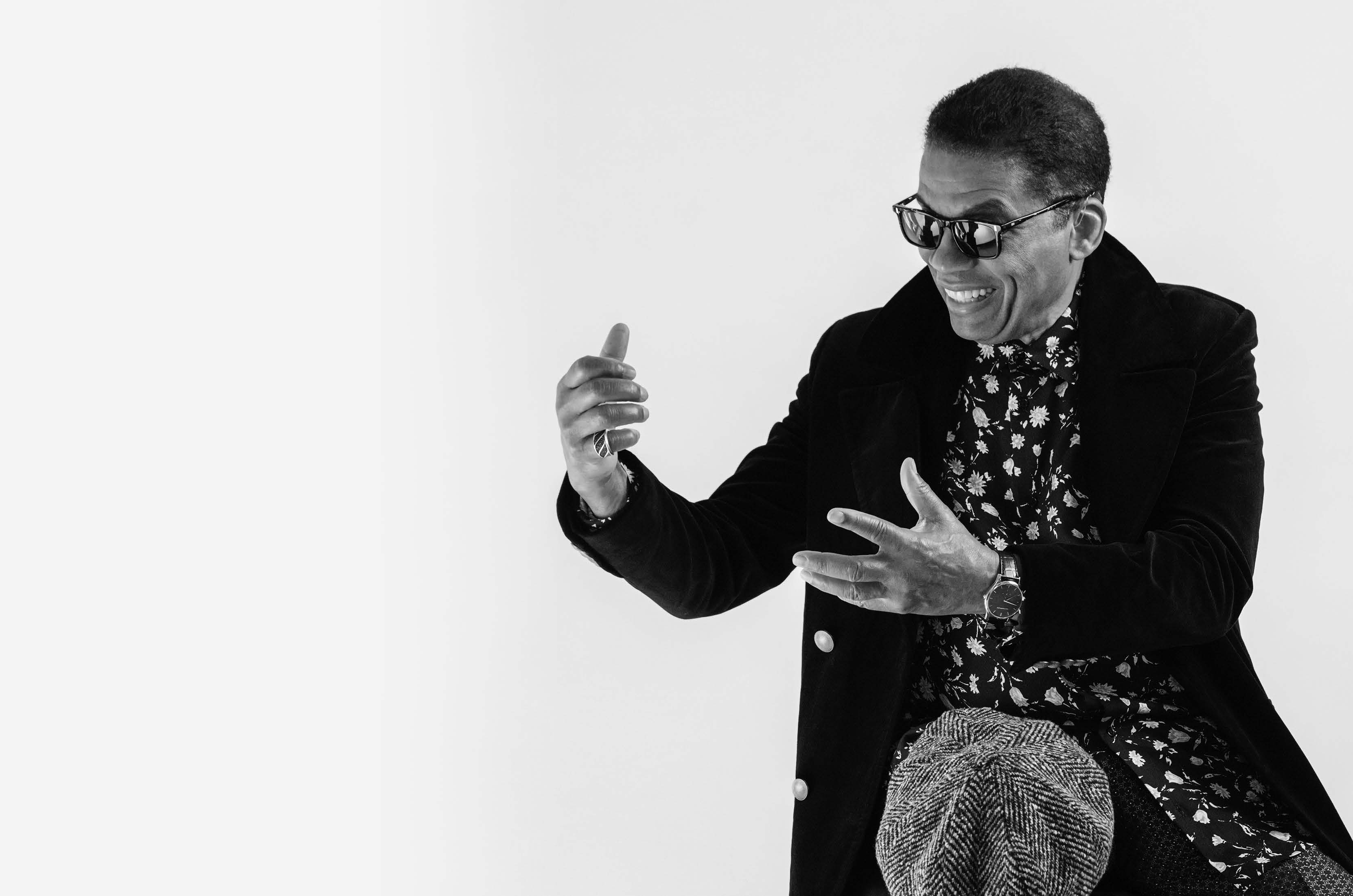 Herbie Hancock isn't just a jazz legend. He's also a committed humanitarian, a tireless advocate for "human beings to be better tomorrow than they are today," as he puts it. It's an ethos he's learned both on- and off-stage, as he said in a recent interview, and he's applying it to the LA Phil's Power to the People! festival, which he's curating alongside Music & Artistic Director Gustavo Dudamel. On a warm Saturday afternoon at his Beverly Hills home, Herbie talked at length about his motivations as an artist, the inspiration behind Power to the People!, and what jazz has taught him about the way people should treat one another.
Has playing jazz informed the way you think about ethics or politics?
I had an amazing mentor in music with Miles Davis. I learned a lot from him, and what I learned from him about music, I later found out those same attributes are incredibly important for living a good life, a healthy life, a life that you can be proud of. [He taught me about] the importance of listening, even of listening to voices of people who you don't agree with. Miles demonstrated that he was paying attention to these younger musicians that he hired. If I changed the voicing of a chord or took a different path with what I was playing, Miles would take a different path with his notes, and I knew that I was the reason he was doing that. And so when Miles would take his solos, the band sounded like one mind. It was one unit that was consolidated, and that unity made the band sound better. If we take that model and apply it to humanity in general, I think that we're on a pathway to creating the kind of world that will solidify, that life will continue generation after generation.
You've made a point of continuing to work with younger musicians and learning how to incorporate their ideas into your own musical vision. Is it hard to stay young in that way? Why is it important to stay open to fresh ideas?
Older people think that they lose their youthful spirit, and that it's a natural thing to [come to] a certain place where we stop growing. [But] that youthful spirit is still in there waiting for you to wake up to it! I'm looking at the fact that it will be young people who are shaping the present and the future. And what I want to do is encourage young people and be willing and ready to share experiences or anything I may have learned – but not to the point of where I'm trying to make them do what I do. They have to decide for themselves what they want to do. I'm starting to feel like this is the new 1960s, [with] young people having such a huge influence on the moment and the future. I believe that that's starting to happen again, and boy am I glad about that, because these times are... I've never lived in a time when things seem to be this bad. So seeing young people come to the fore and move things forward toward a more humanitarian age… At the best it could lead to a new golden age. [But] it's not just about politics, per se. […] It's about democracy.
I'm starting to feel like this is the new 1960s, [with] young people having such a huge influence on the moment and the future. I believe that that's starting to happen again, and boy am I glad about that [...] I've never lived in a time when things seem to be this bad.
In your mind, what's the difference between democracy and politics?
Democracy, at least in my view, is the voice of the people, what people want in order for humanity itself to constantly move forward and to ascend and lift itself, for human beings to be better tomorrow than they are today. That to me is kind of humanitarian ethics.
When you're playing a concert, does the audience play any role in the exchange of ideas or feelings?
What happens at a concert is, whether I'm playing solo piano or with a trio or a quintet – if it's a quintet, there's a sixth member of the band, and that's the audience. It took me many years to realize this, by the way. And I'm convinced of it, because every time I play a concert, it's different. There's not just empty chairs there: There's life there. That life influences your presence on the stage. You're there to present something and it's something that's so palpable, you could cut it with a knife. You feel it. You walk on the stage and you look out there at all of those people and you feel something that is different than when you walk off the stage and you're in the dressing room. So I encourage artists and others, too, to be your true self, to tell your story, especially when it's a positive message.
Patti Smith is playing at the Power to the People! festival. What does she mean to you?
We're so fortunate to have Patti Smith to not just entertain us, but to give us messages that we need to hear against war, against that kind of violence. She's been a fighter throughout her career for the good of humanity.
What do you think about the work Residente has done, elevating Puerto Rican issues and encouraging social engagement in his music?
He's had quite a career. He's got 25 Latin Grammys and he's done a lot of work with UNICEF and Amnesty International. He's made being socially conscious such an important part of his work, and he cannot be ignored. People need to be active, not just sit on the sidelines. That infusion of blood that his music has given to the people is so important.
Your 1971 piece "Ostinato (Suite for Angela)" is dedicated to Dr. Angela Davis, who will be speaking at the festival. What made you want to dedicate that piece to her?
I wanted to give her a gift of some sort, so I dedicated that to her. "Ostinato" is a musical term, and it just means a musical phrase that repeats over and over and over again while you build something on top of it. If we think about the world that goes around and around, that's an ostinato. It's the same phrase over and over again. What we do with life around that ostinato happening shapes and informs the course of history. In a sense, it can apply to Angela Davis, because what she did was wake a lot of people up about civil rights, which were so in need of repair, and she was a person of the people who made her own decision to stand up, to go to jail for human rights. That's courage. She's a hero. I happened to be playing a concert in San Francisco the day she got out of jail [in 1972], and she was able to attend; I was delighted and thrilled that she could be there. I'm really looking forward to seeing her again.
You're putting this festival together with Gustavo Dudamel. How does he inspire you?
Gustavo is fantastic. He's so full of life! He's got that eager spirit to want to try something new, something innovative. He's got the enthusiasm and the spirit and the kind of wide-eyed view of "what can we do next?" He's always looking forward. I admire that so much in him. I think everybody can have that to varying degrees, but fear can be a deterrent to manifesting curiosity. I've never seen him afraid of anything. He doesn't seem like the kind of person that even entertains the idea of fear. And that's the other thing about music. It really helps to deter that fear syndrome that... we all have in us. But music helps to kind of a sprinkle some kind of acid on that to get rid of it – or at least keep it at bay so that you feel stronger, so that you feel you have more courage to try something new.
Get Watch & Listen Updates
Join the Watch & Listen newsletter list!