"The Los Angeles Philharmonic is the most important orchestra in America. Period," wrote The New York Times classical music critic Zachary Woolfe in 2017.
As Walt Disney Concert Hall approaches its 20th birthday in 2023, the sentiment, for many, still holds unwavering.
The concert hall's continued success can certainly be attributed to the trailblazing vision of Los Angeles Philharmonic Music & Artistic Director Gustavo Dudamel, who, at just 28 years old, arrived on September 30, 2009, for his first day on the job. Over the last 14 years, Dudamel has managed to hook crowds of all ages and backgrounds by refreshing "oldies" (Bach, Mahler, etc.) and by introducing audiences to undiscovered composers. The conductor, however, would ascribe his success to another muse: the architecture of Walt Disney Concert Hall.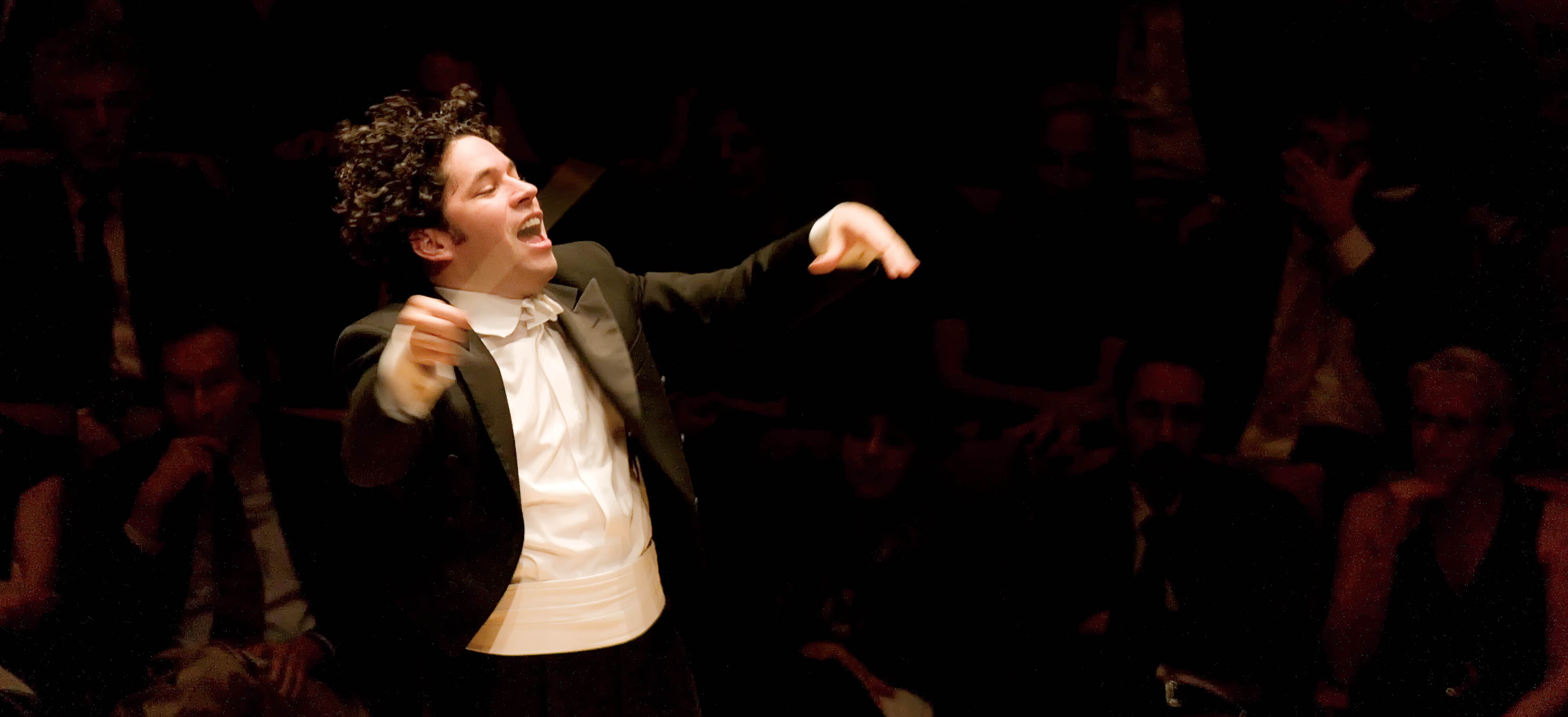 "[The Concert Hall] is such an inspiration both to me as well as to my LA Phil," Dudamel has said. "We feel intimate and so closely connected to our public. Because the audience sits all around us, it's like being in the middle of a Roman amphitheater and thus we have to play at the top of our game."
It should come as no surprise that the Hall has certainly inspired unconventional thinking. It was architect Frank Gehry's intent that design eschew tradition, which is visible via the undulating exterior but also through innovation within.
Gehry sought to create a place that people could identify and think of as their own—"a living room for the city" where music would be accessible to great numbers of people. "I'm trying to make a building that invites you in."
Because the audience sits all around us, it's like being in the middle of a Roman amphitheater and thus we have to play at the top of our game.
Unlike many traditional concert halls, Walt Disney Concert Hall does not have boxes and balconies. Rather, seats are distributed across a 360-degree, vineyard-style layout. The reason for this was twofold: Gehry wanted to avoid implied social hierarchies, and he wanted to create a unique connection between the audience, conductor, and orchestra.
"We made a building and we thought about it as a place where people were gonna come to listen to music," Gehry says. "We thought about the relationship between the audience and the musicians, and musicians to musicians, and how the audience would relate to each other—we spent a lot of time on that topic and fine-tuned it so it works."
In the same vein, the interior itself was conceived to function as a "musical instrument." Gehry worked in close collaboration with acoustician Yasuhisa Toyota to custom design every facet of the hall, ensuring the interior sound reflection was optimal. Every sound made within—from cough to string pluck—is captured, creating an intimate rapport between the crowd and the performers. (Audience members say that you can sense what every individual instrument is doing from head to toe.)
For Dudamel, the magic of the acoustics is also tangible. As he told NPR in 2013 on the Hall's 10th birthday: "For me, and for the orchestra, it's something great to have an instrument where we can develop a sound. And this is the Disney Hall: an amazing and unique instrument. It's moving all the time; it's calling you all the time to move. You know, architecture is harmony, it's sound, it's music. And I really love this place."
For me, and for the orchestra, it's something great to have an instrument where we can develop a sound.
The popularity of the building has also helped bring in new, more diverse and younger crowds. This interest has further been amplified by the LA Phil's commitment to education and social justice. Youth-centric music programs have trained new eyes and ears, while also providing many kids with their first encounter with live orchestral music.
In 2021, The Los Angeles Philharmonic opened a new home for its Youth Orchestra Los Angeles (YOLA) in Inglewood. The Judith and Thomas L. Beckmen YOLA Center is the product of Dudamel (creative director) and Gehry (architect), who worked together to bring the $23.5 million project to fruition.
Today, the program serves close to 1,700 students who come to study, practice, and perform music on instruments provided by the Los Angeles Philharmonic. YOLA musicians have joined the Philharmonic at Disney Hall, the Hollywood Bowl and on tours to places including Tokyo, Seoul, and Mexico City. Members of the Los Angeles Philharmonic, including Dudamel who has an office in the building, regularly show up to observe practice and work with students.
Despite its smaller scale, YOLA's music hall is also quite an architectural feat. The performance hall boasts a 45-foot ceiling (the LA Phil's home is 51 feet) and the acoustics were designed by Nagata Acoustics, which also designed the acoustics at Walt Disney Concert Hall. When planning the space, Gehry said he wanted students to "have a real experience of playing in that kind of hall."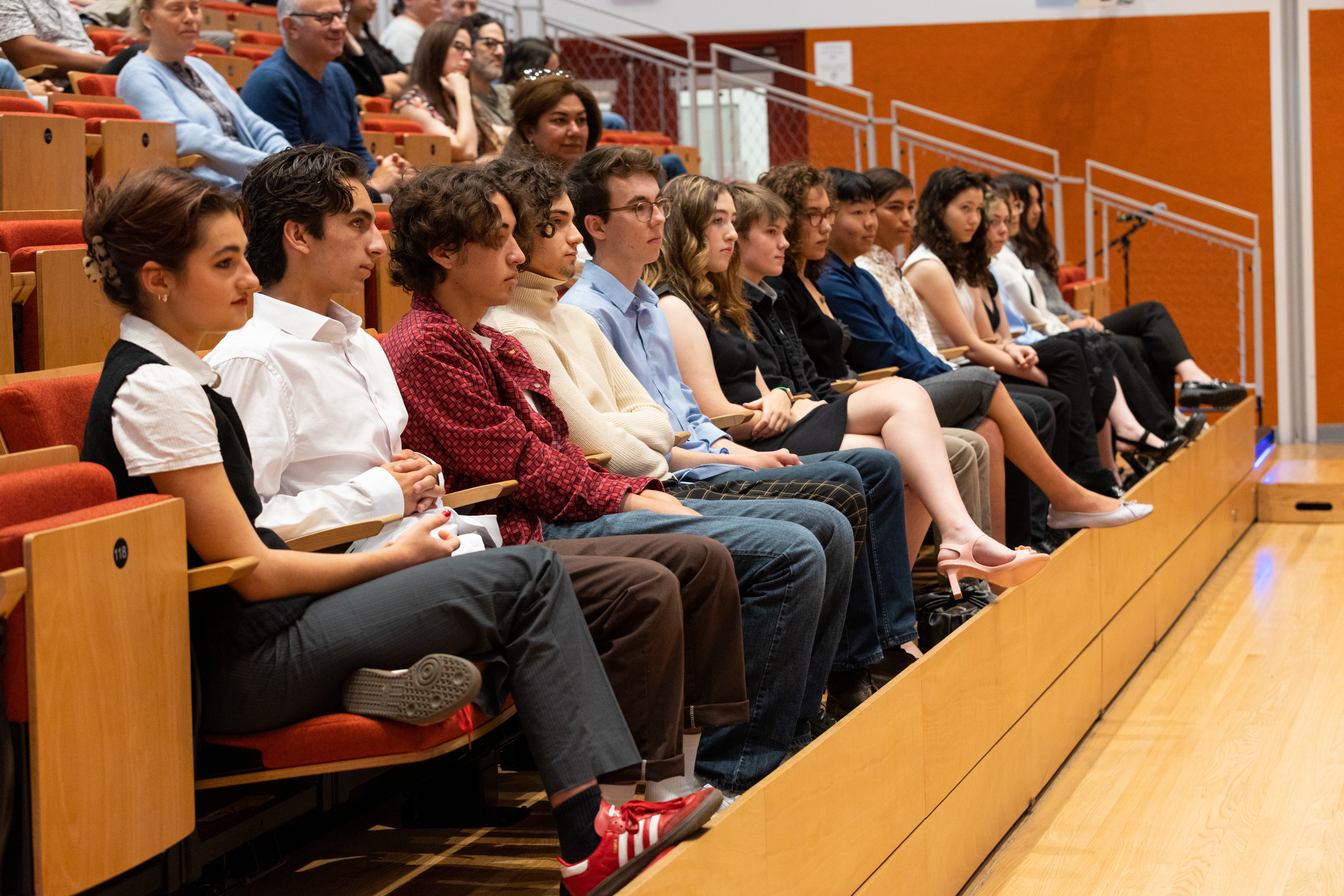 Get Watch & Listen Updates
Join the Watch & Listen newsletter list!