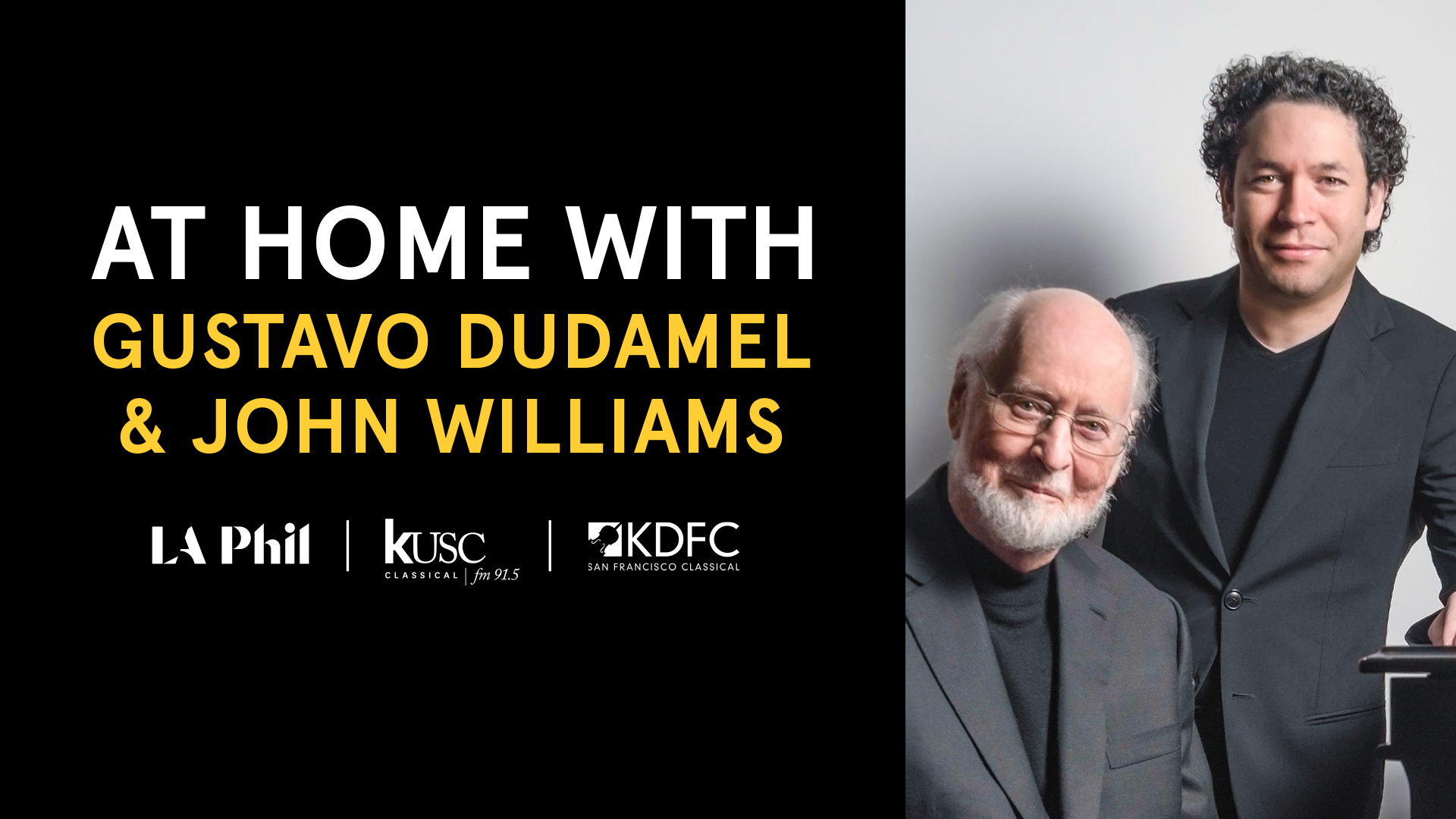 Building on the success of At Home With Gustavo, this online and on-the-air program features the LA Phil's closest friends and collaborators sharing recordings, personal stories, and insight into the music.
Each At Home With… episode presents the guest's curated musical selections along with their personal reflections on the music and their experience of our current environment. Interviewed by KUSC's Brian Lauritzen, the artists welcome listeners into this experience, in order to bring people together and provide comfort and inspiration through music in these uncertain times.
Music & Artistic Director Gustavo Dudamel joined by legendary conductor/composer John Williams will host the final episode. Final air date to be determined.
Broadcast playlists below:
TUE, APR 28 (Esa-Pekka Salonen)
DEBUSSY Prelude to the Afternoon of a Faun
BEETHOVEN Ah, Perfido!
Esa-Pekka SALONEN Cello Concerto: 1st movement
WED, APR 29 (Esa-Pekka Salonen)
GRIEG Peer Gynt: Morning Mood
BRITTEN Les Illuminations: Selections
DEBUSSY Images: Iberia
WAGNER Ride of the Valkyries
THUR, APR 30 (Esa-Pekka Salonen)
SIBELIUS Finlandia
MOZART The Impresario: Overture, Jeder Kunstler
MAHELR Symphony No 3: VI. Langsam, Ruhevoll, Empfunden
FRI, MAY 1 (Esa-Pekka Salonen)
Esa-Pekka SALONEN LA Variations
STRAUSS Four Last Songs: 1 and 4
RAVEL Mother Goose: Selections
TUE, MAY 5 (John Adams)
IVES The Unanswered Question
IVES Serenity (orch. by John Adams)
BARBER Knoxville, Summer of 1915
John ADAMS "Magnificat" from El Nino
John ADAMS The Gospel According to the Other Mary: Act I, Scene II "En un dia de amor"
COPLAND Clarinet Concerto
WED, MAY 6 (John Adams)
BACH Gottes Zeit is die allerbeste Zeit
BACH Wiederstehe doch der Sunde
BACH Nun freut euch, lieben Cristen g'mein
RAMEAU Le Rappel des Oiseaux
RAMEAU L'Egyptienne
RAMEAU La Joyeuse
MOZART Quintet in E-flat, K 614: 1st mvt
SCHUMANN Humoreske: Part 1 Einfach
SCHUMANN Liederkreis: Auf einer Berg
THUR, May 7 (John Adams)
The playlist for this date is not yet available.
FRI, May 8 (John Adams)
RAVEL Schererazade
DEBUSSY Premiere Rhapsody
Arvo PART Fratres
John ADAMS Harmonium: Negative Love
TUE, May 12 (Yuja Wang)
STRAUSS, JR Eljen a Magyar
RACHMANINOFF Piano Concerto No. 3: Allegro
BRAHMS Symphony No. 3: Poco Allegretto
SCHUMANN Kinderszenen: Träumerei
SCHUMANN Kinderszenen: Von fremden Ländern und Menschen
BEETHOVEN Symphony No. 7: Allegro con brio
John ADAMS China Gates
WED, May 13 (Yuja Wang)
LITOLFF Concerto symphonique #4: Scherzo
BRAHMS Piano Concerto #1: Adagio
Esa-Pekka SALONEN Piano Concerto: Movement II
DUKAS The Sorcerer's Apprentice
LIGETI Etude #10: "The Sorcerer's Apprentice"
RAVEL Piano Concerto in G: slow movement
THU, May 14 (Thomas Wilkins)
SCHUMAN New England Triptych: Be Glad Then, America
WALKER Lyric for String Orchestra
HOLST The Planets: Uranus
ELLINGTON Harlem
BRAHMS Double Concerto: 2nd movement
FRI, May 15 (Thomas Wilkins)
BRAHMS Symphony #3: Finale
BEETHOVEN Symphony #7: 2nd mvt
RACHMANINOFF Piano Concerto #2: 2nd mvt
COPLAND Symphony #3: Finale
TUE, May 19 (Ray Chen)
SATIE A New Satiesfaction - featuring Gymnopedie #1 (arr. Koncz)
COPLAND Appalachian Spring: Excerpt
Trad. Waltzing Matilda (arr. Koncz)
BARBER Violin Concerto: slow mvt.
RAVEL Miroirs: Valley of the Bells
TCHAIKOVSKY Symphony #4: 3rd and 4th mvts
WED, May 20 (Ray Chen)
DVOŘÁK. "Symphony # 9 "From the New World": 2nd mvt
Jeremy KITTEL Chrysalis
RAVEL String Quartet: 1st mvt
RAVEL Tzigane
DEBUSSY Clair de Lune
THUR, May 21 (Jean-Yves Thibaudet)
CHOPIN Piano Concerto #2: 2nd mvt
RACHMANINOFF Symphony #2: 3rd mvt (Adagio)
RAVEL Daphnis and Chloe Suite #2
Arturo MÁRQUEZ Danzon #2
FRI, May 22 (Jean-Yves Thibaudet)

The playlist for this date is not yet available.
TUE, May 26 (Susanna Mälkki)

The playlist for this date is not yet available.
WED, May 27 (Susanna Mälkki)

The playlist for this date is not yet available.
THUR, May 28 (Members of the LA Phil)
BACH St. Matthew Passion: Erbarme dich
BEETHOVEN String Quartet Op. 132: 3rd mvt
John WILLIAMS Indiana Jones and the Last Crusade: Scherzo for Motorcycle and Orch
BARTOK Concerto for Orchestra: Finale
MASCAGNI Cavalleria rusticana: Intermezzo
FRI, May 29 (Members of the LA Phil)
MOZART Das Traumbild, K. 530
HAYDEN Cello Concerto #1 in C: Finale
RACHMANINOFF Symphonic Dance No. 2
DEBUSSY La Mer: 2nd mvt (Play of the Waves)
STRAVINSKY Rite of Spring: Part II (The Sacrifice)
Get Watch & Listen Updates
Join the Watch & Listen newsletter list!