Our Friends and Patrons of the LA Phil are a community of passionate, socially conscious individuals who help our orchestra continue its tradition of bringing incredible music to our diverse city. Get to know one of our supporters, Walter Helm, as he shares a little bit about himself, including his familial connection to the LA Phil.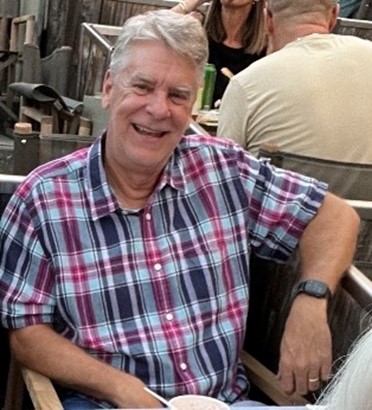 Hi Walter! Thank you so much for your generous support of the LA Phil and the Hollywood Bowl. You've been a subscriber and Friend for several years. How did your journey with us begin?

My first experience at the Hollywood Bowl was in the 1970s, when I saw Elton John with my mom and brothers. Since raising my own family and attending countless concerts, the Hollywood Bowl is still by far our family's favorite venue. When we finally got the chance to secure a Terrace Box for our subscription, we grabbed it!

What do you believe sets the LA Phil apart from other ensembles? Why would you encourage someone to make a gift to the LA Phil?

Our family believes that exposure to music and the opportunity for participation in the arts is essential to a child's growth and development. The LA Phil supports this belief with programs such as the Symphonies for Youth Program and YOLA (Youth Orchestra of Los Angeles). Giving to the LA Phil means being a part of something that gives back to the community. Supporting their diversity of programs and the beautiful gift of music is a worthwhile cause.

Do you have a favorite piece of music?

Tchaikovsky's 1812 Overture! It is the reason we buy tickets to the Tchaikovsky Spectacular with Fireworks.

We know there's a familial connection between you and someone on the LA Phil staff. Can you tell us a little more about that and how your family was introduced to the LA Phil?

Our daughter, Ashley, is the Assistant Manager of Special Events for the LA Phil's Philanthropy Department. She's involved with planning the opening night gala for Walt Disney Concert Hall and the opening night of the Hollywood Bowl, not to mention other events through the seasons, such as donor rehearsals and artist salons. Ashley's first job with the LA Phil was as a Production Assistant at the Hollywood Bowl during the 2016 summer season. Her shared experiences and respect for the LA Phil organization encouraged us to become more frequent patrons and supporters.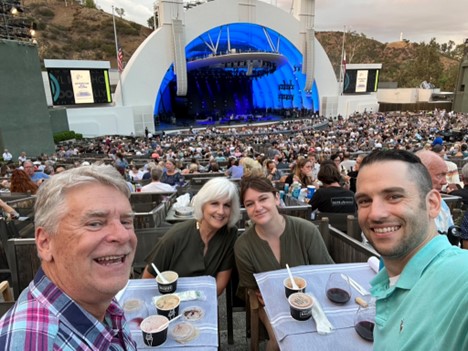 If you could see any artist perform with the LA Phil, who would it be?

There are many, but if I had to narrow it down to one it would be U2. Their music supported by the LA Phil would be amazing.

What's your go-to drink when attending a concert? On the same note, do you have a favorite meal at the Hollywood Bowl?

Wine is definitely our go-to drink at the Bowl. We order Supper in Your Box Seats and now consider our favorite servers, Jessica and Albert, part of our family. Kudos to all the food and beverage staff, as they really work hard to please everyone.

What do you hope to see in the future of the LA Phil?

We always enjoy expanding our musical horizons. Programming that includes lesser-known masterpieces and contemporary works would be exciting to explore.

What has been your favorite part about coming back to the Hollywood Bowl this season? What do you look forward to at Walt Disney Concert Hall?

Coming back to the Hollywood Bowl this season has been like coming back to life and what matters. There's no better way to enjoy a concert than being outside under the stars with family and friends! Coming back to music and community is a healing experience.