Our Friends and Patrons of the LA Phil are a community of passionate, socially conscious individuals who help our orchestra continue its tradition of bringing incredible music to our diverse city. Get to know one of our supporters, Georgia Archer, as she shares a little bit about herself and her love for music!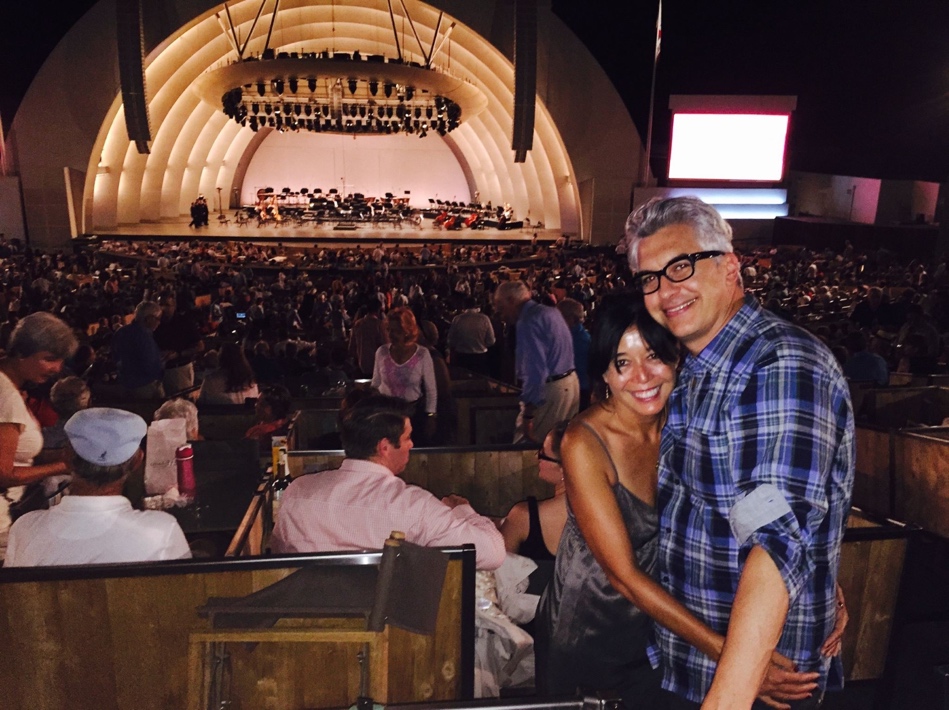 Hi, Georgia! Thank you so much for your generous support of the LA Phil and Hollywood Bowl. You've been a subscriber and Friend for several years. How did your journey with us begin?
That credit belongs to my husband, Anthony Dominici. He took a random call regarding a subscription to the Hollywood Bowl. It sounded amazing, we discussed it, ran with it, and never looked back. The same happened with Disney Hall. Seriously, give yourselves a hand—I love how personable and educated about the programs, seats, et al. the staff at the LA Phil are. Even the folks in the box office are always helpful—it really makes a difference.
What do you believe sets the LA Phil apart from other ensembles? Why would you encourage someone to make a gift to the LA Phil?
I believe the LA Philharmonic to be unique in its accessibility as a reflection of Los Angeles itself. Starting with the architecture of the venues: There is a presence of no pretense in presentation. I appreciate and embrace that. My husband was born and raised in New Orleans with a Cuban mother and a multigenerational French Quarter Italian American father. I'm also an LA transplant with an East Coast father and a mother from Japan. We both came here with a dream. That's Los Angeles. I deeply appreciate the cultural diversity in artists, repertoire, and vision. The LA Philharmonic works hard at representing the community—all of it.
I encourage everyone to make a gift to the LA Phil because music and the arts are a cornerstone to building a healthy community, and I'm all about community. I'm going to steal from the LA Phil website because it really captured it for me: "Music and the performing arts are foundational to the quality of our lives and the vibrancy and resilience of communities. They (the arts) have the power to enhance empathy, understanding, and inclusion and offer a vision of a more just and compassionate world." YES!!! PLEASE! Let us all have a second helping of that. Give what you can, help a stranger, support your community a little more, learn something new, expand your horizons, and make some friends you never thought you would. That's when a gift changes lives, including your own. Make the world a better place because you are in it.
Do you have a favorite musical work?
I played the flute from elementary through high school. At some point in junior high school, I/we were working on Beethoven's Ninth Symphony for an all-city youth orchestra. I remember rehearsals being very disheartening; even at 12 I knew something was terribly off. It just sounded like noise bouncing off walls. Miraculously, after weeks upon weeks of rehearsals and practice, it came to life as a cohesive piece of symphonic music. Whenever I hear it, I am transported back to that moment of excitement and happiness—it's like a shot of pure joy. I hope I can add a big shout-out to all music teachers who work with kids: You have the patience of angels, backbones of steel, and change lives.
What has been your favorite memory at the Walt Disney Concert Hall? How about the Hollywood Bowl?
Both venues hold so many great memories. ELO performing with the Philharmonic was lifetime amazing; we always enjoy Steve Martin (this last show with Martin Short was so much fun); and the Paris Ballet was ethereal. At Disney Hall there was a magical night of Dudamel conducting Mahler's First. And we can't forget the matinee of William Grant Still & the Harlem Renaissance: Symphony No.1 with Aaron Diehl on piano. Please bring them back, all of them.
What are your favorite Friends of the LA Phil benefits?
I realize it's not a subscriber benefit, but we love the Upbeat Live seminars before the concerts—everyone should try those. I love learning, and a bit of context right before the show just adds so much. As far as benefits, the rehearsals are great. I confess it's especially fun when you see a soloist that is, how can I say, "being a bit difficult," and watching the conductor, concertmasters, and ensemble work their way through. It's like watching a game and rooting for the home team. If you get to follow it up with going to the performance, it's a super bonus to savor the transformation of the moment.
We understand that you work in the philanthropy field yourself. We'd love to hear more about what you do!
I work as the Manager of Donor Relations for Asian Americans Advancing Justice – Southern California.
AJSOCAL is the nation's largest API civil rights and legal service organization. We are lawyers, advocates, experts, and volunteers who fight for social justice. In these difficult times, I'm proud that we have the most expansive language helpline system in the country with seven Asian languages and dialects, which is so critical. We serve some 15,000 clients a year and during this time where we've seen the rise in anti-Asian hate. As Angelenos it's so critical we all engage.
Currently AJSOCAL has been selected to administer the funds for a GoFundMe launched by a coalition of local Asian American and Pacific Islander-serving community-based organizations for the victims of the January 21 Monterey Park shooting. This tragedy impacts all of us. I feel lucky that I have a job where I can help.
What's your go-to drink when attending a concert? On the same note, do you have a favorite meal at the Hollywood Bowl?
I love to pre-order a glass of champagne for intermission at the downstairs escalator lobby bar. Sometimes I'll add a cookie or a cheese tray if we'd been running late. As for the Hollywood Bowl, our next-door neighbors Michal and Jim join us every season and they always pack an exceptional picnic basket and I bring wine and cheese from home.
If you could see any artist perform with the LA Phil, who would it be?
I know I should probably name someone classical, but I so loved that ELO concert—would it be wrong to say Black Sabbath or Led Zeppelin?
Do you have a favorite instrument? What song would you like to learn to play?
I can't resist a guitar. If I could play "Back in Black," my life would be complete.