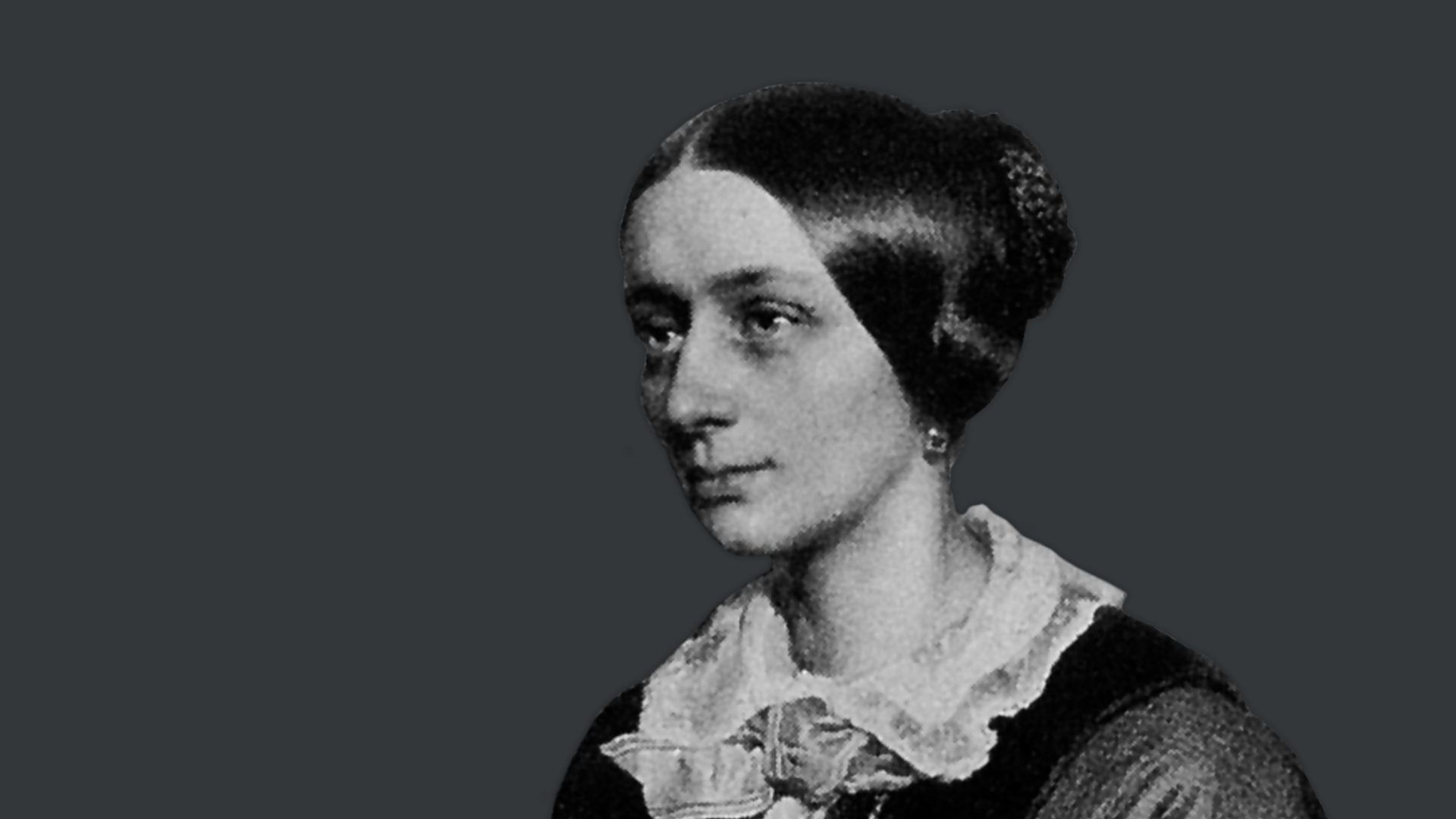 Clara Schumann née Wieck (1819–1896) was born in Leipzig, Germany, to a talented singer mother and a difficult and domineering father who was nonetheless a piano teacher of high repute who pushed her to become a child prodigy. At 14, she gave the premiere of her own Piano Concerto, with Mendelssohn conducting. By 18, she had become one of the leading virtuosos in Europe; an anonymous review reported, "In her creative hands, the most ordinary passage, the most routine motive acquires a significant meaning, a color, which only those with the most consummate artistry can give."
She first met Robert Schumann when he came to study with Mr. Wieck in 1830. In 1840, Clara and Robert married, over Wieck's strenuous objections. In the early years of their marriage, she did manage to compose some songs and piano pieces, but when the family moved to Düsseldorf in 1853, she became significantly more productive, composing several major works, including her Op. 20 Variations on a theme of Robert Schumann and Six Songs, Op. 23. She had eight children and took charge of many of the household responsibilities.
As the primary breadwinner, Clara Schumann toured and gave concerts virtually her entire life. She set new standards of performance that continue to this day, including the playing of recitals and concertos from memory. She was a talented improviser, which some scholars believe allowed her to bridge her personalities as a pianist and composer. In her recitals, she promoted contemporary composers, particularly her Robert and young Johannes Brahms, as well as performing lesser-known music by Bach and D. Scarlatti. Over the years, she gave 238 concerts with violin titan Joseph Joachim throughout Germany and England, during which they became especially celebrated for their performances of Beethoven's violin sonatas. It was through Joachim that the Schumanns first met Brahms, who became very close to the Schumann family. Tragically, Robert suffered a mental collapse in 1854, attempted suicide, and was placed in an asylum, after which she never saw him again. He died there two and a half years later at 46. Clara composed little in the years following Robert's death, leaving us with just 23 published works.
Had she composed more, Clara Schumann might well have risen to the artistic heights of her composer husband, who often encouraged her. The couple even wrote a work together, 12 Songs from Liebesfrühling (Love's Spring, poems by Friedrich Rückert), her Op. 12 and his Op. 37; three of 12 were hers. Composing was just one small piece of her remarkable artistic life, but it is the main way audiences today can explore her rich legacy. "Composing gives me great pleasure," she wrote. "There is nothing that surpasses the joy of creation, if only because through it one wins hours of self-forgetfulness, when one lives in a world of sound."
Get Watch & Listen Updates
Join the Watch & Listen newsletter list!