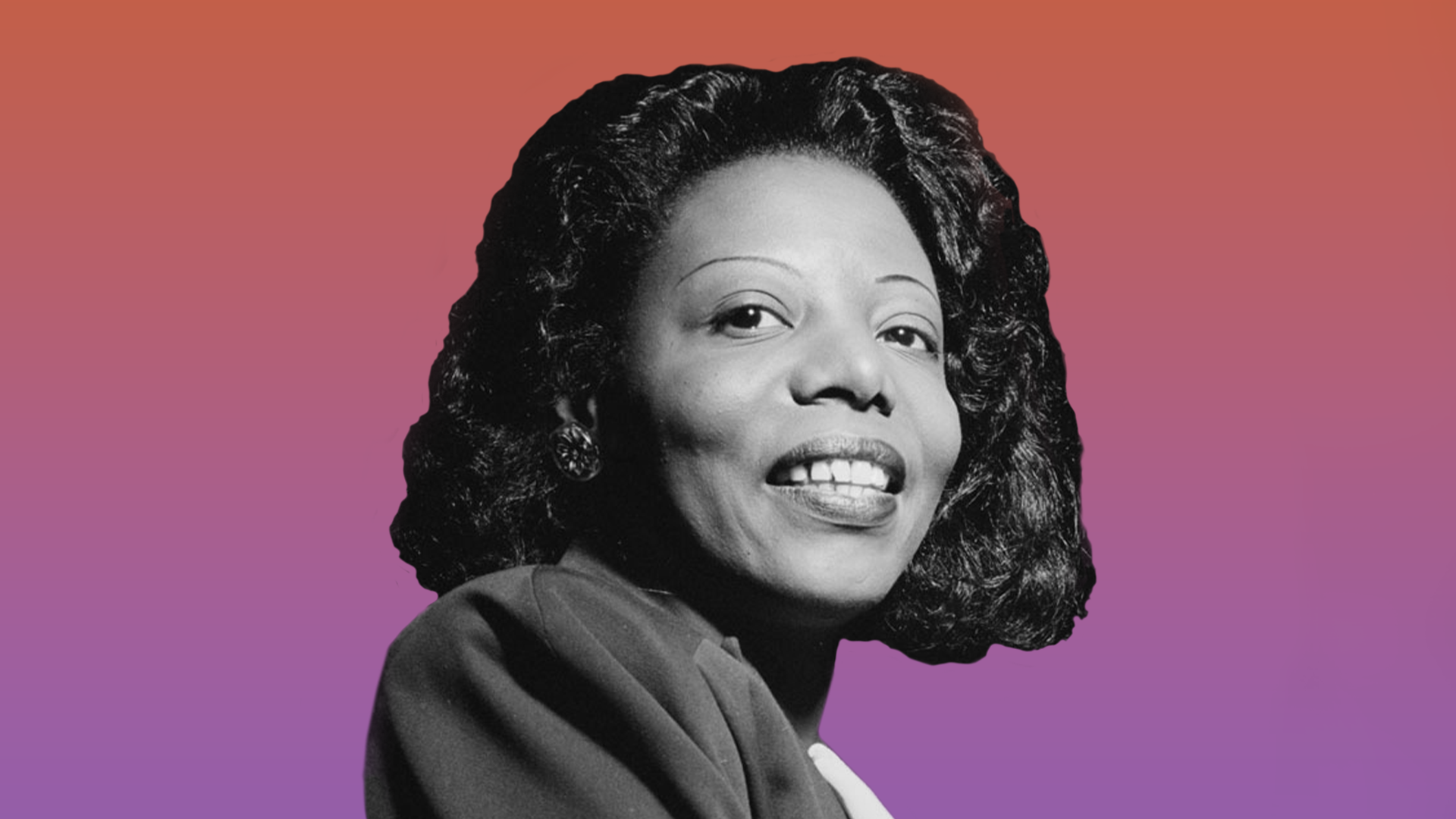 Mary Lou Williams couldn't be denied. Despite coming into her own as a composer and pianist at a time when women in jazz were viewed as novelties at best, her talent, originality, and unique ability to balance experimentalism with accessibility made her one of the most sought-after arrangers of the swing era. If she'd stopped there—as the mind behind hits for Duke Ellington, Benny Goodman, and the band she actually performed with, Andy Kirk and His Clouds of Joy—she would have scrawled her name into the history books. But true to her restless spirit, she evolved and became one of the most original pianists in jazz history.
Williams was born in Atlanta in 1910 and grew up in Pittsburgh. By the time she was a teenager, she was so adept at the keyboard, she was already playing with Ellington's band, The Washingtonians. She married saxophonist John Overton Williams at the age of 17 and moved to Memphis, where he was leading his own group, The Syncopators. When her husband moved to Oklahoma to join Andy Kirk's band, Mary Lou took the reins of The Syncopators, and eventually rejoined Williams in Kansas City and became a Cloud of Joy herself.
Operating out of one of jazz's hottest scenes in Kansas City, Kirk's band traveled all over the region, giving Williams ample time to compose in the car. As NPR's Natalie Weiner notes, Williams' knack for fitting together the big band's component parts in innovative ways cut against the stereotype of women as "intuitive and thus unintentional"—the heavy mental lifting and meticulous planning required a systematized, rational mind. In her off time, she'd play with Lester Young and, at one point, gave lessons to Charlie Parker.
Williams' arrangements for Kirk made her a go-to resource for the heavyweights of the day, (including Louis Armstrong, who'd seen her play in Harlem when she was still a teenager), and she made what Weiner calls "an indelible impact on the sound of the swing era's dance bands." Goodman tried many times to hire her as his full-time arranger; she never took him up on it.
And it's a good thing she didn't. After divorcing John, Mary Lou made her way to New York, where she held a residency at the Café Society and was a regular at Minton's, the club that was an early incubator of what would eventually be called bebop. Another incubator? Williams' apartment. There, Thelonious Monk, Dizzy Gillespie, Bud Powell, and other musicians would gather, with Williams taking a special shine to Monk, whom she would end up teaching. It's not difficult to see her fingerprints in Monk's playing. You can hear echoes of his famously oblong phrasing in her solo take of "Roll 'Em" (the big band arrangement of which was a hit for Goodman), what historian Ted Gioia calls her signature "happy mixture of experimentalism and rhythmic urgency." Or you could simply listen to the Monk standard "Rhythm-A-Ning," whose central motif is taken from Williams' own "Walkin' and Swingin'." In any case, Williams' importance isn't defined by her relationship to Monk, Gillespie, or other beboppers. The records she made with her own small groups prove that, unlike any of her contemporaries in the swing era, she was perpetually anxious to innovate and was vital in pushing jazz forward. Her skills—her outrageous sense of rhythm and felicity on the keys—were, if anything, better suited to bebop, and her sense of style comes through these recordings in way that shows why she had such a huge hand in shaping the scene.
Not content with simply writing and performing some of the most inventive jazz of the day, in 1944 Williams turned her attention to what would become her ambitious Zodiac Suite. This 12-part collection of songs—one for each sign of the zodiac—is sweeping in its range and power. Each of the individual parts was influenced by one of her contemporaries: Billie Holiday, Art Tatum, Ben Webster, and others. Though she recorded the suite with her trio, it was also performed at Town Hall with a chamber orchestra, with the orchestrations largely arranged by Williams herself. The richness and sheer invention of the suite would make it her most enduring work; in the early months of 2021 alone, an orchestral version was recorded by the New York Philharmonic with Aaron Diehl, while pianist Chris Pattishall released a recording of the small-group arrangement.
After spending a few years in Europe in the early 1950s, Williams returned to the U.S. and converted to Catholicism. She put her musical career in hiatus, largely spending her time working with the Bel Canto Foundation—a group she founded to help musicians struggling with addiction—and dragging Thelonious Monk and Bud Powell to 6 a.m. mass in New York. In a charming instance of ecclesial-musical harmony, Williams' priests and Dizzy Gillespie both urged her to begin performing again, and she made her return at the 1957 Newport Jazz Festival, performing selections from Zodiac with Gillespie. When photographer Art Kane gathered together 57 of the greatest jazz musicians alive for his iconic photograph A Great Day in Harlem, Mary Lou was there, one of only three women alongside Maxine Sullivan and Marian McPartland.
But she was not yet ready to be immortalized. Throughout her life, Williams was a passionate believer in the intellectual depth of jazz music, and, as she made her return following her conversion, she concentrated largely on combining classical masses with traditional jazz concepts. In 1963, she debuted Black Christ of the Andes, a mass in honor of St. Martin de Porres. This piece does not represent a retreat from the world—as its instrumentation makes clear. De Porres was the dark-skinned son of a formerly enslaved woman whose father disowned him. He was canonized by the church in 1962 and made the patron saint of people who seek racial harmony. She followed it up with Mary Lou's Mass, a frankly stunning collection that moves between hymnody, funk, and bop; Newsweek once called it "an encyclopedia of Black music."
In her later years, Williams enjoyed her status as one of jazz's greatest living innovators. In 1977, she'd perform a dueling improvisation with the firebrand pianist Cecil Taylor, a collaboration that's still somewhat shocking and that shows Williams still possessed one of the sharpest minds in music, as she and the young titan of free jazz worked their way around one another. She would go on to perform for President Carter at the White House. In 1981, she died of bladder cancer, but her legacy and legend have only grown in the years since, with generations of musicians looking to her to learn how to evolve and change without losing one's essence.
Get Watch & Listen Updates
Join the Watch & Listen newsletter list!