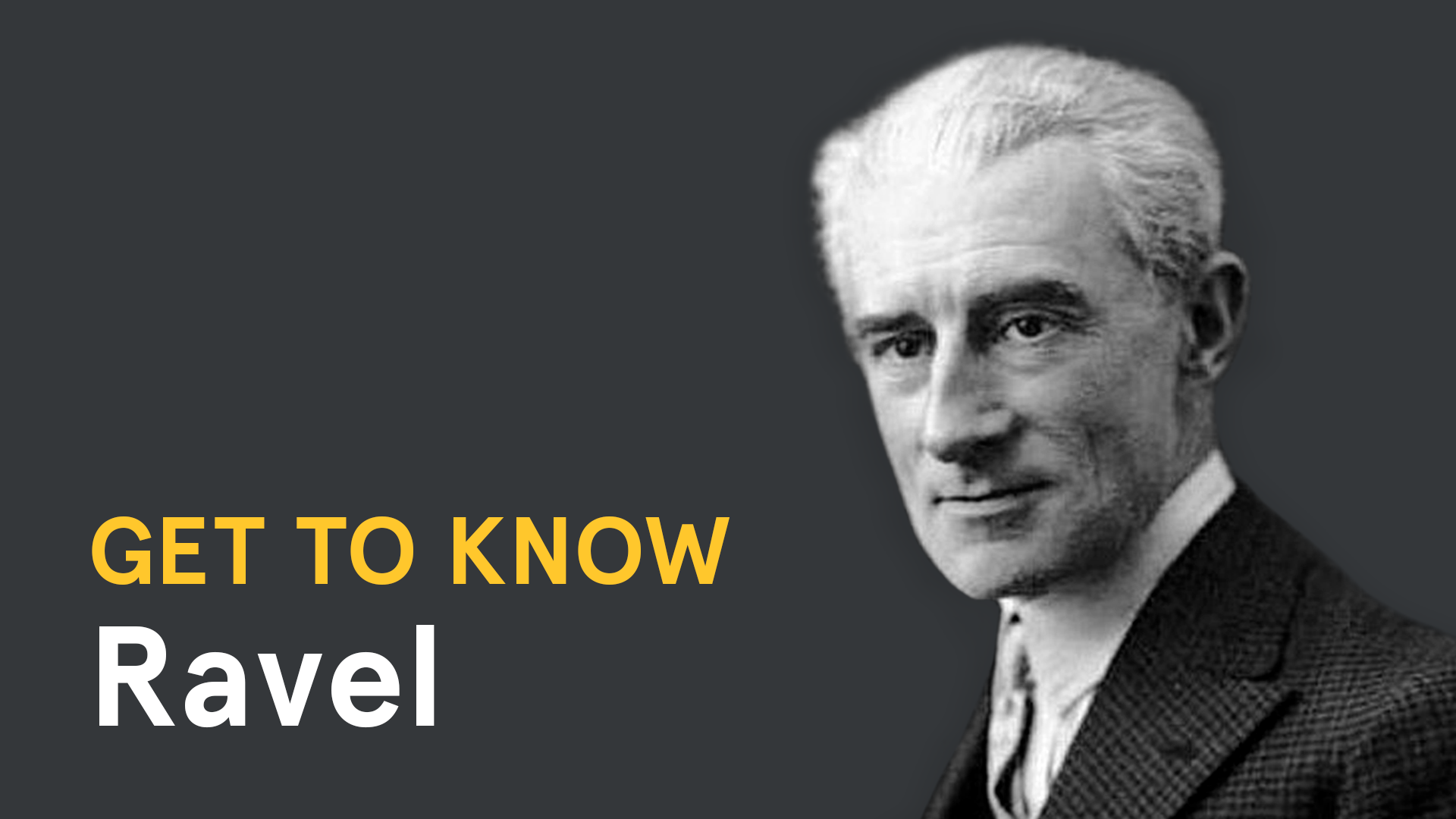 Whether or not you realized it, chances are you know the music of Maurice Ravel. His famous Boléro shows up in films and commercials, and even on Pink Martini's playlist. Another piece you've probably heard is Mussorgsky's powerful Pictures at an Exhibition in Ravel's stunning orchestration. Both works offer clues to this unusual man.
Born in southern France in 1875, Maurice Ravel had Swiss forbears on his father's side while his Basque mother grew up in Madrid. She would sing Spanish folksongs to him as a child, which greatly influenced his later work. Little Maurice displayed an interest in music at an early age – which his parents encouraged – but he was never considered a child prodigy, which we might have assumed.
As a student at the Paris Conservatoire, Ravel showed a rebellious streak with his innovative compositions, which irritated the conservative school directors, leading to Ravel's failure to win the prestigious Prix de Rome five times. Although he was a good pianist, he wasn't fond of practicing. In later life, his friends would joke about whether he was worse as a pianist or a conductor. He struggled to play some of his own music.
Shorter than most, he was always fastidiously and fashionably attired. Regarding romantic relationships, Ravel remains a complete mystery. "The only love affair I have ever had was with music," he once said, and no evidence exists to refute him.
As meticulously as he dressed, he was even more exacting with his music. Criticism didn't seem to disturb him; as a perfectionist, he was already his own worst critic. His catalog may be smaller than those of many composers, but it's even smaller when you realize that he wrote a number of pieces twice, first for piano and then for orchestra. And thank goodness he did, because he left masterpieces of both kinds and is considered one of the greatest orchestrators ever. He composed successfully in many genres – ballet music, operas, two piano concertos, piano pieces, chamber music, and song cycles – but no symphonies or religious works.
Stylistically, Ravel has often been lumped in with Debussy as an Impressionist, a label which both composers rejected (just as the painters did). There is a superficial similarity between a few of their works, and they did use comparable non-traditional chords, but, on closer look, they are quite distinct.
Hallmarks of Ravel's music include:
a finely tuned precision – to him, every musical problem had a perfect solution
the influence of Russian (Rimsky-Korsakov, Borodin) and French composers (Satie, Chabrier, Debussy, and Fauré, Ravel's teacher) and even the virtuosic Liszt
the frequent use of historical models, including traditional dance forms and the rhythms and melodies of Spain
a high degree of virtuosity, particularly the solo piano pieces
Ravel's death at 62 from complications of brain surgery was related to Pick's disease – a rare dementia that affects emotions, behavior, personality, and language – apparently exacerbated by a taxi accident five years earlier. During those years, Ravel could not compose or perform, but, tragically, he still may have been able to hear music in his head.
Lesser-known facts about Ravel:
Ravel attended the dress rehearsal of Igor Stravinsky's revolutionary Rite of Spring. Stravinsky later reported that Ravel was the only person who immediately understood the music.
During a successful 1928 tour of North America, Ravel told The New York Times that his "greatest teacher in composition was Edgar Allan Poe." Yes, the author of "The Raven," "The Tell-Tale Heart," and other macabre classics.
From Piano to Orchestra

Because of the number of piano works Ravel re-scored for orchestra, we have the unique opportunity to see how his mind worked. A good place to start is his Ma mère l'Oye (Mother Goose), first composed as a five-movement suite for piano duet (for some friends' children), with titles like "Sleeping Beauty Pavane," "Conversation of the Beauty and the Beast," and the finale, "The Fairy Garden." The following year, he orchestrated it and then turned it into a ballet by adding two movements and some interludes, for a total of eleven sections. This is delicate, exquisite music, glittering with imagination and beloved for it.
If you want to hear an example of Ravel's colorful Spanish-flavored pieces, try Alborada del gracioso (A Morning Song for a Fool – there are many translations). It began in 1905 as one from a set of five piano pieces he called Miroirs (Mirrors). Thirteen years later, he transcribed it for full orchestra, and it became a hit, one of his greatest sonic achievements.
We couldn't let this section go without mentioning one of Ravel's supreme triumphs, his orchestration of Modest Mussorgsky's piano suite Pictures at an Exhibition. Choosing his palette with incredible care and imagination, Ravel brought out the ideal colors for every part of Mussorgsky's powerful work, upstaging many other versions created both before and after. Other magnificent orchestral music that Ravel originally composed for piano include Pavane pour une infante défunte, Le tombeau de Couperin, and Valses nobles et sentimentales. All highly recommended.
Music for Orchestra

Because of Ravel's vaunted perfectionism and unsurpassed skill for orchestration, your ears will relish virtually anything he wrote for ensemble. But let's start with the elephant in the room: Boléro. Composed originally as a ballet, the music is simply two similar melodies alternating repeatedly over an unchanging snare-drum rhythm. There is no development at all; what you notice is a parade of intriguing colors as the tunes are passed from instrument to instrument (or group of instruments) – that, and the inexorable increase from very soft to very loud. Ravel was taken aback, maybe even annoyed, by its tremendous popularity; he said it consisted "wholly of orchestral tissue without music." Listeners ever since, however, have found it sensual and hypnotic.
Perhaps Ravel's greatest masterpiece – and certainly his longest at almost an hour – Daphnis et Chloé was composed as a ballet in three scenes for large orchestra and wordless chorus. This is the ultimate in lush, kaleidoscopically colorful, and ultimately orgasmic music. Ravel extracted two suites from the ballet; the second – basically the second half of the original – gives you the juiciest parts and is the most frequently performed.
Other stunning and rewarding works that Ravel wrote for the orchestra are La valse, Rapsodie espagnole, and two piano concertos: the Concerto in G and the Concerto for the Left Hand.
Piano Music

With few exceptions, Ravel's piano writing is uncompromisingly virtuosic, none more so than Gaspard de la nuit, a set of three picturesque fantasies based on prose poems from a collection by the same name, roughly translated as "Royal treasurer of the night." The first piece, "Ondine," describes a water nymph singing to seduce the observer into visiting her realm at the bottom of a lake. The music cascades with the sounds of water rushing and flowing. The second, "Le gibet," pictures a man hanging from a gibbet in a desert landscape with a repeated note symbolizing the tolling of a distant bell. The final, notorious movement is "Scarbo," one of the most difficult solo pieces in the repertoire. It depicts a small fiend intent on malicious mischief, conjuring a nightmarish scene for one trying to sleep. "I wanted to make a caricature of Romanticism. Perhaps it got the better of me," said Ravel.
Further Listening

Ravel's remarkable creations in other forms are also well worth exploring. His magical String Quartet has taken its place as indispensable for any ensemble worth its salt. Harp players and lovers adore his Introduction and Allegro for flute, clarinet, and string quartet that features a major part for the harp. His substantial and stunning Piano Trio (violin, cello, and piano) requires a remarkable degree of virtuosity and unanimity. And prepare to be astounded by what Ravel was able to extract from just two instruments in his Sonata for violin and cello.
Get Watch & Listen Updates
Join the Watch & Listen newsletter list!