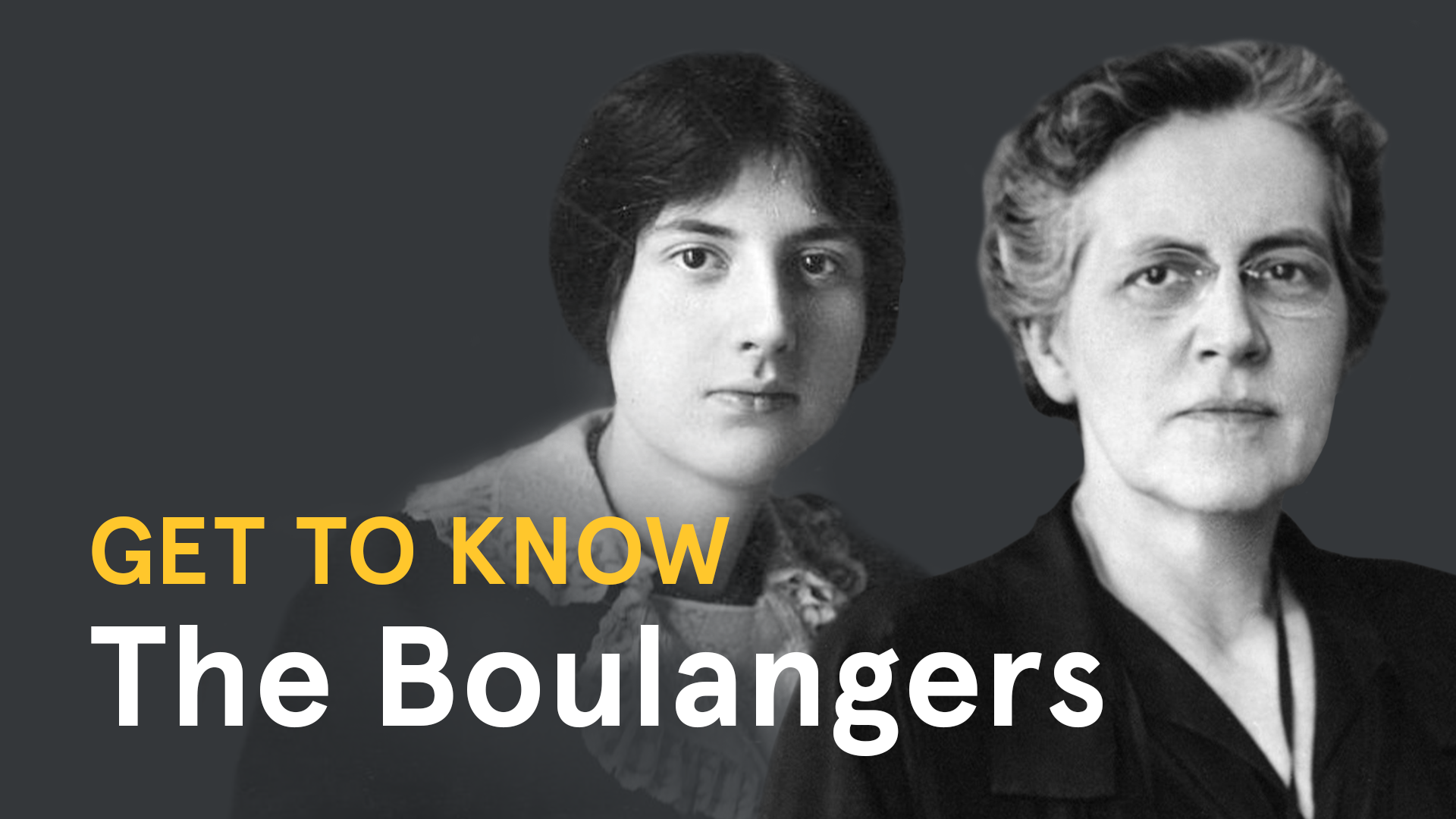 A good half century before France finally granted women the right to vote, two women—the Boulanger sisters—came into the world that would have a profound impact on 20th-century music. Their parents were a prize-winning French composer/choral conductor and a Russian princess and singer, and the two girls inherited extraordinary musical abilities. Nadia was born first and would become a famed teacher, influencing a who's who of composers. Six years her younger, Lili was destined to become a talented composer.
From the age of seven, Nadia began studying to enter the Paris Conservatory. She was accepted at nine and achieved early honors there. Lili often came along with her older sister, quietly absorbing her lessons. Legendary composer (and family friend) Gabriel Fauré discovered that Lili had perfect pitch at the extraordinary age of two. Around that same time, Lili contracted bronchial pneumonia, which weakened her immune system and led to fragile health throughout her short life. Being an old man when the girls were born, their father Ernest died when they were still young, which was especially traumatic for Lili, who felt very close to him. Much of Lili's music after his death touched on themes of grief and loss.
One of the most prestigious honors a young musician could receive in those days was the Prix de Rome scholarship, which their father had won when he was 20. Nadia applied four times—reaching as high as second place—but it was Lili who became the first woman to win it, when she was just 19. Her entry, a cantata called Faust et Hélène (based on Goethe), ultimately enjoyed many performances during her lifetime. Displaying influences of Fauré and Debussy, Lili's compositions were noted for their colorful harmony, instrumentation, and skillful text setting. Tragically, her chronic illness led to "intestinal tuberculosis," or possibly Crohn's disease, which cut short her life at 24.
Nadia was deeply affected by Lili's death. Nadia saw her sister as more gifted than she as a composer, so she decided to dedicate herself to teaching—and what a teacher she was—though Nadia still did compose some. Possessed of a prodigious memory, her knowledge of music was unequaled whether it was 12-tone or neoclassical. Aaron Copland claimed that she "knew everything there was to know about music…All technical know-how was at her fingertips." A demanding instructor, she was particularly hard on her women students, but all of her pupils expected a trial by fire. In his memoir, Phillip Glass wrote of his time with Boulanger, "I became a child again, relearning everything from the beginning." He remembered her first leafing through his scores he brought and pointing out a single bar of music to say this was written by a real composer. "That was the first and last time she said anything nice to me for the next two years."
As a conductor, she was able to become the first woman conduct the BBC Symphony, Boston Symphony Orchestra, New York Philharmonic, National Symphony Orchestra, and the Philadelphia Orchestra. When asked by the press what it felt like to be the first woman conductor of the Boston Symphony, Boulanger responded with "I've been a woman for a little more than 50 years, and I've gotten over my original astonishment." She premiered works by such composers as Stravinsky and Copland, who wrote his Organ Symphony for her.
She left Paris in 1940 to escape the war and taught at the Longy School and at the Peabody Conservatory while in America. After the war, she became director of Fontainebleau, the summer academy, where composers from all over the world came to study with her. Among her hundreds of students were many of the most important musicians of the 20th century, from Copland, Darius Milhaud, Elliott Carter, Astor Piazzolla, and Philip Glass to Quincy Jones, Burt Bacharach, Donald Byrd, Michel Legrand, and Lalo Schifrin. Her influence in the musical world was second to none. She oversaw the music for the wedding of Prince Rainier and Grace Kelly; JFK and Jackie invited her to the White House. And although she did travel the world, her principal base was her family's flat in Paris, where she taught nearly until her death at 92. She was buried with her sister and her parents in Montmartre.