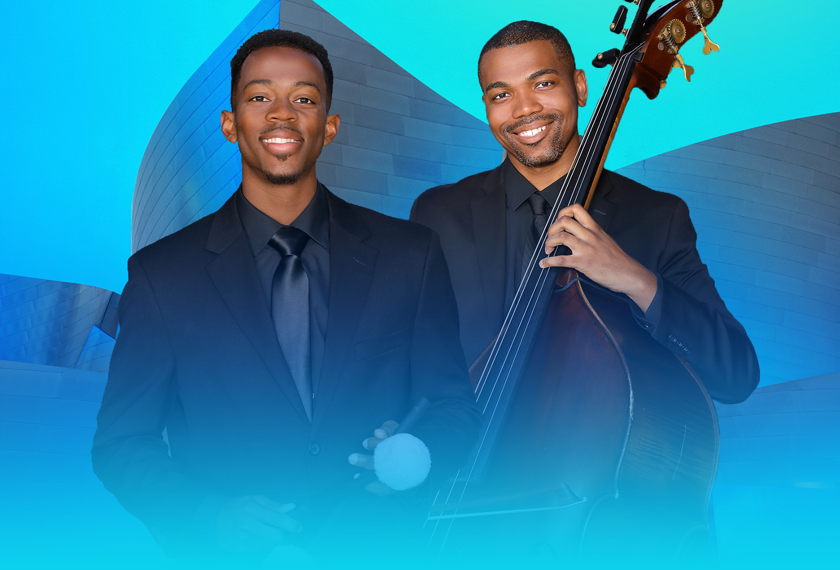 An excellence-based training program for early-career symphonic musicians representing or serving historically underrepresented populations, the LA Phil Resident Fellows program is preparing musicians to compete for, and win, positions in major professional orchestras.
The first call for musicians yielded 120 applicants from which four fellows—Andrew Francois, viola; Michael Fuller, double bass; Eduardo Rios, violin; and Wesley Sumpter, percussion—were chosen.
The LA Phil recently sat down with Fuller and Sumpter to learn about their experiences since joining the program in 2019. Read their conversation below.
You have both played with a lot of different orchestras. What is it like in your first year of playing with the LA Phil?
Michael Fuller: Well, it's been fantastic. Before coming out here, I hadn't really heard the LA Phil a whole lot. I'd seen them on YouTube; I knew all about Gustavo Dudamel and everything, but it's so much more than what I expected.
How so?
MF: The orchestras that I have played with have been with mostly people who are my age, but it's actually been comfortable playing with more veteran musicians. I'm still learning every day, but it's been really inviting. You think that you're playing with these veterans, and it's going to be a really cold environment, but it's not that at all. Everything's really warm and welcoming and supportive.
Wesley, how has it been stepping into the percussion section?
Wesley Sumpter: I'd say for me it's been a whirlwind of an experience. You don't expect to be thrown into what we call a "baptism of fire." You know, you just kind of walk in and get it done in one rehearsal or no rehearsals. And it's remarkable because playing here, you learn how to move throughout the business of music, so we're prepared for wherever we might go [in our careers]. Whether it's in an orchestra or as a session musician, there's always going to be a lot of improvisation, a lot of things that are unpredictable.
But I've learned to rely on my fundamental skills and people skills and all these different things. In the end, we know that we're here because we can perform at the highest level.
It is amazing what this orchestra is able to do and then this Centennial season has been on a whole different level.
WS: Trust me, it's a lot of equipment for me.
Yes, there have been a lot of concerts where the percussion section was just enormous, but it was quite the opposite for Brahms Symphony No. 4 with Zubin Mehta. All there is out there is timpani and a triangle, and that day the triangle player was you.
WS: Yes. That was me. Playing an instrument where you have one shot at making it right, and if it's not right it's so exposed. But that's the name of the game for percussion. Our instrument is not like any other instrument. There's so much pressure every time, because usually every other section has two or three trumpets, two or three horns, eight violins, ten basses. They might be playing different notes, different parts, but it's still the same timbre of notes and things of that nature.
But with us, I may have to play triangle with a bass drum. Those are two completely different timbres. Triangle speaks very fast, bass drum speaks very slow, so getting used to that pressure, you're kind of in your head like, "Oh it'll be fine," or "No, it's not going to be fine." But then you've got to play. And whatever comes out, comes out.
I've started to develop just a sense of comfortability with that unpredictability. So just saying, "Okay. I've practiced this. I'm going to see what happens when I'm nervous, what happens when I'm on the spot." And then working under Maestro Zubin Mehta, that was another pressure added on. Because for me, to watch the orchestra play under him with the first three Brahms Symphonies, and then that fourth, it was just a different air that they had. The orchestra's like, "Okay. He's here." And they walked on stage with a different energy, and so I walked on stage with the same energy they had. I only played for five minutes out of an hour-long piece, but to sit there and just watch him work his magic and have his effect on the orchestra after not being the music director here for so long is just an astounding kind of thing.
Since arriving in the fall, you have both worked with a range of conductors. Are there any that jump out in your mind or moments in rehearsal or performance that were particularly memorable?
MF: I remember one of our first concerts with Dudamel. We were playing Prokofiev's Romeo and Juliet. It was a particularly good performance this night. I felt pretty good that I was nailing it, and then he looked over and kind of like nodded at the basses. Just a little acknowledging, as if to say, "Okay. I see you." And I was just frozen. I was like ... "Is he looking at me?"
And I felt the same way about Mehta as Wesley did – that was something really exciting. I actually went up to go shake his hand afterward, and it was a little awkward because I didn't know what to say, but it was so worth it.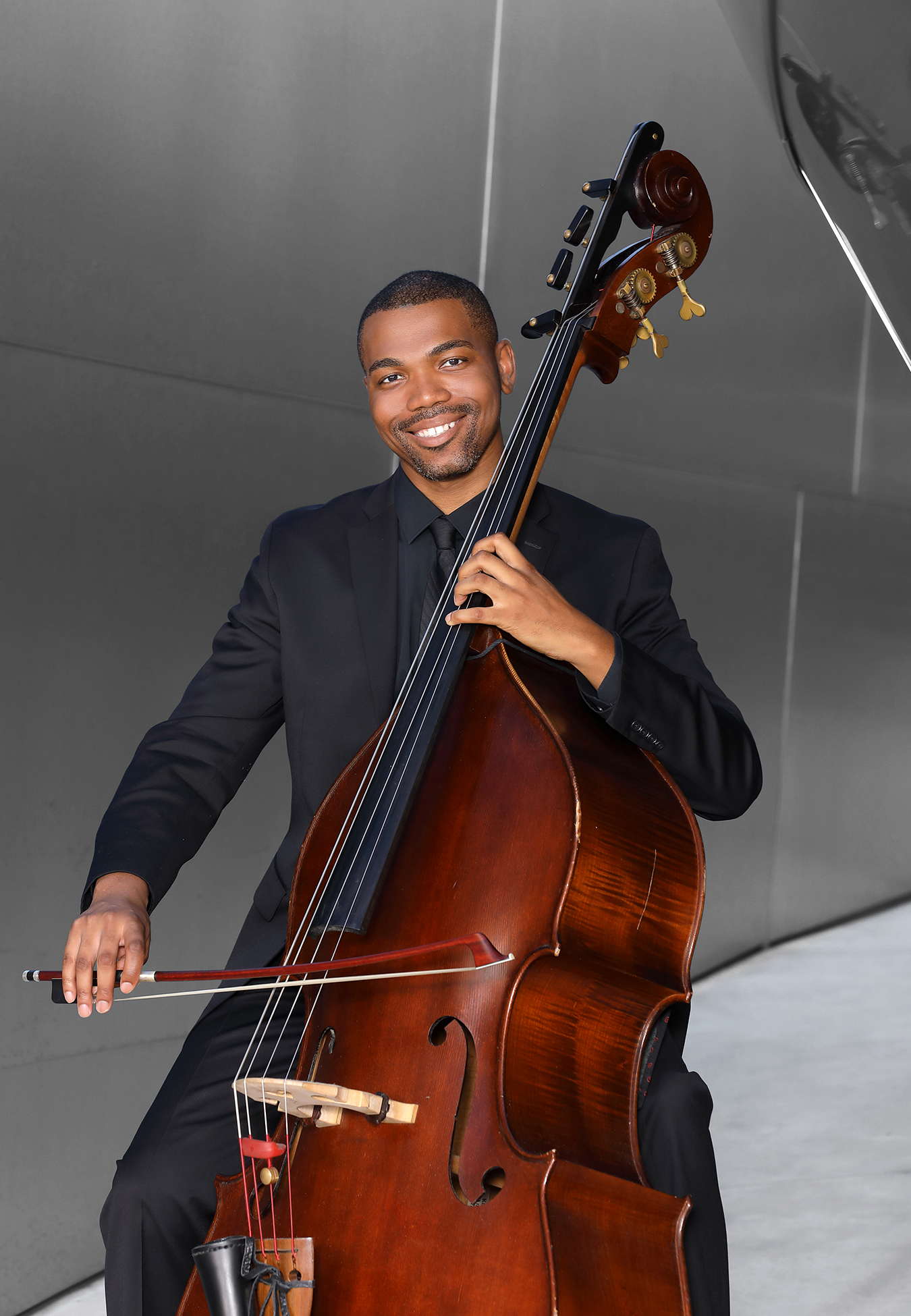 You mentioned the Brahms with Mehta. Are there any other pieces of repertoire that you have played before but had to approach differently here, or any of this season's 50-odd commissions that have stood out for you?
WS: Our recent commission of Tan Dun's Buddha Passion. That was a piece I did not expect to be so enthralled by. We rehearsed it without the singers, without the rest of the choir, and without all of these different elements. On the first day, the choir comes in, and it's like, "Okay. Cool. I see what this is about." And then we add the soloist, and it just turns into this masterpiece all about enlightenment. You can feel the tradition of Buddha and Buddhism. I really appreciated how it was represented: all Chinese singers, singing in the dialect, the choir speaking the language; we're playing traditional instruments like temple bowls and playing traditional rhythms. I'm playing this huge Chinese drum, which brings the intermission and the end of the piece all together.
There are six movements to it. In the fifth movement an indigenous throat singer comes out and plays and sings, and then another indigenous singer joins as well, singing traditional pieces. When they do this improvisation, interacting back and forth, it kind of just puts you in a Zen state. I forgot about everything going on outside of this. I was just completely there. After the first performance of it, I walked off stage, and I was almost hyperventilating. And that's not even an exaggeration. It was one of those things where I sat there, and I was just like, "Okay. I need to collect myself." That was one of the first times that has happened in a long time for me.
As an audience member, those moments of transcendence are amazing and so it is nice to hear that even though you are so focused on playing the different instruments in front of you, you can still step back a little bit and enjoy the experience.
WS: Oh, I do it every concert. I do not take those moments for granted. I take the time to observe those moments in performance. Because I think that's just as important as playing. What you do when you're not playing. My roommate is a trombone player, and he calls percussionists the "masters of tacit."
I love it. Yes, compared to the rest of the orchestra, you move very little, but you're heard so prominently.
Thinking bigger picture at your careers, I know it is only a few months into this program, but has anything changed for you in your outlook since you arrived here and how you see your career moving forward?
MF: I'm just excited to see what's next. I mean I couldn't have predicted that I was going to be here. I've just always made sure to work hard and hope for the best. And then suddenly this opportunity arises. So, I think as long as I work hard and show that I'm dedicated, something exciting will happen, and I have no idea, necessarily, what that looks like. Despite whatever my plans are or my thoughts of what I want to happen in the near future, as long as I keep playing, things will happen and not necessarily the way I thought they might happen, and that's okay.
WS: This whole experience has affirmed, or rather reaffirmed, in my mind that this is actually what I want to do with my skillset: to be a working musician, of course, but also to venture off into other things, like composing eventually or conducting, maybe. I'm open to all of it.
There is a long tradition of composer-percussionists with this orchestra.
WS: I know! My teacher, Joe Pereira, is one of them.
Michael, you had an experience being part of the Street Symphony performance with the Messiah Project. I am curious how performing in different settings informs what you do here and how you view working with different audiences?
MF: I was really feeling the performance between one of the homeless singers and the teacher — a call and response. It was really touching to me. I think we have a duty as musicians to touch people's lives and connect with our audiences, so I felt that was a good opportunity to do that, and I want to do more things like that.
And, Wesley, you had a chance to work with the fellows from the LA Phil's Nancy and Barry Sanders Composer Fellowship Program?
WS: Yes, that was fun! It was really interesting, because I was very frank in how I approached them. They really wanted to know how to write for percussion. I said, "Well, if you don't do these specific things, then we won't know how to play it." I tried to give them as many dos and don'ts as I could.
It was really gratifying, because you could tell it opened up their perspective to what we actually do. Because we, as percussionists, definitely play a lot of music that we can look at it and tell immediately someone really didn't put the thought in. It doesn't matter how many notes, or how few notes, sometimes what's on the page either doesn't work for the instrument or doesn't really do anything. My part has no true meaning to it. And we went through a bunch of different examples, and I showed them a lot of different techniques and things of that nature.
But the main advice I gave them was to make sure they study up on the tradition of playing percussion and what these instruments are really made to do, what their textures and timbres are for, and to use them in the most efficient way possible.
The LA Phil works with a lot of young people through YOLA, and many of them are interested in pursuing a career in music. I am curious what kinds of things would you say to them right now? What has helped you to get to this point in your career?
MF: Once I stopped being so concerned about what other people thought about me, I was able to start moving forward quickly. You should think for yourself about where you want to be going, and it's never too soon to be thinking about it. Don't ever listen to the naysayers!
WS: I'll piggy-back and say just never let anyone tell you no. Don't ever let anyone tell you you're not good enough, because we all have continuous and exponential room for improvement. If I had to take a look at myself seven years ago when I started undergrad: I didn't have a teacher; my parents and I, we didn't really know how to go about auditioning for college, or how I should go about a music career. They just didn't know. So, I didn't take lessons; I just practiced a lot. And then I got to college, and I saw, "Okay. I'm not that far away from where everyone else is, so I guess I've been doing something right." It's just having that drive and making sure that you have a commitment to what you want to do even if what you want changes. Because there's nothing wrong with that.
Any advice for future LA Phil Resident Fellows?
WS: I would tell them: If you are fortunate enough, like we were, to be selected to be a part of such a phenomenal group of musicians and people behind the scenes, you will be taken care of very well. You'll get opportunities that don't come along that often.
If I had any advice, it would just be to bring your A game, 200 percent of the time. You were brought in to add artistic value to an already artistically-excellent entity. If you are a person who doesn't have that drive or that commitment to continually push that excellence, then this may not be the right thing for you. Because you will be pushed, continuously. It's rigorous, so you really have to take yourself seriously as a musician. I know we do, and I know Eduardo [Rios] and Andrew [Francois] do, as well.
Any thoughts about Walt Disney Concert Hall? What is it like to play there versus other places you have played? Does it feel similar?
MF: Yes, just bigger! I love it. To wake up every day and walk up that hill and see Walt Disney Concert Hall. Just to be able to say that I get to play there every day is awesome.
WS: It never gets old. It's magical; it's like being at Disney World. It just never gets old.
Before we finish up, any other highlights or things you are excited about?
Both: Tour!
MF: I'm glad that we get to go around the world and represent the US and show everyone what an American orchestra looks and sounds like.
Get Watch & Listen Updates
Join the Watch & Listen newsletter list!