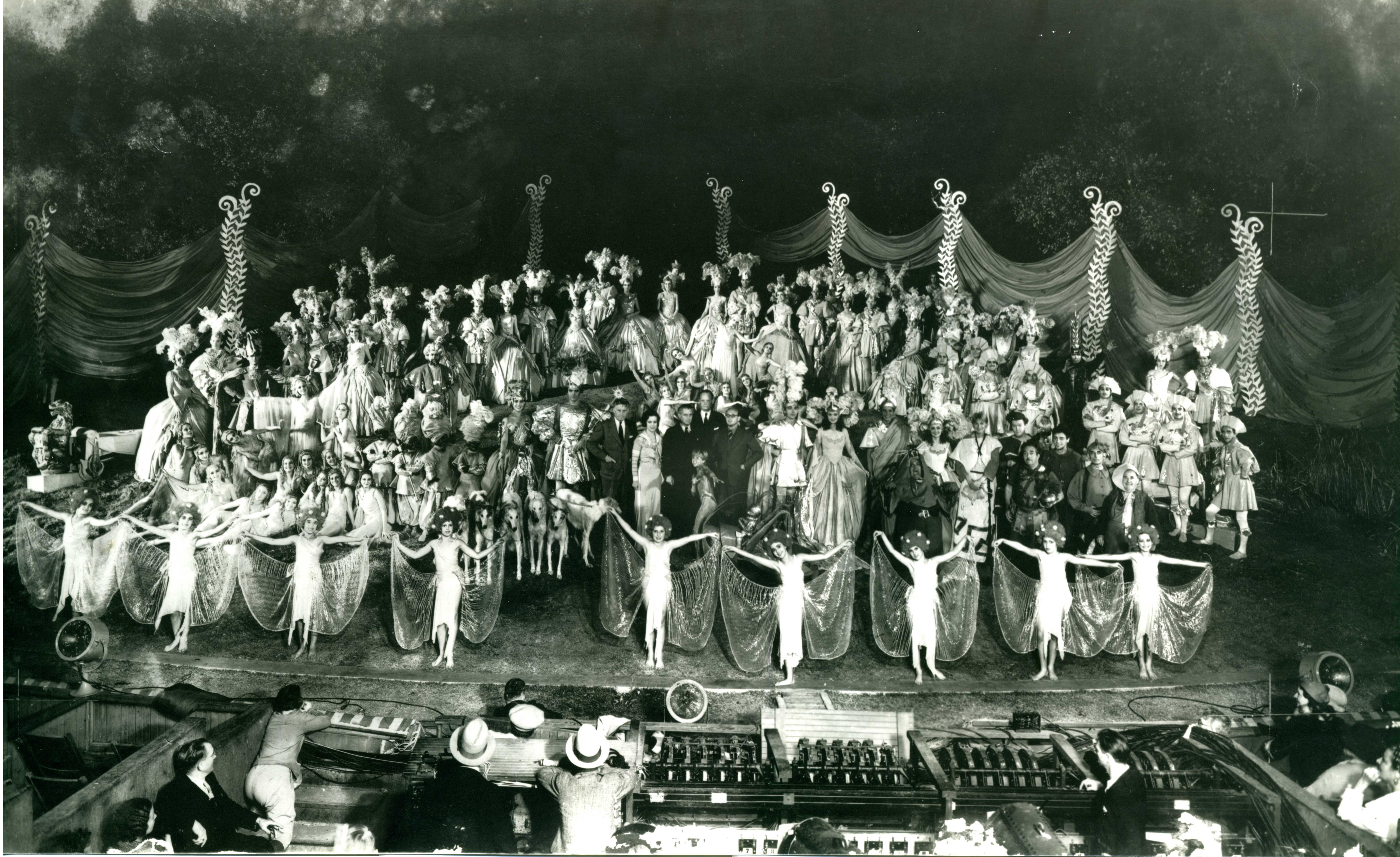 Brushing Up on Shakespeare

The first Shakespeare production to make an impact in LA Phil history actually occurred three years before the orchestra's founding in 1919. The creation of our summer venue, the Hollywood Bowl, was inspired by a 1916 production of Julius Caesar that took place on an empty plot of land in Hollywood.
An insanely ambitious group of theater-lovers turned the Hollywood Hills into the Seven Hills of Rome for a one-night-only performance. Their production spared no expense, calling for a total of five thousand actors, building roads on which Brutus and Antony's armies would clash, and selling out its entire compliment of thirty-five thousand tickets in advance. An article in the Los Angeles Times promised that:
"The hills have been cleared of brush, the stage leveled, the seats laid out, the roads for the passage of troopsof Caesar and Brutus have been built, the temple at the top of the Capitoline hill erected, Caesar's palace, Pompey's theater, in short, Rome itself has been reproduced, as nearly as possible…
Get Watch & Listen Updates
Join the Watch & Listen newsletter list!
...in short, Rome itself has been reproduced, as nearly as possible…
Dancing girls, to the number of 500, will stand behind Caesar's attendants when his army passes in review.It is intended that elephants, camels, and other animals be used in this procession. Actual combats between armies numbering into the thousands will be staged upon the hillsides. The mob scene will employ more
than 1,500 men."
The production's success inspired Hollywood's business leaders to get serious about creating a permanent outdoor venue in the city. Within a handful of years, they would go on to found the Hollywood Bowl—the LA Phil's summer home since 1922.
True to its founding, the Bowl would go on to host too many Shakespeare and Shakespeare-inspired productions to count. The most famous of which is the 1934 production of Mendelssohn's Midsummer Night's Dream directed by renowned German auteur Max Reinhardt.
The orchestra's shell was removed (it could be slid to the side on railroad tracks at the time) in order to accommodate a 250-foot-wide and 100-foot-deep stage with artificial hills planted with fully grown trees and a pond. A bridge was suspended 350 feet above the stage from an adjacent hill. Court processions (with hundreds of extras) walked down it to enter the stage by torchlight. Thirty thousand electric lights were strung throughout the stage area to simulate fireflies. Reinhardt's casting was no less ambitious featuring Mickey Rooney and Olivia de Havilland.
Sibelius and the LA Phil
The LA Phil has had in its history eleven Music Directors and three Principal Guest Conductors. Three of those fourteen conductors – Esa-Pekka Salonen, Susanna Mälkki, and Georg Schnéevoigt – hailed from Finland. That is to say: 20% of the LA Phil's top conductors were born in a country that currently is home to a mere .07% of the world's population.
All three championed the music of Finland's most famous composer, Jean Sibelius. One of them, Georg Schnéevoigt, was a contemporary and a friend of the composer and among the first to perform his music abroad. Serving as the LA Phil's second music director, Schnéevoigt disliked Los Angeles and lasted only two seasons here from 1927 to 1929. It seems the feeling was mutual. The orchestra's later publicity director John Orlando Northcutt described him in hilariously unflattering terms:
"The flaccid, paunchy conductor displayed little or no sense of direction so far as discipline was concerned. The musicians, who can be a playful lot when they have an opening, took advantage of Schnéevoigt. At the outset, he was victimized by tricks and practical jokes and was not too sure who was being kidded. Schnéevoigt's only concession to showmanship came with the performance of John Alden Carpenter's Skyscrapers. He ordered flashing traffic signals installed at either side of the stage."
Today, the LA Phil enjoys much better relationships with Finnish conductors. Esa-Pekka Salonen has served as Conductor Laureate for the last decade following his record-setting 17-year tenure as Music Director. Salonen kicked off his final season as Music Director in 2007 with a four-week festival dubbed "Sibelius Unbound." At the time, Salonen described his relationship to Sibelius's music as a "life-long journey of study and reflection." LA Phil musicians and conductors have been on that journey since the very beginning.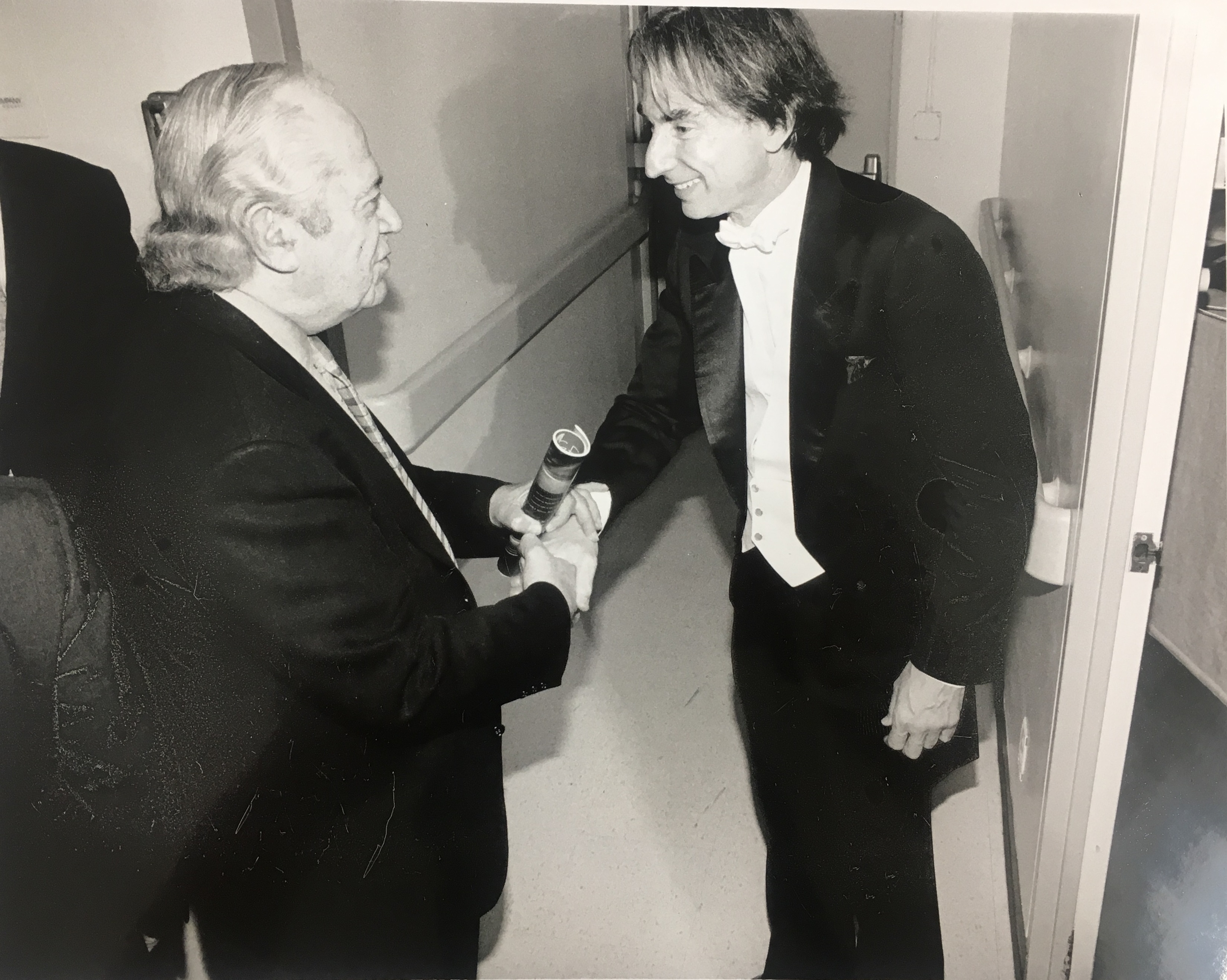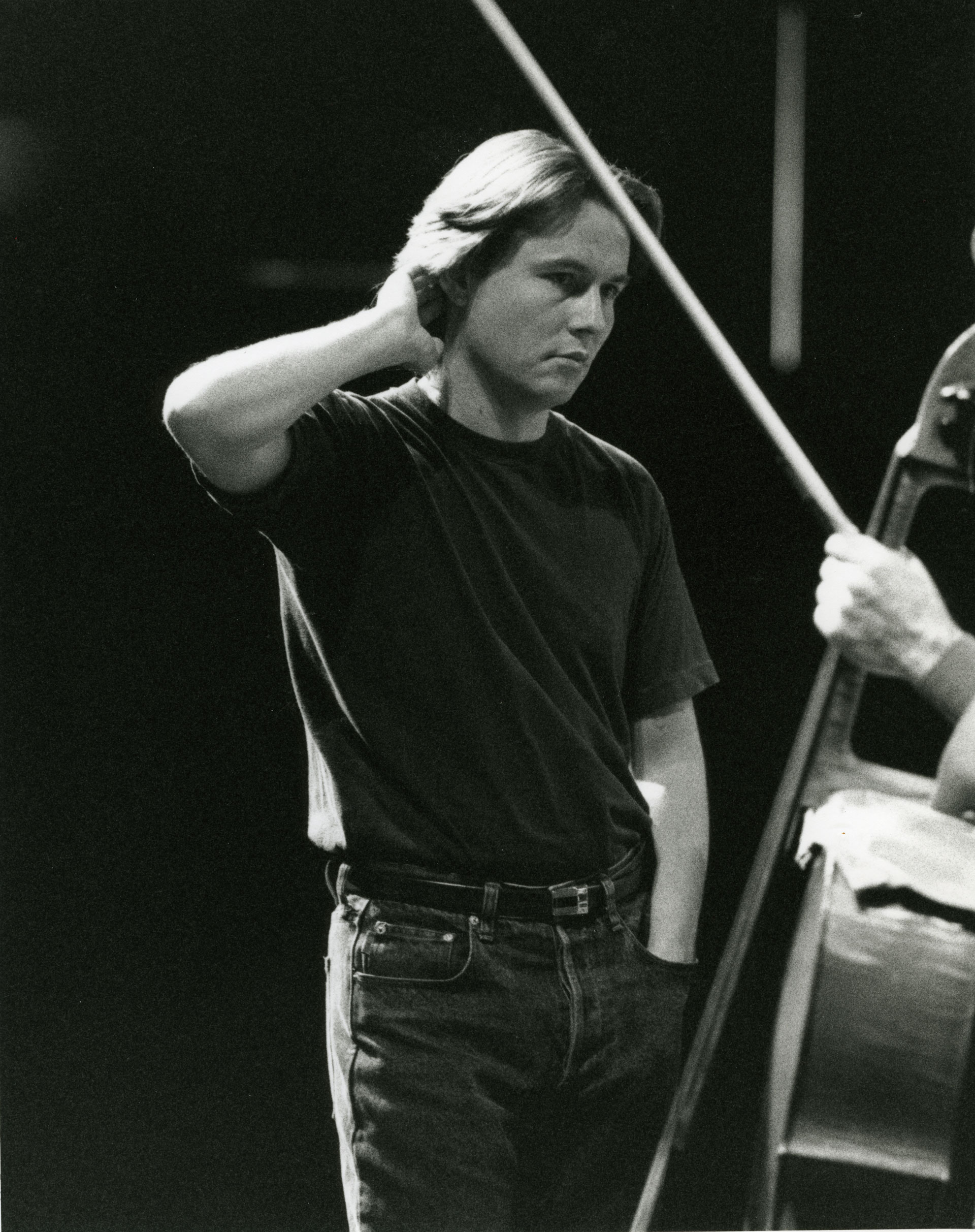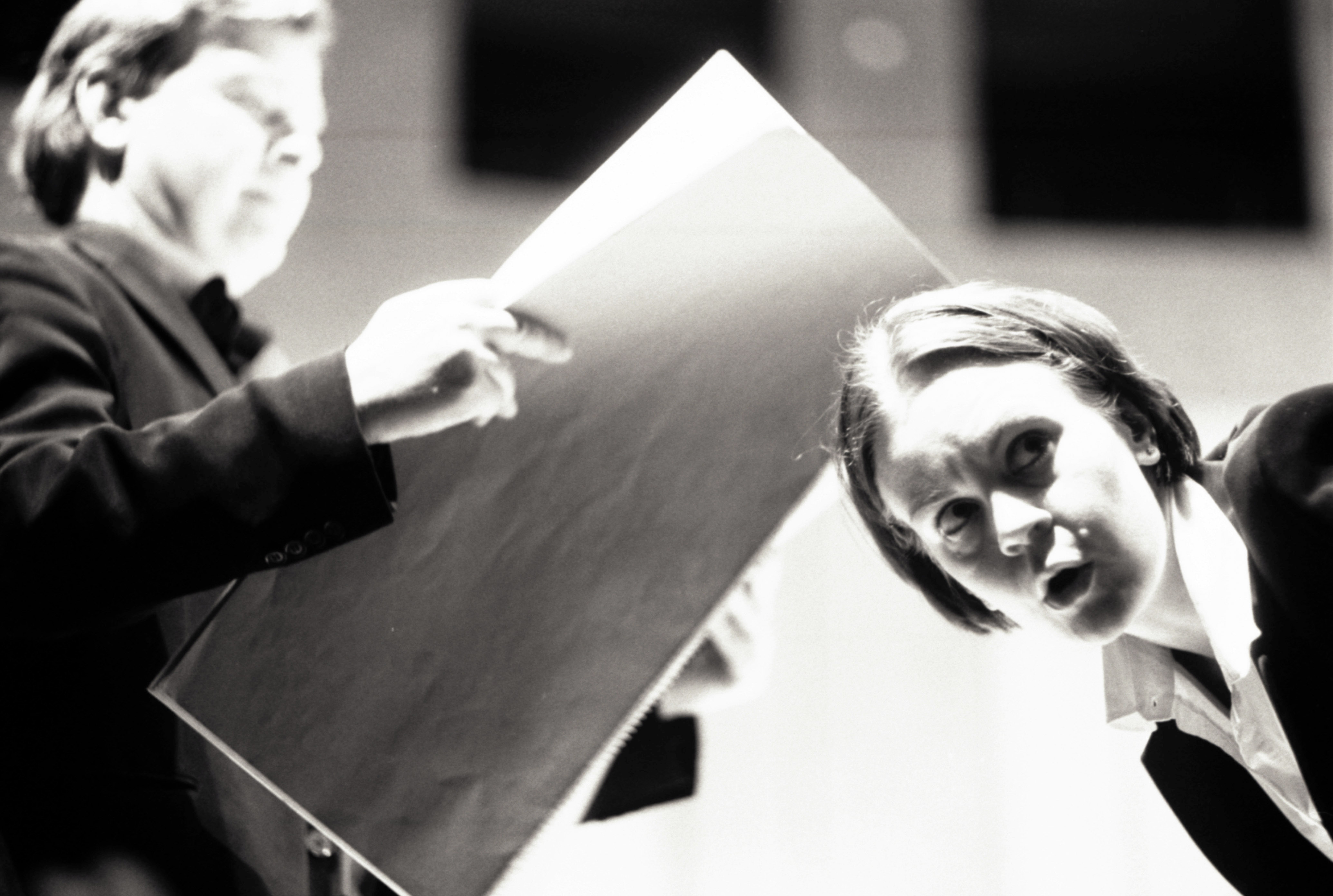 The Three Principals
The tradition of Finnish firsts continues today with Susanna Mälkki who was appointed the LA Phil's Principal Guest Conductor in 2017. Mälkki is only the third conductor and the first woman to hold the position.
Her predecessors in the role, Sir Simon Rattle and Michael Tilson Thomas, went on to acclaimed success in Berlin and San Francisco, respectively.
A native Southern Californian, Tilson Thomas first came to the attention of the classical music world when he stepped in — in the middle of a concert — for an ailing William Steinberg at the Boston Symphony Orchestra.
The Philharmonic's then-General Manager Ernest Fleischmann immediately recognized the rare talent of the young conductor and brought him into the LA Phil's orbit. Fleischmann later said of him:
"His talent was overwhelming. He's a very, very wonderful, exciting musician, conductor, and composer. I think Michael has something to say. It comes out, obviously, in his conducting. It has excitement, a depth to it, a fire."
In a twist of fate that Shakespeare certainly would have approved of, Tilson Thomas later backed out of a concert in London due to being ill himself. Fleischmann was in the audience to see his last minute replacement: a young Finnish conductor named Esa-Pekka Salonen.
Mälkki returned in January 2019 to lead a program featuring the U.S. premiere of a new work by another Finn, Kaija Saariaho, and Olivier Messiaen's Turangalîla Symphony. And in December 2018, Tilson Thomas led a second week of concerts with a program of yet more Shakespeare, and Salonen will spend three weeks this spring exploring the music of Stravinsky.