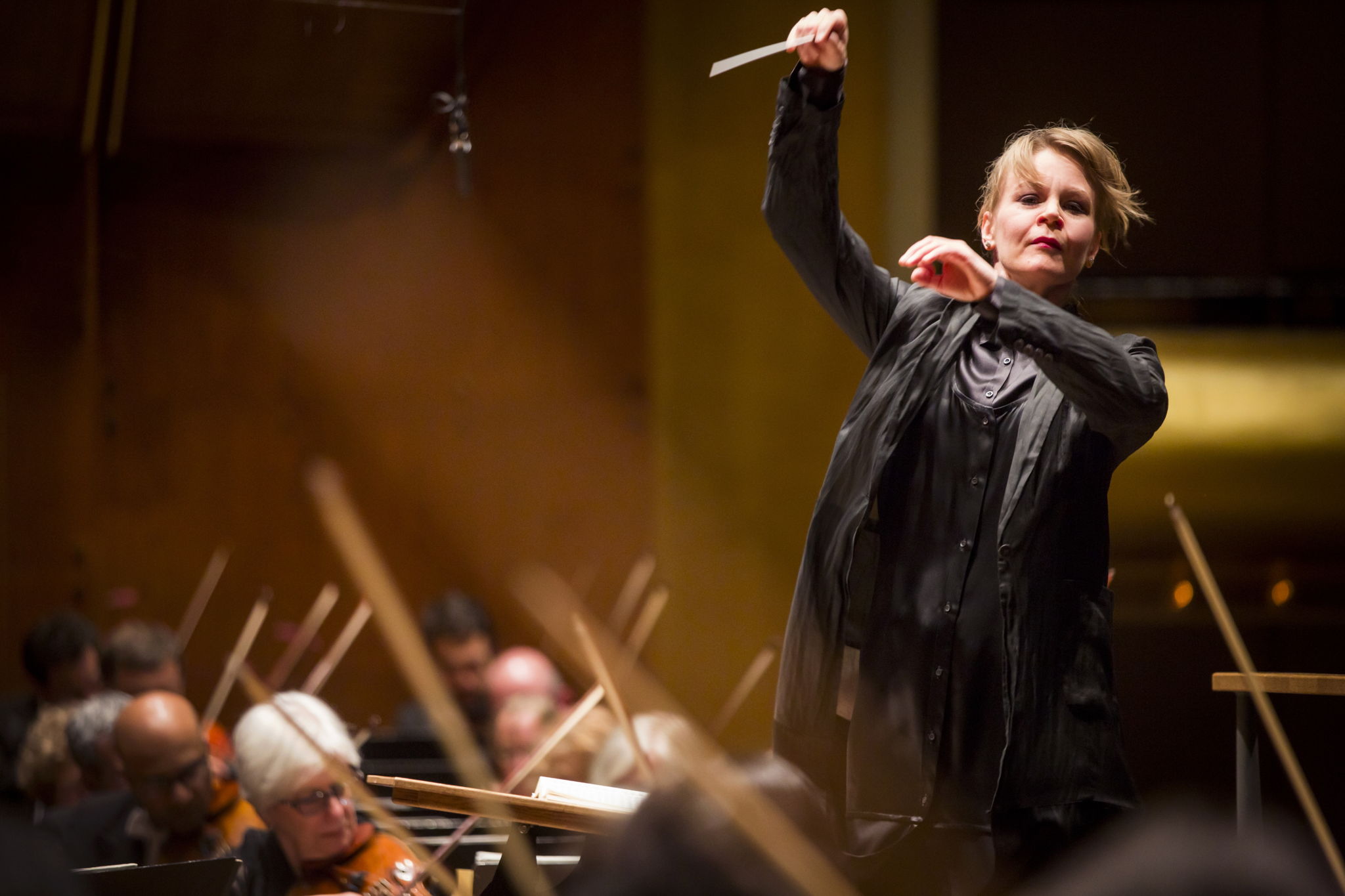 When Susanna Mälkki began her tenure as Principal Guest Conductor of the Los Angeles Philharmonic in 2017, she became just the third person to have held the post in the orchestra's history—her predecessors being Michael Tilson Thomas and Simon Rattle.
A cellist turned conductor, she is renowned as a perceptive interpreter of symphonic repertoire and has received unique acclaim for her command of new music and opera. She led the Ensemble intercontemporain in Paris from 2006-2013 and is now the chief conductor of the Helsinki Philharmonic. She also famously conducted Kaija Saariaho's L'Amour de Loin at the Metropolitan Opera in 2016—only the second opera composed by a woman performed at the Met. (The first, Ethel Smyth's Der Wald, was produced in 1903.)
As a conductor, Mälkki is known for her versatility, musicianship, and clarity as a communicator. In conversation with Julia Ward, LA Phil's Director of Humanities, she shares her thoughts on listening, power, and getting to the essence.
WARD: The music critic Martin Bernheimer once wrote that you make the "new sound provocative" and the "old sound almost new." That's an ideal the LA Phil works toward as well—you're the perfect match.
MÄLKKI: The Los Angeles Philharmonic is really exceptional, which is often said, of course, but the fact that it's such an open-minded institution is extraordinary. The fact that an orchestra like this is doing what it's doing in a city like this deserves all the superlatives you can imagine.
We are here, next to the entertainment industry. The arts and entertainment industries represent two different things, but classical/acoustical/concert/traditional music, however you want to call it, is represented here on such a high level, while still being juxtaposed against and with an awareness of what's going on [in popular culture]. Creation, not only reproduction, is the attitude. I really appreciate that.
WARD: We're here today to discuss the future of music. No one can predict the future, of course, but we can talk about how you've seen orchestral music evolve and where it might be headed.
MÄLKKI: It's important to remember that the evolution of music has always been led by the composers, not by the institutions. But it's up to the institutions to be open to composers inventing new ways of thinking and new ways of playing. Any institution that puts itself first is not helping in keeping the tradition alive, I believe. I love working with the LA Phil, because the priorities are clear here. Predicting the future is not possible, but sniffing out the good, taking in what is in the air, and giving that the place or the room it deserves is enabling the future to take form.
Get Watch & Listen Updates
Join the Watch & Listen newsletter list!
WARD: When there's so much content in the air, what role do composers have to play in the lives of listeners today? Is there anyone you've worked with whose work you think is especially important for people to hear?
MÄLKKI: I wouldn't name any particular composer, because it's important to have different viewpoints. My greatest respect goes to those who know both the tradition and the orchestra, but these elements can result in very different kinds of music! My ideal orchestra, as an institution, is actually a sound gallery you come into to discover things. The institution is the curator of what is available, and that there's a wide choice is very important. All music is written to be heard.
We shouldn't name important or unimportant composers. As with playwrights or novelists, it is normal to have preferences, and we have the things we really believe in and want to support and strengthen. But I find that in classical music (if we use that word), the inner content in the music is what's important—that's the secret of its history, and I would love to see that as the common denominator of different kinds of works.
We can be moved by works that were written 400 years ago or more, and that's because they have said something that touches the deeper level of our souls. This sounds very grand, but it's important. Music is never defined by the decade it's written in. We still have lots of music written in the twentieth century which will, one day, be something that people listen to with more understanding and connection than they do today.
WARD: Your big break came when Thomas Adès chose you to conduct the premiere of Powder Her Face. What is the ideal relationship between a conductor and a composer who is working toward something new?
MÄLKKI: The performer is the composer's messenger. To transmit the composition, you have to understand its essence on some level. You can't just execute sounds. You have to find some kind of meaning. With some works, it comes very quickly and instinctively for me. Sometimes I have to look for it. I feel compelled to find the meaning because, hopefully, that is the reason the composer wrote it. Sometimes it takes research, sometimes it's love at first reading/hearing. It depends, and I think you have to take the time to read between the lines.
Some composers tell me that they feel they don't need to explain their music to me because I understand what they want to say. I do relate to them. I haven't written music myself, but I speak their language. For instance, sometimes there are things in the piece that may need to be reworked to function for the performance, and I am happy to be a collaborator to make sure that the result comes out well. In many cases, the way of writing evolves when the composers have more experience with orchestral work. It depends on the composer, of course, but the ones who also conduct usually write fabulously "functional" scores.
Sometimes there are theories which dictate the way a composer does things. Twentieth century music is full of examples, of course, but if there is no "message" beyond the theories, I'm not sure it can survive as more than an example of its own time. Theory is just a tool after all... but on the other hand, all new ways of thinking can stretch the range of expression as well! That is what the visionary composers do. What is essential is recognizing it. But not even all contemporaries perceive things in the same way.
I believe music always should be performed as music, with which I mean that it should breathe and be played with the same excellence and conviction as the well-known traditional works. I think some contemporary composers probably appreciate what I do because of this kind of respect towards their work. I try to do this, with good craftsmanship, even if I don't understand the essence of the music.
I believe music always should be performed as music, with which I mean that it should breathe and be played with the same excellence and conviction as the well-known traditional works.
WARD: With both contemporary music and core orchestral work, there's an increased commitment to multidisciplinary work as a vehicle for engaging new audiences. Sometimes this is dictated by the composer; sometimes not. What are your thoughts on integrating other art forms into the concert hall experience?
MÄLKKI: Composers, really good composers, are well aware of what's going on. They're cultivated, and they are inspired by other works of art. There are and always have been compositions inspired by paintings or operas based on certain plays. These days, when people speak of multidisciplinary presentation, it often goes almost exclusively in a visual direction because we are so nourished by, almost bombarded by, the visual elements of television and film and all of these things.
Visuals can be enriching in concert halls—if what you see helps you listen. At the same time, because music can evoke so many possibilities in the imagination of each and every one us, I'm also a fan of the traditional, non-spiced performance. If the visuals take over, it's not necessarily constructive in the long run. True multidisciplinary work is a balanced collaboration where none of the elements is serving as a background to the other, but they feed each other. In the best cases, it's more inspiring than anything. But I trust that the collective human and purely auditive experience can be a very powerful experience just in itself, and we should keep having the courage to trust the power of pure music, too.
But aesthetics are important; the room where we listen to music has to have good energy. A harmonious space is good. How do you add harmony to a place? Maybe through things like lighting, but I don't think illustrating music is always necessary.
WARD: You don't want to close off certain interpretations or responses someone might have.
MÄLKKI: It's different when it's opera, when we have a staging and that is already an interpretation of the work. The performance of a symphony is also an interpretation, but it's pure music. I don't think that the performer should be the visual illustrator of the emotional states in a piece, but the one who creates the magic through sound.
WARD: Many of the people we've spoken to talk about the need in contemporary society to re-engage with listening, that we're almost desperate for a communal, live, concentrated listening experience that is not the world we're walking around in.
MÄLKKI: This is important because it really is about an inner world. How to have the public tuning in—that is the big question. Traditional concert music is touching on so many mental and emotional levels, and modern people do not always have the ability to just purely listen. However, I believe that this is, indeed, the most powerful part of what we can offer to them, and we should not underestimate its value by adding any superficial decoration on top of it. Audiences can sense a great focus, I'm sure.
WARD: Conductors nowadays have an increasing number of non-musical responsibilities. What is your attitude toward pre-concert talks and interacting with audiences?
MÄLKKI: Interacting is essential. I love the audience because we want to share our music with them. A performance is a moment of sharing something. Some philosophically minded people even talk about performing as an act of service. We do what we do for the audience to hear it. I can read music, and I can hear it when I see the music, but having it actually listened to is essential and its right form of existence.
Pre-concert talks and such—I understand their importance, as sometimes it can create a link faster than a background text would, because the human connection is always the strongest. It's a very different role though. Some people speak about the music well, and others perform it better. We shouldn't demand everyone speak about music or expect all performers to be media personalities. The world is easily seduced by media personalities and clever marketing. The fine arts is something else. I'm quite old-fashioned about this, but I guess it's how modern life is.
WARD: Speaking of modern life, the world is going through a tough, reflective moment on many fronts, including gender. If we were in the future, hopefully I wouldn't have to ask you about gender, and every article about you wouldn't open with a "glass ceiling" metaphor. But the classical music industry hasn't been immune to the conversations going on in the broader culture. Alex Ross once wrote about conducting as being "wrapped up in mythologies of male power." Are there aspects of that mythology that still need to be deconstructed?
MÄLKKI: Today, we are rethinking all positions of power, which is a very positive development. What is good leadership? That's the main question. There are so many different ways to lead. What kind of example do we want our leaders to set and why? Is management about managing people or managing things? What are we trying to do? Leadership and power should always go hand in hand with responsibility. What's the power for? What do you want to achieve with your power?
Generally speaking, orchestras are getting better and better because there are a lot of musicians being trained on a higher level, but awareness or understanding of the purpose of so-called power has not always evolved at the same pace. But it's happening.
It's a question of individual responsibility, every moment, in everything you do. How do people relate to each other, and why are they unable to relate to each other in a healthy way? That's the question we should be asking.
Generally speaking, orchestras are getting better and better because there are a lot of musicians being trained on a higher level, but awareness or understanding of the purpose of so-called power has not always evolved at the same pace. But it's happening.
WARD: Are there any upcoming projects you're working on or anything else you'd like to share about your role as principal conductor?
MÄLKKI: It's so fulfilling and inspiring to work with the Los Angeles Philharmonic because there are no limits to their abilities, and at the same time, they value being open and doing different kinds of projects on a very high, professional level. Being a professional today, it's larger than just the ability to play. To be an intelligent musician and a sincere artist is more than technical skills, and this is what I feel from this orchestra. There's a real engagement, and that's something that has grown along with its history, possibly because the different kinds of culture are so strongly present here and being aware of the raison d'être for our cultural heritage becomes stronger when it's not something one can take for granted. But being inclusive, rather than exclusive, is the generous approach.
WARD: The whole sound gallery.
MÄLKKI: Exactly. It's all there. I am also convinced that we perform new music better if we know the past well, because composers also make musical references, and we have to be able to spot them and then create those musical moments for the listeners. And then we have the whole historic spectrum aligned.