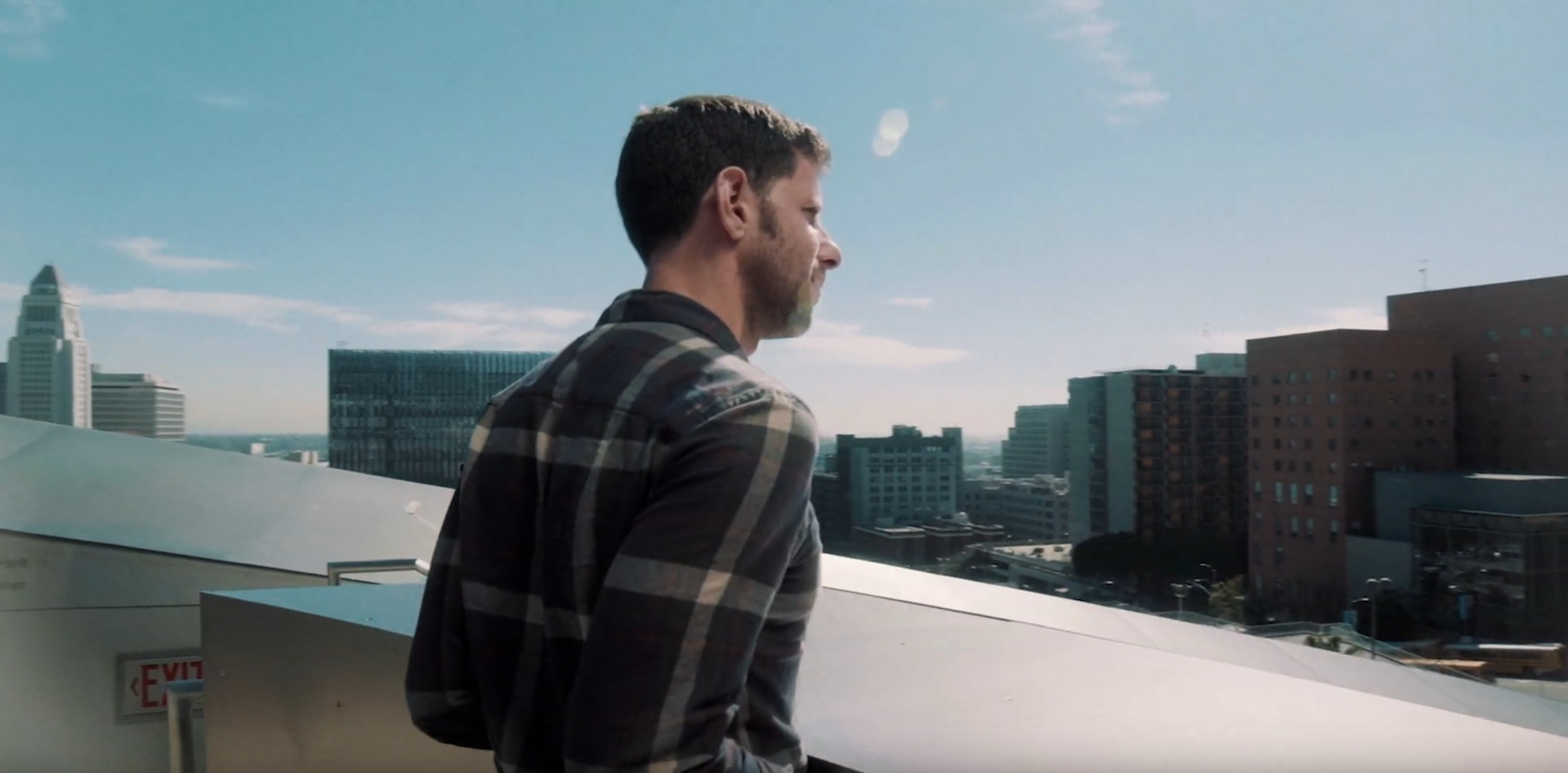 For three seasons, Sharon has taken the LA Phil on journeys spiritual, metaphorical, cross-cultural, and interplanetary.
Physical spaces he brought to life include arcane corridors of Walt Disney Concert Hall (Thought Experiments in F# Minor), the now-demolished "tinker toy" parking lot across from the Hall (War of the Worlds), Sony Studios (Europeras 1 & 2), and the floating space above the escalator leading to the Hall's main lobby (NIMBUS).
Metaphorically, Sharon helped send Europeras (aka your operas) back to Europe where John Cage believed they belong; he brought to life ancient Chinese poetry by way of Germany in Mahler's Das Lied von der Erde; he took us on A Trip to the Moon courtesy of composer Andrew Norman; and he brought Martians to earth for Annie Gosfield's War of the Worlds.
Get Watch & Listen Updates
Join the Watch & Listen newsletter list!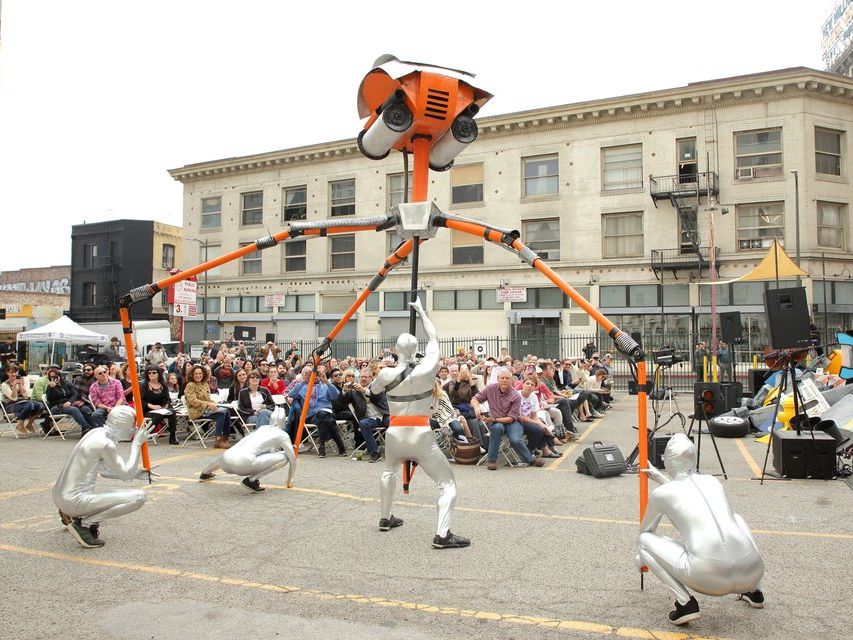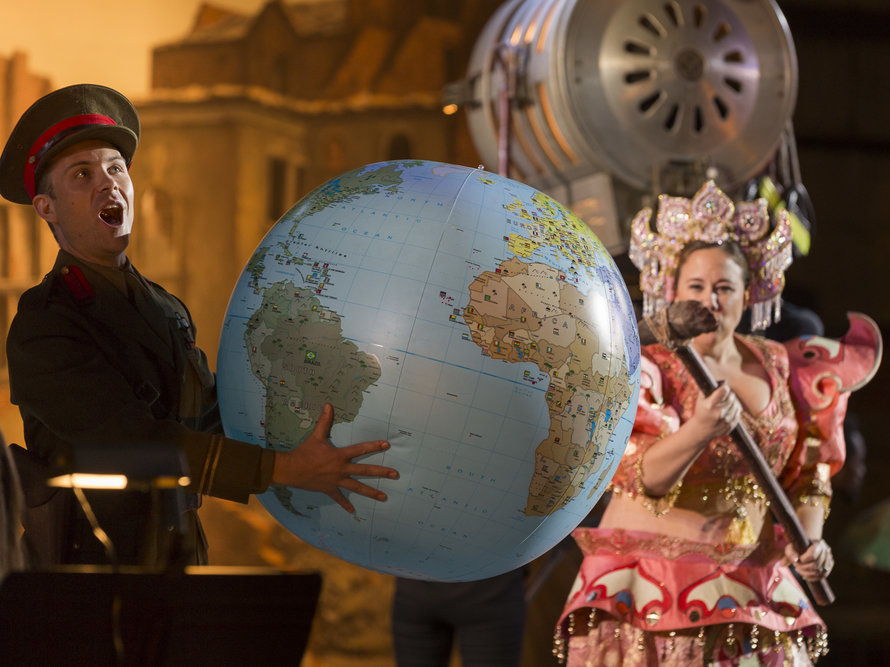 The Los Angeles Times' Mark Swed has described the MacArthur "genius" and head of the opera company The Industry as "industriously quixotic." When Chief Operating Officer Chad Smith brought Sharon into the LA Phil's fold, Sharon became the latest in a long line of artists from many disciplines whose work has found a welcoming home here from Peter Sellars to Frank Zappa to Frank Gehry.
This piece looks back on nine extraordinary projects from the industrious and quixotic mind of Yuval Sharon.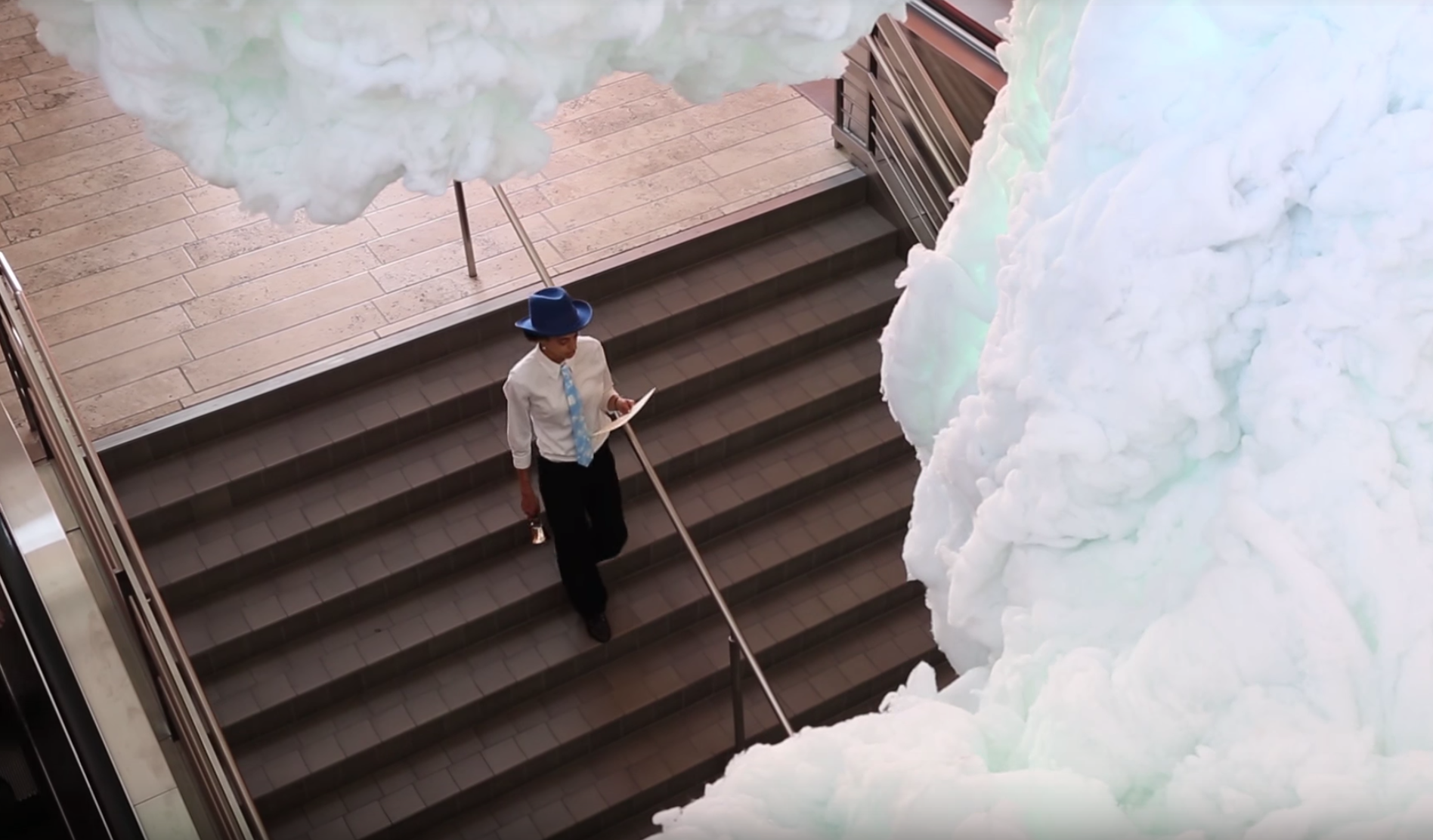 Year One

NIMBUS
The inaugural project in the residency, NIMBUS transformed Walt Disney Concert Hall's main escalator pathway into an immersive, sensory experience. In Sharon's words, "Art in public spaces can awaken us to the potential of everyday life."
Awaken us, it did. The clouds seamlessly hid an elaborate rigging of light projections and 32 speakers. Music rained down every 15 minutes in increments of three to six minutes. Speakers were programmed to play at different intervals, so sound descended upon the listener from all around the space, as if from a celestial stereo. The music, composed by Rand Steiger, was interspersed with periods of silence and custom sounds that were triggered by the movements of onlookers.
Night and Dreams
Night and Dreams placed 20th-century writer Samuel Beckett's short plays alongside the music of his favorite composer, Franz Schubert. The performance explored the common ground between these two creators in a theatrical evening structured like a recital presentation. The aim was to unleash the music's drama and the drama's music and to explore how the austere theatricality of a single Schubert song can illuminate the sonorous beauty of Beckett's taut prose.
Young Caesar
The first production of Lou Harrison's Young Caesar, a depiction of Caesar's love for another man, was deemed so scandalous in 1971 that its conservative funders in Pasadena backed out. Another production was planned and then cancelled at the Lincoln Center Festival. The opera was in need of a high-profile presentation and Sharon and the LA Phil, along with The Industry, gave it just that – they also ensured it was recorded and released along with a 25-page book with images and an essay by Sharon.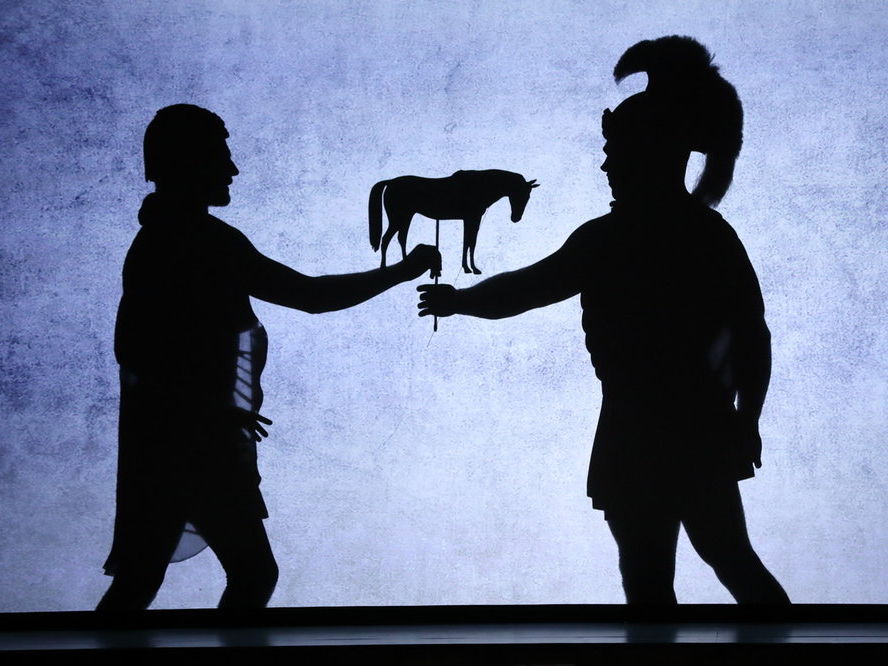 Year Two

War of the Worlds
"I love Disney Hall," Yuval Sharon told the New York Times when his appointment was announced. "But I love the idea also of bringing an institution out into the world that we've been creating, which is right into the fabric of the city." Sharon partnered with composer Annie Gosfield to do just that in the world premiere of her opera War of the Worlds. Orson Welles' 1939 "fake news" led millions of panicked listeners to believe that aliens were invading. Sharon took the original radio script as the basis of an audacious new performance piece that was heard around L.A. — at WWII era sirens reactivated for two-way communication between performers stationed at each site — and simultaneously at Walt Disney Concert Hall. The cast included Sigourney Weaver narrating and a cameo from mayor Eric Garcetti.
A Trip to the Moon
Inspired by Georges Méliès' 1902 film A Trip to the Moon, Grawemeyer-winning composer Andrew Norman's whimsical opera told the story of a band of bumbling astronomers as they explore the moon, try to fix their broken rocket, and interact with a mysterious race of moon people who are facing a perilous threat of their own. Sharon's fanciful production projected the lunar landscape on a scrim with the live-action cast to the screen's left and right superimposed upon the landscape in real time. He and Norman proved that opera, as an art form, can speak to audiences of all ages.
Das Lied von der Erde
Neither song cycle, symphony, nor operatic drama, Das Lied von der Erde is truly unclassifiable. Mahler's penetrating settings of ancient Chinese poems reveal a universe of experience within an individual, our relationship to nature, and the sometimes cruel, sometimes beautiful cycle of life. In an unprecedented move, these performances were staged by Sharon in conjunction with TEATROCINEMA, a Chilean theater company renowned for innovative interaction between video and live performers.
Year Three

Europeras 1 & 2
John Cage, perhaps the most famous L.A.-born composer in the city's history, turned his attention to Europe for the source material for Europeras 1 & 2. Specifically 64 arias and duets from traditional operas. They compete for attention with a pre-taped mix of 101 layered fragments from other operas. And the whole thing is dictated by chance – a computer program meant to stimulate the I Ching's coin oracle. The end effect is a moving portrait not only of operatic history, but of the passage of time itself. Sharon's production at Sony Studios in Culver City – a collaboration with The Industry – gave it a further Hollywood twist by making overt reference to famous films throughout.
Cardiff + Miller: Thought Experiments in F# Minor
Using an iPad Mini and pair of headphones, Thought Experiments in F# Minor leads its audiences along a route through Walt Disney Concert Hall, revealing an imagined world hiding in plain sight. Created by acclaimed multi-media artists Janet Cardiff and George Bures Miller and featuring Los Angeles Philharmonic musicians, Thought Experiments asks viewers to follow a film recorded in the past along the same route they are traversing in the present. Made using binaural microphones, which create a three-dimensional sound experience, and edited to create a sense of continuous motion, the fictional world of the film blends seamlessly with the reality of the architecture and body in motion. The perceptive confusion is deepened by Cardiff's hypnotic voice and dream-like narrative elements.
ATLAS
Sharon will complete his three-year tour of duty with a staggeringly ambitious production of Meredith Monk's ATLAS. This landmark work from one of modern music's most influential composers weaves a tale about a young girl's journey to the four corners of our world and beyond. Sharon's production incorporates visual art, movement, and, as always, the innovative use of Walt Disney Concert Hall. To fashion sets, he brought in Es Devlin, an artist and stage designer famous for conceiving touring stage sculptures for Beyoncé, U2, Adele, The Weeknd, and Kanye West.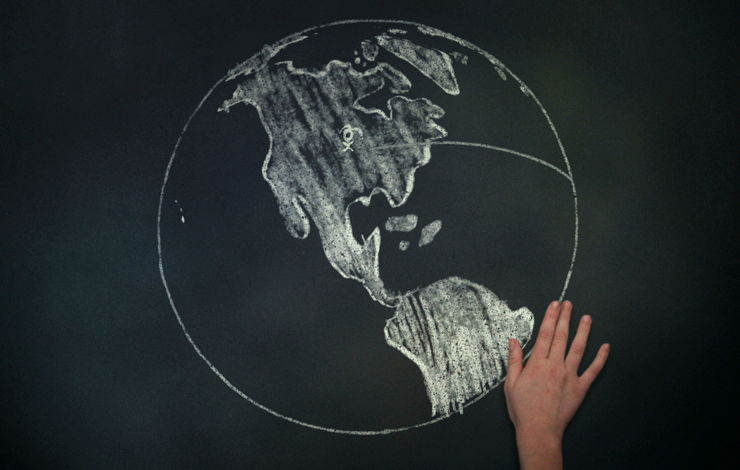 From NIMBUS to ATLAS and everything in between, there have been no dull moments with Yuval Sharon in residence at the LA Phil, and we are confident we will see him back at Walt Disney Concert Hall soon.