LA Phil 100: The Los Angeles Philharmonic Centennial Birthday Gala
Watch the PBS broadcast! (check local listings)
Order the Blu-ray/DVD today and receive EXCLUSIVE content: the 52-minute documentary, LA Phil: The Tradition of the New
The Los Angeles Philharmonic and Music & Artistic Director Gustavo Dudamel celebrated the orchestra's 100-year anniversary with an historic Centennial Birthday Celebration on October 24, 2019, at Walt Disney Concert Hall. The event, held on the very day of the orchestra's first performance 100 years earlier, featured all three living LA Phil music directors – Dudamel, Conductor Emeritus Zubin Mehta, and Conductor Laureate Esa-Pekka Salonen – leading the orchestra.
Captured for televised broadcast, this celebratory program features works with personal connections to each of the three living music directors – Salonen and Lutosławski's LA Phil-commissioned Symphony No. 4 (Salonen and the LA Phil recorded all four of the composer's symphonies); Mehta and Wagner's Prelude to Die Meistersinger von Nürnberg with Ravel's La valse; and Dudamel leading the Suite from one of Stravinsky's most beloved ballet scores, The Firebird.
For the final piece, Bjarnason's From Space I Saw Earth, all three conductors take to their engraved podiums to lead the orchestra in a work written specifically for the three conductors. Capping off this once-in-a-lifetime collaboration, 20 Youth Orchestra Los Angeles (YOLA) representatives – 15 students and five teaching artists positioned throughout Walt Disney Concert Hall – play along on hand-held crotales while confetti drifts from the ceiling throughout the audience.
Available in Blu-ray format or as a 2-DVD set, this concert spectacular also includes the documentary LA Phil: The Tradition of the New, which looks at the constant creative reinvention of this celebrated institution and the path it's taken to become what The New York Times has called "the most important orchestra in the world." This 52-minute film includes interviews with Music & Artistic Director Gustavo Dudamel, Conductor Emeritus Zubin Mehta, Conductor Laureate Esa-Pekka Salonen, LA Phil Creative Chair John Adams, Walt Disney Concert Hall architect Frank Gehry, music critics, and members of the Los Angeles Philharmonic organization.
Featured Artists:
Los Angeles Philharmonic
Gustavo Dudamel, Music & Artistic Director
Zubin Mehta, Conductor Emeritus
Esa-Pekka Salonen, Conductor Laureate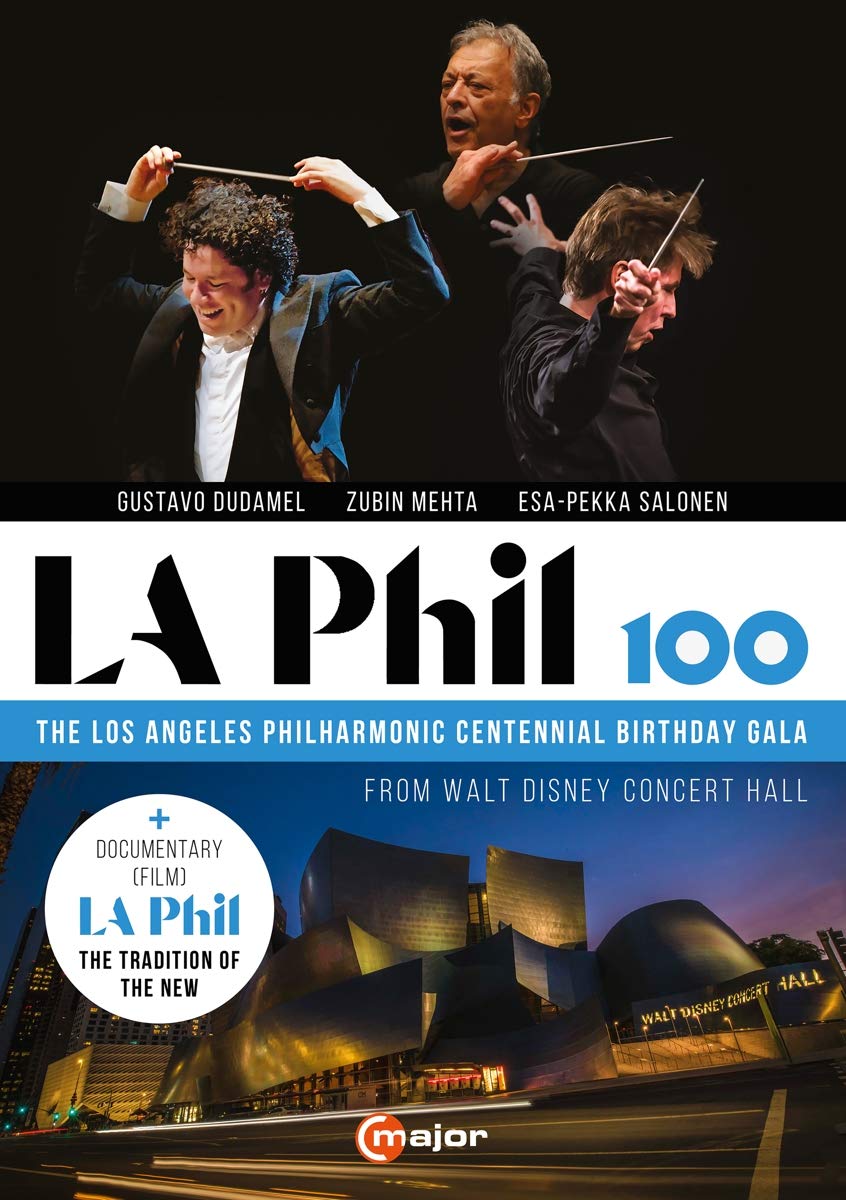 Program:
WAGNER Prelude to Die Meistersinger von Nürnberg
RAVEL La valse
LUTOSŁAWSKI Symphony No. 4 (LA Phil commission)
STRAVINSKY The Firebird Suite (1919 version)
Daníel BJARNASON From Space I Saw Earth for three conductors (world premiere, LA Phil commission with generous support from the Lenore S. and Bernard A. Greenberg Fund)
Exclusive Bonus Content – Not Available on TV:
LA Phil: The Tradition of the New
52-min. documentary
A sweeping look at the LA Phil's 100-year history and the road ahead!
New and archival interviews with:

Music & Artistic Director Gustavo Dudamel
Conductor Emeritus Zubin Mehta
Conductor Laureate Esa-Pekka Salonen
LA Phil Creative Chair John Adams
Walt Disney Concert Hall architect Frank Gehry
Music critics from Los Angeles Times and The New York Times
Members of the Los Angeles Philharmonic organization