Rachmaninoff: The Piano Concertos & Paganini Rhapsody
Album now available on vinyl, CD, and streaming services.

Listen to

p

review track

s

from

Piano Concerto No. 1

and

Rhapsody on a Theme of Paganini

at the links below.
Recorded live at Walt Disney Concert Hall in February 2023, this ambitious project presents Rachmaninoff's lush and virtuosic four piano concertos and the enthralling Rhapsody on a Theme of Paganini performed by the Los Angeles Philharmonic and the renowned Yuja Wang conducted by Music & Artistic Director Gustavo Dudamel.
Preview tracks from Piano Concerto No. 1 and Rhapsody on a Theme of Paganini are available now. The full release will be available as a 2-CD set, as a 3-LP collection, and/or on streaming services on September 1, 2023.
A formidably talented pianist himself, Rachmaninoff wrote a wide range of expressive, idiomatic music for his own instrument, including these five dazzling large-scale works for piano and orchestra. They have been part of Yuja Wang's repertoire since the start of her career, and she continues to bring fresh insights to their kaleidoscopic riches. She has collaborated with Gustavo Dudamel and the Los Angeles Philharmonic many times, and a powerful sense of mutual respect and understanding is conveyed through these performances. As Dudamel notes, "We connect as if we were playing chamber music."
Rachmaninoff began work on his Piano Concerto No. 1 in 1890, when he was still a student at the Moscow Conservatory. Some 26 years later he substantially revised the work, and it is the 1917 version that opens this new album. The composer himself wrote at the time, "All the youthful freshness is there, and yet it plays itself so much more easily." Yuja Wang certainly makes the solo writing sound effortless, from the fiery flourishes of the first and third movements, to the intimate delicacy of the central Andante.
A huge success at its premiere in 1901, Piano Concerto No. 2 remains one of the composer's best-loved works. Its wealth of passion, virtuosity and glorious melodies are perhaps all the more remarkable given that the score emerged from the period of despondency Rachmaninoff experienced after the initial failure of his First Symphony. So familiar is the concerto that there is the risk of falling into well-worn grooves, but not with these performers. As the Los Angeles Times noted in its review, Yuja "attacked [the opening chords], making each one an ever-more-important event. She seemed to be saying, listen, this matters … [Along] with Dudamel, who was propulsive and extravagantly detailed in the accompaniments, [she] went … for the dynamism of our times."
Soloist, orchestra, and conductor also breathe fresh life into Piano Concerto No. 3, almost as well-known as its predecessor, and renowned for its technical and emotional demands, rhythmic complexity, and intense melodic writing. Rachmaninoff wrote it in 1909 for his first tour of America, and it proved to be the perfect showcase for his exceptional pianistic abilities.
Piano Concerto No. 4 was composed in 1926, by which time Rachmaninoff had left Russia and was living in New York. Influenced by the new trends of the day, it was not well received at first. And although the composer revised it before it was published two years later, he then withdrew it and only reissued it in 1941. With its hints of Gershwin, jazz and blues, its leaner, more focused style, and its more prominent role for the orchestra – all challenges skillfully met by the Los Angeles Philharmonic – the 1941 version can only make us wonder what Rachmaninoff might have written next.
The composer's final work for piano and orchestra, Rhapsody on a Theme of Paganini, was written in 1934 – halfway between the first and final versions of Piano Concerto No. 4. It takes the last of Paganini's 24 Caprices for Solo Violin and transforms it in endlessly inventive ways. Yuja Wang reflects the work's ever-changing moods, encompassing shimmering mystery, forceful energy, intense drama, and magical lyricism, as she, Gustavo Dudamel and the Los Angeles Philharmonic produce an interpretation of enormous emotional sweep and scale.
Featured Artists:
Los Angeles Philharmonic  
Gustavo Dudamel, Music & Artistic Director
Yuja Wang, piano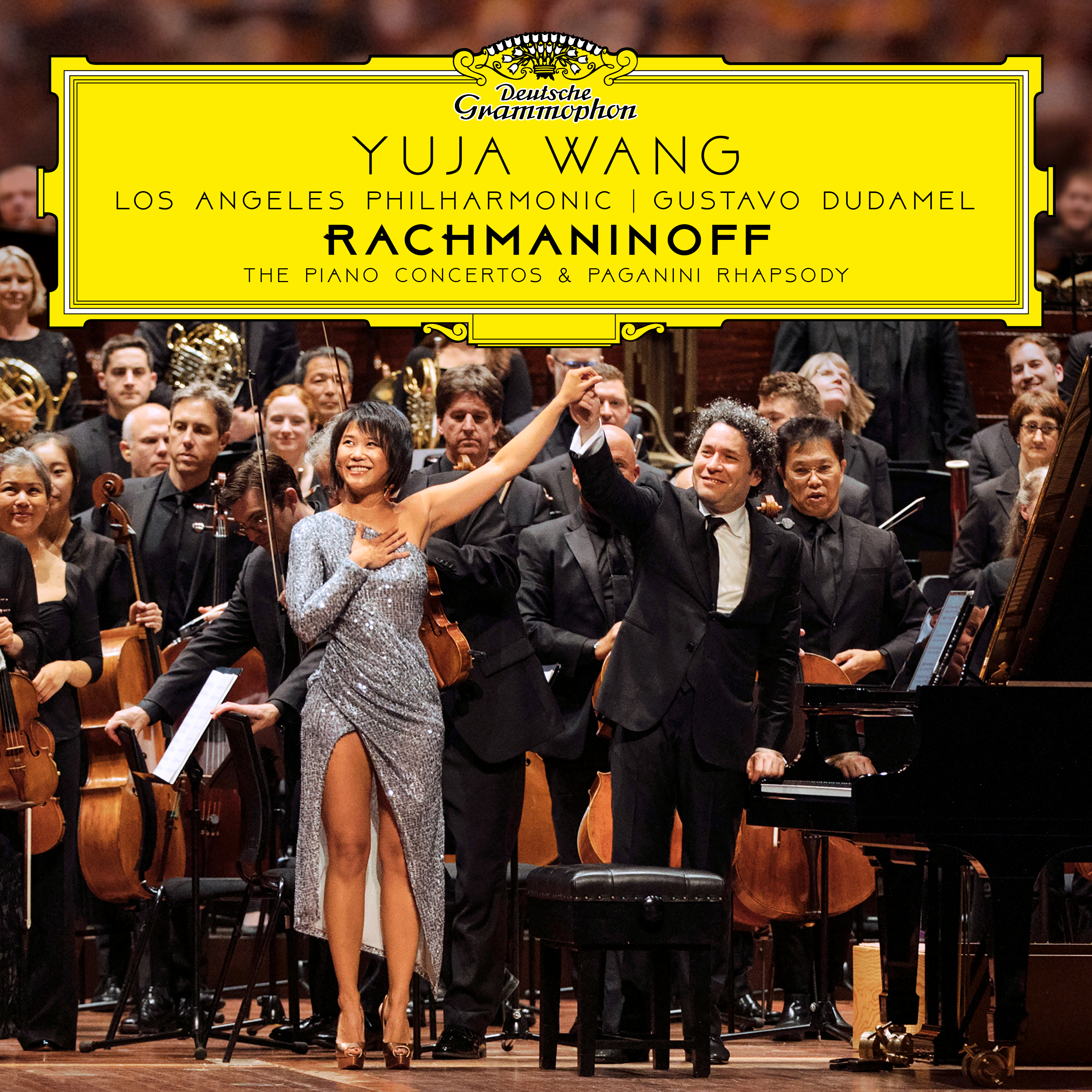 Rachmaninoff: The Piano Concertos & Paganini Rhapsody is available at these destinations:

 
Critical Acclaim
"[Yuja] played with exceptional power, depth, and dazzle. As accompanist, Dudamel went in for illumination. The pianist and conductor have had a long musical relationship, and it showed. What seemed the most impressive was the focus. Once each performance started, all else seemed to fall away."
–Los Angeles Times
"Yuja's performance [of Rhapsody on a Theme of Paganini] was a dazzler, all right, rattled off with fingers of fine stainless steel, thunder, and delicacy in detailed balance. … Yuja really ascended to another level from that point onward, turning on the technical brilliance to an almost unbelievable degree at the finish."
–San Francisco Classical Voice
About the Composer: 
As a young composer, Sergei Rachmaninoff (1873-1943) followed in the tradition of his idol Tchaikovsky, adding to his composing skills a phenomenal prowess as a pianist and great gifts as a conductor. As the new century developed around him, his music stubbornly retained many of the characteristics of his idol, but always with the unmistakably personal stamp of its creator. For many years Rachmaninoff was better known as a piano virtuoso, but his compositions have come to be acknowledged as supreme masterworks of the Russian school.