Partners in Music Learning
Regranting Opportunity
Partners in Music Learning, a new regranting initiative of YOLA (Youth Orchestra Los Angeles) and the Los Angeles Philharmonic, supports organizations in select regions across the U.S. to help unite, galvanize, and advance creative youth development and music programs.
Includes:
Financial support for existing programs

Comprehensive professional development and a peer network for sharing best practices in teaching, learning, and creative youth development

Collaborative development of teaching frameworks and programming resources
Partners in Music Learning will offer a total of $500,000 in funding during the 2021-2022 grant cycle. Grant awards will range from $25,000 - $75,000, based on an organization's budget, goals, and needs. All grantees are eligible for a one-year grant only but may apply for a grant renewal at the conclusion of this first year.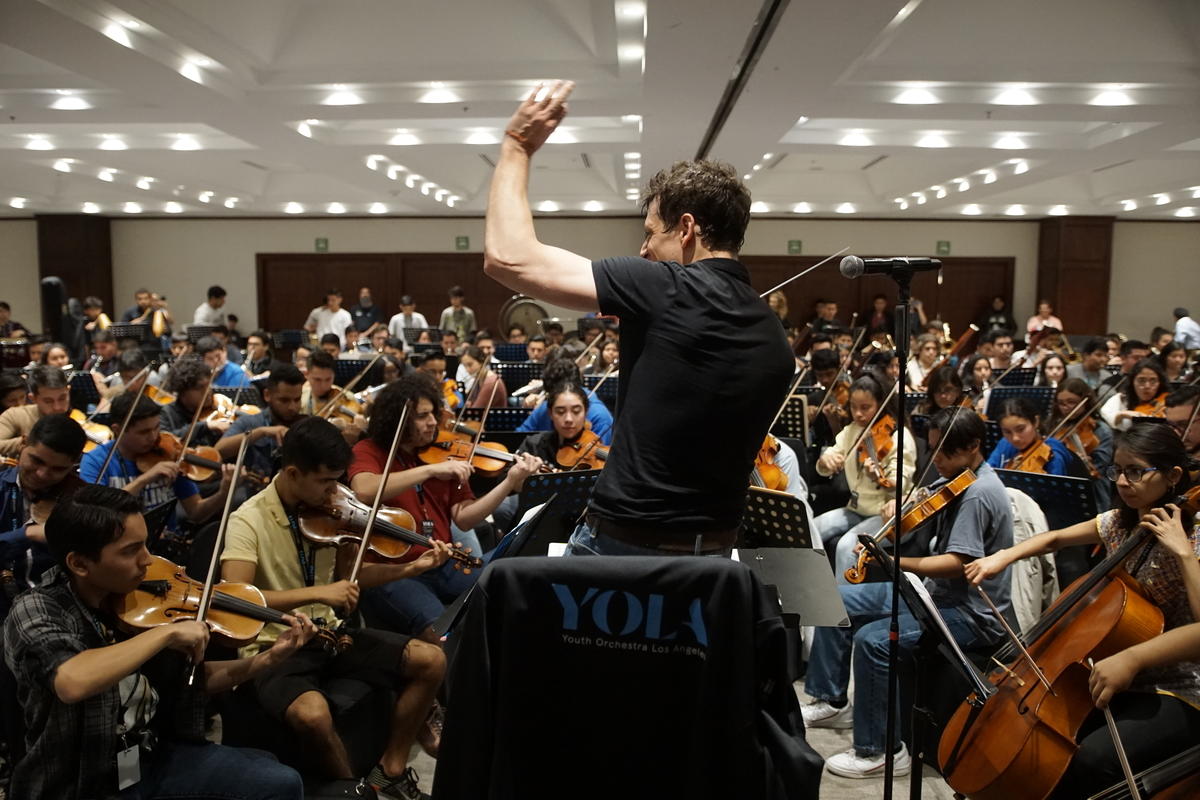 Primary Objectives
Support high-quality teaching and learning within existing creative youth development and music programs

Nurture a national cohort of teachers, artist mentors, and organizations

Develop a Music Teaching Toolkit and maintain a national set of teaching and learning standards with colleagues in the field

Create and share a variety of teaching and programming models

Provide a platform (through both live training sessions and digital resources) for teachers to share best practices, exchange ideas, and collaborate to address current needs and challenges.
Artistry
Delivering high-quality musical experiences that contribute to the full development of the young people we serve, including musical and socio-emotional growth.

Youth & Community Voice
Bringing the voice of those we serve to the center of our practice and creating a true sense of belonging by designing programs that consider the many ways that participants make personally relevant connections to the music.
Social Justice
Actively engaging young people in conversations about race, power, identity, and intersectionality, with a goal of developing practical tools for combatting the socio-economic forces that challenge many of the young people and families we serve.


Partnership
Creating a culture of learning, collaboration, and reflection, nationally and in our own communities, to highlight the unique strengths and interests of the vast network of organizations and individuals seeking positive social change through arts education.
Professional Development
Providing teaching artists, artist mentors, and organizational leaders with the best possible training and resources; together, pursuing a deeper understanding of our students and communities, and broadening our perspectives on teaching practice.
Grant Criteria and
Eligibility
Applicants must demonstrate the following:


Existing Music Programs
Has existing music and youth development program(s) that have provided diverse learning opportunities for students in underserved communities for a minimum of 3 years.
Need
This grant will make a significant difference in the organization's ability to deliver high quality instruction and programming.

Capacity
Strong leadership and a commitment to collaboration, building teacher capacity, and youth development.


Partnership
A willingness to fully participate in this learning community through an honest and open exchange of ideas.
Geographic Eligibility
Implements programs in specific U.S. regions* as prioritized by the funding partner.
Commitment to Core Values
A commitment to the core values as defined above: Artistry, Youth and Community Voice, Social Justice, Partnership, and Professional Development.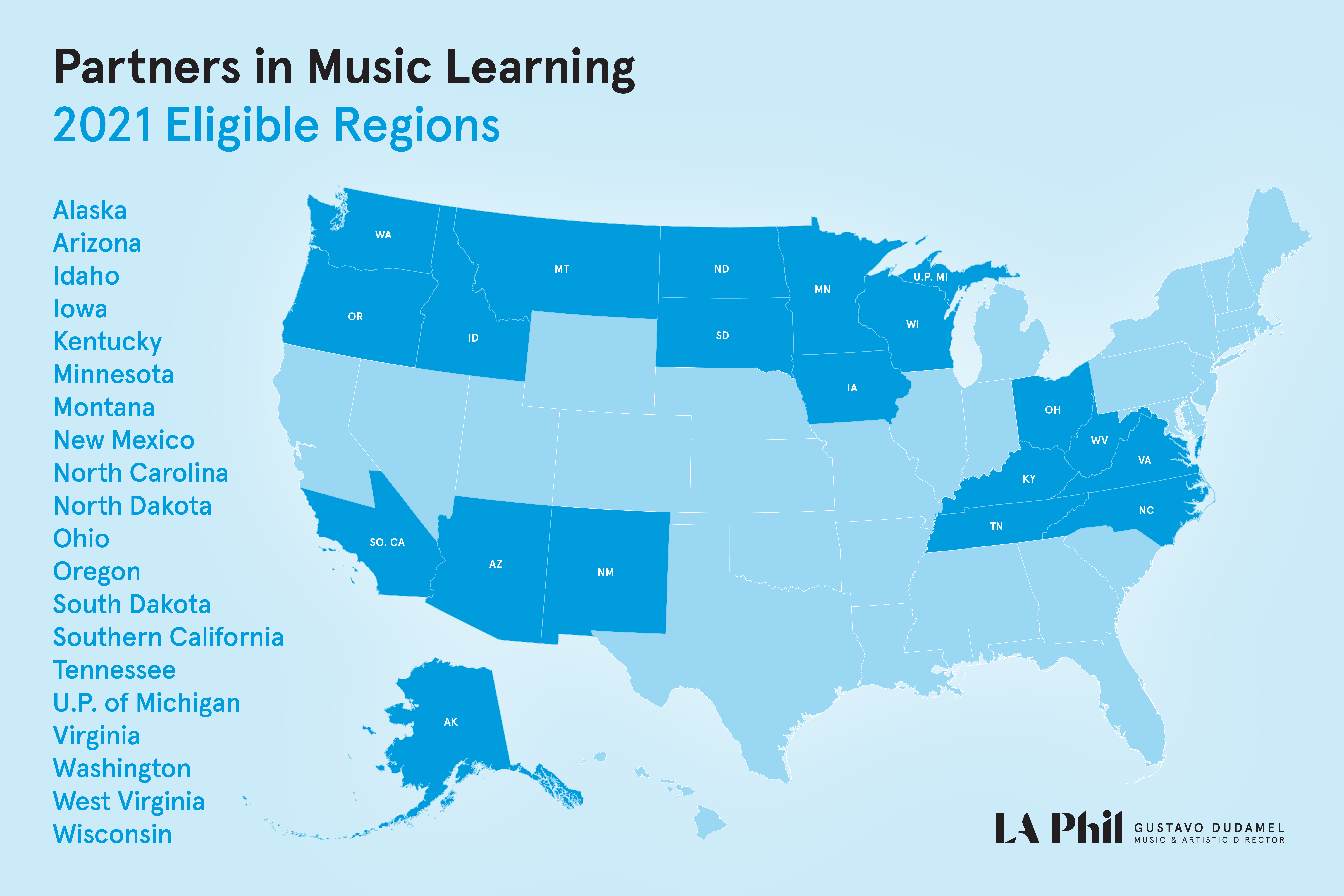 *The funding partner for this program have made a commitment to serving organizations in specific U.S. regions where music engagement opportunities for students may be limited by socioeconomics, geography, or related factors. During this inaugural year of the program, only organizations in these states or regions will be eligible to apply: Alaska, Arizona, Southern California, Idaho, Iowa, Kentucky, the Upper Peninsula of Michigan, Minnesota, Montana, New Mexico, North Carolina, North Dakota, Ohio, Oregon, South Dakota, Tennessee, Virginia, Washington, West Virginia, and Wisconsin.
Application Timeline
Organizations that meet the eligibility requirements and are compatible with the grant priorities are invited to complete an application.
March 15, 2021: Applications available
April 30, 2021: Application deadline
June 15, 2021: Announcement of partnership grantees
Selection Process
Eligibility and applications will be reviewed and scored by an independent panel of experts and educators from the field of music and creative youth development. Each application will be evaluated based on commitment to the core values and primary objectives of the program, including capacity building and partnership potential. To ensure due diligence for grantees, applicants will have an opportunity to engage in conversations with the selection committee to discuss their priorities, goals, and questions. The committee's rankings and recommendations will be reviewed by the LA Phil Learning Team, who will make the final selection of grantee partners.