YOLA National at Home offers courses, content, and project-based learning opportunities for youth and adults alike. Students, educators, artists, and in some cases, all music lovers, will find relevancy in these curated broadcast and interactive experiences held over Zoom and YouTube Live.
July 10-31, 2020
Sessions will be offered 3-4 times throughout the week, new sessions will be announced on an ongoing basis
What to Expect:
Participants will share innovative practices with one another and hear from members of the LA Phil family, including Gustavo Dudamel and Thomas Wilkins, as well as leading voices in the creative youth development and El Sistema fields. Last summer, YOLA National focused on power and the implications of power in our classrooms and communities. This year, in addition to conversations on music, learning, and social justice, we will look at concepts of Identity and how it impacts the work we aim to do. All events will be offered at no cost to participants.


Sessions
Keynotes – Inspirational talks from some of our closest LA Phil and YOLA family members, including Thomas Wilkins
Community Voices – Candid conversations with a panel of invited guests discussing topics drawn from our YOLA National content areas
Teaching Insights – Practical and interactive training for teachers and teaching artists
Pathway Explorations – Facilitated conversations with artists and professionals about their origin stories, education, and career development, and how they approach their work
Young Artist Series – Youth-centered content for young musicians in the El Sistema-inspired and orchestral fields, including practical musical training


YOLA National Festival
In addition to the Young Artist series available to our musical community, musicians of the 2020 YOLA National Festival Orchestras will be offered sectionals, wellness workshops, masterclasses, and facilitated dialogue with guest artists and speakers from the LA Phil and YOLA National Festival faculty.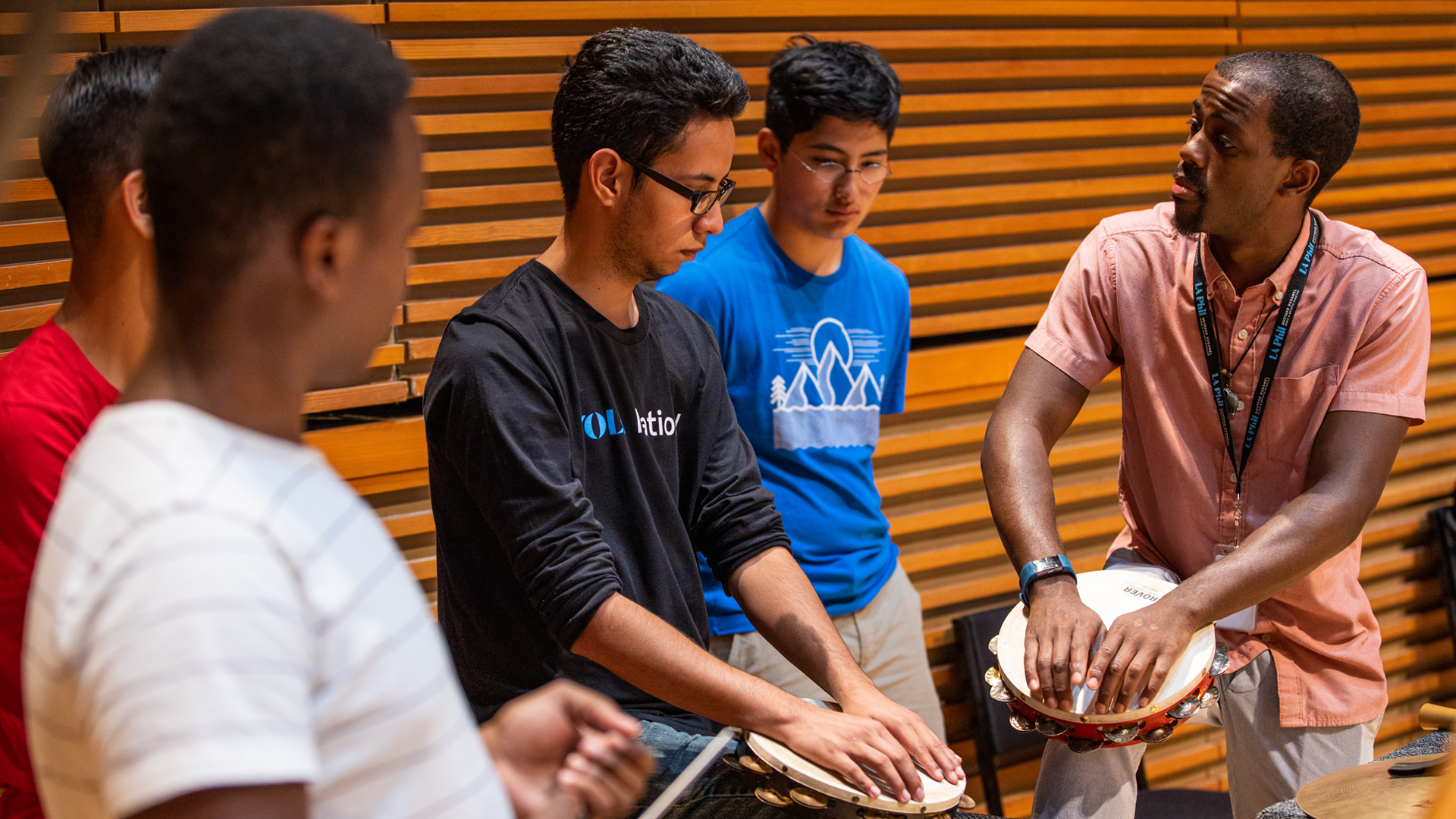 Featured Collaborations



Project 440
The LA Phil and Project 440 are partnering together to offer YOLA National Symphony Orchestra musicians a six-week virtual program focused on using art as a vehicle for positive change. Project 440's program focuses on how high school-aged musicians can effect change in their communities and how the program can prepare them for college or conservatory. Musicians from YOLA National, YOLA, and other programs across the country will gain a deeper understanding of the college admissions process and will work with their peers, teachers, and guest artists from various paths and professions in the field of music. For more information on Project 440's work, please visit project440.org.



El Sistema USA
YOLA National and El Sistema USA are teaming up to share a four-part conversation series, including deep-dives into best practices for online music learning, online concerts and collective recordings, how to support public school partners through summer programming, preparing for fall, and an open-forum conversation for anyone inspired by the field of El Sistema, facilitated by Members of El Sistema USA.
Youth and Community Voice
How can we bring the voice of those we serve to the center of our practice, from program design?


Creativity
How can we incorporate creativity, improvisation, and composition authentically into the orchestral context, from the beginning level through our highest performing ensembles?


Social Justice
How can we actively engage our young people in conversations about race, power, identity, and intersectionality, with a goal of developing practical tools for combatting the socio-economic forces that challenge many of the young people and families we serve?


Artistry
How can we continue to improve our ability to use the unique benefits and opportunities of intensive music instruction to drive increased socio-emotional growth in the young people we serve?


Program Design
How do we create programs that model equity, inclusion, and a true sense of belonging in all aspects of their design and implementation?


Professional Development
How can we provide our teaching artists and staff with the best possible training, both as teachers and as artists, as a means of improving program impact?


Partnerships
How can we increase collaboration nationally and in our own communities to better leverage the unique strengths and interests of the vast network of organizations and individuals seeking positive social change through arts education?


Distance Learning: Moving from Reactive to Proactive
What does it mean for a musical and community-based learning environment to transition to distance learning overnight? How are our teaching practices adapting to a virtual landscape? What are we learning from young people in this process, and how are we adapting to their needs? What kind of data are we collecting, and how can we harness it to serve us in the future?