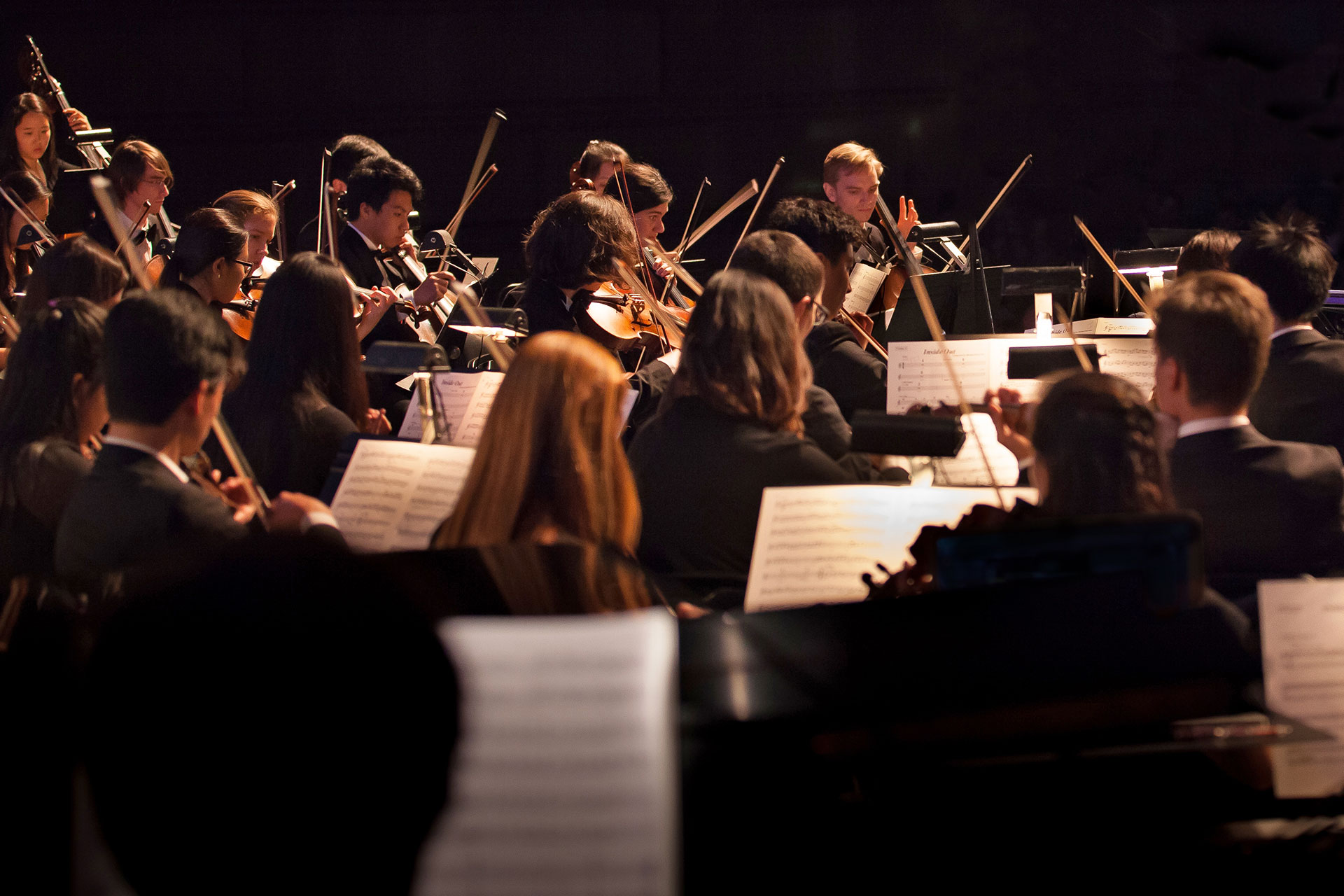 The American Youth Symphony's mission is to inspire the future of classical music by providing landmark fellowships to virtuosic young adults and exceptional, innovative, and free concerts to the Los Angeles community.
Competitively selected, the orchestra is comprised of 100 musicians who represent extraordinary talent from all over the world. By offering their community remarkable concerts at world-class venues, AYS remains committed to creating access and opportunity for everyone to experience the inspiration of this beautiful art form.
An elite Fellowship opportunity, AYS is designed to prepare the concert artists of tomorrow for leadership in 21st-century orchestras and ensembles. Musicians receive in-depth exposure to the varied styles of symphonic music, from classical masterworks to world premieres and innovative film and video-game scores. Each AYS Fellow receives an annual stipend ranging from $1,400 to $4,000 and pays no tuition. Fellows perform at renowned venues like Royce Hall and Walt Disney Concert Hall, and work alongside world-class guest artists such as Sarah Chang, Daníel Bjarnason, Anna Clyne, Glenn Dicterow, Johannes Moser, John Williams, David Newman, Alan Silvestri, Takeshi Furukawa, and Lera Auerbach. Designed to challenge, nurture, and inspire, the American Youth Symphony is a musical laboratory where Fellows not only master their parts and develop a deep understanding of musical scores, but also explore their roles as musician citizens within their community. AYS aims to create leaders, innovative thinkers, and articulate communicators for the 21st century and beyond.
Founded in 1964 by world-renowned conductor Mehli Mehta, AYS celebrates its more than five decades as an important architect in building the future of classical music. To date, AYS has trained over 2,500 musicians who now enjoy successful careers in some of the finest orchestras in the nation, including the New York Philharmonic, the Chicago Symphony, The Cleveland Orchestra, and the Metropolitan Opera, while the three leading orchestras in Los Angeles – the LA Phil, the Los Angeles Chamber Orchestra, and LA Opera – employ 37 AYS graduates. Additionally, AYS instills a lifelong love of and investment in this art form among its diverse audiences from across Southern California. In fact, AYS audiences are some of the most diverse to be found in classical music today. 
AYS has firmly established itself as a "gateway" orchestra for aspiring musicians, as well as a way into the field of classical music at large. What begins as a free opportunity to experience something new often develops into a lifelong appreciation for the art, with audiences who first attended an AYS film concert returning for classical programs year after year. Therefore, supporters of AYS not only provide the gift of exceptional concerts to the Los Angeles community, they also are investing in the future of this beautiful art form. 
It is important to the American Youth Symphony to be a resource for the community, and in recent years the orchestra has expanded partnerships to include collaborations with Title-1 LAUSD schools through their Share-A-Stand music and mentorship program, as well as organizations like the Skirball Cultural Center and Children's Hospital Los Angeles. In addition, AYS regularly provides bus transportation and other assistance to bring members of low-income communities to concerts, and this season AYS is proud to be growing their presence outside of the concert hall through a series of chamber concerts presented in underserved areas. This is also the inaugural year for the AYS Citizen Musician Fellowship, in which one musician is selected to guide their colleagues in using classical music as a tool for social good. AYS is proud to be part of this diverse and vibrant city of Los Angeles, and excited to continue growing and evolving with the community.