Full film with Los Angeles Philharmonic Performing
John Williams' Iconic Score Live
Friday, August 16 & Saturday, August 17, at 8PM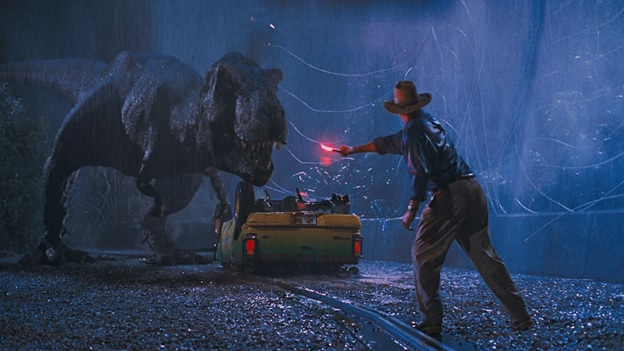 WHAT:

The Los Angeles Philharmonic, led by conductor David Newman, presents Jurassic Park in Concert, featuring the entire film shown on the Bowl's giant HD screen, while the orchestra performs John Williams' iconic score live, Friday, August 16 & Saturday, August 17, at 8PM. Newman, a decorated film music composer and conductor, has scored over 100 films in his career, including Anastasia, nominated for an Academy Award in 1998 for Best Original Score.
Under the stars and surrounded by trees, the Hollywood Bowl creates the perfect atmosphere to experience the battle between man and prehistoric beast. Additionally, the Natural History Museum of Los Angeles County will be on hand before the concert, and local paleontology students will be ready to chat all things dinosaurs with curious minds. The JP Motor Pool will be on hand with their fleet of customized vehicles based on the film, adding to the overall immersive experience.
Jurassic Park, originally released on June 11,1993, celebrated its 26th anniversary this year, and was directed by Steven Spielberg, written/adapted by Michael Crichton, and featured the music of the legendary John Williams. The film, starring Sam Neill, Laura Dern, Richard Attenborough and Jeff Goldblum, won the three Academy Awards®, for Best Sound, Best Sound Effects Editing and Best Visual Effects.
WHO:

Los Angeles Philharmonic
David Newman, Conductor
WHEN:

Friday, August 16, at 8PM
Saturday, August 17, at 8PM
WHERE:

Hollywood Bowl
2301 N. Highland Ave
Los Angeles, CA 90068
TICKETS:

Tickets for the Hollywood Bowl 2019 summer season are available online at hollywoodbowl.com or via phone at 323 850 2000.
CONTACT:
Laura Cohen, lcmediapr@gmail.com, 310-867-3897
Kassie Winchester, kwinchester@laphil.org, 213-972-3406
Sophie Jefferies, sjefferies@laphil.org, 213-972-3422
About the Hollywood Bowl
One of the largest natural amphitheaters in the world, with a seating capacity of nearly 18,000, the Hollywood Bowl has been the summer home of the Los Angeles Philharmonic since its official opening in 1922 and plays host to the finest artists from all genres of music, offering something for everyone. It remains one of the best deals anywhere in Los Angeles; to this day, $1 buys a seat at the top of the Bowl for many classical and jazz performances. In February 2018, the Hollywood Bowl was named Best Major Outdoor Concert Venue for the 14th year in a row at the 29th Annual Pollstar Awards and in November 2018 was awarded the Top Amphitheater prize at the 2018 Billboard Live Music Awards for the second consecutive year. For millions of music lovers across Southern California, the Hollywood Bowl is synonymous with summer. hollywoodbowl.com