SHOW ADDED TO THE LA PHIL'S 2022/23 SEASON
AT WALT DISNEY CONCERT HALL

CAFÉ TACVBA

UN SEGUNDO, CONCIERTO ACÚSTICO
Friday, October 21 at 8 p.m.
Saturday, October 22 at 8 p.m.
Tickets On-Sale:
Wednesday, May 25, 2022, at 10 a.m. PT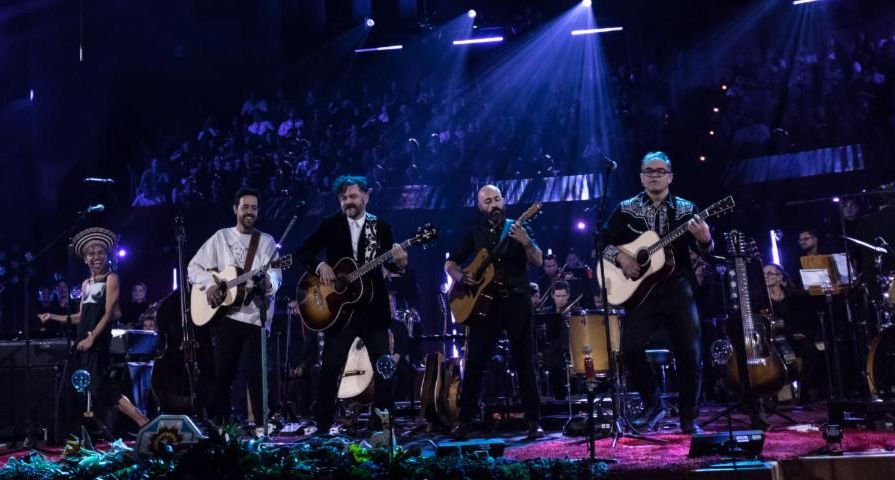 LOS ANGELES (MAY 23, 2022) – The Los Angeles Philharmonic Association today announced an additional program for the 2022/23 season at Walt Disney Concert Hall: Café Tacvba in Un Segundo, Concierto Acústico, on Friday, Oct. 21 and Saturday, Oct. 22, 2022, at 8 p.m. Tickets go on sale Wednesday, May 25, at 10 a.m. PT.
Grammy-winning Café Tacvba, the group The New York Times called "Mexico's most visionary rock band," never tires of pushing boundaries, taking chances, and exploring the possibilities of sound—all while making madcap music that's a whole lot of fun. On the Mexico City group's latest album, Un Segundo MTV Unplugged, they recorded new acoustic versions of their songs with a full orchestra. Across two nights at Walt Disney Concert Hall, they will recreate the magic, linking up with an orchestra to reimagine music from across their highly celebrated and deeply influential catalog.
Tickets for Walt Disney Concert Hall are available online at laphil.com, via phone at 323 850 2000 and at the Walt Disney Concert Hall Box Office.
Prior to attending, audiences are encouraged to view the LA Phil's updated COVID protocol guidelines posted on the website: hollywoodbowl.com/safety.
###
About Café Tacvba
Together since 1989 after meeting in college, Grammy winners and Mexico City indie rockers Café Tacvba are rightfully credited as the preeminent band to emerge from the "Rock en Español" movement of the early '90s. The Mexican quartet has remained one of the biggest acts on the Latin music scene since, inspiring two generations of rockers in their wake. While critics look at these reasons to signify Café Tacvba's importance, legions of global music followers are enamored with them simply because of their music, which is broadly appealing not only because of its groundbreaking nature, but also because it's fun, madcap and ever-changing.
Every studio album release by the band so far has been produced by Gustavo Santaolalla except for Cuatro Caminos, which was produced by Santaolalla, Dave Fridmann (The Flaming Lips, Weezer) and Andrew Weiss (When). Cuatro Caminos was featured on several Top Albums of 2003 charts, including Rolling Stone, The New York Times, and Blender Magazine, and won the 2004 Grammy award for Best Latin Rock/Alternative Album.
In 2017 they released their album Jei Beibi, which won the Latin Grammy for Best Alternative Album.
With their last album, Un Segundo MTV Unplugged, Café Tacvba became the first band to record a second MTV Unplugged album, giving them the option to record new versions of their songs alongside a full orchestra.


About the Los Angeles Philharmonic
Under the leadership of Music & Artistic Director
Gustavo Dudamel
, the
LA Phil
offers live performances, media initiatives and learning programs that inspire and strengthen communities in Los Angeles and beyond. The Los Angeles Philharmonic orchestra is the foundation of the LA Phil's offerings, which also include a multi-genre, multidisciplinary presenting program and such youth development programs as
YOLA
(Youth Orchestra Los Angeles). Performances are offered on three historic stages—
Walt Disney Concert Hall
, the
Hollywood Bowl
, and
The Ford
—as well as through a variety of media platforms. In all its endeavors, the LA Phil seeks to enrich the lives of individuals and communities through musical, artistic and learning experiences that resonate in our world today.