LOS ANGELES PHILHARMONIC ASSOCIATION ANNOUNCES
NEW PARKING AND TRANSPORTATION INITIATIVES FOR THE HOLLYWOOD BOWL 2023 SEASON
Including:


ADVANCE PARKING PURCHASE VIA PARK WHIZ APP

AN ADDITIONAL PARK & RIDE BUS LINE

ADDITIONAL SHUTTLE LINES USING COMPRESSED NATURAL GAS-POWERED BUSES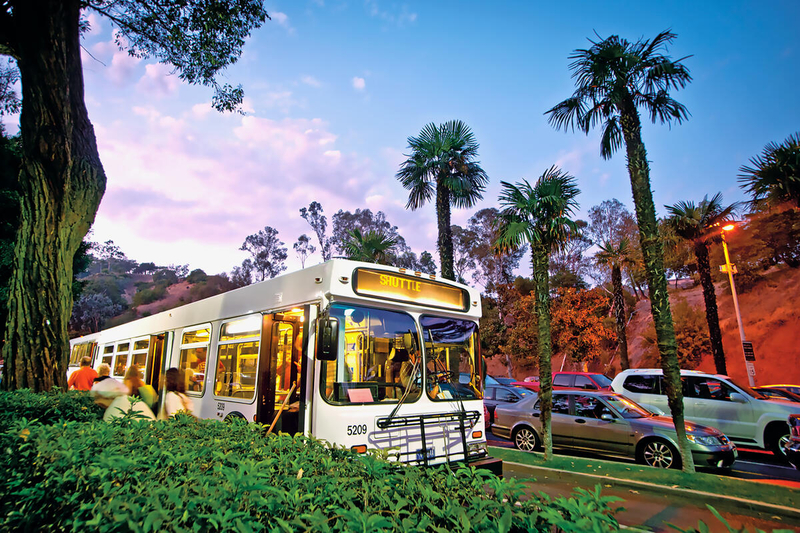 LOS ANGELES (March 27, 2023) – The Los Angeles Philharmonic Association (LA Phil) today announced new transportation initiatives for the LA Phil's Hollywood Bowl 2023 Season to expand accessibility, ease traffic and enhance the concert-going experience. Parking at the Hollywood Bowl is now available to purchase in advance, and the Park & Ride and Shuttle bus line services have been expanded to provide convenient travel to and from the Bowl to a larger number of communities.


"It is a priority for us to make the Hollywood Bowl as accessible as possible," said Laura Connelly, General Manager, Hollywood Bowl. "We devote a great deal of time exploring ways to increase transportation options for concertgoers and to make the venue and the grounds sustainable for centuries to come. We hope that by expanding our bus and shuttle services, enabling patrons to pre-purchase parking and continually expanding our green initiatives, we can make the Bowl an unforgettable and enjoyable experience from start to finish."
ADVANCE PARKING PURCHASE
New for Summer 2023, patrons now have access to purchase reserved parking in advance for the limited number of parking spots available in Lots A (Blue), B (Yellow), C (Red) and D (Green) by pre-purchasing passes via the easy-to-use ParkWhiz app. The app will also identify other local parking options when the Hollywood Bowl lots are full. This will make parking for the Hollywood Bowl much easier to navigate by providing real-time location information, helping to cut down on traffic and wait times.


Further information on parking at the Hollywood Bowl can be found here.
PARK & RIDE
Designed for those living between 8 and 30 miles away from the Hollywood Bowl, the Park & Ride buses provide 14 routes across Los Angeles County, allowing audiences to leave their cars behind. This season, a new line has been added at Willowbrook, located at Earvin "Magic" Johnson Park, East El Segundo Boulevard between Avalon Boulevard and Central Avenue, joining the existing lines at Arcadia, Chatsworth, Culver City, Downey, East LA, El Monte, Lakewood, Pasadena, Rowland Heights, Santa Monica, Sherman Oaks, Torrance and Westwood.


Buses in the Park & Ride program depart at set times, depending on their distance from the Hollywood Bowl, and arrive as early as two hours before the published concert start time, continuing until one hour before the concert begins. They return at the end of the performance.
HOLLYWOOD BOWL SHUTTLE
The Hollywood Bowl Shuttle program serves locations closer to the venue, 0.5 miles to 8 miles away. Two new lines added this season are Burbank Metrolink, at 201 N. Front St., Burbank, and Pacific Design Center (for lease events starting in May and LA Phil weekend events only), in the Blue parking structure at 8687 Melrose Ave., West Hollywood. This makes a total of five shuttle locations, including already the existing LA Zoo, Ovation LA at Hollywood & Highland and Ventura Boulevard shuttle lines.


Hollywood Bowl Shuttle buses start 2.5 hours before the published concert time and run on a continuous loop until the concert begins. Return shuttles start at the end of the performance. Reservations for the shuttle buses are not required and are free with a Metro or Metrolink ticket purchased within 72 hours of travel.


Ticket holders can show their Park & Ride or Shuttle bus ticket to receive 20 percent off purchases at the Hollywood Bowl Plaza Marketplace.


Further information on all the bus services can be found here.
TRANSPORTATION GREEN INITIATIVES
The Hollywood Bowl is committed to preserving and conserving its natural setting and using green initiatives where practicable. Many of these expanded travel opportunities make it easier to leave the car at home and come to the venue by public transportation, by bus and by using rideshares, taxis and/or bicycles, all helping to cut down on traffic around the Bowl and to reduce carbon emissions. The Bowl Shuttle buses are made up of a fleet running on compressed natural gas (CNG), producing 20 to 45 percent less smog-producing pollutants and 5 to 9 percent lower greenhouse gas emissions than diesel.


To learn more about the Hollywood Bowl Green Initiatives, visit here.
MORE INFORMATION
The Hollywood Bowl website "Getting Here" pages reflect the transportation changes for this season, and further information can be found here.


Please note that this information applies to LA Phil-presented events at the Hollywood Bowl. For information on LNHS (Live Nation/Andrew Hewitt/Bill Silva Presents) lease events, please visit here and refer to your concert date for more details.
# # #
FOR EDITORS:
FARES & FUNDING
PARK & RIDE and SHUTTLE Buses
Fares for both the Park & Ride and Shuttle bus programs have remained the same since 2014:


Park & Ride: Round trip $7 per person if pre-purchased and $12 in cash when purchased at the departure location.
Shuttle: Round trip $6 per person and, new this season, can now be purchased separately from the concert ticket purchase path.


The Park & Ride bus program for LA Phil events is partially funded by the Los Angeles Philharmonic Association, Metro and Los Angeles County. The Shuttle bus program for LA Phil events is partially funded by Los Angeles County.
PARKING
The LA Phil offers extremely competitive parking pricing for all its Hollywood Bowl events:
Lot A (Blue) $24

Lot B (Yellow) $22

Lot C (Red) $20

Lot D (Green) $20
Bus and limousine passes may be purchased in Lot B for $55.
Motorcycle passes may be purchased in Lots B and D for $10.
A special rideshare and taxi drop-off/pickup zone has been designated in Lot B.
Bicycle racks are available along Peppertree Lane and at the entrance to the Main Gate, both adjacent to Lot A parking.
Details on accessible parking are available here.
###
One of the largest natural amphitheaters in the world, with a seating capacity of nearly 18,000,
the
Hollywood Bowl has been the summer home of the Los Angeles Philharmonic since its official opening in 1922 and plays host to the finest artists from all genres of music, offering something for everyone. It remains one of the best deals anywhere in Los Angeles; to this day, $1 buys a seat at the top of the Bowl for many classical and jazz performances. In February 2023 the venue was named the Outdoor Concert Venue of the Year at the 34th Annual
Pollstar
Awards, an honor bestowed 15 previous times. The Hollywood Bowl was also named Amphitheater of the Decade at the 32nd Annual
Pollstar
Awards as well as Top Amphitheater at the 2017 and 2018
Billboard
Touring Awards. For millions of music lovers across Southern California, the Hollywood Bowl is synonymous with summer.
hollywoodbowl.com