SOUTH LA CAFÉ SECURES SECOND MILESTONE PARTNERSHIP
WITH ICONIC HOLLYWOOD BOWL, AS THE VENUE'S EXCLUSIVE COFFEE VENDOR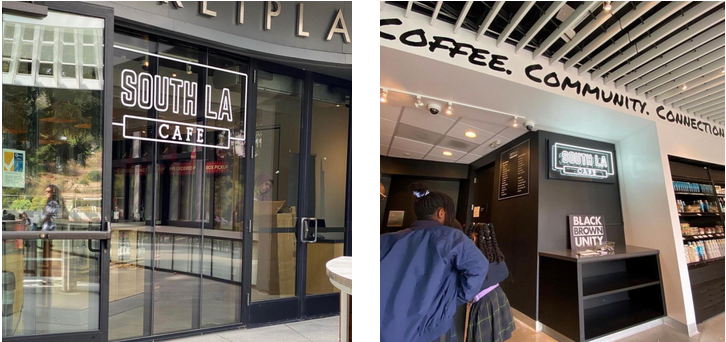 LOS ANGELES (May 10, 2023) –
South LA Café
, a Black and woman-owned café, market and cultural center rooted in the heart of South Central Los Angeles, has secured its second landmark partnership with the iconic
Hollywood Bowl
commencing on May 13, 2023. This collaboration, in addition to the previously announced partnership with the Natural History Museum, sees South LA Café leading the way for small-and-minority-owned businesses, and how they are regarded by national institutions.


Owned by Joe and Celia Ward-Wallace, South LA Café will serve as the exclusive coffee partner for the Hollywood Bowl, including all catering, concession stands, Marketplaces and an on-site Café located in the Plaza Marketplace.


"As native Angelenos, Joe and I are filled with pride on behalf of our family and our South Central LA community to embark on this industry-disrupting iconic partnership," said Celia Ward-Wallace. "Two heavy-weight brands uniting for social good and the advancement of equity and access in the arts and culture movement. We have deep gratitude for the Hollywood Bowl team for their unwavering support as we brought this power-house vision to life."


South LA Café served as the ideal partner for the venue as they will bring their Community cache and extensive business management experience to oversee the roll out of the brand partnership highly-targeted and local experience – from their onboarding and training program for employees, new and existing, to creating a consistent brand message throughout the space, bringing in like-minded vendors and create a safe, inclusive gathering spot that promotes community engagement.


Laura Connelly, VP & General Manager of the Hollywood Bowl said, "The Hollywood Bowl and the LA Phil are incredibly proud of everything there is available at the venue for everyone in the city. From $1 tickets to free daytime park access and parking to our superb concert transit options, adding this partnership with Joe and Celia from South LA Café expands the existing dynamic and varied
Food+Wine
options already on offer at this iconic venue. The family-owned café located in the Plaza Marketplace will provide a welcome new neighborhood service for our local community and also for visitors to this public park during the day, and their coffee will be available throughout the venue during performances. Using coffee and live music to provide connections that impact our communities, we look forward to the start of a beautiful collaboration."


For more than a century the Hollywood Bowl, run by the LA Phil, has been an international destination for music and performances that showcase artistic greatness and celebrate global cultural heritage. It has historically been a proving ground for emerging artists and a living laboratory for experimentation and discovery that influence Los Angeles' history and continue to shape the world's stage. Today, that mission lives on with groundbreaking partnerships, like the one with South LA Café.


"What started as a mission to provide South Central LA with fresh, affordable and healthy food options has quickly evolved into a nationwide movement to elevate hyper-local businesses – while giving them the recognition they deserve - using our proprietary Community Centered Business Model™ (CCBM)," said Joe Ward-Wallace
.
"This is more than just a partnership, it's a proof of concept for our framework, and acknowledgement from the Hollywood Bowl for deciding to follow the lead of Celia and me in creating a paradigm shift for the industry that will leave behind a legacy."


South LA Café was built as an anti-gentrification effort at the intersection of impact entrepreneurship, community organizing and practical spirituality. Their revolutionary Community Centered Business Model™ (CCBM) explores the intersection of people, place and profit in an innovative way where everyone can win. It balances for-profit and nonprofit strategic partnerships to maximize impact and build both community and generational wealth. By working in collaboration with local, small, minority and women-owned businesses, SLAC breaks the status quo and disrupts the industry as they strive for community wealth and wellness above all.
# # #
South LA Café was founded in 2019 by Celia Ward-Wallace and Joe Ward-Wallace in their own backyard of South Central Los Angeles. The concept was born out of necessity – the area had limited access to healthy food, making it a food desert, with only a few low-quality grocery stores available to residents. The goal: to provide fresh, affordable and healthy food options for the community – coffee with a cause. Since its founding, South LA Café has opened a second location in Baldwin Hills-Crenshaw, with a third location slated to open in West Adams in 2023. In an effort to expand the brand's footprint, South LA Café also offers a variety of ways to engage the community, from an online store to membership programs that give back and grocery sponsorships.
www.southlacafe.com


About Celia Ward-Wallace
Celia Ward-Wallace is a leading business coach and consultant for social enterprises creating businesses with an impact. She is an internationally recognized empowerment, entrepreneurship, and leadership expert who leads her clients to start, launch, and grow purpose-driven businesses and become thought leaders through entrepreneurship, coaching, speaking, writing, community building, and activism. Celia's coaching and consulting firm The Ward-Wallace Group, has worked with over 1,000 social enterprises, non-profit organizations, brands, coaches, and entrepreneurs to help them launch and scale world-changing ideas. Their impressive corporate client list includes: The Honest Company, Downtown Crenshaw, The Los Angeles Urban League, LAFD, USC, UCLA, and the Leimert Park Village Vendors. She also serves as a contributor for the Huffington Post, a featured guest expert for ABC7 Eyewitness News & an awarded Top 20 Coach in Los Angeles. To
connect with Celia
or learn more, email
info@southlacafe.com
.


Joe Ward-Wallace is a life-long resident of South Central Los Angeles, a retired Los Angeles City Firefighter, and a sales and marketing expert with over 25 years of business experience. A child of evangelists and entrepreneurs, Joe brings his unparalleled faith and resilience to all of his diverse ventures, which include real estate investing and management, and an impressive career as a college basketball referee. Founder and CEO of the SLAC ecosystem, which aims to break the shackles of systemic oppression and inequality by creating, building, and empowering an equitable, healthy, and sustainable South Central community for all. To connect with Joe, email at
info@southlacafe.com
.


One of the largest natural amphitheaters in the world, with a seating capacity of nearly 18,000, the Hollywood Bowl has been the summer home of the Los Angeles Philharmonic since its official opening in 1922 and plays host to the finest artists from all genres of music, offering something for everyone. It remains one of the best deals anywhere in Los Angeles; to this day, $1 buys a seat at the top of the Bowl for many classical and jazz performances. In February 2023 the venue was named the Outdoor Concert Venue of the Year at the 34th Annual Pollstar Awards, an honor bestowed 15 previous times. The Hollywood Bowl was also named Amphitheater of the Decade at the 32nd Annual Pollstar Awards as well as Top Amphitheater at the 2017 and 2018 Billboard Touring Awards. For millions of music lovers across Southern California, the Hollywood Bowl is synonymous with summer:
hollywoodbowl.com
.
Hollywood Bowl
Food+Wine
is presented by the Los Angeles Philharmonic in partnership with
Sodexo Live!