The LA Phil Affiliates are members of the Los Angeles community who dedicate their time and efforts to support the mission of the LA Phil. They are steadfast ambassadors for music and its power to transform lives and connect communities.
If you enjoy...
Listening to great music
Attending concerts at Walt Disney Concert Hall and the Hollywood Bowl
Being a part of a supportive community of passionate people
Socializing with a diverse group of music-lovers from across Los Angeles
... then consider joining the LA Phil Affiliates!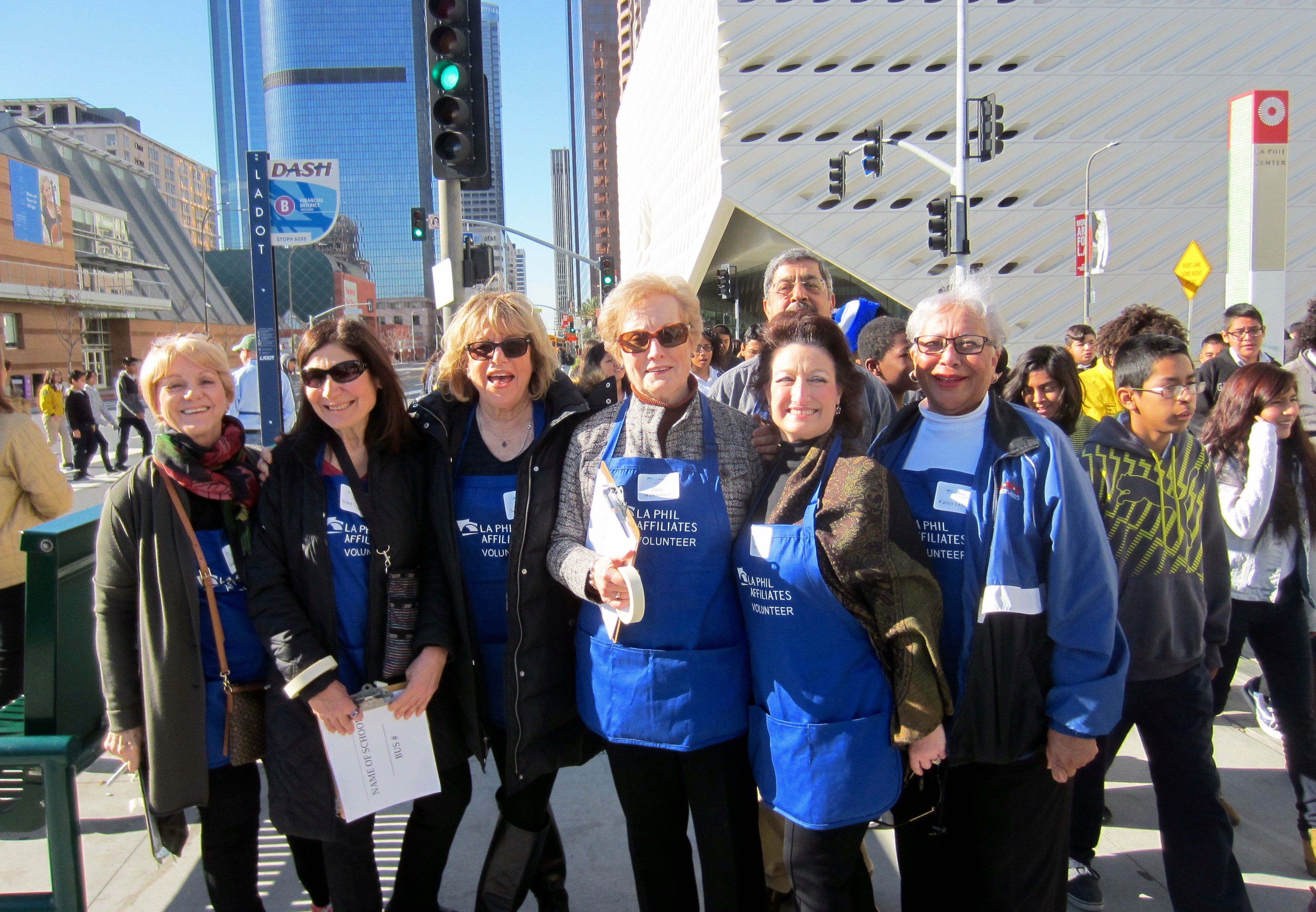 Committees by Neighborhood
Affiliates in the Desert (Palm Springs and Palm Desert area)
Foothill Philharmonic Committee (Claremont area)
Glendale Philharmonic Committee (Glendale area)
Long Beach Auxiliary (Long Beach area)
Los Angeles Philharmonic Committee (Greater Los Angeles)
Peninsula Committee (Palos Verdes Peninsula and South Bay)
San Marino-Pasadena Philharmonic Committee (San Marino and Pasadena)
Santa Monica-Westside Philharmonic Committee (Santa Monica and West LA)
SouthWest Heights Philharmonic Committee (Southwest LA)
The Valley Committees (San Fernando Valley)
Westside Committee (West LA)
Service Groups
Affiliates at Large
Provide volunteer support for LA Phil educational initiatives
Speakers Bureau
Give tours of the Hollywood Bowl and Walt Disney Concert Hall and provide educational presentations to the Los Angeles community

Committee of Past Presidents
Encore
Host an annual Encore Orchestra Party and provide continuing participation for Past Presidents

Honorary
Women's Committee
First Affiliate committee formed in 1923
Committees by Interest
Business & Professional Committee
Host monthly luncheons featuring LA Phil musicians and fundraise to support the LA Phil Music Library
Committee of Professional Women
Encourage women and men in business and the professions to support the LA Phil
Hollywood Bowl Committee
Fundraise throughout the Hollywood Bowl season for LA Phil educational initiatives
International Committee
Present an annual International Ball in collaboration with a host country's consulate
Joseph Feneck
Senior Manager, Affiliates
Constance Dewey
Assistant Manager, Affiliates

Los Angeles Philharmonic Association
151 South Grand Ave. Los Angeles, CA 90012-3034
volunteer@laphil.org
213 972 3537