John Williams' relationship with the orchestra began a long time ago, in a venue not too far away. As we celebrate his 90th birthday at our Walt Disney Concert Hall opening night Gala, we look back at the LA Phil's longtime relationship with the revered Maestro of the Movies.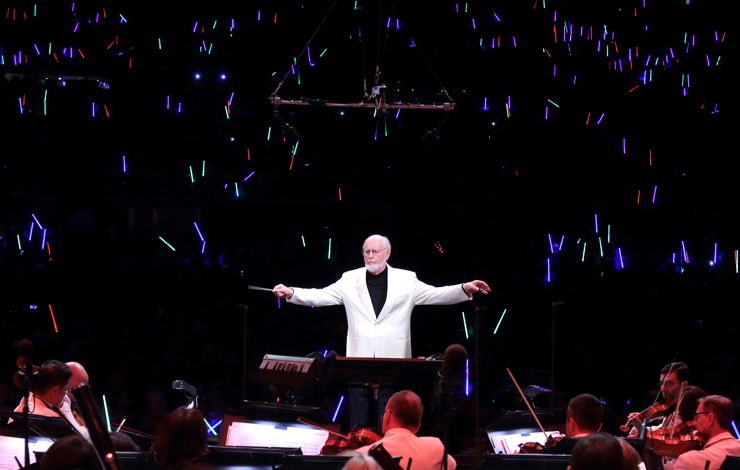 Across generations and continents, from movie theaters to concert halls around the world, the music of John Williams connects us all. Today, orchestras all over the world perform John Williams' music live. In the summer of 1977, it had never been done before. Ernest Fleischmann—the LA Phil's then-General Manager—changed that.

The LA Phil was scheduled to travel with Music Director Zubin Mehta to Japan for a tour that was canceled when the Japanese company promoting it went bankrupt. Fleischmann suddenly needed to fill two weeks of the orchestra's schedule. At the time, Star Wars fever was sweeping the nation. As Fleischmann later recalled:

"I saw the first Star Wars film over the opening weekend; I took the kids on the Sunday. I thought, 'God, this score!' It's really the score and the sound effects that have made that movie what it was. It was almost Wagnerian. So, when we had this time on our hands, I asked John Williams whether it would be alright to do the Star Wars concert, and he certainly agreed, and Zubin learned the score. We got Laser Media to design a sort of laser program for it, and we advertised it, and of course by then there was a lot of excitement about the film, and we managed to fill the Bowl. And there was a lot written about it."

The Star Wars concert at the Bowl was a resounding success. So much so that Fleischmann booked two nights at Angels Stadium in Anaheim and re-created the concert there the following summer.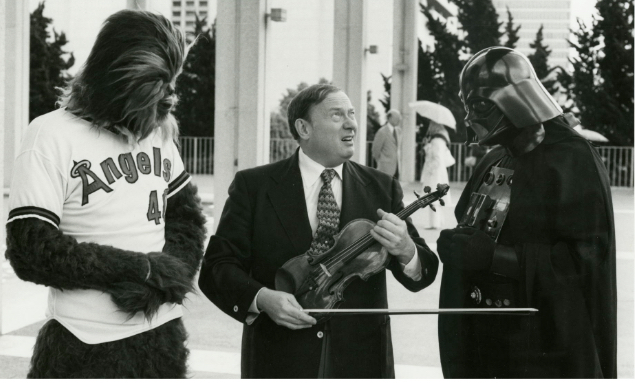 Fleischmann was convinced of Williams' merit, not just as a composer but also as a conductor. After Mehta left the LA Phil in 1978, Fleischmann asked Williams himself to conduct his scores at the Hollywood Bowl. "I really didn't think I could do it. But Ernest was a very imposing figure and very important impresario in the classical music world. If he said you should do something, you'd be foolish not to do it," Williams says.

Williams did in fact take Fleischmann's advice and began conducting his music at the Bowl and around the world. He still performs for sold-out crowds, including three nights every summer at the Hollywood Bowl, where he brings more than 50,000 fans to their feet (many with lightsabers in hand).
Enter Gustavo Dudamel
One of those lightsaber-wielding fans at the Hollywood Bowl was Gustavo Dudamel, who was there to enjoy listening to the music of his boyhood and sharing it with his own young son.

Williams and Dudamel have developed a close working relationship over the last decade. Williams helped mentor Dudamel when he composed the score for Alberto Arvelo's 2013 film Libertador.

Dudamel described Williams' gifts eloquently when he joined him for a discussion about the art of film music: "Every note, every simple note that John puts in a score, is a universe. And that note will give us what we want to feel. In the end, this is the power of what he does."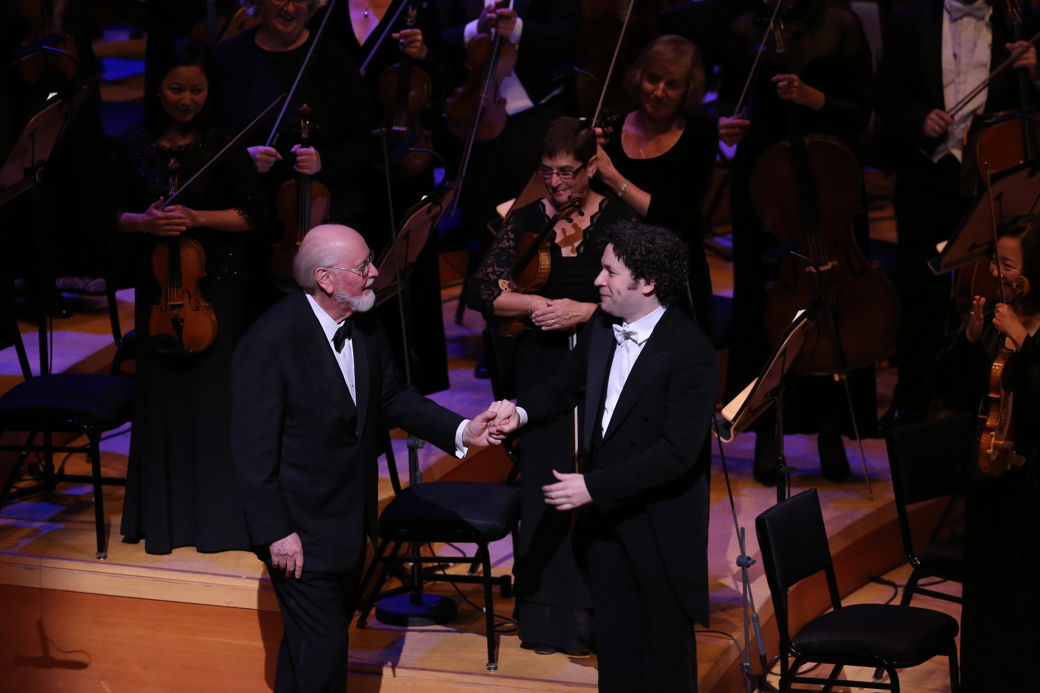 Williams—so impressed with Dudamel's abilities and love for film music—offered him the chance of a lifetime for a Star Wars fan: the opportunity to conduct the opening and closing music for 2015's Star Wars Episode VII: The Force Awakens.

"I remember thinking, 'He's joking,'" Dudamel said. "John has such a wonderful sense of humor, and I somehow thought that there must be a catch. It turns out there was: I couldn't tell anyone!"

The LA Phil is thrilled to celebrate John Williams and his four decades of creative collaborations with this orchestra. Of the incredible legacy of his music, Williams is characteristically humble: "It isn't the music. It isn't the orchestra. It isn't the composer or the audience. It's the connection… the nexus… the linking of all this together. I'm just a composer who puts dots on the page. But when Gustavo conducts it, the orchestra plays it, the audience hears it… it's the interconnection of all of these elements that makes music music."