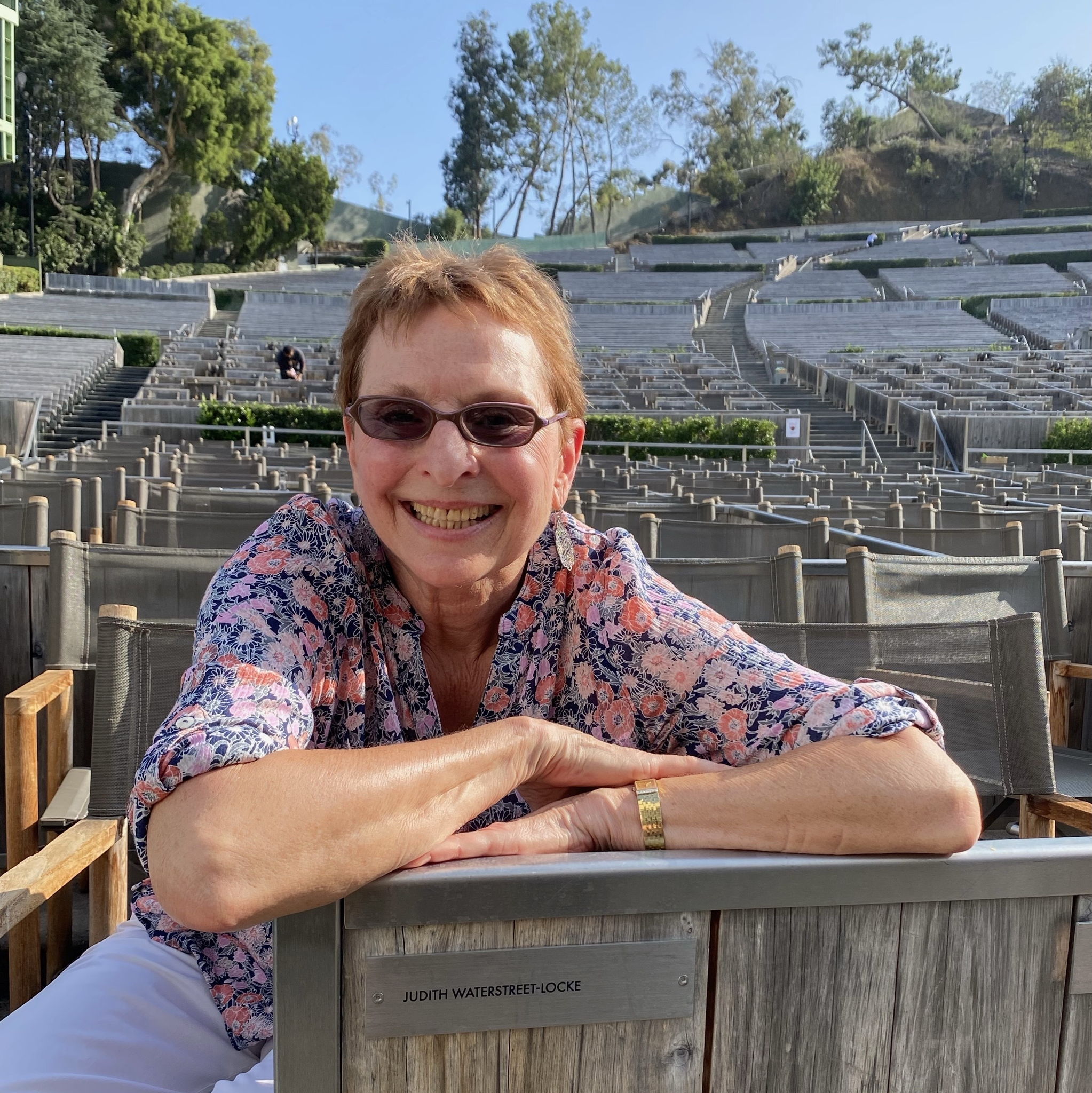 Hi Judith! Thank you so much for your longtime support of the LA Phil and Hollywood Bowl. You've been a subscriber and Friend for many years. How did your journey with us begin?
Back in the 1970s my husband at the time (we're still friends!) began with weekend box tickets to shows that we loved with the orchestra as well as some of our favorite performers such as Cleo Lane and John Dankworth. Supporting Friends just naturally grew out of that love of music.
What do you believe sets the LA Phil apart from other ensembles? Why would you encourage someone to make a gift to the LA Phil?
I love that performances include not just audience favorites, but new composers, guest conductors, and works of music that we're not always familiar with, that open up new treasures to discover. It's important for people to realize that ticket sales can only do so much. And of course, the fun perks like being able to attend a rehearsal, which really helps one understand what goes on before the actual performance.
We're so honored to have a longtime Friend of the LA Phil also be a part of Your Name Under the Stars. Can you tell us a bit about your inspiration behind being a part of the naming campaign at the Hollywood Bowl?
Quite frankly, it was during the pandemic when everything went black—we began to enjoy the Sound/Stage lifeline, and I thought [the naming campaign] was a brilliant fundraiser. It seemed like a once-in-a-lifetime opportunity to make a difference.
Can you also tell us a little bit more about Garden Box 321, the box you named at the Hollywood Bowl? What is the significance of this location to you, and could you share some of your favorite memories there?
Back to that husband at the time, (which is where the Waterstreet comes in)....When the Wednesday night Jazz Series was created for the 1980 season, we were all over it. We could only afford two seats but I filled out that Bowl form and rushed it to the post office the same day—and voila! We got Box 321. (Pool Circle was lightyears away). When we renewed, I thought it would be so amazing to have all four seats and be able to bring friends. Luckily, the other couple didn't renew, and the rest is history. Besides all the nights with people like Ella Fitzgerald, Ray Charles, Stan Getz....I could go on and on....I love to cook, and the dinners with friends before the shows is a big part of my joy. Of course, the hot summer night that the family of raccoons walked across the stage while Ray Charles was singing and playing the piano was priceless!
You recently attended a special Open House event for Your Name Under the Stars. Your artistic depiction of the Hollywood Bowl is great! Can you tell us the story about how
you came to calling the Pool Circle "The Mosh Pit"?

I wish I had thought of it! We have a little joke in my box about the Pool Circle (which I won't mention here). I was so happy to have Bramwell Tovey conducting the Tchaikovsky concert in August, and he is so hysterically funny as he explains the music, etc. We were all laughing along with him, and he kept calling the Pool Circle the "Mosh Pit." I remember saying, "That is what it will always be to me from now on," as it summed it up.
Is there an artist that you have longed to see perform at either the Hollywood Bowl or Walt Disney Concert Hall?
I would love to see Harry Connick Jr. from my Jazz Box!!!
What has been your favorite part about coming back to the Hollywood Bowl this season? What do you look forward to at Walt Disney Concert Hall?
I cried when the 2020 season got canceled, so being back was everything I could have wished for as the Hollywood Bowl has been my summertime-be-all-and-end-all for decades. Walt Disney Concert Hall is just another intimate experience with the musicians, and the music is everything. Just listening in that beautiful space is wonderful.
As a Friend of the LA Phil for nearly three decades, your support means so much to us. What do you hope to see in the future of the LA Phil?
I think seeing these younger and so very talented musicians joining the orchestra and watching as the diversity of performances just seems to keep getting better is magical.