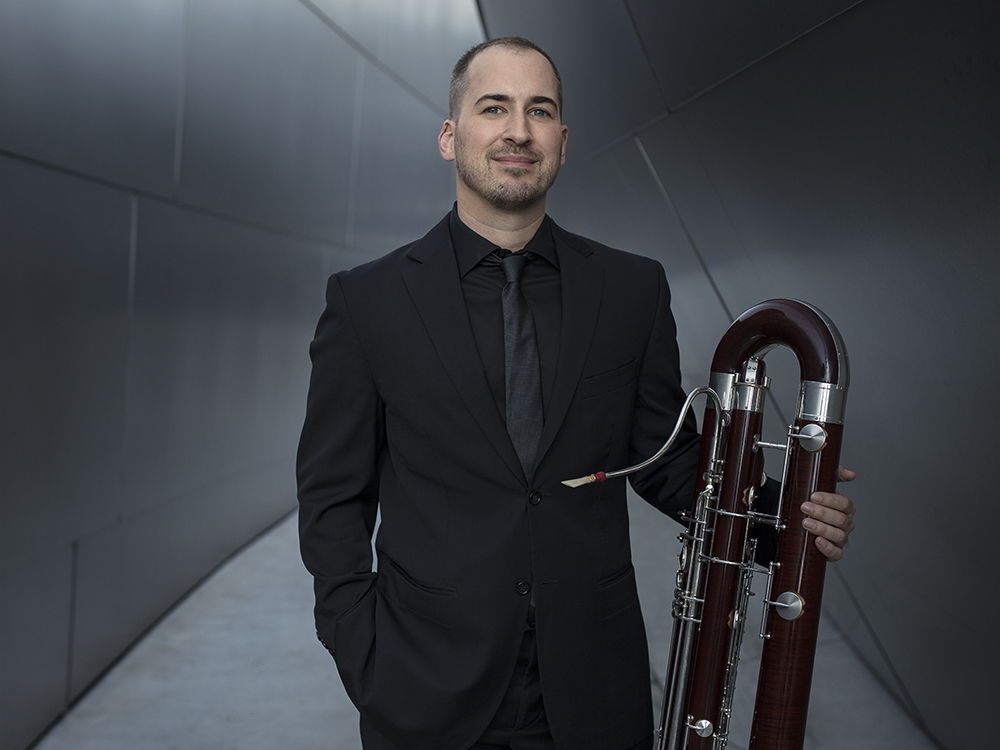 When did you join the LA Phil? What has been the most memorable experience since for you so far?
My first official service was October 1st, 2018—it was our first rehearsal of "Sustain" by Andrew Norman. The recording we made that week went on to win the Grammy for Best Orchestral Performance, which is my first! The Centennial Tours to Asia, Scotland, Mexico, London, and the Northeast were also incredible.
How did you come to be a professional bassoonist?
My parents are both rock drummers and my Mom also plays the oboe, so music has always been in the family. I was very fortunate to start playing the bassoon in Junior High through the Seattle Youth Symphony's "Endangered Instrument Program", which provided free lessons from a phenomenal teacher. Two Juilliard degrees later, I won my first job with another excellent West Coast orchestra, the Oregon Symphony.
What sets the LA Phil apart from other orchestras you've played with?
I think the LA Phil dreams bigger. Whether we're playing in a high school auditorium in Inglewood, an Olympic arena in Seoul, the Hollywood Bowl or Disney Hall—every program we undertake aims to give unique, unforgettable experiences to our audience. I also think our commitment to living composers, especially women and people of color, has been unparalleled in the industry for many years.
What music have you been listening to while sheltering in place over the past few months? Anything you'd recommend our supporters listen to?
This is off the beaten path, but in times like this one of the pieces I turn to is Honegger's 3rd Symphony, especially the finale: Dona Nobis Pacem. The first half of the movement is a march that depicts the inhumanity of World War II. But what comes after is a hymn in the strings so gentle and intimate it feels like prayer, like time has stopped. The movement closes with otherworldly harmonies oscillating underneath birdsongs, as if to suggest life reemerging from darkness. It's profound, singularly beautiful music that keeps me hopeful.
Do you play the bassoon for fun? If so, do you have some favorite pieces to play?
Absolutely! I'm always looking for new music for the bassoon and contrabassoon. In the last couple months, I've video recorded two pieces by LA Phil Composer Fellows and another LA Phil commission for an upcoming project—so be on the lookout for those! If I make it through all the stuff I absolutely HAVE to practice, I really enjoy playing through the 16 Valsas for bassoon solo by Francisco Mignone, or the Cello Suites by Bach.
When you're not performing, what activities do you enjoy doing?
I used to study jazz piano and still enjoy playing for fun. I also have a Composition degree from Juilliard and write or arrange music almost every day. Outside of music I enjoy running, hiking, reading, studying Spanish, doing the NY Times crossword, and playing retro (80's and 90's) video games. I feel I should also mention that coffee is a very important daily ritual for me—I'm still very much a Pacific Northwesterner at heart!
Is there anything you'd like to share with our Friends?
On behalf of the musicians of the LA Phil, thank you so much for your support in these strange times! We have been busy brainstorming creative new ways to reach our city and the world with music. Many of these projects are well underway and we can't wait to share them with you. So - please keep in touch for more information, we welcome your feedback and ideas! We're all in this together, and we look forward to staying connected through music.