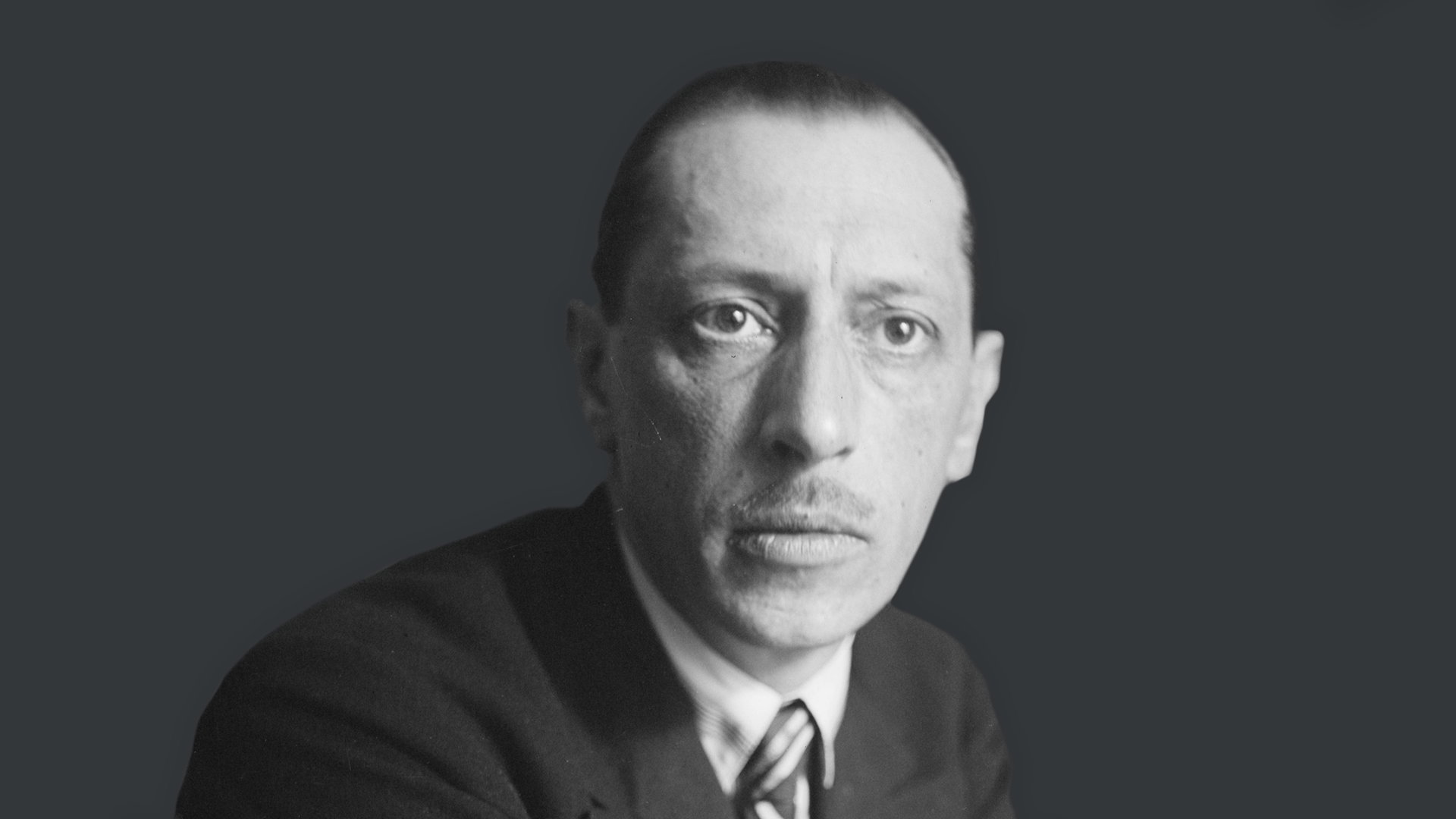 Think of Stravinsky as the Picasso of Music. The modern era – the 20th century – is unthinkable without these contemporaries. Each employed identifiable styles at different stages of their careers. Remember Picasso's Blue Period, Cubism, Neoclassicism, and several others. Stravinsky had three overarching periods: Russian, Neoclassic, and Serial. Yet each artist possessed such a powerful personality that their art is recognizable regardless of what style he used. Whether you can put your finger on it on not, you can somehow tell a Picasso is a Picasso whether he was painting The Old Guitarist or Les Demoiselles D'Avignon. It's same with the composer of The Rite of Spring and the Symphony of Psalms, just a little harder to put into words. These two giants worked together, exchanged art, and became fast friends.
Let's start back in 1882 when Igor Stravinsky was born in a Russian town called Oranienbaum, 25 miles from St. Petersburg. His father was a famous opera singer and his mother a pianist. Igor was the third of their four sons. He showed great interest and aptitude for music, but his parents eventually sent him off to study law.
Law didn't work out, of course, and Igor began to study music seriously, most significantly with the great Russian composer Nicolai Rimsky-Korsakov (composer of Scheherazade and other masterpieces), whom the young man considered his second father. In hindsight, we can see the mantle of great orchestrator being passed from master to pupil.
Thus begins Stravinsky's Russian period, in which he draws on Russian folktales and traditions, Russian folk music and tunes, and all the culture in which he was raised. To make things a tad confusing, this first period takes place primarily in Paris, where Russian impresario Serge Diaghilev had set up his Ballets Russes (the French love ballet). When one of Diaghilev's productions wasn't coming together, he approached a young unknown (yes, our Igor) to provide a new score. The result, The Firebird – the closest to Rimsky-Korsakov in style and using Russian sources – was a tremendous success and put the composer on the map.
Next up was Petrushka, this time with Stravinsky showing more of his individuality, even as he again borrowed from Russian folk music. Once more, it was a huge success for Diaghilev and his composer-protégé, which set the scene for their next collaboration, a ballet that would shake the world to its foundations.
The scenario and music of The Rite of Spring came as in a dream to Stravinsky, who this time pulled out all the stops – complex, pounding rhythms, which dominated every other element; clashing harmonies; and relentless melodic patterns, all to depict his vision of an ancient, pre-historic Russia, climaxed by the sacrifice of a girl dancing herself to death.
You may have heard that The Rite caused a riot. This is correct. The police did have to come and restore order, but eyewitness accounts suggest that the choreography was as much to blame as the percussive sounds emanating from the pit. And the noise from the audience threatened to overwhelm the music, making it even harder for the dancers to keep time. Here's how Stravinsky remembered it years later: "When the curtain opened on a group of knock-kneed and long-braided Lolitas jumping up and down, the storm broke…I arrived backstage in a fury; there I saw Diaghilev switching the house lights on and off in the hope that this might quiet the hall. For the rest of performance, I stood in the wings behind [choreographer] Nijinsky, holding his jacket while he stood on a chair shouting numbers to the dancers, like a coxswain." This took place more than a hundred years ago, yet the music remains a heart-pounding thrill ride, frequently performed (far more than it is danced) despite its difficulty.
These three ballets make up the bulk of Stravinsky's Russian period and guarantee him a spot in music's pantheon. But there was much more ahead for this ever-inquiring musical mind, still only 31 years old.
With The Rite, Stravinsky used the largest orchestra he had up till that point, and he never returned to it. In his Neoclassical period (c. 1920–1954), he turned to music's past and pursued precepts of order, balance, clarity, economy, and emotional restraint (vs. the unrestrained emotionalism of the late Romantic period). His first Neoclassical hit was another ballet, Pulcinella (1920), in which he literally turned to music from the past. He arranged pieces that (he thought) were by Italian Baroque composer Pergolesi (later discovered to be mostly by lesser knowns). The attractive melodies and underlying harmonies are still there, but the force of his personal style – the syncopations, the chords with added tones, the idiosyncratic instrumentation – makes it all sound like pure Stravinsky.
Other major Neoclassic works from his time in Europe were his frequently jolly Octet for winds (1923); the wedding cantata-ballet Les Noces (premiered 1923); the Concerto for Piano and Wind Instruments (1924), for which Stravinsky was the soloist and even toured the U.S.); the astonishing, devout Symphony of Psalms (1930) for chorus and orchestra; and the Violin Concerto (1931), quite exuberant in its outer movements. Underlying all these disparate works was his adherence to Neoclassic principles of clarity, economy, and emotional restraint.
The latter half of the 1930s was Stravinsky's unhappiest time; his wife Katya's tuberculosis infected both him and their eldest daughter, who died in 1938. Katya died three months later. Stravinsky himself spent five months in the hospital, during which his mother died.
In 1939, Stravinsky (at 57) and his second wife Vera moved from Europe to the U.S., first to Beverly Hills, then to Hollywood in 1941, just above the Sunset Strip on Wetherly Drive. The composer hoped that the warm climate would be good for his health. He was also drawn to the growing cultural life, especially during WWII, when so many artists settled here: conductor Otto Klemperer, authors Thomas Mann and Franz Werfel, choreographer George Balanchine, and pianist Arthur Rubinstein, to name a few. He and Vera became U.S. citizens in December 1945, sponsored by Edward G. Robinson. More Neoclassic works came from this time: Symphony in C (1940), like a late 18th-century symphony re-composed in the 20th; Symphony in Three Movements (1945), in which he used music he had hoped would be film music; Ebony Concerto (1945), a clarinet concerto for Woody Herman and his band; the gentle ballet Orpheus (1947); and the more modern (and meta) Mass (1948) and Cantata (1952). Stravinsky wrote, "My Mass was partly provoked by some Masses of Mozart that I found at a secondhand store in Los Angeles in 1942 or 1943. As I played through these rococo-operatic sweets-of-sin, I knew I had to write a Mass of my own, but a real one."
In the early 1950s, Stravinsky befriended American conductor Robert Craft, who became Stravinsky's personal assistant and close friend. It was Craft who encouraged him to compose serial (12-tone) music, thus beginning Stravinsky's final, Serial, period, during which he applied his distinct musical thinking to the atonal system developed by Arnold Schoenberg. His angular melodies just became more angular; he took advantage of the 12-tone system's approval of repeated notes to play with rhythm; and he continued his characteristic voicing of chords, with unexpected notes in the bass. Key works from this time are the ballet Agon (1957) and three vocal pieces: Canticum Sacrum (1955), Threni (1958), and Requiem Canticles (1966), his last major work, which was performed at his funeral.
His health failing, he left L.A. in 1969 and died two years later in New York City. He was buried near Sergei Diaghilev on the cemetery island of San Michele, near Venice, Italy.
Igor Stravinsky has a star on the Hollywood Walk of Fame and, 16 years after his death, was awarded the Grammy® for Lifetime Achievement in 1987.
Russian Period
As mentioned above, the three big ballets are the core of Stravinsky's Russian-inspired music. He re-arranged several of these works in the 40s so he could collect royalties from the West. All the best parts of The Firebird are in the Suite, which is why it's the first recommendation.
Neoclassic Period
This period contains a huge range of works in a wide spectrum of styles. The Suite is probably the best way to get into the delightful Pulcinella ballet. Another, quite different, ballet, Les Noces, sets Russian wedding lyrics for voices accompanied only by percussion and four pianos; its ending is as haunting as you will ever hear. A few of these pieces show the influence of early jazz, but it is heavily filtered through Stravinsky's unique prism; listen to the short Ragtime for a taste or the Ebony Concerto for considerably more. He was interested in bebop and wrote that "the jazz performers I most admired at that time were Art Tatum, Charlie Parker, and the guitarist Charles Christian. And blues meant African culture to me." The transcendent Symphony of Psalms is unlike most any sacred work you may have heard and ends in otherworldly praise. As you pick and choose, you'll hear music that will make you wonder if it's by the same composer. And after a while, you'll begin to associate certain characteristic sounds in seemingly unrelated works.
Serial Period
If you are a fan of The Firebird or The Rite of Spring, you may be surprised (even shocked) at these mostly vocal, highly abstract 12-tone compositions, but they still exhibit many Stravinskian traits, especially in the way he voices chords and syncopates rhythms.
Get Watch & Listen Updates
Join the Watch & Listen newsletter list!