The Los Angeles Philharmonic Association is deeply grateful to our generous donors who stepped up in incredible ways throughout 2020—the most challenging but also the most transformative year in the LA Phil's more than 100-year history.
In the middle of a global crisis, LA Phil supporters like you helped sustain our artists, allowing them to reach a wider audience than ever before. Your generosity kept our music learning programs active, ensuring thousands of young people stayed connected, engaged, and inspired throughout this unprecedented time.
The special update below provides a handful of highlights from the past year. Because of you, we have been able to innovate and not hibernate, to look outward and upward toward a brighter future, and—most importantly—to keep the music playing for people when they needed it most.
On behalf of everyone at the LA Phil, thank you for being part of our journey.
Music for a New Year
During the first ten weeks of the year, we presented an array of extraordinary live performances led by three generations of LA Phil leaders:
• Conductor Emeritus Zubin Mehta kicked off the year with a Viennese New Year's concert followed by performances of Mahler's Symphony No. 2. The concerts marked Mehta's 59th year conducting the LA Phil—an unmatched record.
• Conductor Laureate Esa-Pekka Salonen led a two-week Weimar Festival, exploring the historic period and its contemporary resonances, including a staged production of Kurt Weill's The Seven Deadly Sins (pictured below). Of the festival, the New Yorker's Alex Ross wrote "More American orchestras should pursue this kind of cross-disciplinary engagement, which pulls abstract musical ideas back into the flow of history."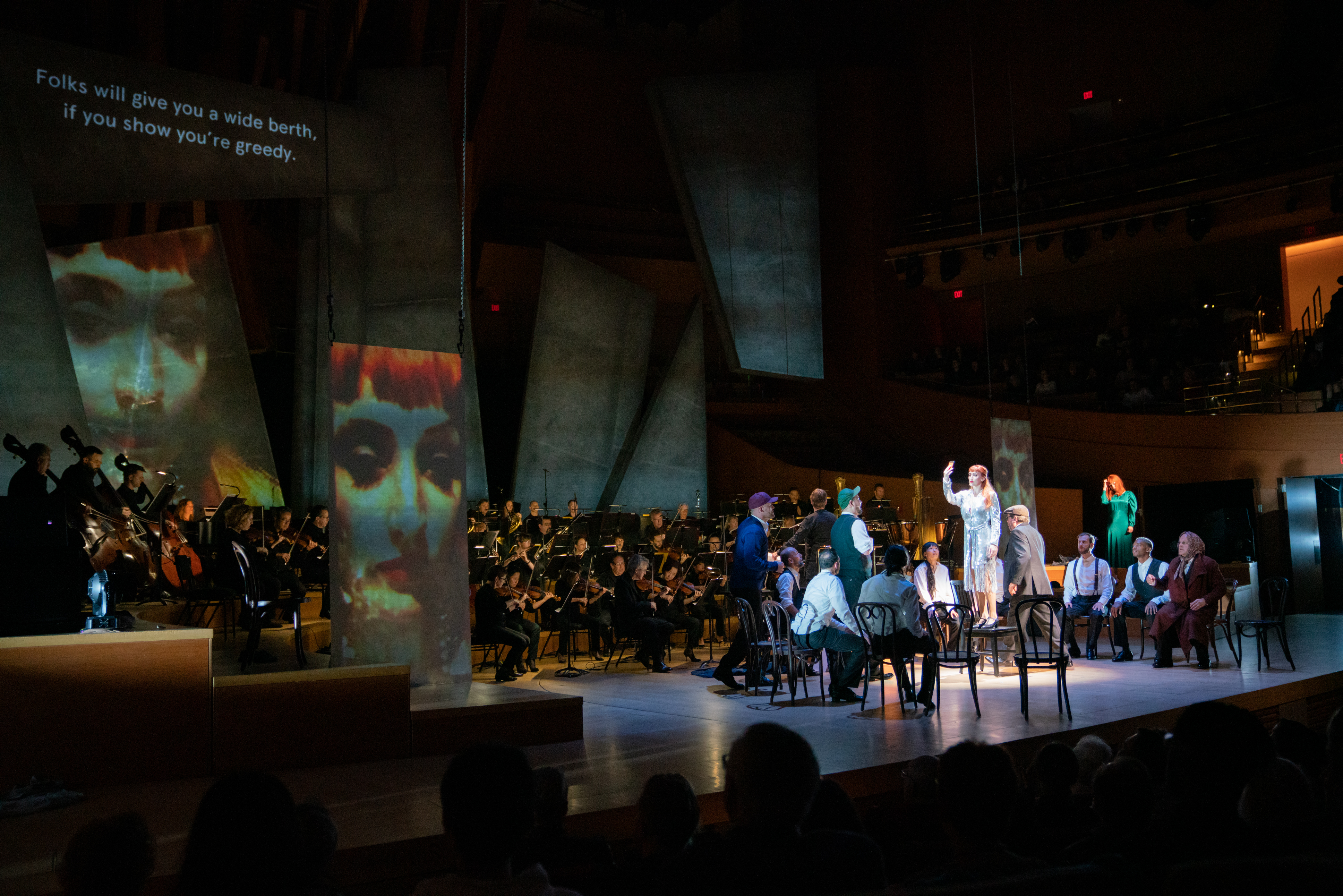 • Music & Artistic Director Gustavo Dudamel juxtaposed the music of Ives and Dvořák in a symphony cycle that earned wide-spread praise from critics and audiences, alike. (All four Ives symphonies were released by Deutsche Grammophon last year.)
• Finally, Dudamel teamed up with Creative Chair for Jazz Herbie Hancock to present Power to the People, a festival bringing together composers, performers, and poets representing a wide range of musical genres and social-justice movements for events at Walt Disney Concert Hall and around the city. The festival also included a Symphonies for Schools concert (pictured below) In the words of Hancock: "It's a celebration not only of great music, but of people who teach us how to find our voice and who use theirs to preserve the dignity and rights of all."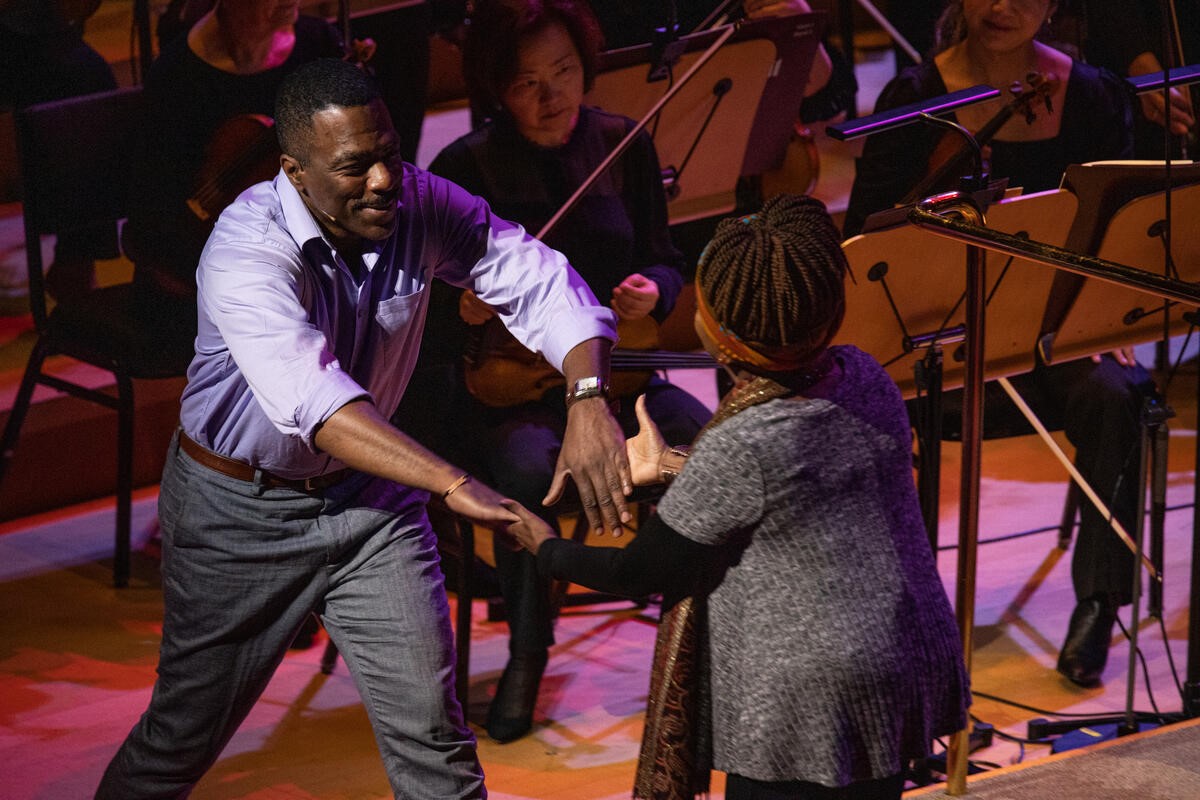 YOLA Comes Home
When our venues and YOLA (Youth Orchestra Los Angeles) sites closed in March, the LA Phil's first priority was to ensure that everyone in the LA Phil family remained safe and healthy. Within a weekend, YOLA's programming shifted to a virtual platform which has only grown and expanded over the past year. In that time, YOLA's players have stayed connected, continued their musical study, and received social and academic support.
Each summer, YOLA National brings together teachers and learners who believe that music education has a powerful role to play in youth and community development. While YOLA National wasn't able to convene in person this year, through YOLA National at Home, we were able to extend our offerings beyond Los Angeles and connect with participants across the United States and around the world.
Hollywood Bowl Principal Conductor Thomas Wilkins inspired everyone with his reminder to: "believe, beware, belong, and become and 'we gon' be alright."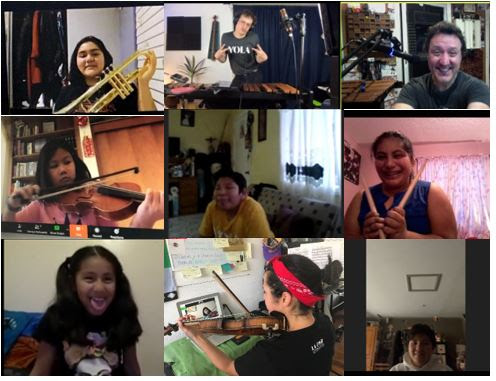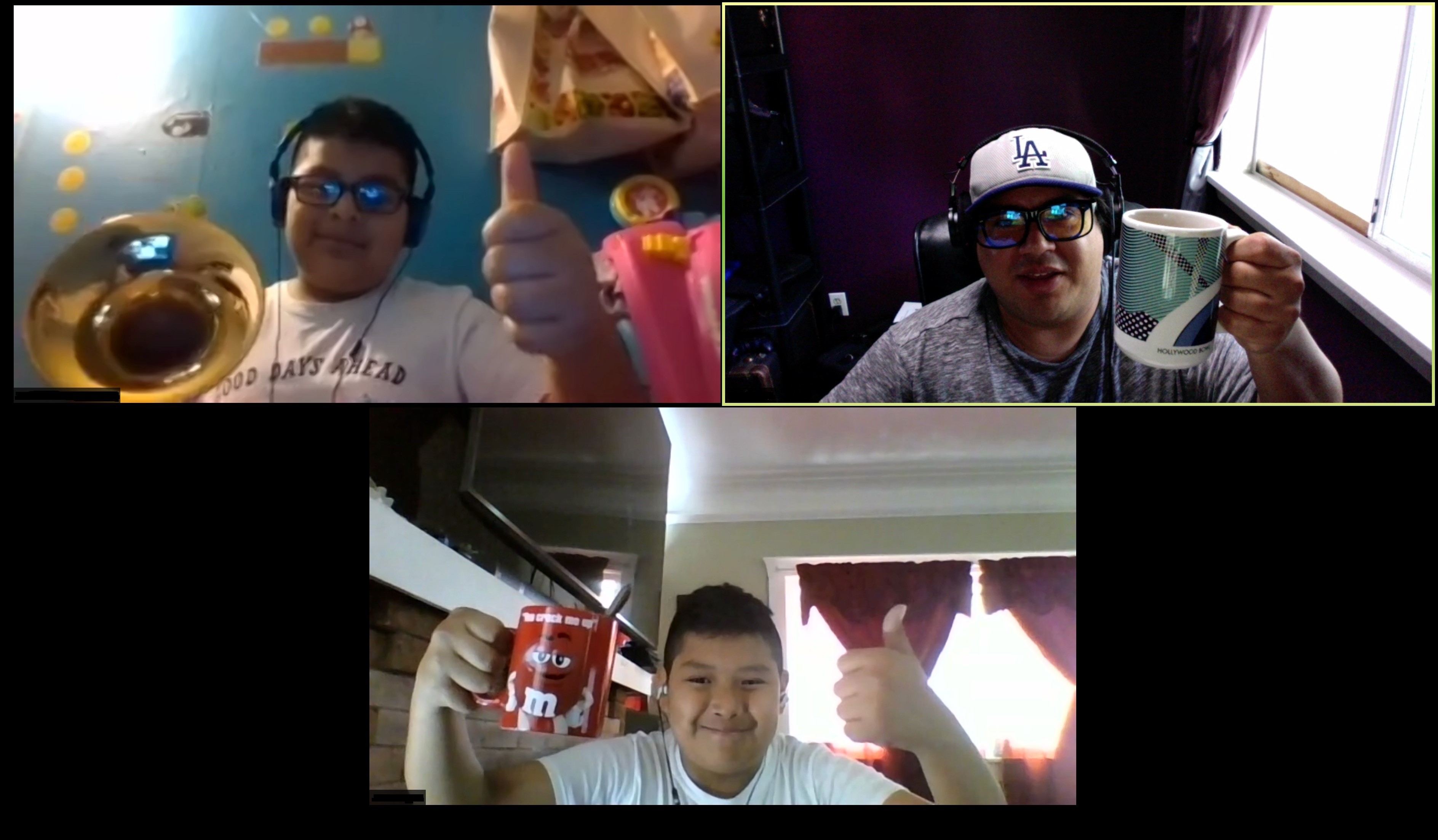 Music in the Time of COVID
The LA Phil's core mission is to bring people together through music—while we could not physically do that, we found every way we could to put music out into the world. We started small and simply with Dudamel hosting a nightly radio show from his home, produced in partnership with KUSC. When millions across the country tuned in, we saw that the need for music had never been greater.
For the first time, the LA Phil shared treasured performances in Hollywood Bowl history through a new PBS series In Concert at the Hollywood Bowl, which includes archival performances by Dudamel and the Los Angeles Philharmonic, Rodrigo y Gabriela, Misty Copeland, Herbie Hancock, Wayne Shorter, Carlos Santana, Cindy Blackman Santana, Kamasi Washington, Kristin Chenoweth, Audra McDonald, Sutton Foster, Brian Stokes Mitchell, Natalia Lafourcade, John Williams, Café Tacvba, and more.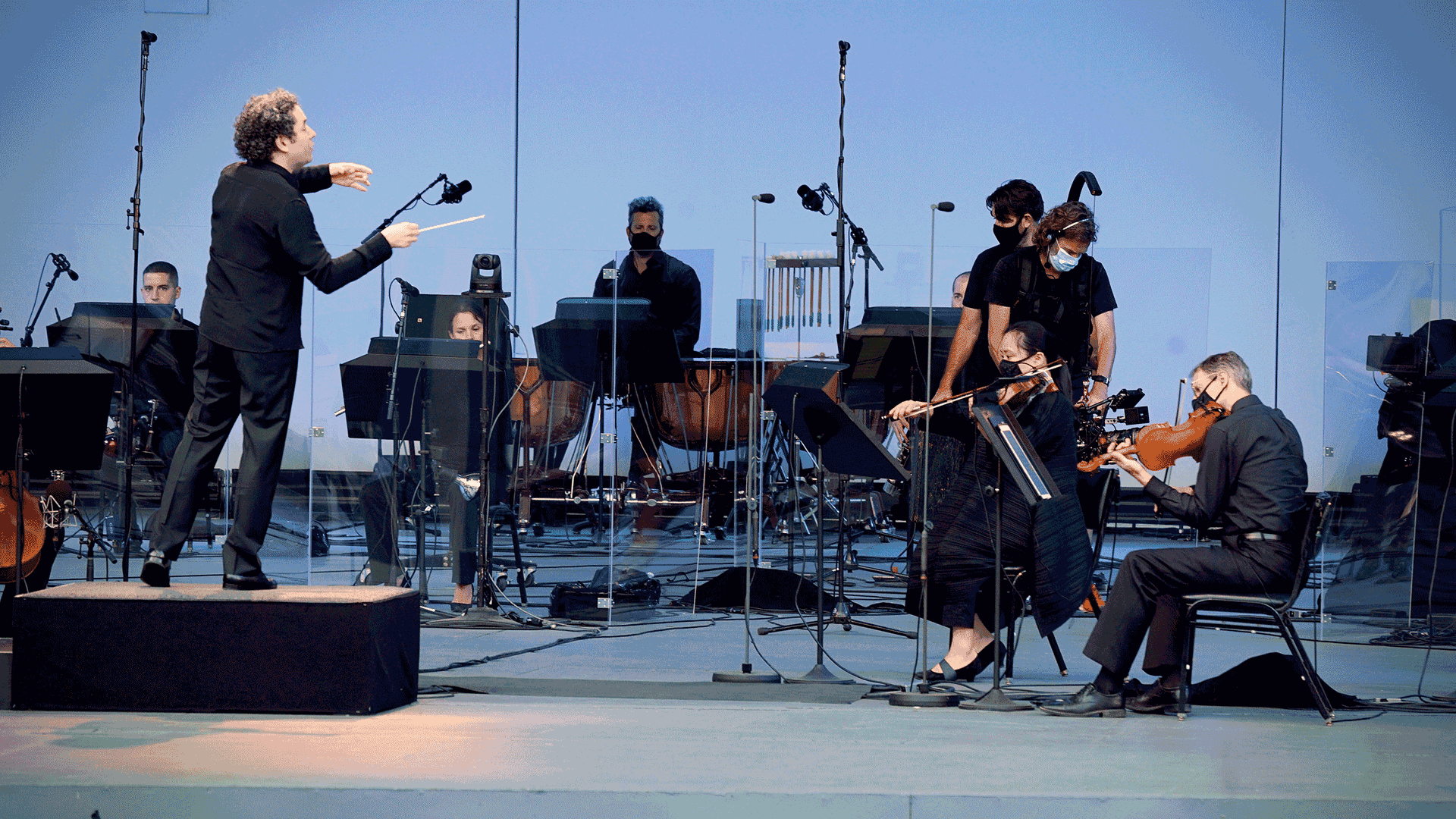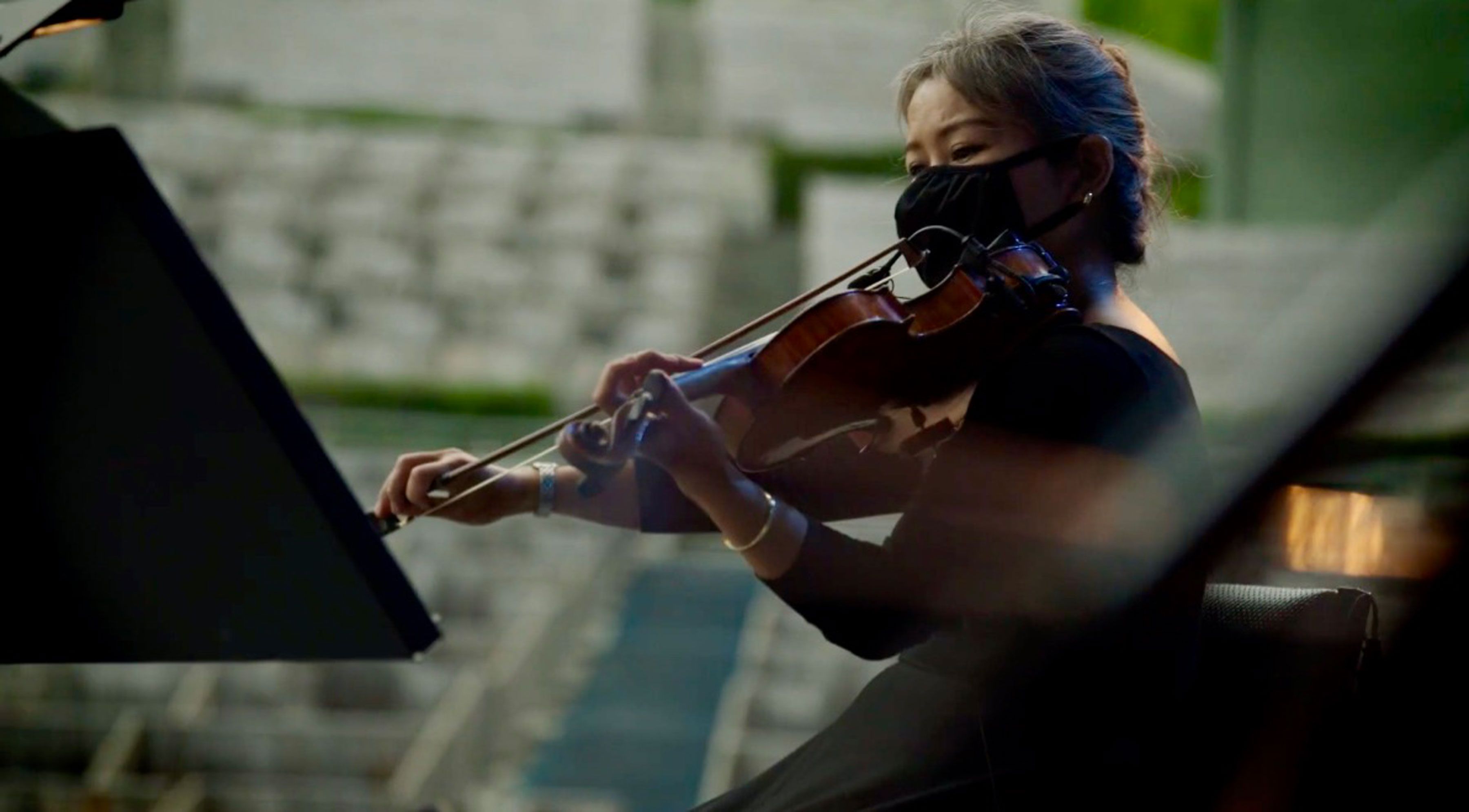 In addition to unforgettable concert performances, the program also offers artist conversations and insights into the Hollywood Bowl's unique history as a venue created to democratize the concert experience and that has, since its founding, welcomed artists from diverse cultural backgrounds.
While In Concert looked to the Bowl's past, the LA Phil's Sound/Stage series sought to create our future. Working under the strictest social distancing protocols this fall, we were able to bring the orchestra back together at the Hollywood Bowl to film a series of nine thematically driven and artistically adventurous concert films. Dudamel said of the first Sound/Stage rehearsal:
"It was maybe the purest musical experience I've had in the Bowl, or anywhere. That first chord—we were in tears. The music was very tender, but there was also such a power in it—proof that we as a group of human beings could move forward."
Play Your Part
All of the work described above—and so very much more—would not have been possible without the outpouring of support we received from donors like you. Following the cancellation of multiple seasons, the LA Phil faced a devastating $105M budget shortfall.
In this moment of urgent need, the LA Phil launched "Play Your Part"—a fundraising campaign predicated on Dudamel's belief that the orchestra is the perfect metaphor for community. Individually, we play our parts; together, we fill the world with music.
"Music brings people together and inspires us. Right now, we need to create a hopeful urgency that music can heal us. We have an incredible mission at the LA Phil, and I thank everyone for embracing it and continuing to support us."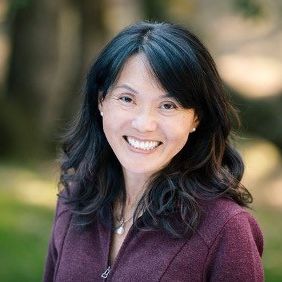 Gifts were received from long-time donors and first-time contributors, alike, in the form of donated tickets, cash, matching contributions, and legacy gifts made from donors' wills and trusts. Donors' combined generosity directly supported the musicians, teachers, students, and staff of our orchestra, ensuring that our community will remain alive with music, today and always.
In the words of our Chief Philanthropy Officer Margie Kim, who joined the organization in February 2020: "Music brings people together and inspires us. Right now, we need to create a hopeful urgency that music can heal us. We have an incredible mission at the LA Phil, and I thank everyone for embracing it and continuing to support us."
While we do not know what the future will hold, 2020 has shown us that the path forward is one we will walk together, as a community that shares a belief in the power of music to make a difference.
Thank you.