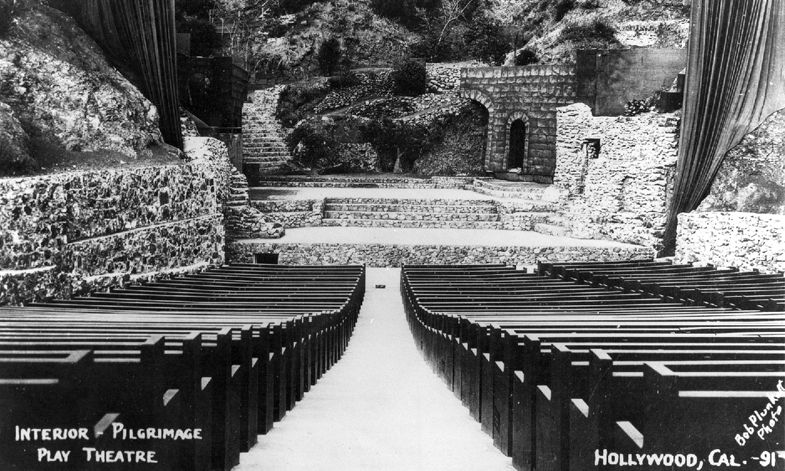 The John Anson Ford Amphitheatre, originally known as the Pilgrimage Theatre, was built in 1920 after the land was acquired by Christine Wetherill Stevenson. The land for the venue, along with the land that the Hollywood Bowl currently sits on, was purchased by Stevenson so that she could build an exclusive home to mount her original production titled The Pilgrimage Play. The production ran in the venue until a brush fire destroyed its original wooden structure in 1929. The present theatre, made of concrete and designed by architect William Lee Woollett, was inspired by ancient Judaic architecture and built to resemble the gates of Jerusalem. The new venue opened its doors in 1931, and The Pilgrimage Play continued its run until 1964, when it was forced to close due to a lawsuit that raised concern over the production's religious nature.
The venue was renamed the John Anson Ford Amphitheatre in 1976, in honor of the late Los Angeles County Supervisor's significant support of the arts. Ford also encouraged the Board of Supervisors to support the construction of The Music Center, among many other artistic and cultural achievements around LA. The 1,200-seat venue is also home to an 87-seat indoor black box theatre, which resides underneath the amphitheater. The venue also had a brief stint as one of LA's premiere punk rock venues in the late 1980s, featuring artists like Jane's Addiction and the Ramones.
The summer of 1993 introduced an innovative new program that would come to establish the Ford as a venue whose mission was to foster and promote LA County talent. Originally titled 'Summer Nights at the Ford,' the program was conceived by County Supervisor Ed Edelman, and promoted artists in the fields of music, dance, film, and theater. Artists and producers were carefully selected for the program through a competitive application process, and then provided with front of house, production, and marketing support while getting to keep the bulk of box office proceeds. The program was designed to provide artists with a major venue in which they could produce their art and has gone on to cultivate and support the integrity and diversity of the eclectic communities that make up Los Angeles.