LA Phil 100 Beer
For years, the LA Phil has paired the best of local craft beer with our Casual Friday programming. When it came time to celebrate our Centennial, we enlisted the help of the Los Angeles County Brewers Guild and Los Angeles Ale Works to brew our own special beer.
Christopher Still, trumpet, and David Rejano, principal trombone, joined the head brewer at Los Angeles Ale Works to create the perfect beer for the occasion. LA Phil 100 Brut IPA uses aptly named Centennial hops that provide bright notes of lemon peel and mountain pine, while New Zealand Wakatu hops counterpoint with lime and honey fragrances. Take a beat and enjoy this bubbly, straw-hued brew in a Champagne coupe or sip it straight from its 21st century can.
Together, we raise a pint to the LA Phil's first 100 years in Los Angeles!
Please see below for availability at our 2018/19 concerts as well as local off and on-premise shops. 
Enjoy complimentary tastings of the LA Phil 100 Brut IPA
at the following concerts: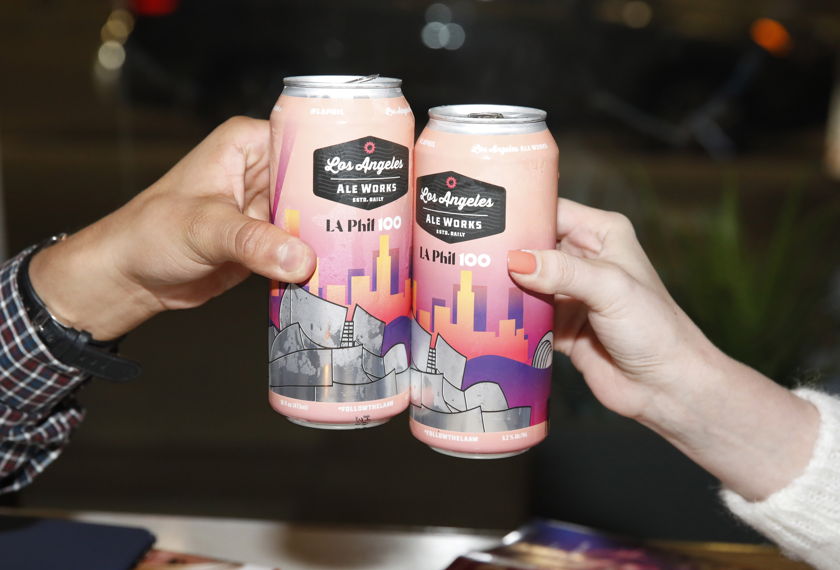 ---
Wear what you want and enjoy a shorter program. Come early beginning at 6:30pm and enjoy complimentary drinks, spectacular views and more. After the concert, join the after-party with orchestra members for complimentary craft beer tastings courtesy of the Los Angeles Brewers Guild.
FRI / MAY 3 2019 
Emanuel Ax Plays Mozart
Find LA Phil 100 Brut IPA at the following off and on-premise shops:
Expand the key to the left of the map to view a list of...
Off-Premise Shops (purchase beer for off-site consumption)
On-Premise Shops (consume beer on-site)
You can also purchase LA Phil 100 beer online via Craft Beer Kings. Shop now!