Traffic Advisory
Due to construction of the new 2nd Street Metro station, several street closures are in effect around Walt Disney Concert hall through 2020. Please allow extra time to arrive and park at Walt Disney Concert Hall, and make note of the following:
Flower Street will be closed between 3rd Street and 1st Street.
Kosciusko Way will be closed from 3rd Street/Flower to Hope Street.
2nd Place bridge will be closed from Hope Street to Kosciusko Way.
On the weekends from mid-January through mid-March, Hope Street between 3rd and 2nd Streets will be closed (no access to Lower Grand from Hope Street via Kosciusko Way).
Northbound Hope Street will remain open between 2nd and 1st Streets.
We encourage you to approach Walt Disney Concert Hall 2nd Street parking entrance from Grand Avenue or Northbound Hope Street, or approach the Lower Grand entrance from 4th Street or Olive Street, to avoid these street closures.
AUG 21-27, 2018
Grand Avenue will close between First and Second Streets in preparation for the Los Angeles Food & Wine Festival. 
In addition, 2nd Street will close between Olive and Grand Avenue.  The 2nd Street entrance of the WDCH garage will be accessible from Northbound Hope Street or Northbound Grand Avenue (turning left in front of The Broad Museum and Colburn School).
The Lower Grand Avenue entrance of the WDCH parking garage will remain accessible all week. 
These closures will remain in place through Monday, August 27, at approximately 6am. 
PARKING
Underground Lot
Parking is available directly beneath Walt Disney Concert Hall. Enter on Second Street or Lower Grand Avenue. Regular parking costs $9 beginning at 4:30 p.m. for evening concerts; two hours before weekday matinees; and all day on weekends. Both the Second Street and Lower Grand entrances will be open 6:00am to midnight, Monday through Friday, and 7:00am to midnight on Saturday and Sunday.
Accessible Parking
Accessible parking spaces for vehicles displaying valid, state-issued disability parking placards or license plates are reserved near the elevators on each level.
Valet parking
Valet parking is available for $23 at the Hope Street entrance, beginning at 5:00 p.m. for evening concerts, two hours before weekday matinees and all day on weekends. The Hope Street valet and Founders parking entrance will open three hours before each concert.
More Information
For questions or issues regarding Music Center parking, please contact Classic Parking at 213.972.3476.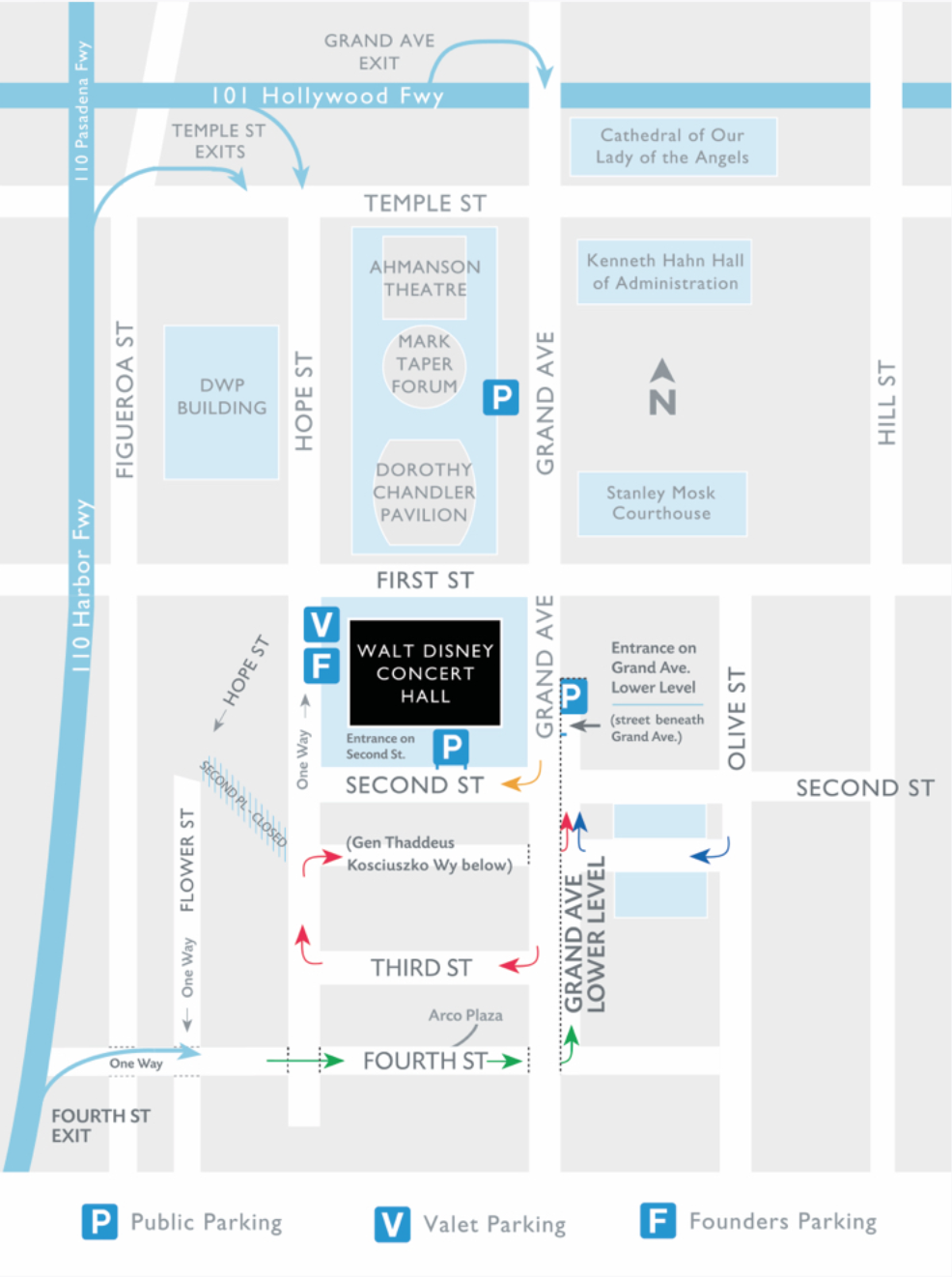 PUBLIC TRANSPORTATION
Go Metro
Skip traffic to the Music Center and take the Metro Red or Purple Line directly to Civic Center/Grand Park Station. The Walt Disney Concert Hall is a short block west on 1st  Street, from 1st and Hill Street. 
For more info call (323) Go Metro or (323) 466-3876 or visit metro.net.
Plan your trip using the Trip Planner below: