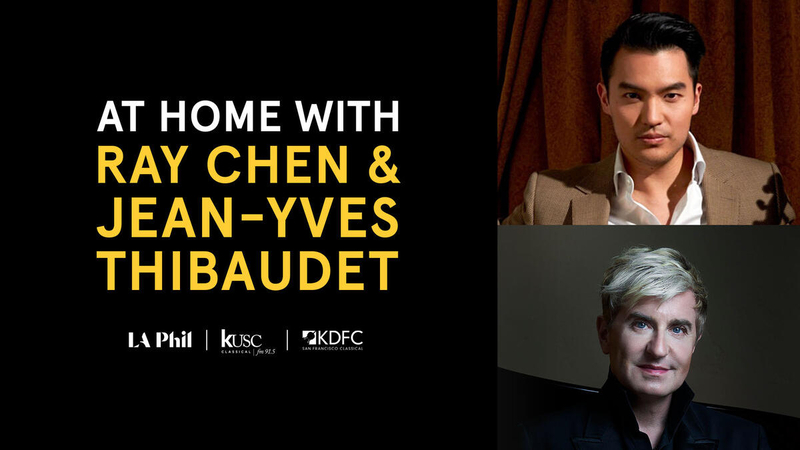 The special broadcast and online series gives voice to celebrated artists,
who offer curated musical selections along with their personal reflections on the music and their experiences in our current environment.
Series airs Tuesdays through Fridays, from 6PM to 7PM PDT,
and will be nationally syndicated through PRX
LOS ANGELES (May 15, 2020) – At Home With…, the series launched by the Los Angeles Philharmonic Association, Classical KUSC (Los Angeles), and Classical KDFC (San Francisco), continues with another split week, featuring violinist Ray Chen and pianist Jean-Yves Thibaudet broadcasting from their homes as they share music that has resonated in their lives and has impacted them as artists with KUSC host Brian Lauritzen.
The At Home With… series, now entering its fifth week, evolved in response to the COVID-19 pandemic and the temporary closures of cultural venues across the world, and it continues weekly with different notable artists as they bring the healing power of music to California and beyond.
At Home With Ray Chen airs Tuesday, May 19, and Wednesday, May 20.The violinist is a musician for the 21st century with a significant online following worldwide. He collaborated with the LA Phil to bring the Play with Ray international skills-based competition to the Hollywood Bowl last summer. More than 800 people from all over the world submitted entries, and three finalists were flown to Los Angeles to rehearse with the LA Phil and tour the city, with the winner performing on the Bowl stage with Chen and the LA Phil for a packed audience.
Airing Thursday, May 21, and Friday, May 22, is At Home With Jean-Yves Thibaudet. Thibaudet's history with the LA Phil goes back to 1989, when he made his debut with the orchestra at the Hollywood Bowl. Since then he has appeared in an LA Phil program more than 100 times. The sought-after pianist has performed with the most renowned orchestras and conductors and has captivated audiences around the world.
Tuesday through Friday, a new episode of At Home With… will be broadcast locally on Classical KUSC and Classical KDFC; episodes will also be syndicated nationally through a partnership with PRX and available for streaming internationally.
Each At Home With… episode presents each artist's curated musical selections along with their personal reflections on the music and their experience in our current environment. Interviewed by KUSC's Lauritzen, the artists welcome listeners into this experience in order to bring people together and provide comfort and inspiration through music in these uncertain times.
At Home With… can be heard Tuesday through Friday, 6PM–7PM, on KUSC and KDFC. Listen to KUSC over the air on 91.5 FM, streaming live on KUSC.org, on the free iOS and Android apps or via smart speaker. Find all the ways to listen at KUSC.org. KDFC can be heard all across the Bay Area, streaming live at KDFC.com, on KDFC's free iOS and Android apps and smart speakers. Learn more at KDFC.com. The series will be syndicated nationally by PRX. Check local listings at PRX.org.
EDITORS PLEASE NOTE:
At Home With Ray Chen
Ray Chen, violin
Tuesday, May 19 – Wednesday, May 20, 6PM
At Home With Jean-Yves Thibaudet
Jean-Yves Thibaudet, piano
Thursday, May 21 – Friday, May 22, 6PM
All interviews and production by Brian Lauritzen
For more information and complete artists' bios, please visit: At Home With...
Ray Chen is a violinist who redefines what it is to be a classical musician in the 21st century. With a media presence that enhances and inspires the classical audience, reaching out to millions through his unprecedented online following, Ray Chen transmits his remarkable musicianship to a global audience that is reflected in his engagements with the foremost orchestras and concert halls around the world.
For more than three decades, Jean-Yves Thibaudet has performed world-wide, recorded more than 50 albums, and built a reputation as one of today's finest pianists. He plays a range of solo, chamber, and orchestral repertoire – from Beethoven through Liszt, Grieg, and Saint-Saëns, to Khachaturian and Gershwin, to Qigang Chen and James MacMillan. From the very start of his career, he delighted in music beyond the standard repertoire, including jazz and opera, which he transcribed to play on the piano. His profound professional friendships crisscross the globe and have led to spontaneous and fruitful collaborations in film, fashion, and visual art.
Brian Lauritzen is an award-winning host for Classical KUSC who can be heard Monday through Thursday from 3PM to 7PM. He is also the host of the Sunday program A Joyful Noise. Additionally, Brian writes and produces features for KUSC's concert broadcasts, including those with the Los Angeles Philharmonic, Los Angeles Opera, Los Angeles Chamber Orchestra, Los Angeles Master Chorale, and Piano Spheres. His work as part of these series has been broadcast internationally by NPR, American Public Media, and the WFMT Radio Network. During his tenure at Classical KUSC, Brian has interviewed dozens of top classical musicians and artists. Among them are Gustavo Dudamel, Itzhak Perlman, Dawn Upshaw, Valery Gergiev, Plácido Domingo, John Adams, and many others. Brian is also the host of several critically acclaimed podcasts: Behind the Curtain at LA Opera, the Los Angeles Chamber Orchestra podcasts, and Concrete Voices – real stories from the streets of Hollywood.
The Los Angeles Philharmonic Association, under the vibrant leadership of Music & Artistic Director Gustavo Dudamel, presents an inspiring array of live performances – orchestral, pop, rock, country, jazz, blues, Latin, world music, opera, chamber, Baroque, organ and celebrity recitals, theatrical performances, explorations of film music, dance, comedy, groundbreaking multimedia productions, and an unmatched commitment to commissioning and performing music from the composers of today – at three of L.A.'s iconic venues: Walt Disney Concert Hall (laphil.com), the Hollywood Bowl (hollywoodbowl.com) and The Ford. The LA Phil's season at Walt Disney Concert Hall extends from September to June, and at the Hollywood Bowl and The Ford throughout the summer. With the preeminent Los Angeles Philharmonic at the foundation of its offerings, the LA Phil aims to enrich and transform lives through music with a robust mix of artistic, learning and community programs.
Classical KUSC FM and Classical KDFC FM nurture a love of classical music, inspiring people to make it an enduring part of their lives across California and beyond. The stations curate beautiful music, create compelling experiences and welcome all on the journey. The stations are listener-supported, reach the largest classical audience in the U.S. with over a million weekly listeners, and are a broadcast service of the University of Southern California. Tune in at 91.5 FM in Los Angeles and Santa Clarita, 88.5 in Palm Springs, 91.1 in Thousand Oaks, 93.7 in Santa Barbara, 99.7 in San Luis Obispo, 89.9 in Napa, 90.3 in San Francisco, 104.9 in Silicon Valley and 103.9 in Monterey/Carmel. The smartphone apps and live streams at KUSC.org and KDFC.com attract local listeners and music lovers from around the globe.
PRX is a public media organization shaping the future of audio by producing and distributing content, building technology and training talented, independent producers. With an award-winning portfolio ranging from iconic public radio programs such as The World, This American Life, The Moth Radio Hour, The Takeaway, and Reveal, as well as a growing body of podcast-first productions, including the Radiotopia podcast network. PRX reaches more than 28.5 million listeners and generates more than 70 million podcast downloads per month.