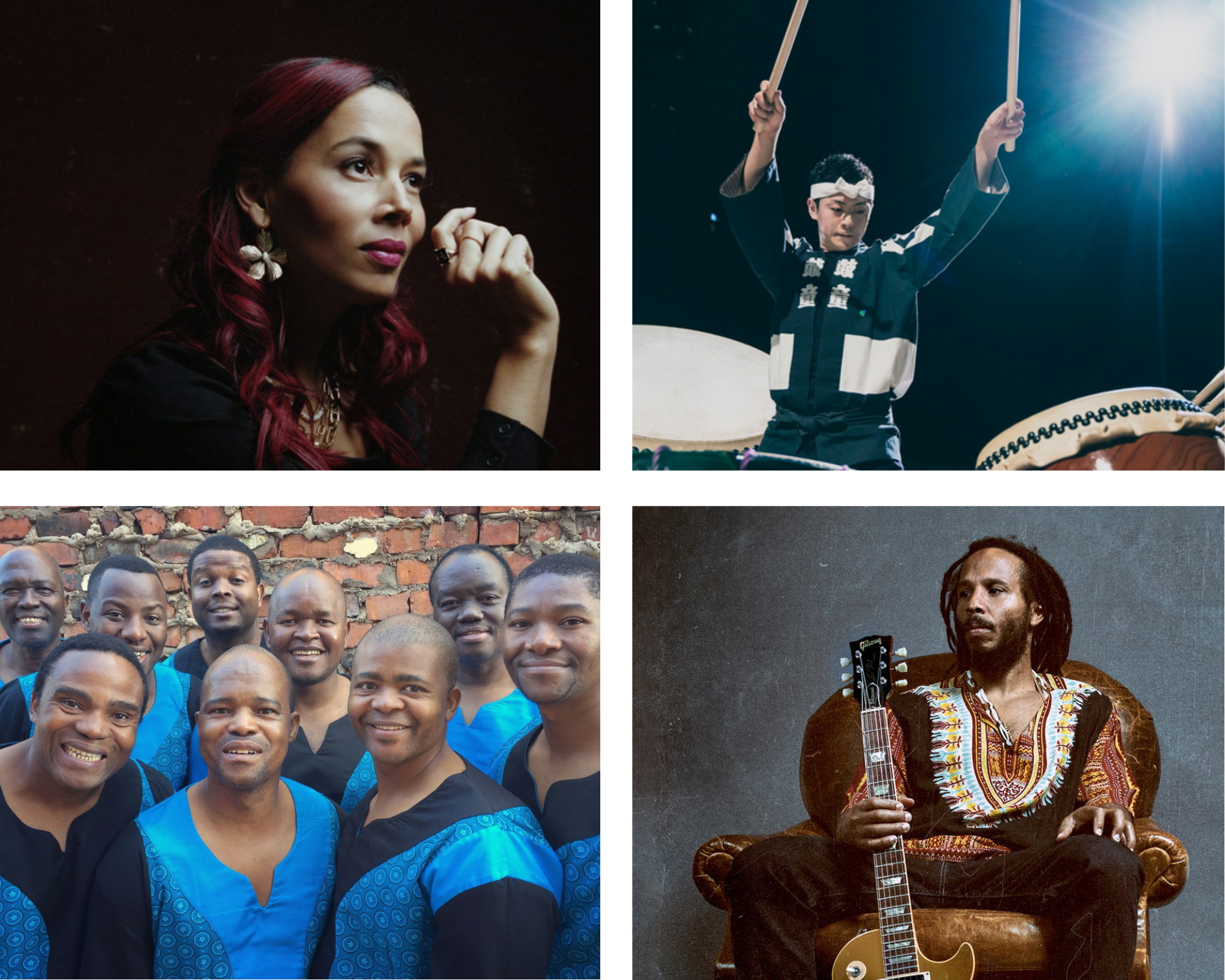 Los Angeles, CA (November 3, 2022) – The Los Angeles Philharmonic's 2022/23 World Music series comes to Walt Disney Concert Hall with an eclectic mix of artists performing music from around the world, featuring Rhiannon Giddens (Nov 12), Kodo (Jan 31), Ladysmith Black Mambazo (Mar 3) and Ziggy Marley (Mar 17).
Both with The Carolina Chocolate Drops and in her own solo work, Rhiannon Giddens has used her art to excavate the past and reveal bold truths about our present. Smithsonian Magazine calls her "an electrifying artist who brings alive the memories of forgotten predecessors [of American musical history], white and black." An exceptional singer, fiddler, and banjo player, she joins forces with the LA Phil conducted by Jeri Lynne Johnson and the Resistance Revival Chorus to bring centuries' worth of American music to the Walt Disney Concert Hall stage, performing jazz, blues, country, gospel, and more.
For four decades, the Japanese group Kodo has shown off the extraordinary emotional and artistic range of the traditional taiko drum on stages around the world. Their new program Tsuzumi commemorates this incredible legacy, featuring pieces that trace their music back to the group's origins.
Ladysmith Black Mambazo have been bringing the vocal harmonies of South Africa to the world for 60 years. The choral group first came to international prominence via their appearance on Paul Simon's Graceland in 1986, and in the years since they've become one of their country's most prominent and celebrated cultural institutions—not to mention five-time Grammy® Award winners. The message of peace, love, and harmony radiates through their collected voices with instantly recognizable warmth.
Eight-time Grammy® Award winner, Emmy winner, musician, activist, producer, humanitarian Ziggy Marley has cut a singular path in the world, bringing the sounds of reggae music together with funk, blues, rock, and more. And no matter how far his interests take him, he always returns to his foundation: the transformative power of love. The eldest son of Bob and Rita Marley brings us two nights of incredible music.
LA Phil's 2022/23 World Music Series at Walt Disney Concert Hall
Saturday, November 12, 2022, at 8:00PM
Rhiannon Giddens - Grammy® Award-winning singer, songwriter, and instrumentalist
Tuesday, January 31, 2023, at 8:00PM
Kodo - The pulse-pounding rhythms of traditional Japanese drumming return with a new program, One Earth Tour: Tsuzumi.
Friday, March 3, 2023, at 8:00PM
Ladysmith Black Mambazo - The group Nelson Mandela called "South Africa's cultural ambassadors to the world" returns.
Thursday, March 16, 2023, at 8:00PM
Friday, March 17, 2023, at 8:00PM
Ziggy Marley - The reggae star brings the spirit of Jamaica to Walt Disney Concert Hall.
Additional details for the complete 2022/23 season can be found at laphil.com.
TICKETS
Tickets for the LA Phil's 2022/23 season at Walt Disney Concert Hall are currently on sale. To purchase, please visit laphil.com or the Walt Disney Concert Hall Box Office. To order by phone or for more information, please call 323 850 2000. For up-to-date safety information please visit https://www.laphil.com/faqs/safety-information
###
ABOUT THE LA PHIL
Under the leadership of Music & Artistic Director Gustavo Dudamel, the LA Phil offers live performances, media initiatives and learning programs that inspire and strengthen communities in Los Angeles and beyond. The Los Angeles Philharmonic orchestra is the foundation of the LA Phil's offerings, which also include a multi-genre, multidisciplinary presenting program and such youth development programs as YOLA (Youth Orchestra Los Angeles). Performances are offered on three historic stages—Walt Disney Concert Hall, the Hollywood Bowl and The Ford—as well as through a variety of media platforms. In all its endeavors, the LA Phil seeks to enrich the lives of individuals and communities through musical, artistic and learning experiences that resonate in our world today.