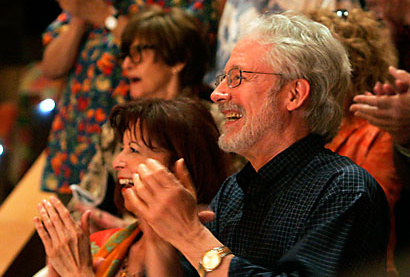 Elizabeth and Justus "J" Schlichting applaud, following Esa-Pekka Salonen's final concert as Music Director (April 19, 2009).
The LA Phil is a wellspring of new music.
In a typical year, the Los Angeles Philharmonic commissions about 25 pieces from both emerging and established composers. We push the art form forward through Green Umbrella—one of the most widely attended new music series in the country. On one day alone, upwards of 2,000 new-music fans descend on Walt Disney Concert Hall each year for the Noon to Midnight festival.
Members of the LA Phil family, like Principal Timpanist Joseph Pereira and Conductor Laureate Esa-Pekka Salonen, have written music for or about our orchestra. The National Composers Intensive and Composer Fellowship Program provide in-depth, hands-on training for early-career and high school-age composers, respectively.
Whether the piece was written by our Creative Chair John Adams or a high school sophomore, the Philharmonic's musicians adeptly bring it to life, in workshops, rehearsals, and performances at both Walt Disney Concert Hall and the Hollywood Bowl. Donors make generous gifts to underwrite almost every commission in a given season, helping bring them to life for wide audiences who have developed discerning ears for the music of our time.
All this raises one big question: How did the LA Phil grow to become such a thriving hub for new music?
Recently, LA Phil Vice President of Artistic Planning Meghan Martineau; composer and conductor Daníel Bjarnason; and longtime subscriber, supporter, and perennial commissioner of new music Justus "J" Schlichting spoke over Zoom to explore that very question.
The following is an edited version of their conversation.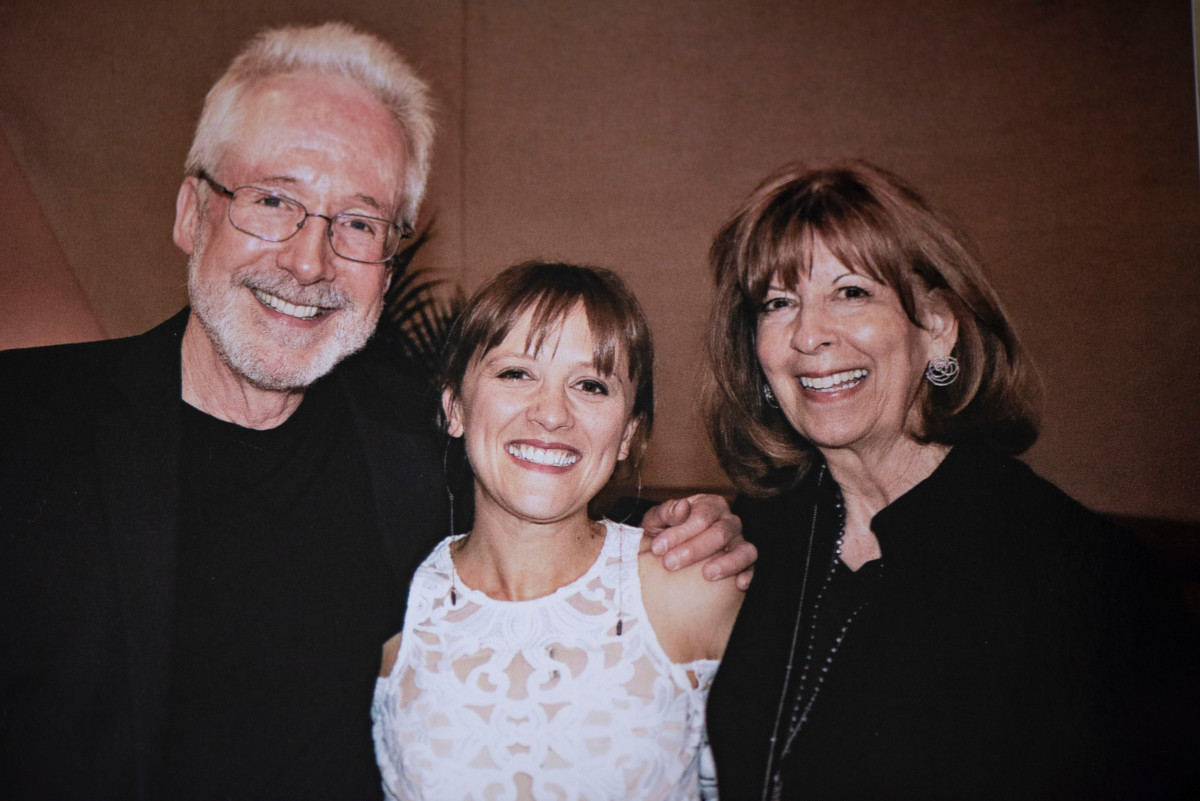 J and Elizabeth Schlichting with composer Ellen Reid, following the premiere of
dreams of the new world
, performed by the Los Angeles Master Chorale and wild Up (May 13, 2018).
Meghan Martineau, Vice President Artistic Planning: Daníel—you've been working with us for almost a decade now, as composer, as conductor, as the curator of our Reykjavík festival in 2017. What was your first experience with the LA Phil?
Daníel Bjarnason, Composer: My first time working with the LA Phil was my first time ever in L.A., back in 2012. I had an album that came out around then that had this piece on it, Bow to String, and a couple others. John Adams somehow got a hold of that and, by extension, [LA Phil CEO] Chad Smith and you guys heard it. John was conducting a Green Umbrella program, and he put Bow to String on it. A lot has happened since then! There have been a lot of pieces and concerts. If someone would have told me that when I first came, this would be such a long and wonderful relationship, I wouldn't have believed it. But it's been a real dream.
MM: J, you have been commissioning music with the LA Phil for the last eight or nine years, but your history with the LA Phil goes back much further than that?
Justus "J" Schlichting, Donor: Yes, I've had a little more experience than you, Daníel, because I attended my first LA Phil concert in 1974. Were you even born then?
DB: I was negative five years old!
JS: There have been different epochs for us. In 1974, I wasn't even living in Los Angeles. I was living in San Luis Obispo, which in those days was truly just a cow town. There was nothing going on culturally. I had moved there from Oberlin, Ohio, where I was regularly attending 300 concerts per year between the Oberlin Conservatory and the Cleveland Orchestra. Three hundred concerts a year to zero in San Luis—so I was desperate; I would go down and crash at friends' houses in L.A. and attend concerts.
Then, I moved to Southern California in 1976, and that's when I started attending regularly, but in those days, I was just the poor kid down from the slums in Orange County coming up and attending what I could. I was always interested in new music, and so we started attending Green Umbrella concerts from the very beginning. Over the decades, the LA Phil started expanding what we were hearing.
I remember hearing [Pierre] Boulez conduct. I had met him in 1971 in Ohio, but hearing his music performed by a professional and not a college orchestra made me realize how special this orchestra was. Then once Disney Hall opened, we stepped up our concertgoing to where we were going to at least 30 concerts a year. Since I retired in 2013, I've gotten into commissioning. There have been those three separate epochs.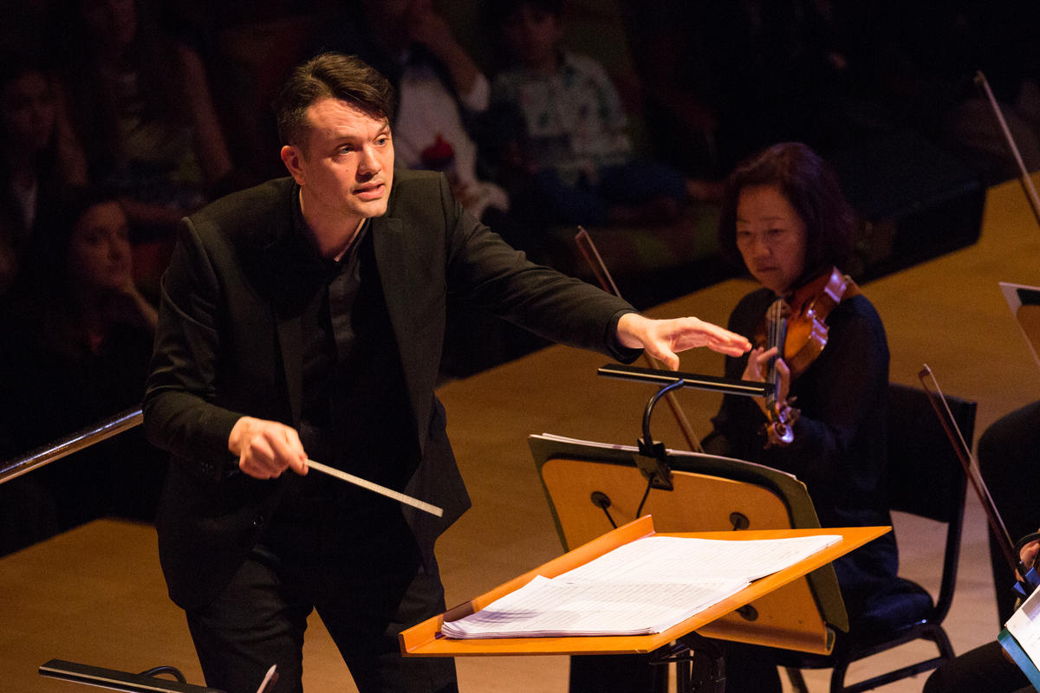 Daníel Bjarnason conducts the LA Phil at the Walt Disney Concert Hall (April 2017).
MM: J, you touched on something that I'd really like to explore with both of you, which is the long-standing relationships—between audience and orchestra and composer and orchestra—that can make such a difference.
DB: It's probably different for every composer, but in my case, I think a lot about the people I'm writing for. I see them playing. I see their faces, having worked with the orchestra so many times as a composer and a conductor. I know the players better. I know their names. I've seen them rehearse. I know the Hall. It just gives it another layer, another meaning, to know that when you are writing for the clarinet that Boris [Allakhverdyan] is probably going to be playing that line. It puts a different dimension in your head. Of course, there's a part of it where it's still a symphony orchestra and another could also play it, but in the creative process, it helps me write. It's a little bit hard to put your finger on it. It's more of a feeling.
JS: The human connection is very important, I think. We're talking about the music here, but I must also say that one of the incredible joys of this entire process has been the opportunity to get to know people like Daníel, to meet all these composers and musicians. They are all wildly different. They are from all over the world. And yet—I can't think of any exception—they are really fun and wonderful humans to interact with, and that's been a gift; that wasn't part of the original plan.
MM: I've had a lot of composers ask me, "I'm not allowed to come to the first rehearsal, am I?" I'm always like, "Yeah, absolutely!" Apparently, that's not always the case. I think that's a perfect example of the different feel at the LA Phil; it's very open, very welcoming. The composer is part of the family, part of that musical experience. It's not kept at a distance.
DB: What I've always found to be so admirable about the LA Phil is that it's not just about commissioning a number of pieces. It's about creating an atmosphere where new music is the most natural thing in the world. That goes all the way from the top of the organization all the way down. Everybody feels like that is what we should be doing. It's not something that is cramped in or feels like an external thing. It's really at the core of the organization, and that creates a feeling for composers that they are drawn to the orchestra, and they feel welcome. And that is true of the whole organization from the top down, including the conductors, musicians, audiences, and supporters. It can be a difficult situation working with orchestras if that's not the mind set, because it doesn't feel organic. With the LA Phil, it's the other way around; it's such an obvious part of your identity, and that's what you radiate to the rest of the orchestra world and composers.
The sounds that the orchestra are capable of producing are just unbelievable, and they have not yet been fully explored. It's absolutely essential that every orchestra in the country participate in the process of creating new music, frankly, to pay it forward, so that future generations have this music.
JS: Being in an environment where new work is supported and nurtured is just huge. Elizabeth [J's wife] and I would not have followed the trajectory that we have, had we not spent 30 years with Esa-Pekka [Salonen] and the LA Phil living with new music. From my perspective, you're my band, you're the big band in town. I'm an active commissioner, and I love the sound of a big orchestra. I'm a sucker for the sound. It's the apotheosis of this particular thread of the musical art—getting 100 people on stage and having them do something together is a remarkable experience. The sounds that the orchestra are capable of producing are just unbelievable, and they have not yet been fully explored. It's absolutely essential that every orchestra in the country participate in the process of creating new music, frankly, to pay it forward, so that future generations have this music.
MM: J, you've done a lot of paying it forward. You've now collected quite a few commissioning credits and looking over the list, I have to say you have incredible taste in composers.
JS: Pure luck!
MM: I think that is one of the barriers that's intimidating for people when they are thinking about underwriting a piece, particularly at the LA Phil where we have 25 commissions a year regularly. How in the world do you pick something? Can you talk about your process, or how you get to know composers?
JS: With the LA Phil, you guys do all the heavy lifting. I show up for a dinner, maybe a rehearsal, and enjoy the concerts, and hear this fantastic music. You've done the curation process beforehand. But I do treat the process very seriously. I always lay hands on every recording I possibly can, and, in the process, I discover all these incredible new composers. Sometimes, I know the composer's work already. I knew about Daníel's work from Green Umbrella, and then we commissioned two pieces from him, one for [violinist] Jenny Koh at National Sawdust [in Brooklyn, NY] and a piece we commissioned for the Calder Quartet. So when the opportunity came up to commission his Violin Concerto, it was a no-brainer.
MM: That piece was supposed to premiere at the Reykjavík Festival in 2017, but because of a delay, Gustavo [Dudamel] ended up conducting it on a Hollywood Bowl program, which worked beautifully.
JS: I was really looking forward to hearing the piece in the Hall, and when it moved to the Hollywood Bowl, I was afraid I wasn't going to hear it in the same way. Would there be wine bottles clanking and rolling down the aisles? But, in fact, [violinist] Pekka Kuusisto really is a rock star, and it worked for me in that space.
DB: I was so happy with how it turned out at the Bowl. That was a really fun and special night, and I agree, Pekka, you know, he's that kind of performer; the piece gives him a lot of space to be himself. The concert is something I'll never forget. I had no idea what to expect from that concert or how the piece would be received, or if people would even listen to it, but it turned out really well; it was a really memorable night.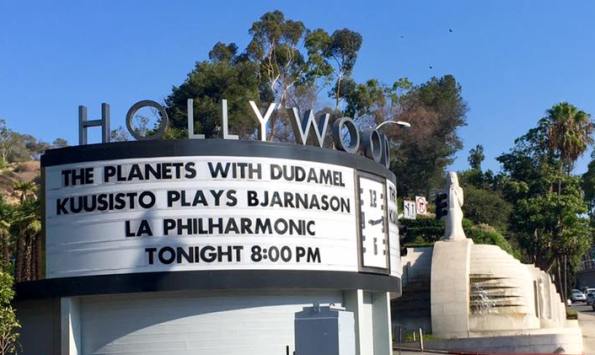 The Hollywood Bowl Marquee advertises Pekka Kuusisto's performance of Bjarnason's Violin Concerto with the LA Phil (August 22, 2017).
MM: I was so thrilled. It always makes me so happy when the response to a piece is so positive. That one in particular has really had a life, far beyond Los Angeles, all over the world. I can't confirm anything yet, but we are hoping to bring it back.
JS: I'm going to hold you to that! That's also why I prefer [Walt Disney] Concert Hall to the Bowl, because at the Bowl, it's one performance, but at the Hall, you get two or three, usually. I love being able to hear the piece over and over, and hear the audience reaction. Because after that first hearing, I will frequently have a new set of ears. And especially if I brought a guest to the concert, I'll wonder, how are they hearing this? Even though I'm not a composer, I have a weird sense of—ownership is not the right term—but affiliation. I always hear the piece differently when I'm sitting next to someone who's not a total new-music fanatic, and they're hearing this, and I wonder, and I try to listen with their ears.
MM: As a composer, Daníel, you're probably trying to do the same thing?
DB: Yes, well, when I'm the conductor, it's a different experience from being in the audience. Both to me have equal importance, but in a different way. I often feel like I truly don't know the piece until I have conducted it. But, if I've only conducted and not sat in the audience, then there is obviously something missing. When you are removed from it—just physically removed from the sound, from the podium—you hear it in a different way. It's like film directors will tell you. They've watched their films a million times and edited them, but as soon as you get people in a screening room, it's a totally different feeling. You start to see it, or hear it, not just through your own head, but as part of something outside yourself. And you learn something new about the piece. It's terribly nerve-wracking. You don't always know how things are going to work until they happen.
MM: J, what is it like when you commission a piece and then sit down and get to hear it?
JS: There's a bunch of different reactions. I always cry. I absolutely always cry. No matter what. [Laughs] The exhilaration is pretty stunning. The reason I like to hear a piece more than twice is usually my emotions are so high, it's very hard to hear it all with "normal" ears, whatever the heck that is. It is an insane high. I'm going to confess: I don't know why everybody who has a couple of extra bucks lying around doesn't run out and commission a piece of music. I am really being serious, I'm not joking, because it's just the most gigantic gas ever.
MM: That's the line right there.
---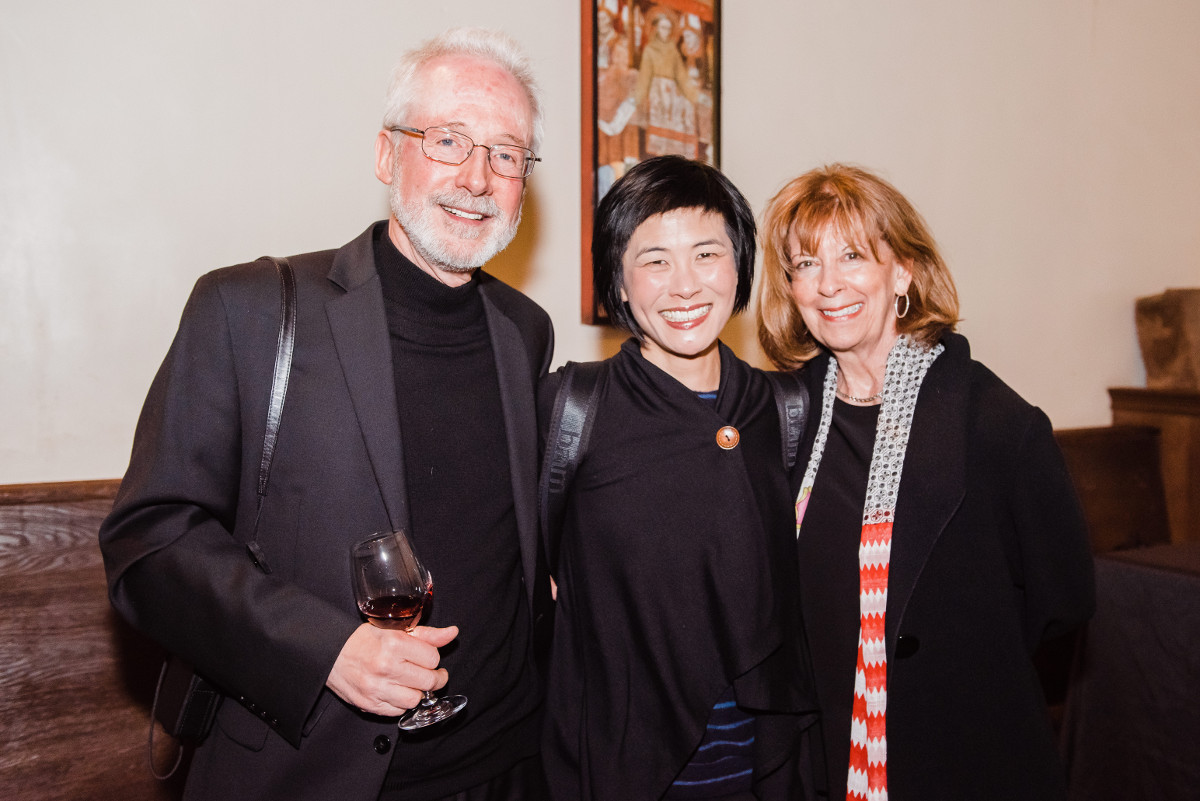 J and Elizabeth Schlichting with violinist Jennifer Koh for the UCSB Arts and Lectures west coast premiere of
Shared Madness
(32 short pieces for solo violin from 32 composers) (April 27, 2018).
The LA Phil is grateful to J and Elizabeth Schlichting for their generous support of the LA Phil, and to Daníel Bjarnason and Meghan Martineau for taking the time to speak about new music and commissioning at the LA Phil.
We invite you to enjoy the following playlist, comprised of musical milestones from J's listening life. It includes Stravinsky's Symphony of Psalms, the final piece conducted by Esa-Pekka Salonen as Music Director of the LA Phil; music by Thelonious Monk, the jazz icon who visited J's hometown for a concert at Ravinia in 1964; and John Adams' Fearful Symmetries, the first performance J experienced with Adams as composer and conductor at Royce Hall in 1989.
J and Elizabeth Schlichting Commissioned Works
J insists his success in choosing composers to support is "pure luck." But if you listen to his commissioned pieces, you can hear his extraordinary and eclectic taste at work.
Please enjoy recorded selections on Spotify, as well as videos of live performances on YouTube. Additional commissioned works are also listed below.
YouTube Playlist of Live Performances
Bruce Broughton - Fanfare for 16 Horns*
Viet Cuong - Electric Aroma – mixed quartet
Gabriela Lena Frank – Suite Mestiza – solo violin
Anders Hillborg – Duo* – piano and cello
Jesse Jones – Persona Mechanica – piano concerto
Gemma Peacocke – Dwalm – saxophone quartet
Tyshawn Sorey – Perle Noir – chamber vocal
Additional Works Commissioned by J and Elizabeth Schlichting:
Julia Wolfe – Spinning Jenny – solo violin
Marc-André Hamelin - Piano Quintet
Hannah Lash - In Pursuit of Flying - piano concerto
Carter Pann - String Quartet No. 2, "Operas"
Arvo Pärt - Greater Antiphons* - chamber orchestra strings
Esa Pekka Salonen – Gemini* - symphony orchestra
*commissioned with the LA Phil