Nancy and Barry Sanders Composer Fellowship Program
2020-21 Applications are now open!
A unique offering among American orchestras, the Nancy and Barry Sanders Composer Fellowship Program is a one-of-a-kind opportunity for young composers to become a part of the LA Phil's thriving new music community. The innovative, multi-year program offers students a high level of consistent and intensive focus on the process and production of music composition, giving them the tools and freedom necessary to shape the future of concert music.
Fellows are guided through the creative process from start to finish by internationally acclaimed composer and Program Director Andrew Norman. Students work with LA Phil musicians and guest artists in frequent reading sessions; hear their pieces performed by the LA Phil, chamber groups, and other orchestras; attend more than 20 concerts at Walt Disney Concert Hall and the Hollywood Bowl each year; and engage with many of the world's greatest living composers.
Questions? Email composers@laphil.org
Study with faculty Andrew Norman, Director; Sarah Gibson, Lead Teaching Artist; and Thomas Kotcheff, Teaching Artist

Tickets to more than 20 LA Phil concerts each year, including the Green Umbrella series*

Opportunities to compose works for readings and performances for ensembles such as the LA Phil, the Lyris Quartet, Calder Quartet, American Youth Symphony, and wild Up*

Meetings with the great composers of our time. Past visits have included John Corigliano, John Adams, Esa-Pekka Salonen, Kaija Saariaho, Michael Giacchino, Magnus Lindberg, and many others.
Access to LA Phil rehearsals*

Access to composition software and other resources

A supportive community of peers and mentors from diverse backgrounds

Fellows build a rich portfolio of professionally recorded works performed by members of the LA Phil and other professional musicians

No fee for participation; all costs are underwritten by the Los Angeles Philharmonic Association.
*subject to social distancing guidelines set up by state and local health officials.
The Fellow Year runs from mid-September to early June. Availability and participation on all scheduled program dates are required as a fellow in the Composer Fellowship Program. Accepted fellows are expected to commit to scheduled programming, including but not limited to group sessions, community events, readings and performances of fellows' works, and LA Phil concerts. Accepted fellows are expected to work on their compositions and review class materials outside of scheduled programming.

Here's a sample of what a fellow year might look like (note: this is a sample only)


Overview of scheduled programming:
2-3 Saturday sessions/community events per month (total time each Saturday is about 3-4 hours depending upon scheduled events)

5 Tuesday evening concerts per year*

5+ additional evening concerts per year (schedule varies depending upon concert calendar)*

Readings and performances of Fellow works each semester*
*Subject to social distancing guidelines set out by state and local health officials
Note on COVID-19
The Los Angeles Philharmonic is closely monitoring updates and recommended guidance from our public health experts during this unprecedented and continually evolving situation.
If in-person learning is not possible, masterclasses, group classes and community sessions will take place online. All Composer Fellow Program events are subject to change or cancellation.
Eligibility
---
Open to students in Southern California who will be in grades 9-12 beginning Fall 2020. Applicants should: 
have some composition experience and the desire to continue compositional training with dedication; prior composition lessons are not required.

have some familiarity with symbols commonly utilized in classical music.

be currently active as a musician (including but not limited to private lessons; composition lessons; participation in an ensemble such as orchestra, concert band, jazz band, choir, or musical theater; participation in music production and technology; or other individual study).

have reliable transportation to and from Walt Disney Concert Hall.

have access to email.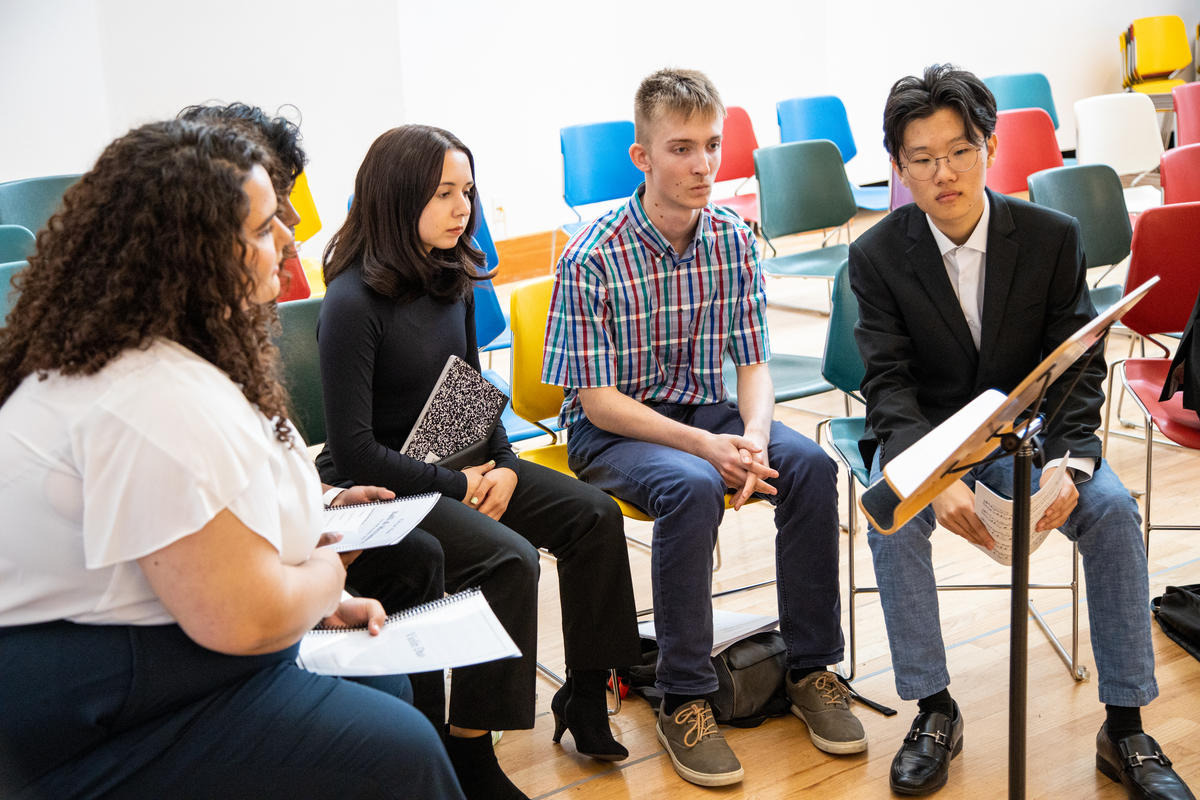 Application Requirements
---
Biographical information

Educational background

Letter(s) of Recommendation (1 required, up to 2 additional will be accepted)

Short Essay Responses

Optional: video of yourself playing/singing on your primary or secondary instrument

Two composition samples represented by:

Score (PDF only) – required
Audio or video recording (MP3, M4A, WAV, AIFF, MP4, AVI, MIDI) – optional, but encouraged
Please direct questions and comments to composers@laphil.org.