Our Friends and Patrons of the LA Phil are a community of passionate, socially conscious individuals who help our orchestra continue its tradition of bringing incredible music to our diverse city. Some of our Friends are also supporters who kindly dedicate their time and efforts as members of the LA Phil Affiliates through volunteer service, community engagement, and fundraising. 
Get to know two of our longtime Affiliates leaders, outgoing Affiliates Chair Louise Peebles and incoming Affiliates Chair Marian Hall, as they share what it means to generously support the LA Phil and share their favorite parts of working closely with this orchestra.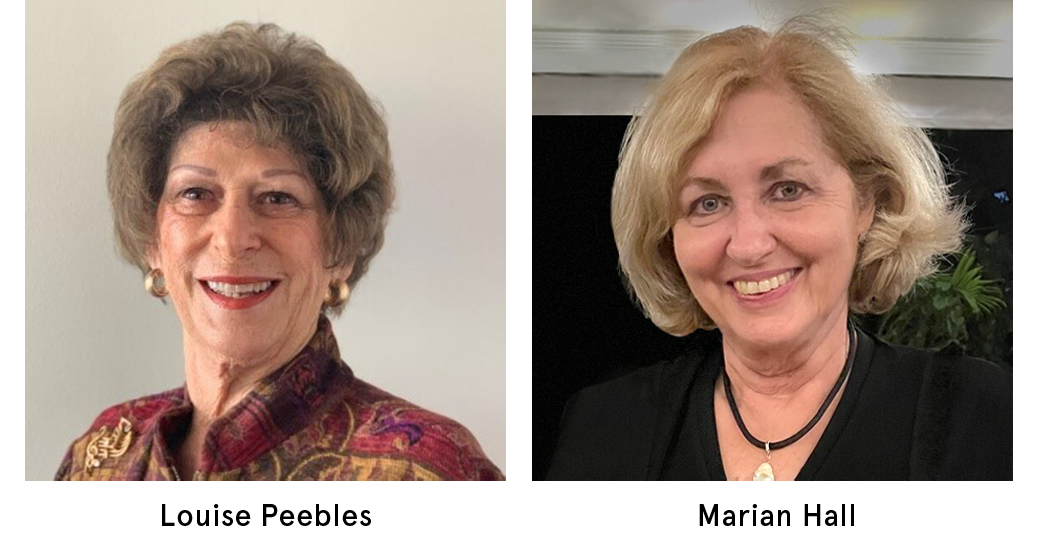 How long have you been coming to LA Phil performances, and when was your first concert?
LP: My first-ever concert was in the late '70s, and I still remember the LA Phil was already playing some unique newly commissioned works! I then started coming regularly in 1981, which is the same year I got married.
MH: I have been coming to concerts for many years. In the 1980s I had an opportunity to sit in my employer Getty Oil Company's Garden Box at the Hollywood Bowl and listen to the LA Phil perform Scheherazade by Nikolai Rimsky-Korsakov. I fell in love with the music and the whole experience. Then, many years later, while working in downtown Los Angeles, soon after Walt Disney Concert Hall was built, I became a regular subscriber to the Concert Hall season.

What inspired you to start supporting the LA Phil both by giving charitably and volunteering your time?
LP: My inspiration comes from my belief that our community benefits from the presentation of music of all types and that music appreciation needs to be inspired in our youth.
MH: I am passionate about the value of music in bringing people together and making us all more resilient. I want to ensure that Los Angeles continues to have a world-class orchestra that leads the way with groundbreaking programming. In addition, I strongly support YOLA (Youth Orchestra Los Angeles) and the wonderful opportunities it provides to the youth of Los Angeles. Through volunteering, I want to make a difference through music!
What is your favorite memory as an LA Phil Affiliate?
LP: I fondly recall the Affiliate fundraisers that brought all the volunteer committees together with LA Phil musicians. We held a chili cook-off along Peppertree Lane at the Hollywood Bowl and a 5K/10K Walk/Run in Griffith Park. It was great because a lot of people from the LA community came to support, while also preparing for the LA Marathon. It was great fun, and we gave awards to all different age groups.
MH: I have many great memories, but one that stands out is the year I was Affiliate Coordinator for the Opening Night Gala in 2018, themed "California Soul." Planning and executing the special "Affiliate Package" part of the event, along with then-Affiliate Chair Becky Novy, and then attending the concert and dinner with my fellow Affiliates (especially the after-party on Grand Avenue under the stars) was a night I will always remember.
Louise, as the Affiliate Chair for the past three years, how did you lead this robust group of volunteers through what was a challenging time for the LA Phil?
LP: With the help of terrific staff members, we created new ways to keep all 800+ members engaged with the LA Phil and each other. Zoom programs presented by LA Phil musicians was one way to achieve this, as many of our events were "reinvented" to accommodate the COVID protocols. The most heartening was the steadfastness of all the Affiliates—there was little drop off in membership, and everyone stood ready to resume usual youth programs and fundraising activities as soon as it was possible.
Marian, as the incoming Affiliate Chair, what are you most excited to take on as we enter the exciting Hollywood Bowl centennial season?
MH: As we enter the Hollywood Bowl centennial season, as people are gathering once again and looking for new opportunities to become involved post-pandemic, we will be looking at ways to make people aware that becoming a part of an Affiliate Committee is one way they can join with others who support the LA Phil.
What has been your favorite LA Phil concert? Also, what is your preferred pre- or post-concert drink?
LP: My favorite concert has to be the Tchaikovsky Sixth Symphony, "Pathétique," with my husband Byron playing principal trombone. The best drink is the mai tai up at Yamashiro near the Hollywood Bowl with my Byron.
MH: It's hard to name just one favorite LA Phil concert. Most recently, I was really taken with the Revueltas and Petrushka concert with Gustavo Dudamel conducting this past May. However, I always love hearing the 1812 Overture at the Hollywood Bowl, and I also loved hearing the same piece several years ago at Walt Disney Concert Hall when the LA Phil performed it along with Venezuela's El Sistema. It was powerful!
I always enjoy a glass of "bubbly" pre-concert—preferably Veuve Clicquot.
If you could see any artist perform with the LA Phil, who would it be?
LP: I have been fortunate to see so many great artists at LA Phil concerts both at the Dorothy Chandler Pavilion and at Walt Disney Concert Hall. However, I would love to see Neil Diamond perform the Hot August Night album with the LA Phil along with fireworks at the Bowl!
MH: Gosh, this is hard to answer. I am amazed at the variety and star power performing with the LA Phil. I really enjoy seeing one of the up-and-coming performers who are at the beginning of their path toward national or international fame, such as María Dueñas who performed at the Opening Night of the centennial season at the Bowl!
What do you hope to see in the future of the LA Phil?
LP: I would love to help with the growth in the number of people from younger generations attending concerts.
MH: The LA Phil is, without a doubt, the premier orchestra in the world. It is my hope that Gustavo Dudamel continues as our Music and Artistic Director for many more years and the orchestra continues to lead the way, both here in Los Angeles and around the world with fabulous music for all.
If you're interested in joining the LA Phil Affiliates, please visit our website here.