About this Performance
Filled with drama, sweet longing, and unforgettable melodies evoking an American landscape seen through an immigrant's eyes, Dvořák's Ninth has become one of the most popular and performed symphonies. But both in recent performances and recordings, Gustavo Dudamel has been praised for "[jolting] the familiar score with vitality and imagination" (The New York Times). When Spanish violinist María Dueñas premiered the concerto Ortiz wrote for her, the Los Angeles Times wrote that "a star was born," praising her musical depth and effortless virtuosity. Dueñas teams up with Dudamel once more for an encore performance of Ortiz' Altar de cuerda.
This performance is generously supported in part by the Kohl Virtuoso Violin Fund.
Concerts in the Thursday 2 subscription series are generously supported by the Otis Booth Foundation.
See other concerts in this series
Programs, artists, dates, prices, and availability subject to change.
Enhance Your Experience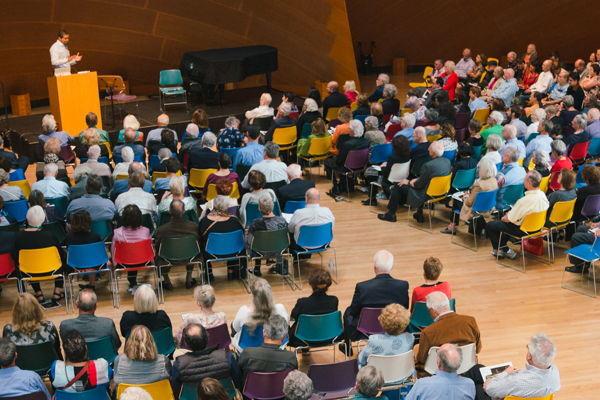 Upbeat Live Pre-concert Talk
Event starts at 7:00PM
Before the concert, some of the sharpest musical minds around–including members of the LA Phil–guide you through the evening's music, complete with a Q&A session for any lingering questions. This free event is held in BP Hall, accessible after your ticket is scanned.
Learn More