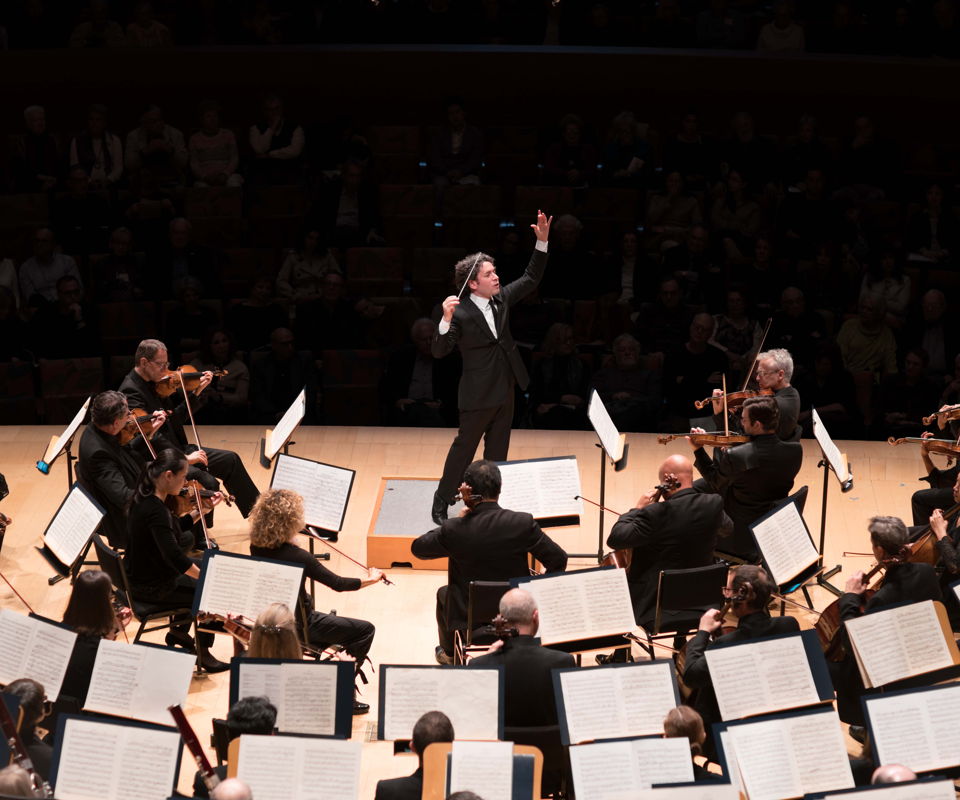 (Canceled) Dudamel, Bernstein, and Marches for Our Time
Sun / Nov 15, 2020 - 2:00PM
Modern takes on Sousa and dances from West Side Story
CANCELED
Program
Marches and Commission Project:

New works by Saad Haddad, Viet Cuong, Jonathan Bailey Holland, and Clarice Assad
Listen to this program's playlist on Spotify
About this Performance
Due to the continuing COVID-19 crisis, all LA Phil concerts at Walt Disney Concert Hall have been canceled through December 31, 2020.
This event has been canceled.
We have moved all 2020/21 subscriptions into the 2021/22 season. This will enable subscribers to keep their seats when we return for a full season of music back at Walt Disney Concert Hall.
Subscriber Add-On tickets can be donated, returned for account credit, or refunded.
Create Your Own Package tickets can be donated, returned for account credit, or refunded.
Visit this page for the latest updates and to learn more.
---
Leonard Bernstein's iconic West Side Story has been celebrated not only for its unforgettable songs and symphonic score but also for its willingness to take on social ills of the day: namely, racial prejudice and urban violence. Musically, Bernstein, ever the polymath, shows his ability to work in any genre and form he set his mind to. Dudamel pairs West Side Story's Symphonic Dances with the composer's Divertimento, which offers a series of short dances ranging from samba to blues to turkey trot to a lilting 7/8 waltz.
John Philip Sousa earned the title "The March King" for his prolific work that in many ways defined the sound of American patriotism at the end of the 19th and dawn of the 20th centuries. While at home in military parades, marches are a rarity in the concert hall. Alongside four Sousa marches, Dudamel will conduct four three brand new musical responses to Sousa written by leading American composers: Saad Haddad, Viet Cuong, Jonathan Bailey Holland, and Clarice Assad. Opening the concert is a world premiere by Puerto Rican-born composer and multi-instrumentalist Angélica Negrón, whose music has been described as "wistfully idiosyncratic and contemplative" (WQXR).
Part of the Pan-American Music Initiative
See other concerts in this series
Programs, artists, dates, prices, and availability subject to change.