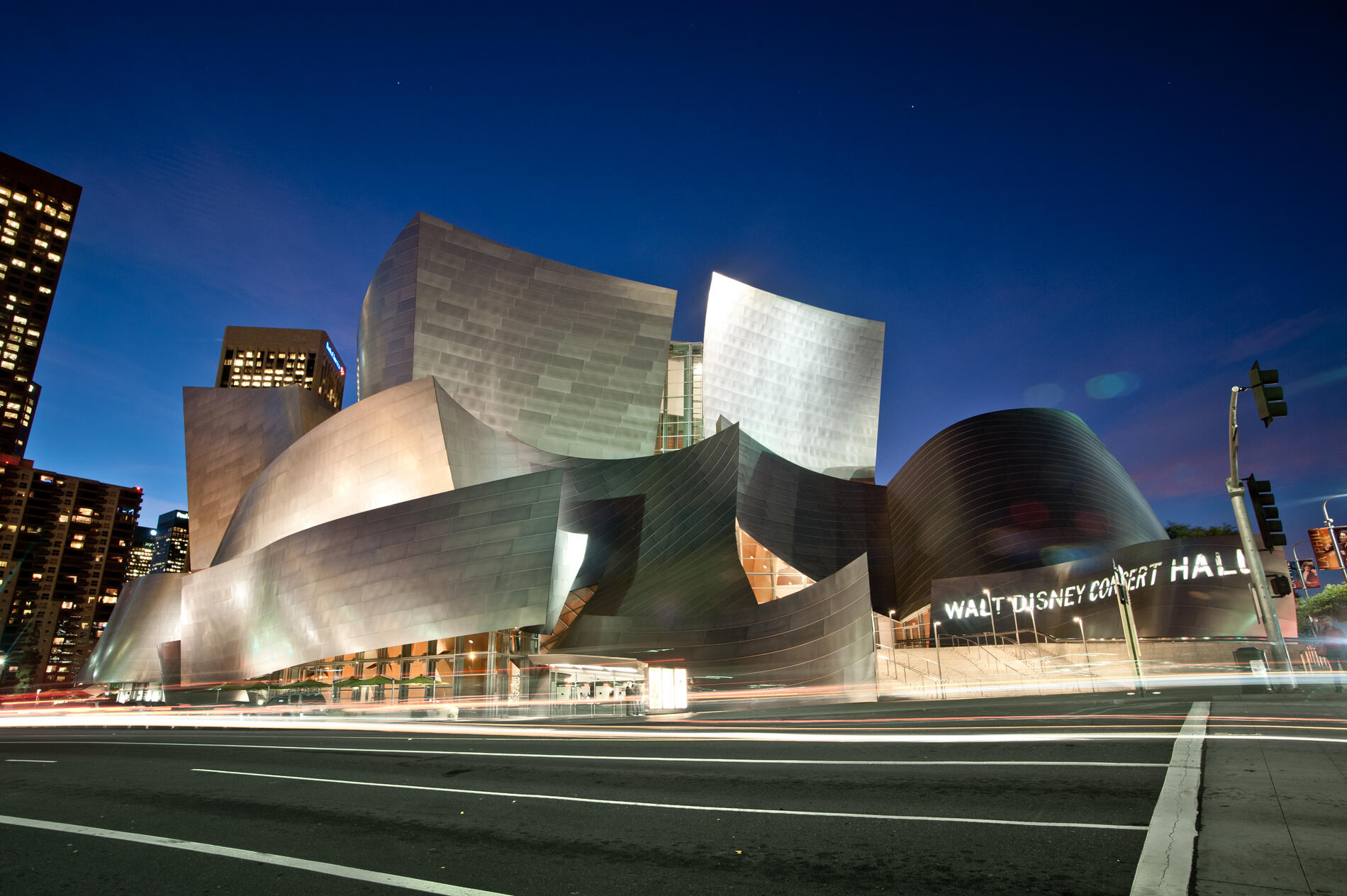 Location
Located just minutes from City Hall in downtown Los Angeles, Walt Disney Concert Hall shares Grand Avenue with many other arts and cultural venues
Get directions: 111 South Grand Ave, Los Angeles, CA 90012
Parking
Parking is available directly beneath Walt Disney Concert Hall. Enter on Second Street or Lower Grand Avenue. Regular parking costs $10 beginning at 4:30pm for evening concerts, two hours before weekday matinees, and all day on weekends.
Take the Metro – NEW STOP!
Skip the traffic and take advantage of the new Grand Avenue Arts/Bunker Hill station (Blue, Expo, and Silver Lines) across the street or the Civic Center/Grand Park Metro station (Red and Purple Lines), which is a short one-block walk to the Hall. The Metro offers direct service from as far away as Santa Monica, Long Beach, Azusa, or East LA.
When to arrive
It's a good idea to arrive 60 minutes before your concert's start time in order to park and find your seat (plus, browse the store!) before your concert begins. If you're lucky, we might even have a pre-concert event before your show. Check your concert's performance page for details. Latecomers will be seated during the first appropriate pause in the program, at the discretion of management.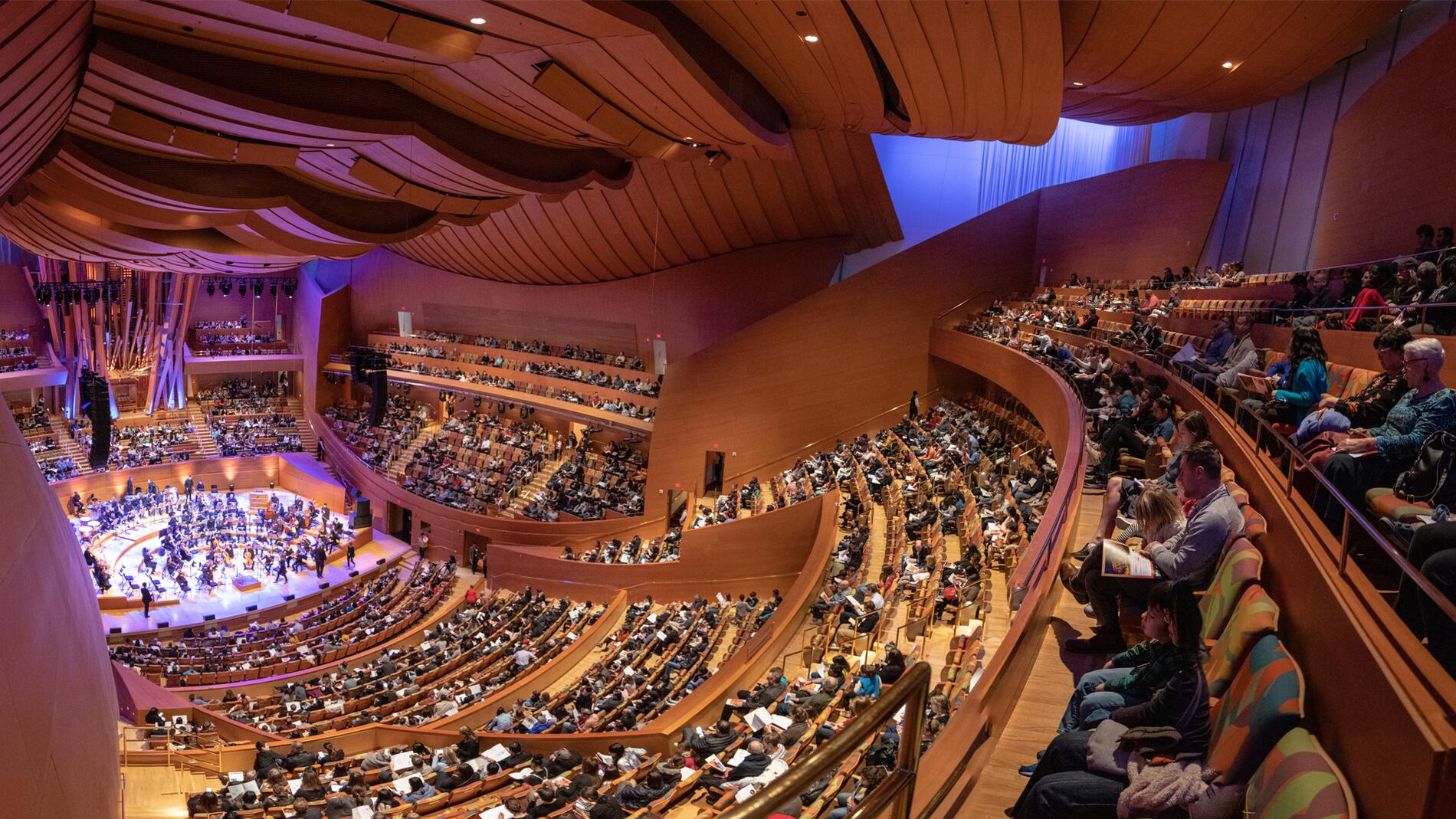 Seating Options
Every seat at Walt Disney Concert Hall offers a clear view and ideal acoustics a 360° layout, but here are a few tips on choosing the best seat for you:
For a piano performance: Look for a seat in the left of Front Orchestra, Orchestra East, or Terrace East (to see the piano keys or the pianist's hands). If you'd rather see the pianist's face, Orchestra West and Terrace West are great options.
For a view of the conductor: The Orchestra View seats (also known as bench seats that are located above and behind the stage) will give you a good view of the maestro's face. Some folks even say that sitting here feels like you're in the orchestra. Bench seats are available for select concerts.
For easy access to the Walt Disney Concert Hall Blue Ribbon Garden: Pick any seat on the Garden Level, especially if you're joining us for pre-concert drinks.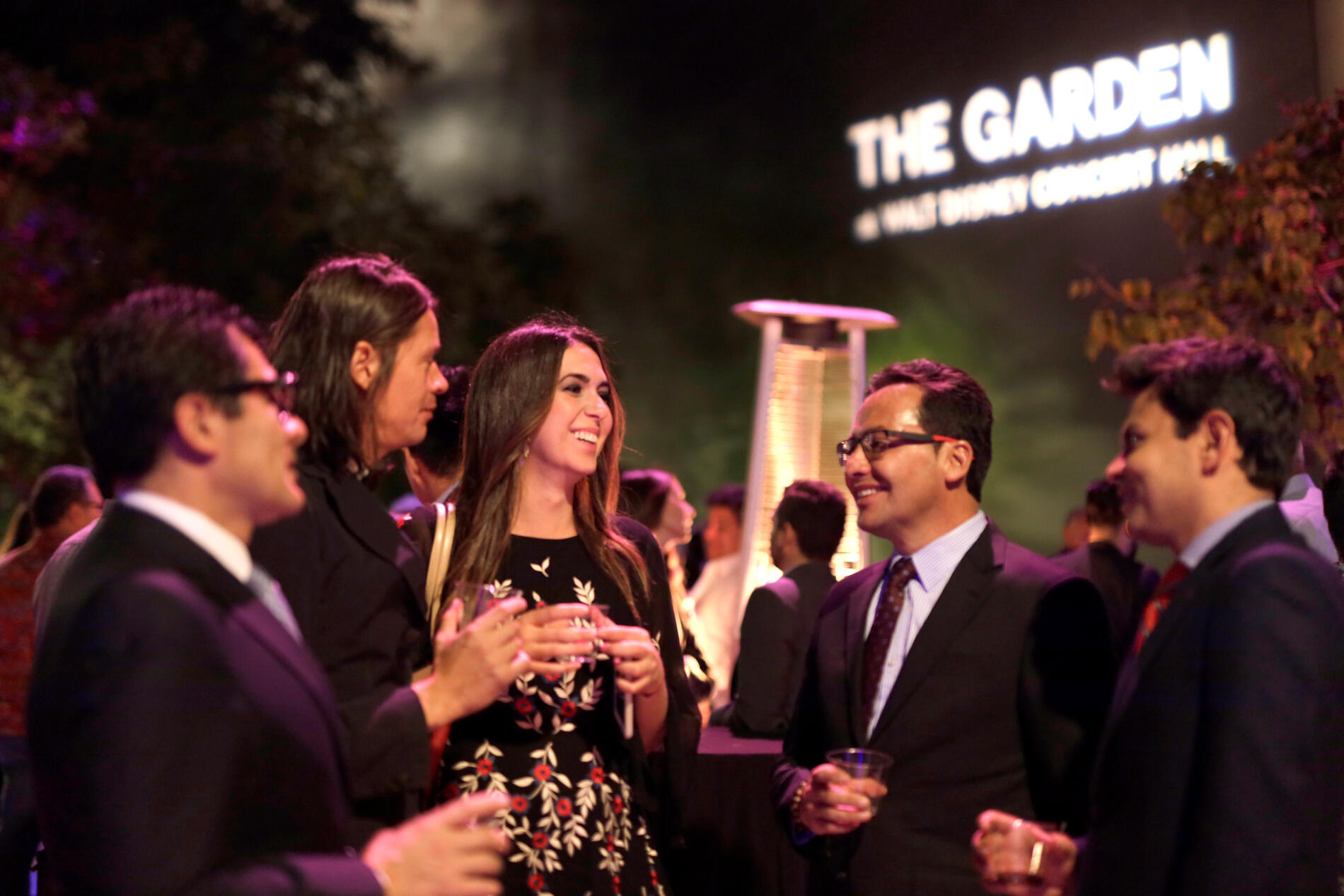 Make a night of it!
There's plenty of fun stuff to do before and after concerts. Make it a night to remember with our pre- and post-concert events.
Feel like a pre-concert drink? Join us for Drinks in the Garden on Friday nights (and see the spectacular Frank Gehry-designed rose fountain while you're at it). Come early to any of our Chamber concerts and enjoy a complimentary glass of wine.
Want a super-informative primer to the evening's program? Upbeat Live offers pre-concert lectures from experts sharing their insight into the music.
Looking to meet other young music fans? Join CODA to find out about events happening before and after concerts.
Discover all the events on our Enhance Your Experience page or check out your concert listing to see which special events are scheduled for the date you're coming to Walt Disney Concert Hall.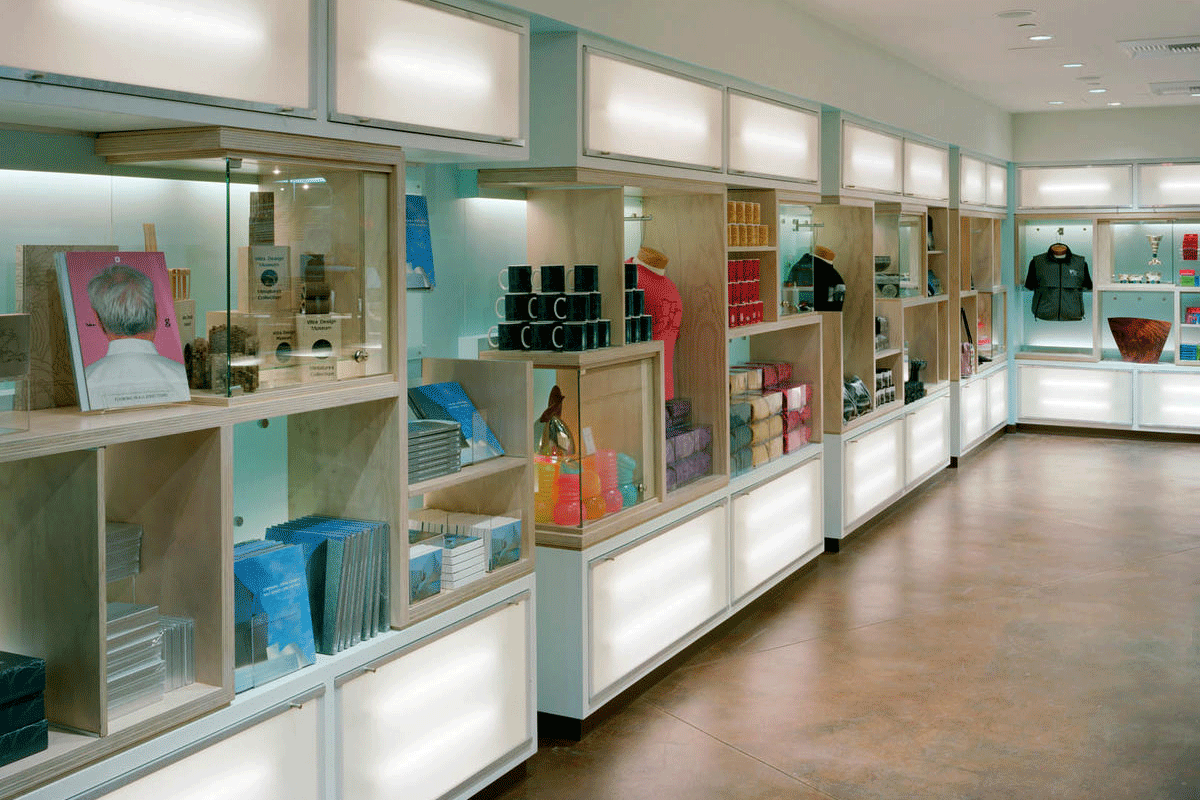 The LA Phil Store
The LA Phil Store features a curated selection of gifts and souvenirs, including exclusive merchandise inspired by the music of the LA Phil and the beauty of Walt Disney Concert Hall. Stop by to browse an extensive collection of vinyl, designs by Los Angeles based artists, and much more.

Open 10am-5pm daily and until 10PM on concert nights.
Sign up for our mailing list
You'll get special videos, music, and more and be the first to hear about events.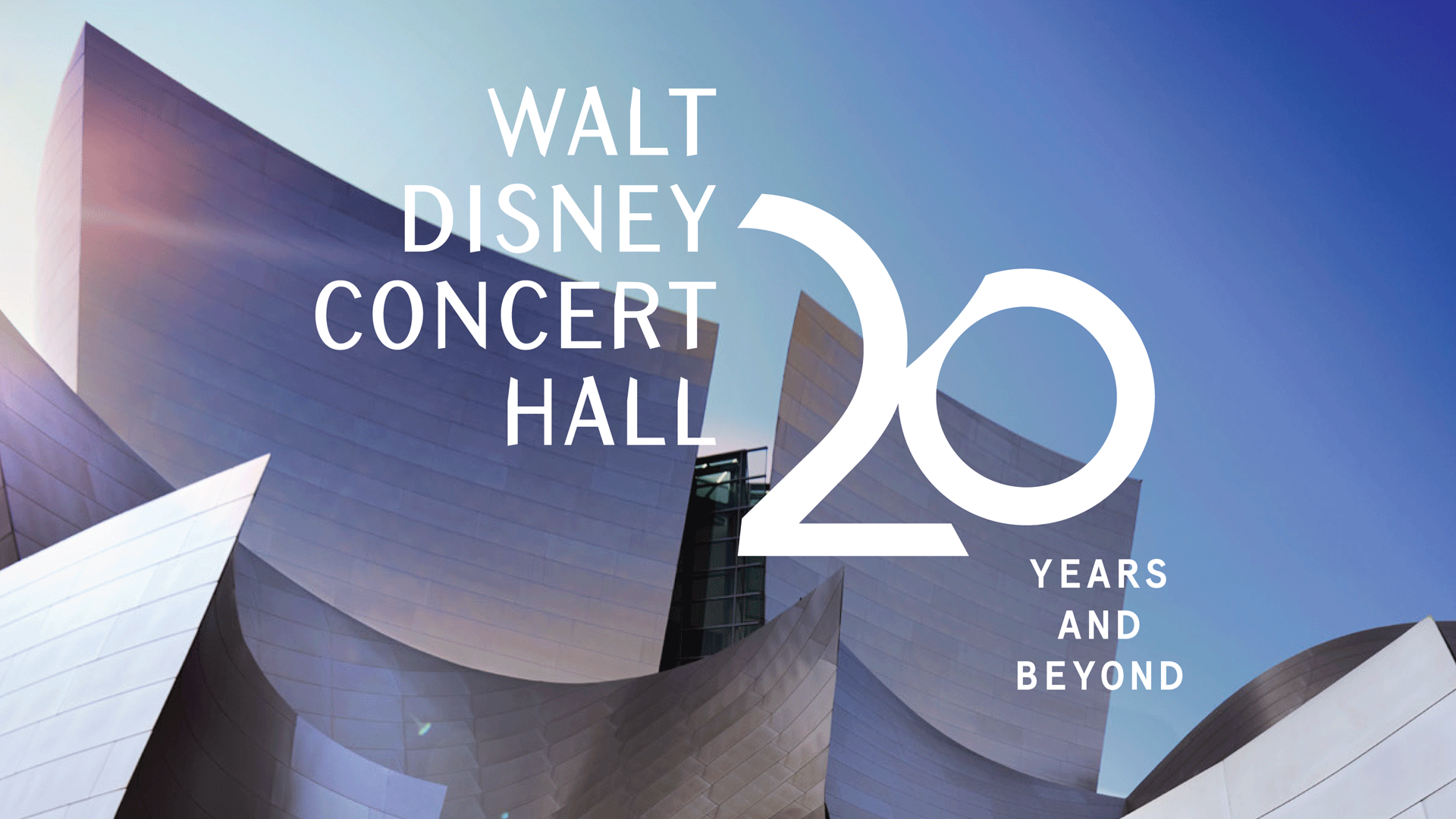 Visit for the 20th Anniversary of the Walt Disney Concert Hall
Designed by architect Frank Gehry, Walt Disney Concert Hall opened two decades ago, guided by Gehry's goal to be a "living room for the city." Welcoming Angelenos and visitors from all over the world, the Hall is a destination for art and music lovers. This season involves concerts that pay homage to Gehry's vision, and it's the perfect opportunity to explore this Los Angeles icon with a tour, by walking through our rooftop garden, or taking in a performance whether its Gustavo Dudamel leading the LA Phil, one of our family events, or a concert with a wide-range of visiting artists who perform in all genres.
We're here to help!
Are you new to Walt Disney Concert Hall, classical-music curious, or just want to chat through our season's programming? No problem: If you're feeling a little lost or overwhelmed, give our Audience Services team a shout by calling 323 850 2000 or emailing information@laphil.org—the team is on hand to help you choose a concert.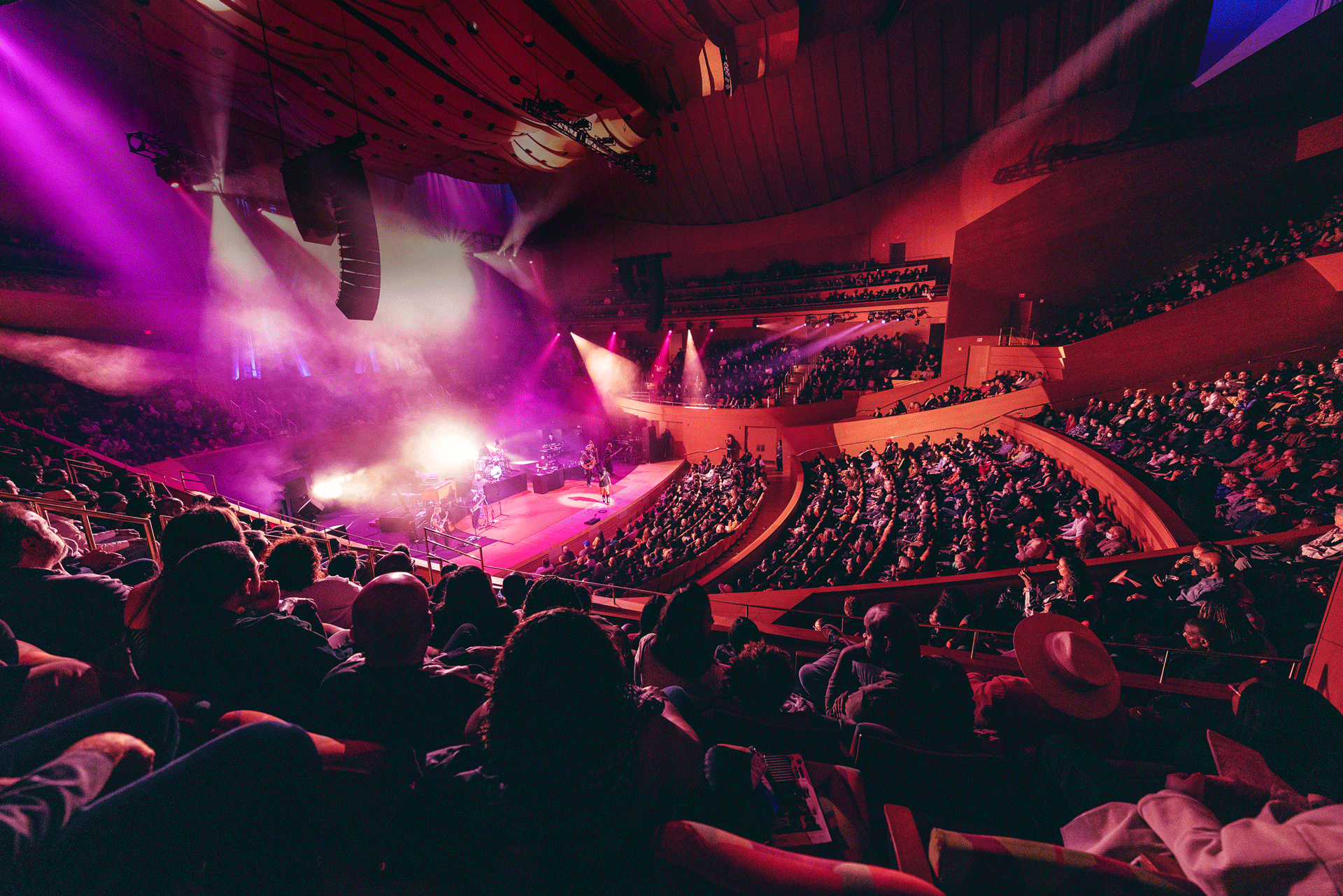 Ticket-purchasing options
Forget one-size-fits-all. We know you want flexibility, so we've come up with a couple of different ways for you to enjoy what the LA Phil has to offer at Walt Disney Concert Hall:
Create Your Own (CYO): If you know you want to attend a handful of concerts at Walt Disney Concert Hall this is a good option. Creating your own season package of at least three concerts unlocks additional special offers and allows you to save. What are you waiting for? Create your own package!
You also have the option to purchase tickets to individual concerts. Head to the calendar to browse! Hot tip: Use the filters to quickly see events by genre, time of day, performance type, or more. Here are a few to get you started:
• Gustavo Dudamel concerts
• New music and premieres
• Holiday performances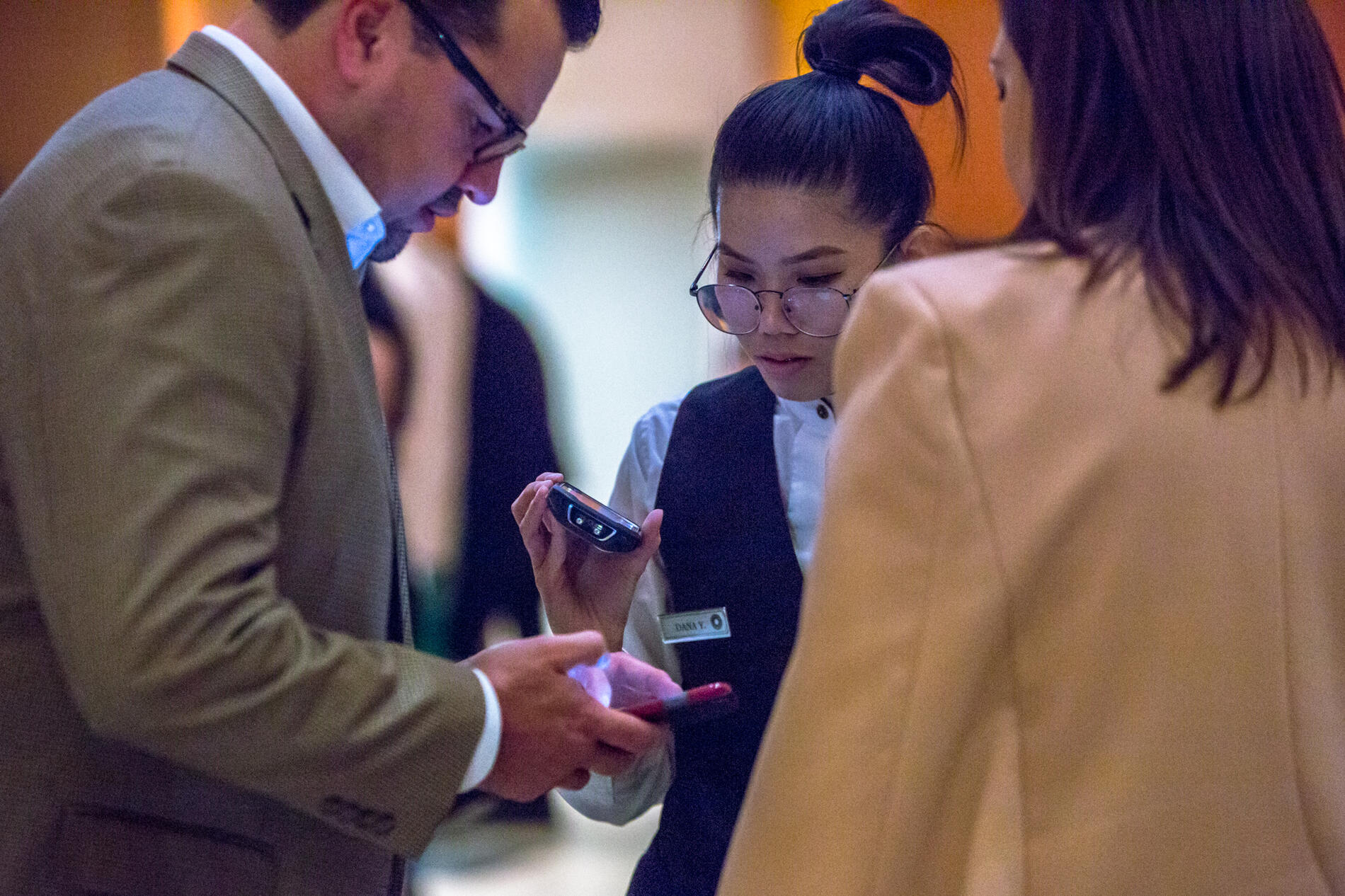 Digital ticketing
Never lose your tickets again! Digital tickets for Walt Disney Concert Hall concerts can be accessed online or with the LA Phil app. Add them to your digital wallet or share with friends by text or email. Learn more with helpful how-to videos and step-by-step guides. Get step-by-step instructions here.
Not only does the new LA Phil app make it easy to scan your tickets, but it's designed to help you discover upcoming events and learn more about the music in your program—or any program throughout the season. Plus, stay up to date with the latest safety information and venue guidelines. Available in both Spanish and English.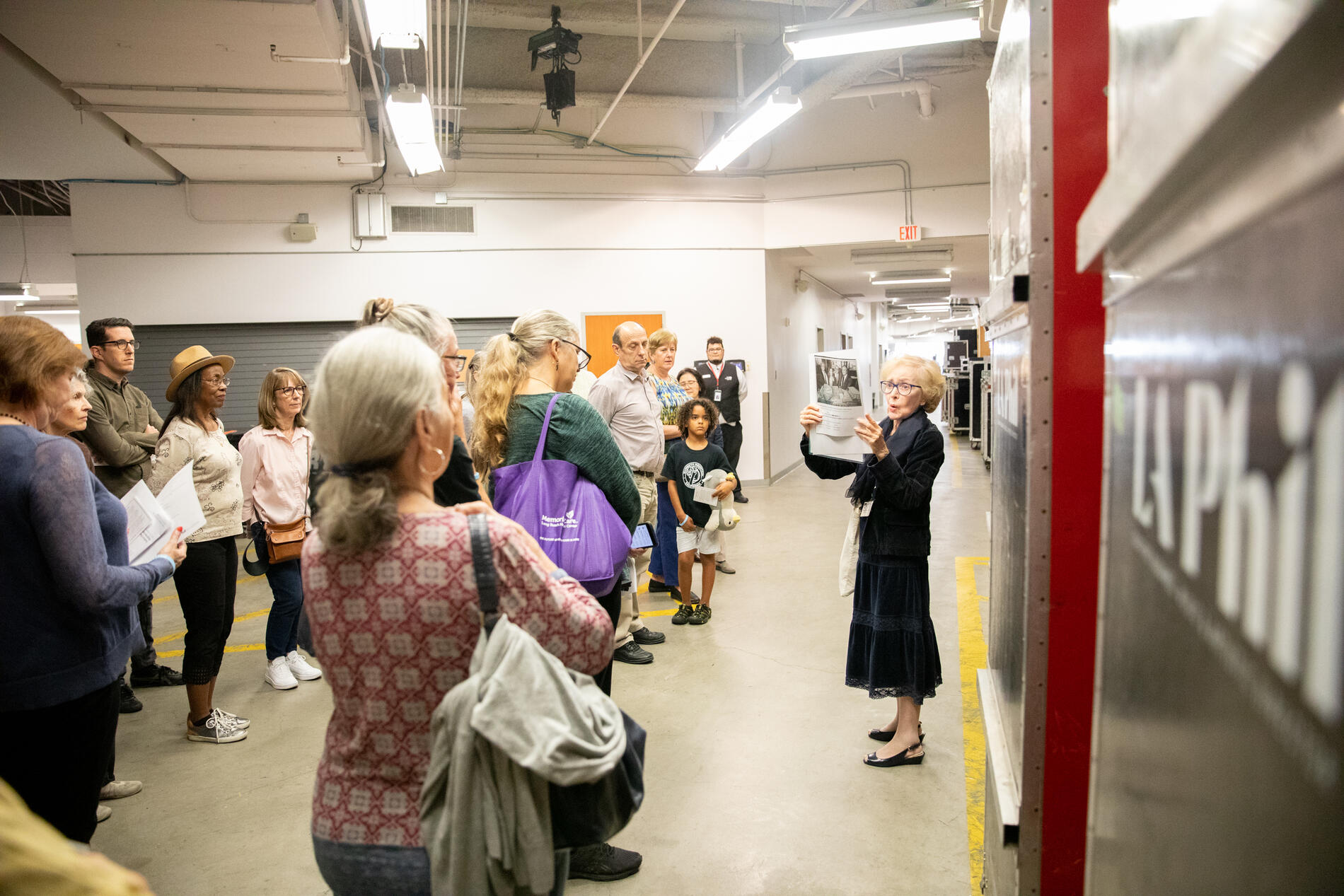 Become a member of the extended LA Phil family.
Donating to the LA Phil not only supports our exceptional artistic, learning, and community initiatives, it can also get you even closer to the music. Consider making a donation to the LA Phil, or keep the music going by becoming a member (starting at $75 per year or $19 per month).
Have a great season!