About this Performance
The title of Jessie Montgomery's Strum alludes to the guitar-like plucking of strings that starts in calm, fleeting nostalgia reminiscent of American folk music but grows into ecstatic celebration. LA Phil Principal Trumpet Thomas Hooten gives the premiere of Trumpet Fantasy by electric guitarist Steve Mackey whose music blends rock, jazz, and classical. Mackey's concerto explores what he calls "fringe states of consciousness" in a series of character pieces ranging from light and whimsical to dark and profound, but all presented as equal components of our lives as humans. Rounding out this exploration of human emotion in a more traditional way, Mahler's Fourth Symphony leads us on a journey toward the contemplation of the joys of heaven from a child's point of view, which concludes peacefully with the lowest notes of the harp.
See other concerts in this series
Programs, artists, dates, prices, and availability subject to change.
Enhance Your Experience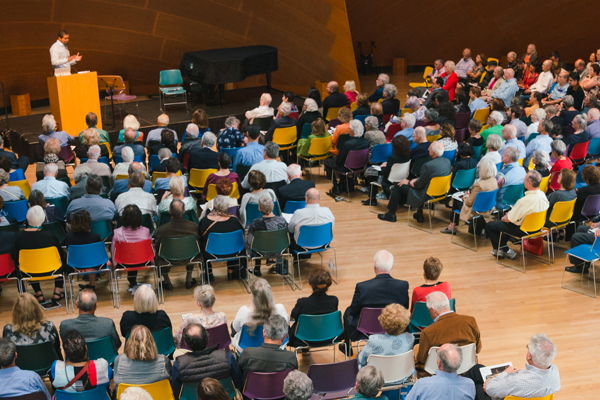 Upbeat Live with Russell Steinberg
Event starts at 7:00PM
Before the concert, some of the sharpest musical minds around – including members of the LA Phil – guide you through the evening's music, complete with a Q&A session for any lingering questions. This free event is held in BP Hall, accessible after your ticket is scanned.
Learn More