About this Performance
Reich's riveting Runner uses a large ensemble and a constant pulse, drawing melodic threads from its shifting textures. Minimalist melody is also a theme of John Adams' Grawemeyer-winning Violin Concerto, for which he crafted his "hypermelody," calling on the soloist to "spin one long phrase after another without stop." Acknowledged as one of the greatest gifts to contemporary composers, Leila Josefowicz is fearlessly up to the challenge. From two American composers to a piece written by a Russian after he moved to the United States, Rachmaninoff's Symphonic Dances was the composer's final orchestral work and summed up his life's work with nods to chants and his own earlier music while looking forward to the new harmonic language of the 20th century.
This performance is generously supported in part by the Kohl Virtuoso Violin Fund.
See other concerts in this series
Programs, artists, dates, prices, and availability subject to change.
Enhance Your Experience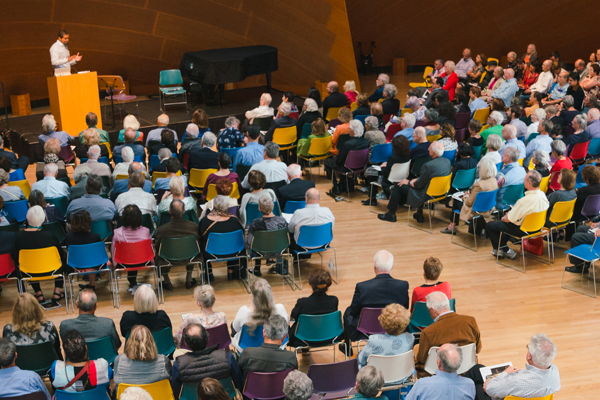 Upbeat Live with Christopher Russell
Event starts at 7:00PM
Before the concert, some of the sharpest musical minds around – including members of the LA Phil – guide you through the evening's music, complete with a Q&A session for any lingering questions. This free event is held in BP Hall, accessible after your ticket is scanned.
Learn More