Program
Trio Sonata in E-flat major, BWV 525

Trio Sonata in C minor, BWV 526

Trio Sonata in D minor, BWV 527

Trio Sonata in C major, BWV 529

Trio Sonata in G major, BWV 530
About this Performance
While employed at St. Thomas Church in Leipzig at the end of the 1720s, Johann Sebastian Bach (1685-1750) gathered several of his preexisting organ works and organ transcriptions of older instrumental compositions and put them with some newly written movements to submit for publication. This collection became six three-movement "organ sonatas." With right and left hands each given a distinct, imitative voice supported by a basso continuo in the pedals, the exuberant, virtuosic works reflect the importance of trio sonatas in the Baroque era and the way distinct voices can create musical dialogues. In this case, with only the organist playing, a dazzling monologue ensues. By playing all six of these organ sonatas together in one program, organist Paul Jacobs invites the listener to experience subtleties of a sophisticated musical language demonstrated by the careful positioning of phrases, sequencing, ornaments, fugal imitation, and invertible counterpoint.
See other concerts in this series
Programs, artists, dates, prices, and availability subject to change.
Enhance Your Experience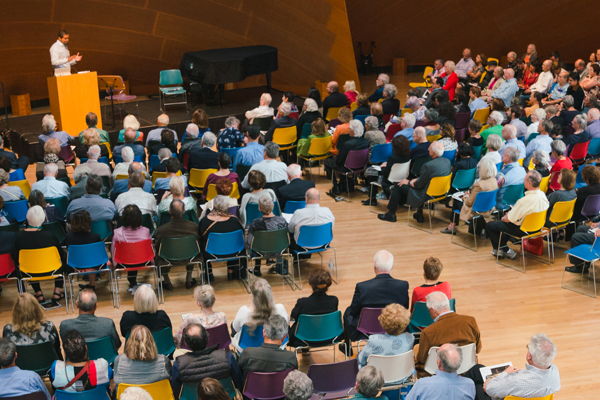 Upbeat Live with Thomas Neenan
Event starts at 6:30PM
Before the concert, some of the sharpest musical minds around – including members of the LA Phil – guide you through the evening's music, complete with a Q&A session for any lingering questions. This free event is held in BP Hall, accessible after your ticket is scanned.
Learn More